ICA - Wicklow Town
Wicklow Town Guild of the Irish Countrywomen's Association
---
News: 27th May 2021
Farewell to Betty
Fifteen Guild members gathered at Kilmacurragh Arboretum for a farewell picnic and presentation to the Guild's founding member Betty Teahan who is moving to Cork. Before founding the Wicklow Town Guild Betty was a member and past president of Ashford Guild. Betty founded Wicklow Town Guild in May of 2014 when she put some ads around Wicklow asking if anyone would be interested in joining a Wicklow Town Guild of ICA, and the rest is history! Betty served as both secretary President during her time at Wicklow Town. President Margaret Jones presented Betty with a Photo Book of memories of her time in Wicklow Town Guild. We will miss you Betty but we know you will be a very welcome addition to your new Guild at Tower.
---
News: 24th April 2020
Sew Scrubs Appeal
Sincere thanks to the many guild members who have responded to the Sew Scrubs Appeal. Anna Sinnott is coordinating in her role at Central Office while working from home and it must be a mammoth task as there has been a great response not just in our own Guild but across the Federation. Anna has reported that she delivered the first Wicklow Town scrubs to a Wicklow Nursing Home and they were delighted to receive them.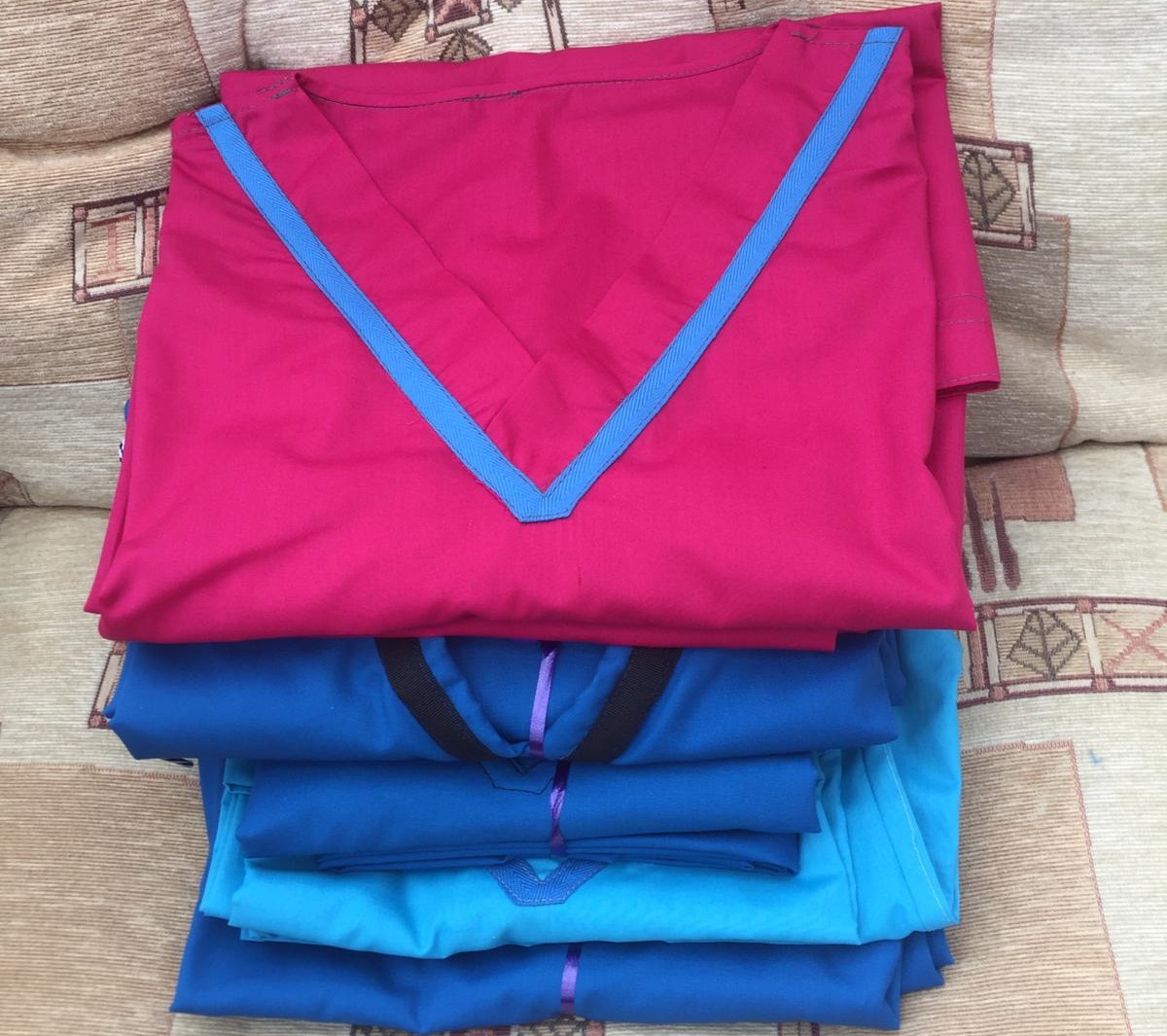 ---
News: 17th April 2020
New Federation Website and 70th Anniversary Cookbook
Wicklow Federation Committee have been busy via Social Media and Conference Calls and have launched a brand new website! You will find it here.
The Committee are also making plans to celebrate the 70th Aninniversary in 2021 and are calling all Guild members to submit their favourite tried and trusted recipes for a celebration cookbook! You can send recipes to Federation President Hilda at hderoiste@gmail.com or by post to our produce promoter Statia Ivers Ballycoog, Arklow, Co Wicklow.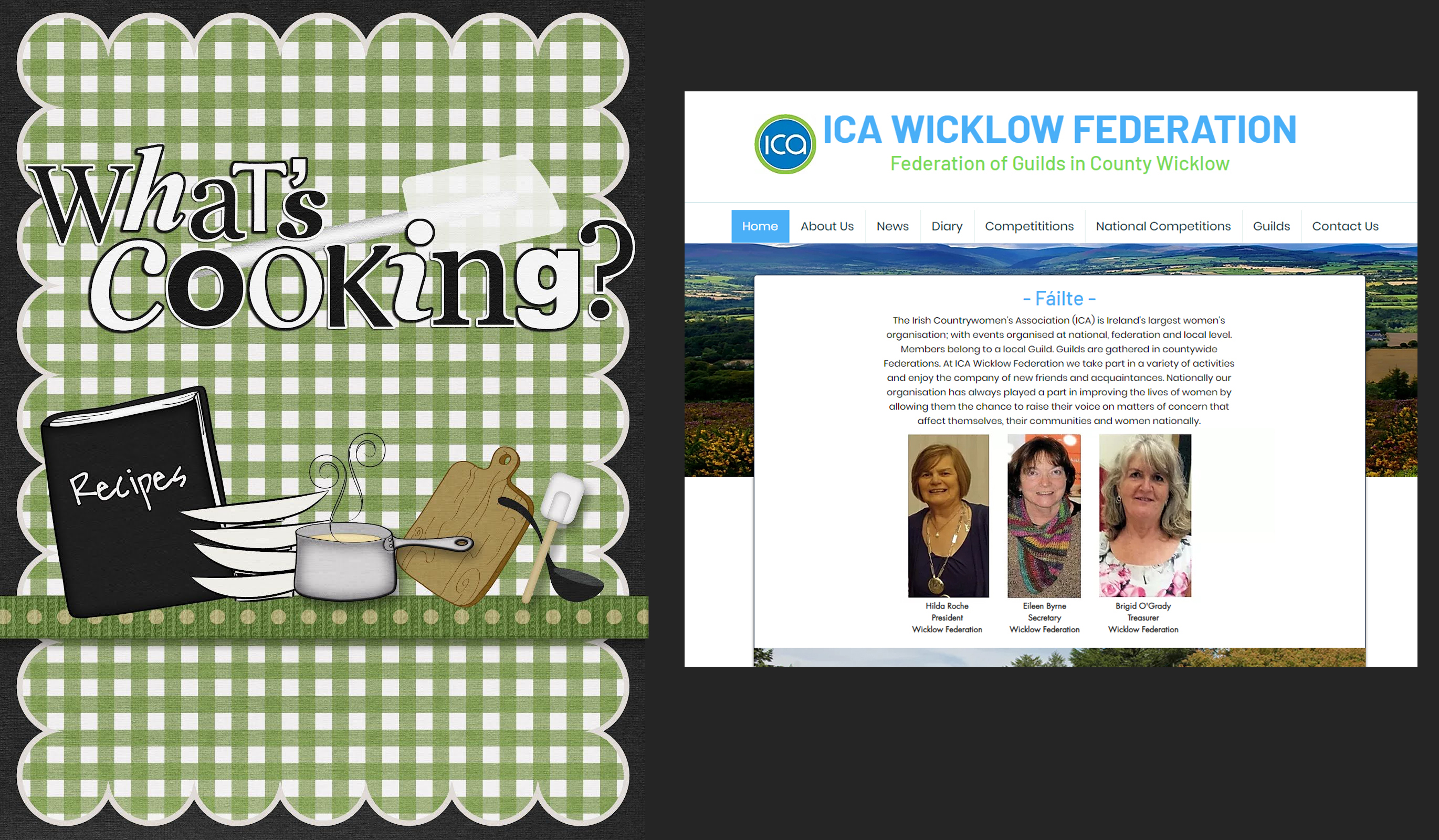 ---
News: 12th March 2020
Meetings suspended due to Covid-19 Restrictions
Due to Covid-19 Health and Safety restrictions monthly Guild meetings, Federation meetings and other Guild and National events have been suspended. We look forward to meeting again in happier times. Meetingsand other events will be rescheduled when we are advised that it is safe and appropriate to do so. The best source of Coronavirus / Covid-19 information is the HSE website which can be found here.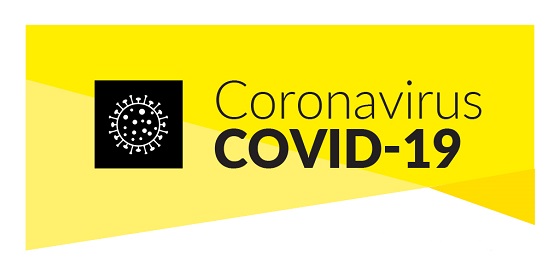 ---
News: 9th March 2020
Wicklow Town Team Talk and Easter Decor
Many thanks to Pascal Burke, Chairperson of Wicklow Town Team, for a very informative presentation on the work that has been undertaken by the Wicklow Town Team and their vision for Wicklow Town as a great place town for work and life. The feedback after the talk was that it had really opened members eyes to the role and work of the Town Team.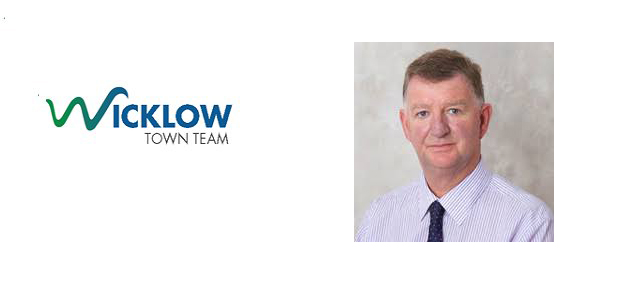 Our monthly competition was for an Easter Decoration. The March Winners are:
1st - Susanna Braswell
2nd - Mary Phillips
3nd - Liz Delaney and Maura Cregg
---
News: 10th February 2020
Love is in the Air and India
Susanna gave a talk and slide show about her experience of taking part in a cultural exchange to the Dakshina Kannada district of Karnataka Province in South West India. The February challenge was to make a Valentine's Day card. Some of the lovely entries (and a few of our lovely members) are pictured below.
The February Winners are:
1st - Sylvia Tracey
2nd - Kay Murphy
3nd - Mary Phillips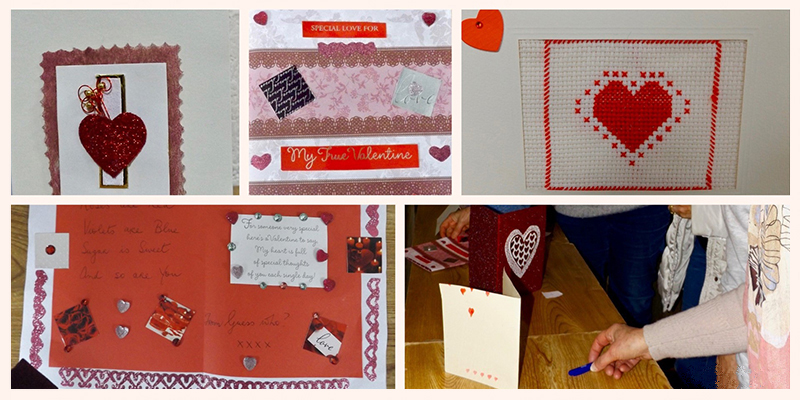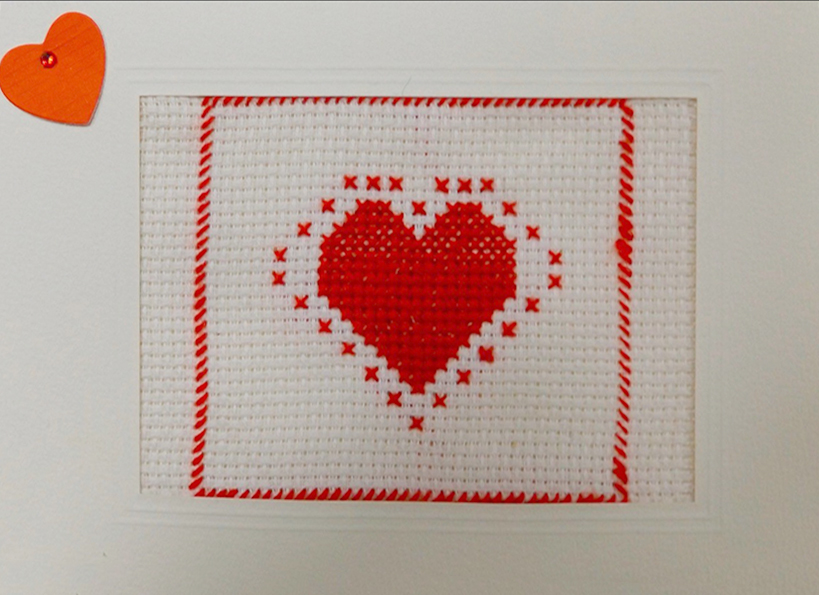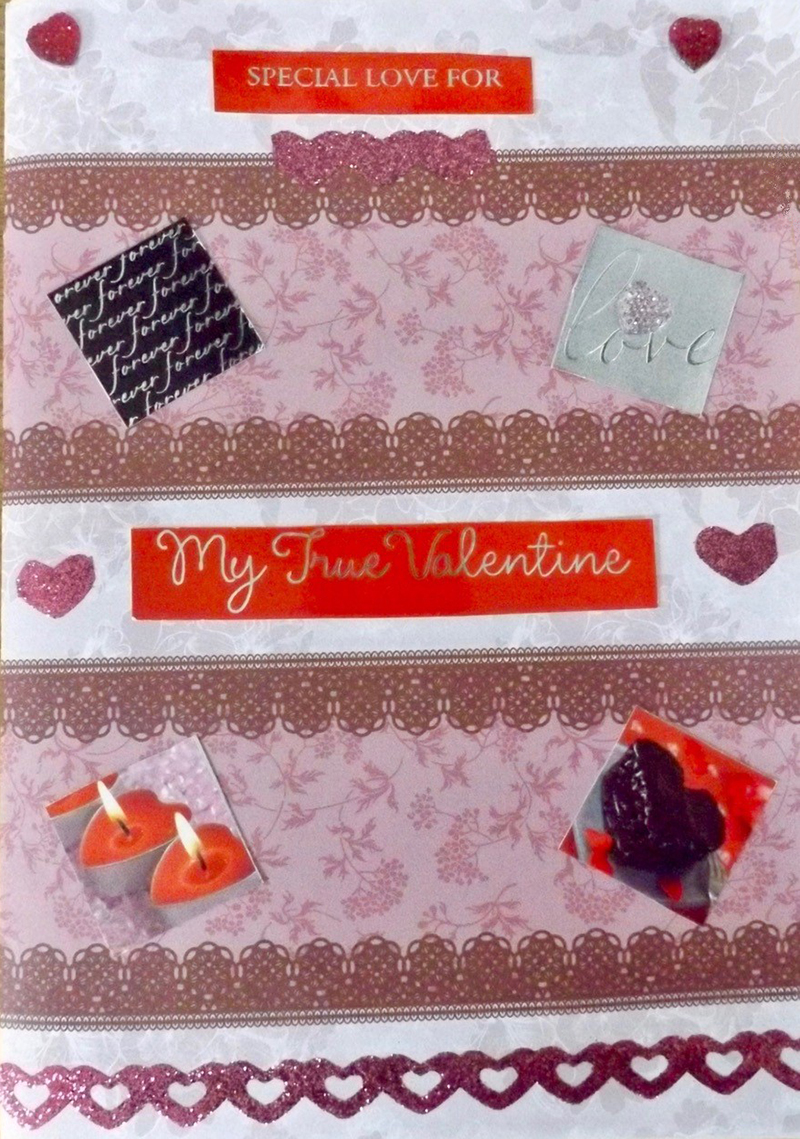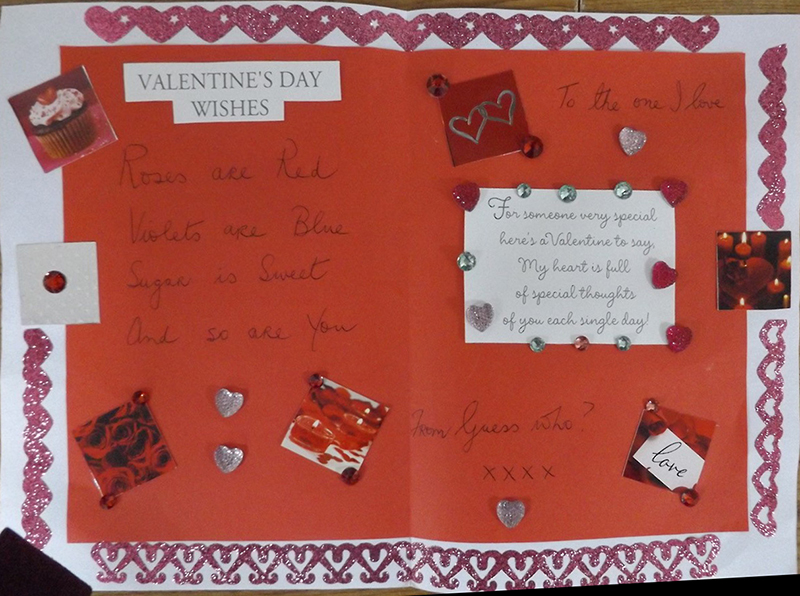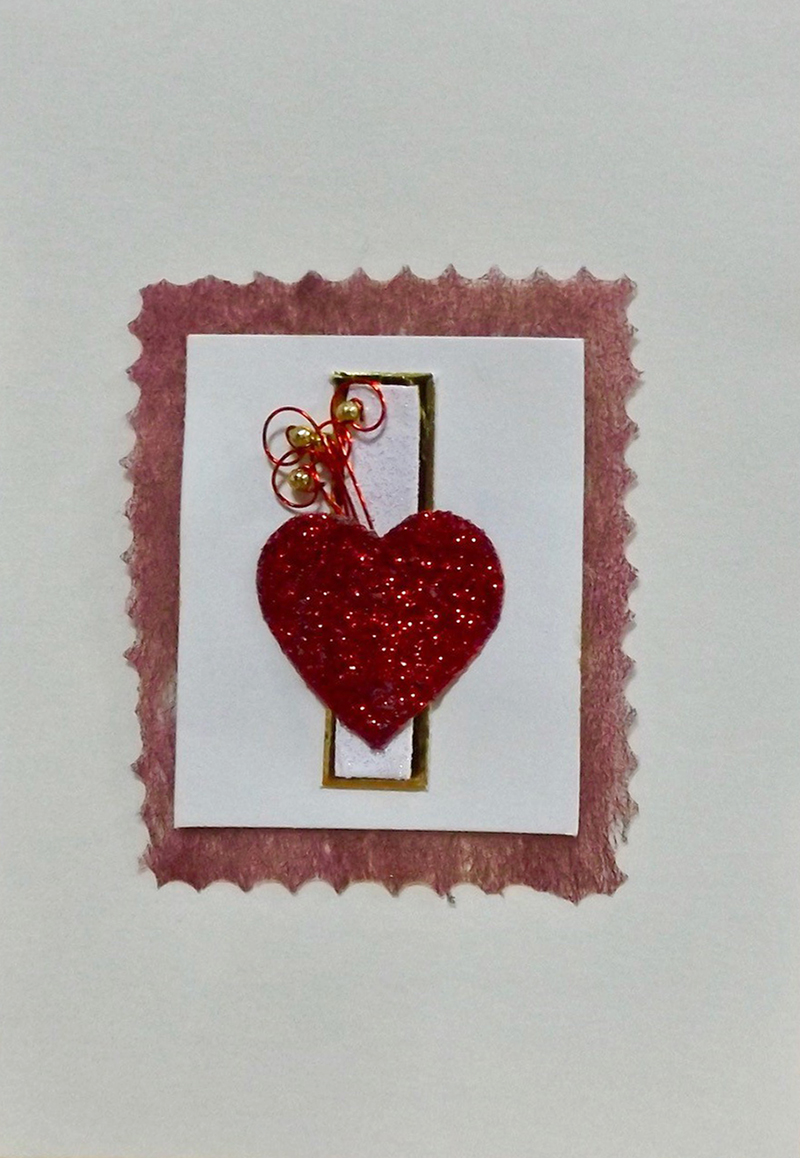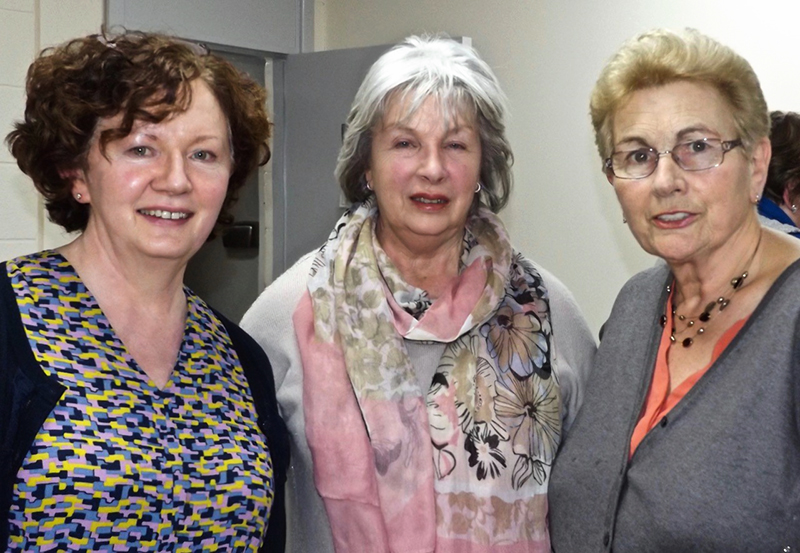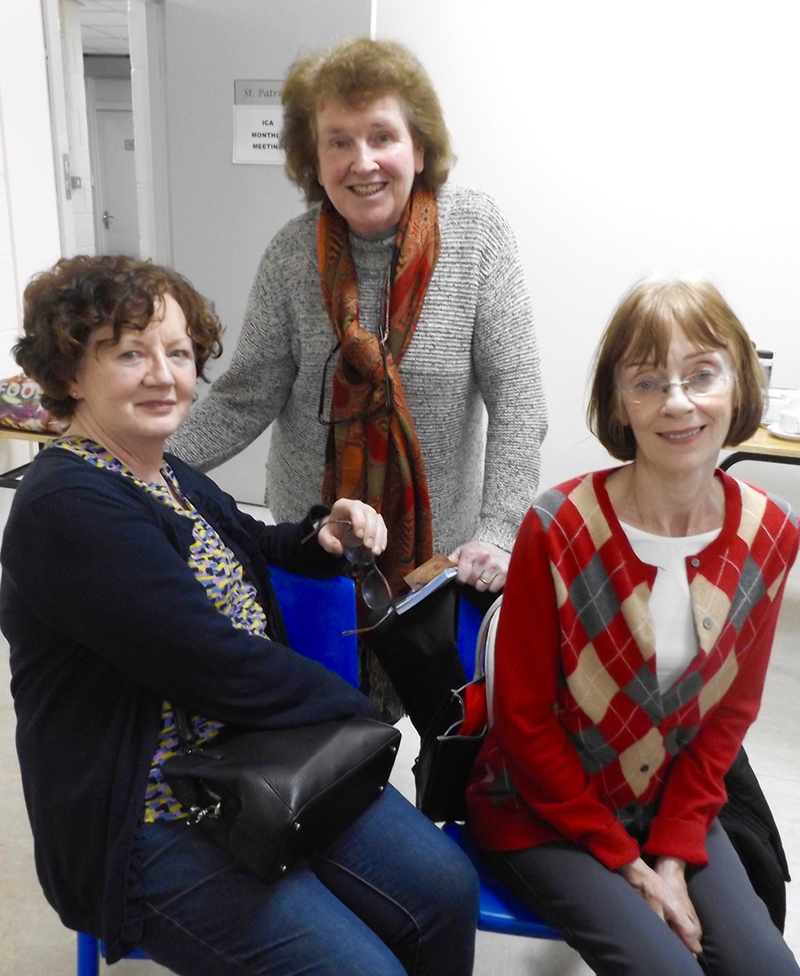 ---
News: 25th January 2020
Wicklow Town Guild at 65th ICA One Act Drama Festival
Well done to our very own Playwright Mary Finlay, backstage on Wardrobe, Makeup, Props, Sound, Prompting and Fairy Godmother-level Goferring: Catherine H, Margaret O'T and Noeleen, and the Thespians: Christina, Mary P, Anna, Catherine and Terri you all did us proud! Thanks also to the many Guild members who came out to support, and enjoy, the evening's drama.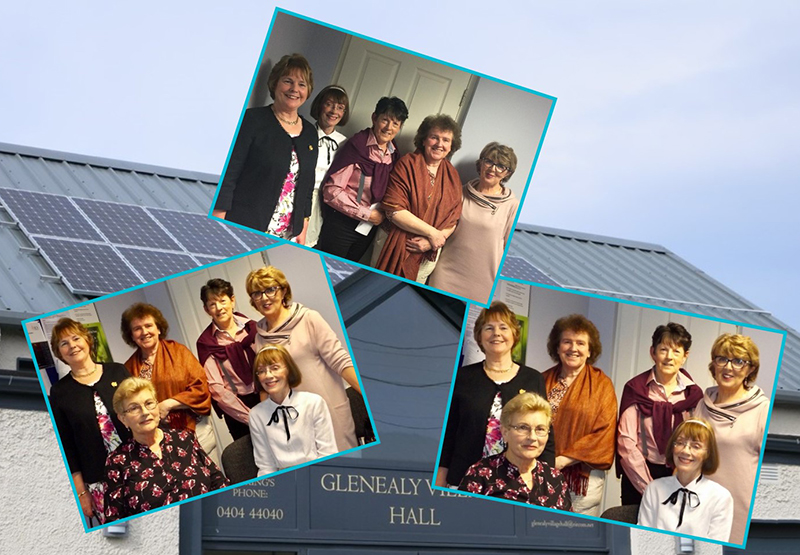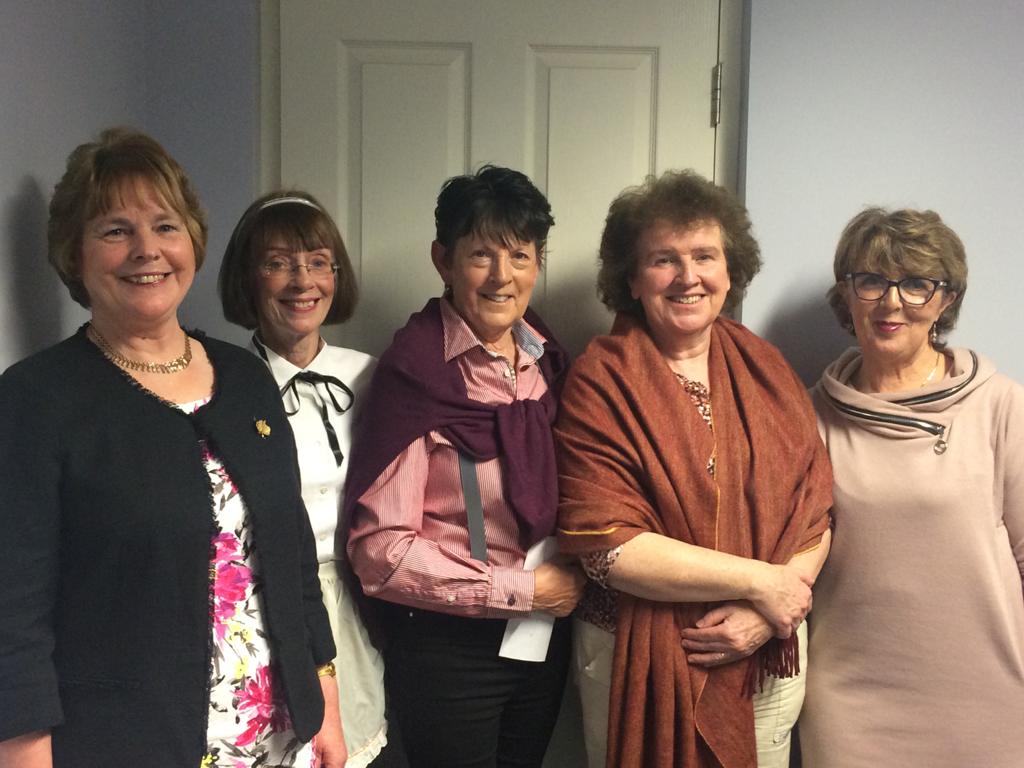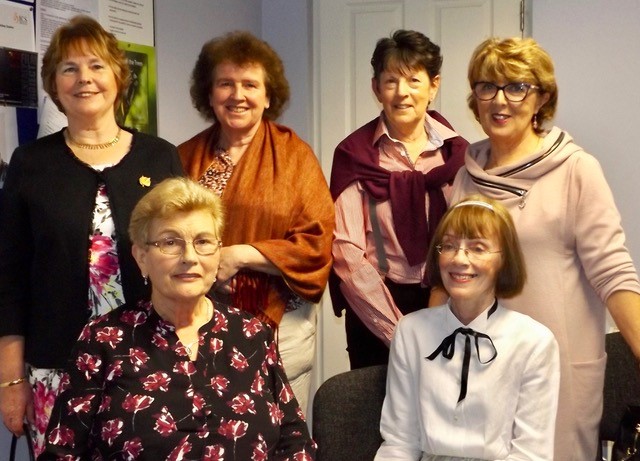 ---
News: 13th January 2020
A New Year and a Dress Rehearsal
New Year 2020 and we were treated to a dress rehearsal of The Perfect Arrangement, a short sketch by our Guild's past president Mary Finlay and Wicklow Town Guild's first ever entry to the Annual ICA One Act Drama Festival, (now in its 65th year!) and taking place in Glenealy 22nd and 24 - 26th January. The Guild's sketch will be performed on Saturday 25th. See the photos below to find Christina, Mary P, Anna, Catherine and Terri all deeply in charachter.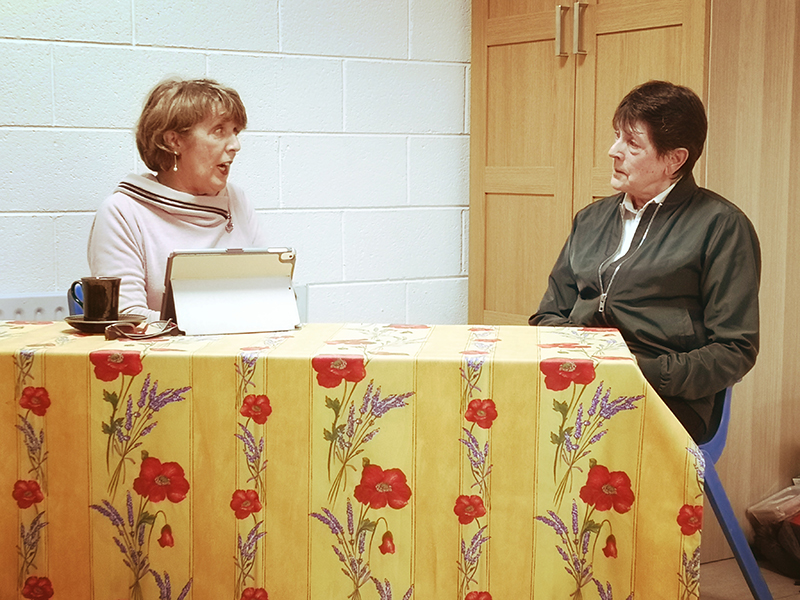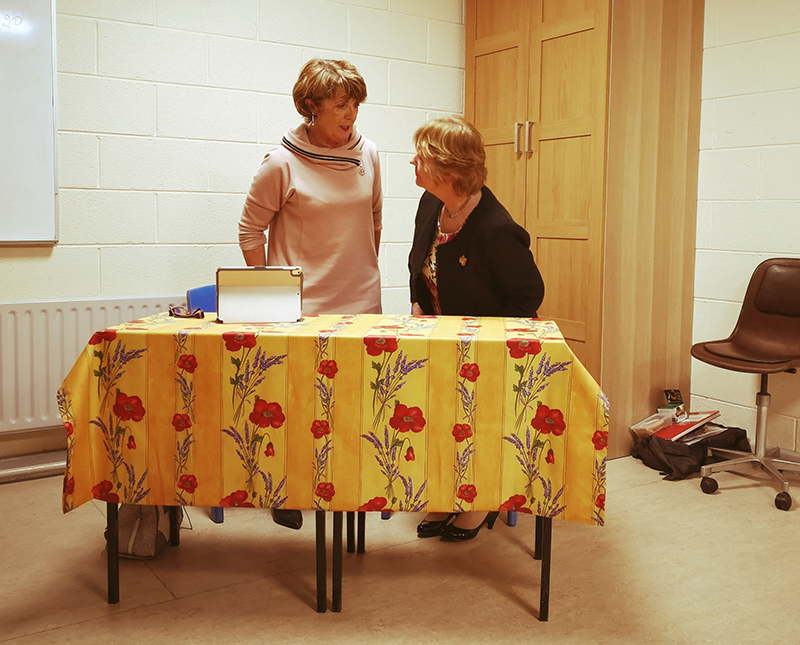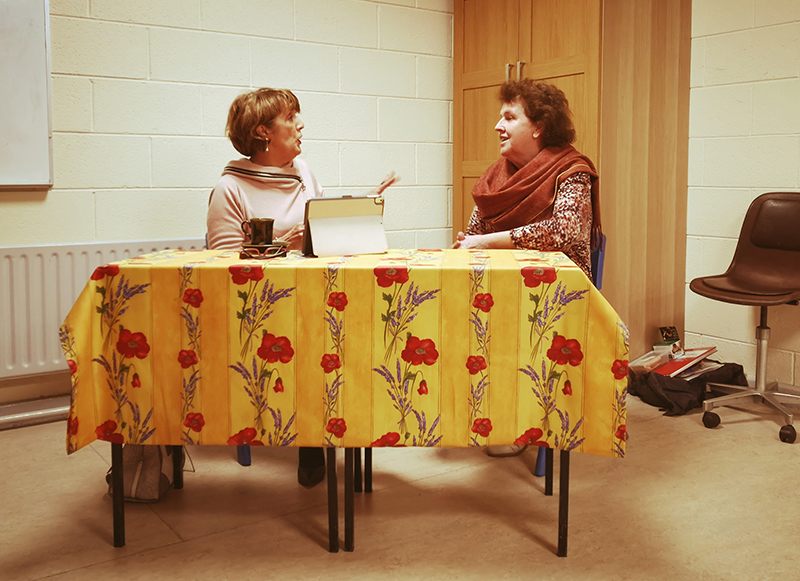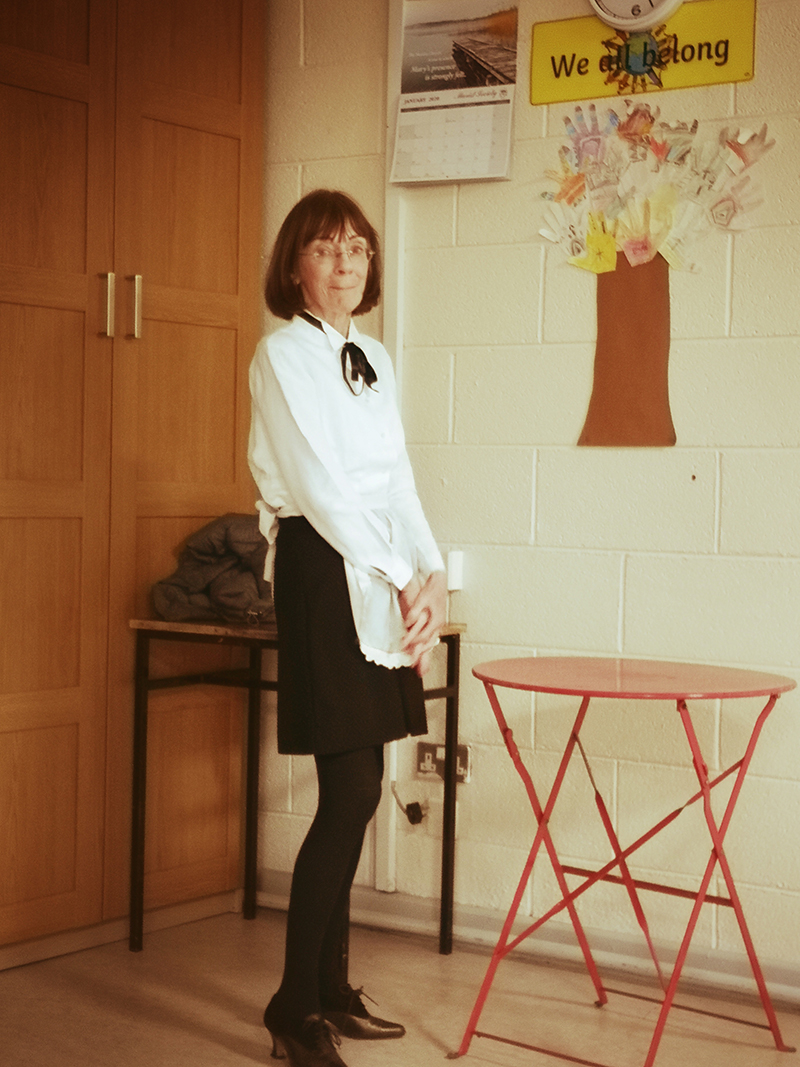 ---
News: 9th December 2019
Christmas Dinner and Social Night
Many thanks to the trusty Christmas Dinner subcommittee for organising a lovely Christmas Dinner night out at Chester Beatty's in Ashford.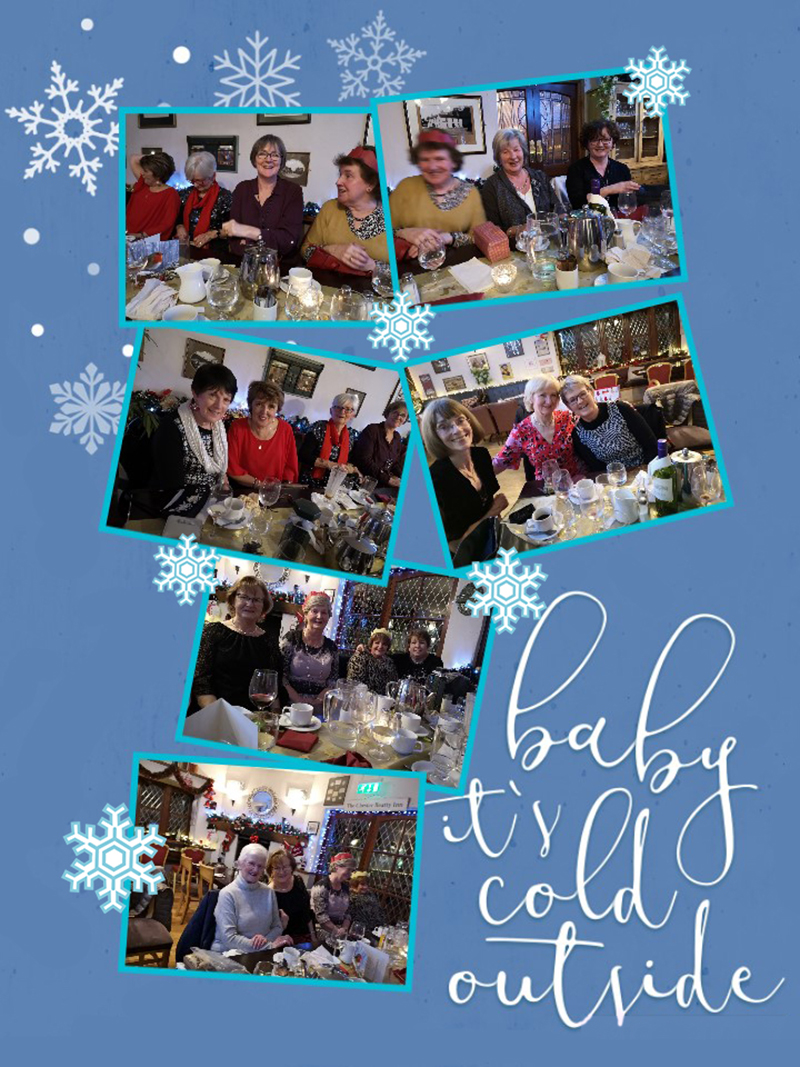 ---
News: 11th November 2019
Pounding and Centrepieces
What a night - ICA members released their inner rock drummers with the help of Aisling Nolan, a Pound Pro based in Arklow. Using the Pound system of exercise Aisling took us through a very enjoyable workout that stretched both our bodies and our imaginations! A workout that really is a lot of fun as well as good exercise.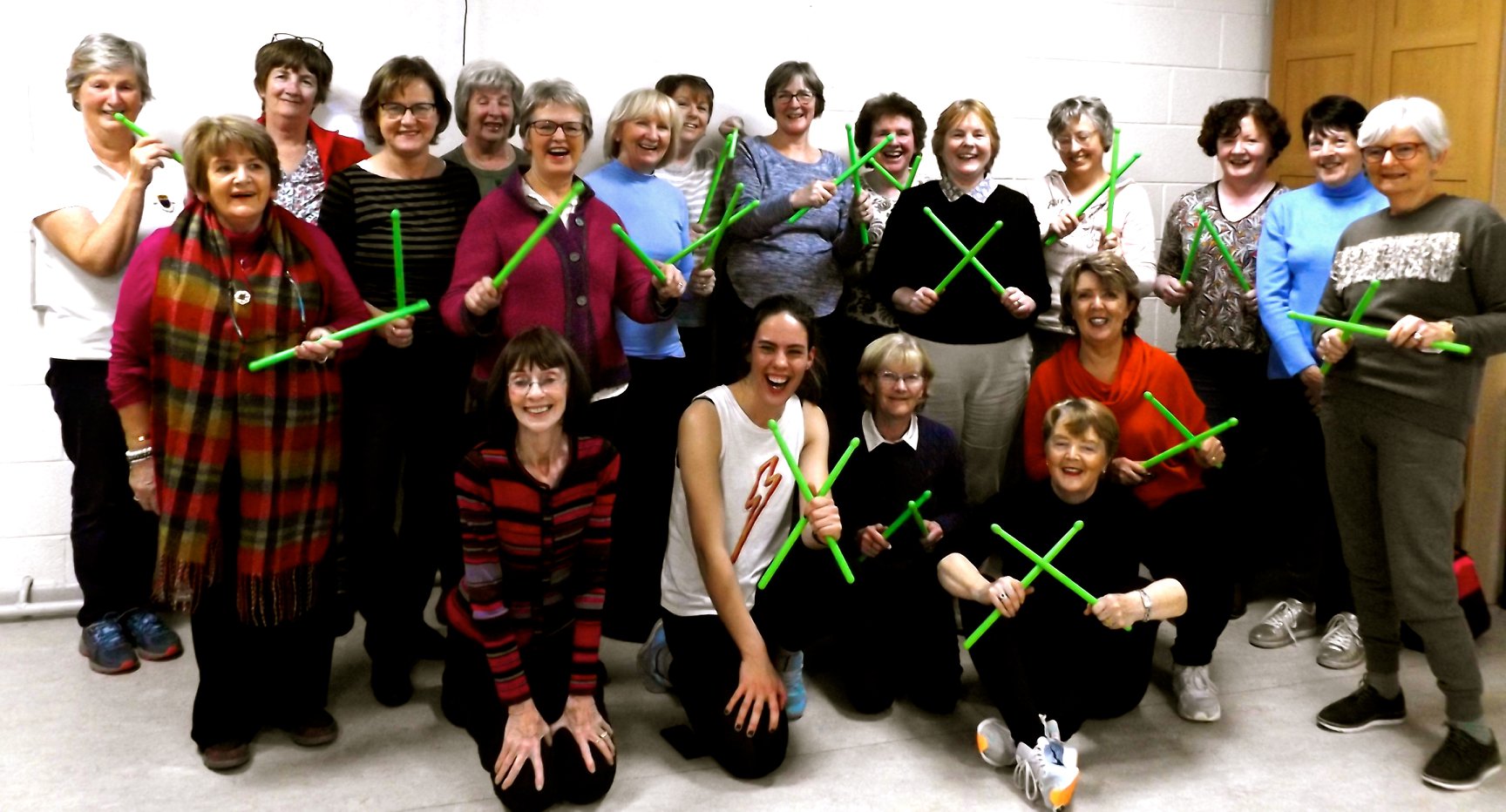 November Challenge was: A small table Centrepiece. Some of the beautiful entries can be seen below.
The November Winners are:
1st - Ann Reynolds
2nd - Margaret O'Toole
3nd - Susanna Braswell
---
News: 4th November 2019
Wine & Design Night at Crazy Glazing
Thank you so much to Siobhán Brennan from Crazy Glazing for hosting our Guild for Wine and Design and some absolutely delicious Italian focaccia bread baked by an ICA husband.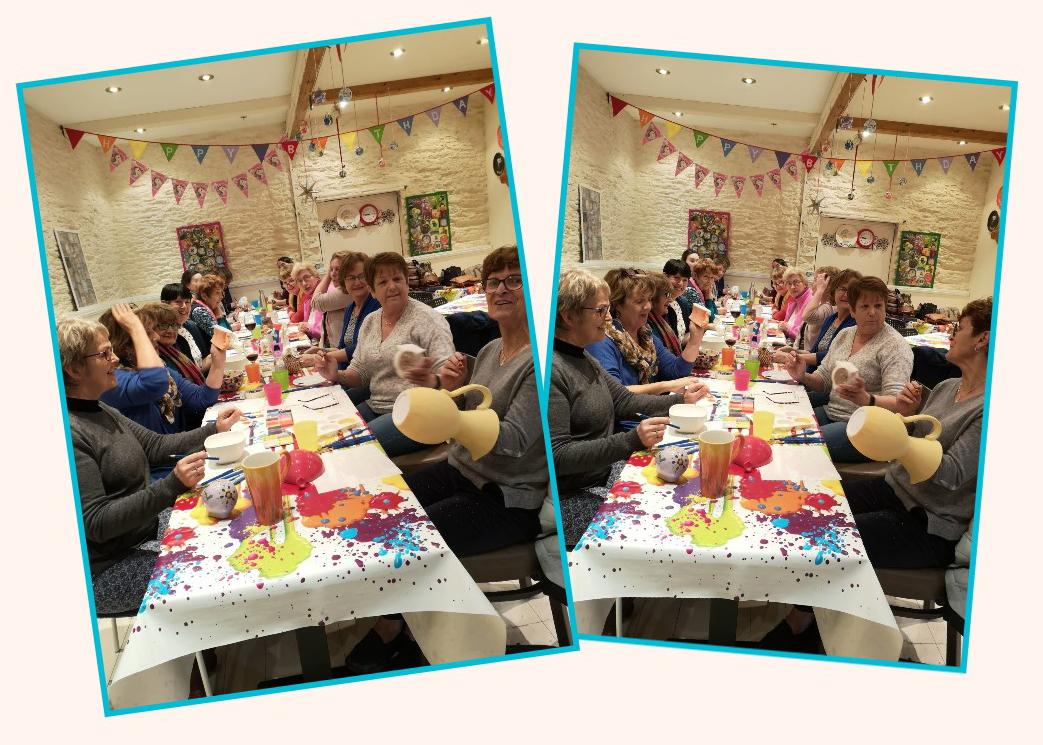 Below you can see some of the lovely hand painted pottery designed by ICA members at Wine and Design Night at Crazy Glazing Wicklow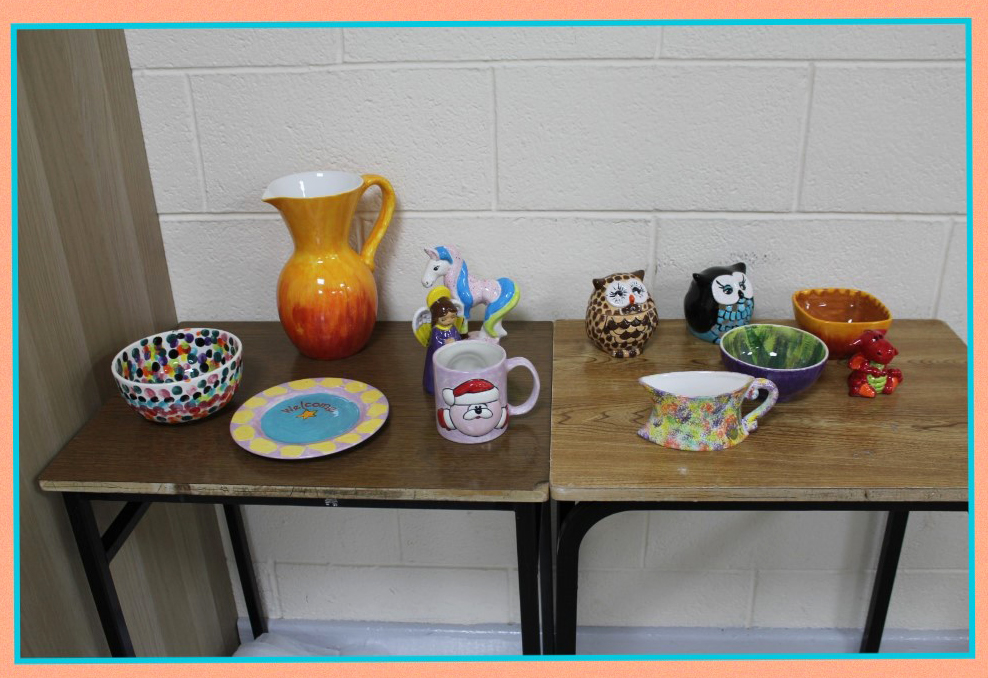 ---
News: 14th October 2019
Packing Light and Masks
Thank you so much to Nóirín Bowers from Blackrock Guild who came to show and tell us how to pack for a cruise in a weekend bag. Nóirín demonstrated, complete with bag and belongings, and really proved how versatile a few items can be.
Above: Nóirín Bowers from Blackrock Guild with Guild President Margaret Jones.

Nóirín also kindly judged our November competition. The challenge was "Make or Decorate a Mask". Photos below
The October Winners are:
1st - Liz Delaney and Kay Murphy
2nd - Margaret O'Toole
3nd - Eilish Bradshaw and Susanna Braswell
---
News: 9th September 2019
Another Year begins with Inspirational Jewellery and Cupcakes
We welcomed Leanne Doyle, jewellery maker, who told us about the events of her life which saw her go from becoming a new new mother to becoming a wheelchair user. Leanne showed us some of her beautiful hand made jewellery pieces and also kindly judged our September competition. We also had a display of beautiful lace, dress making and patchwork by Noeleen Bolger.
Our monthly Competition was for 4 cupcakes. You can see some of the scrumptious confections below.


The September Winners are:
1st - Liz Delaney
2nd - Christina Murley
3rd - Maura Cregg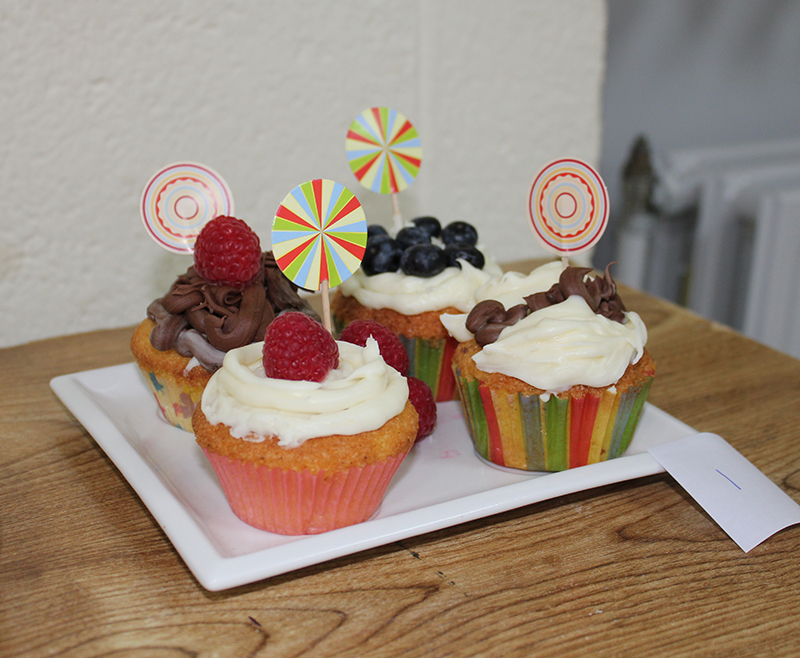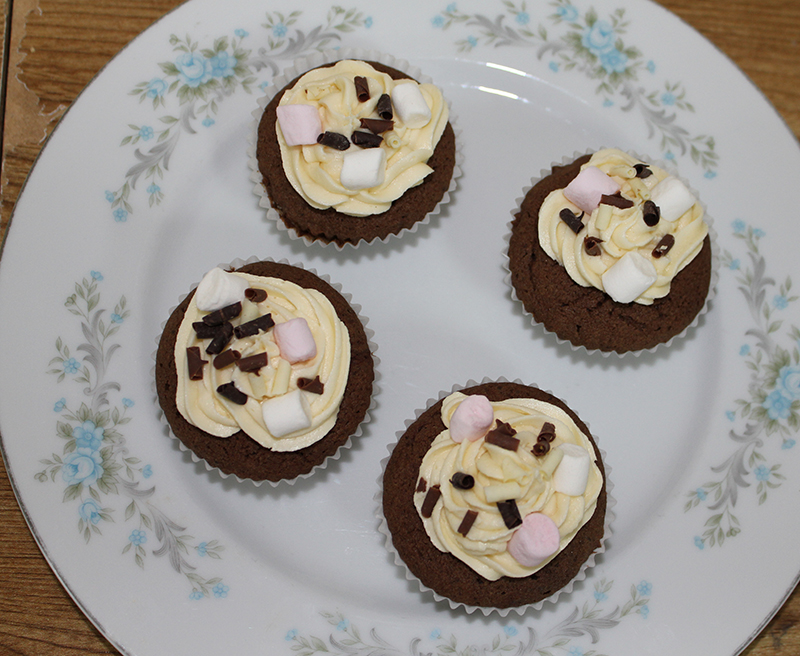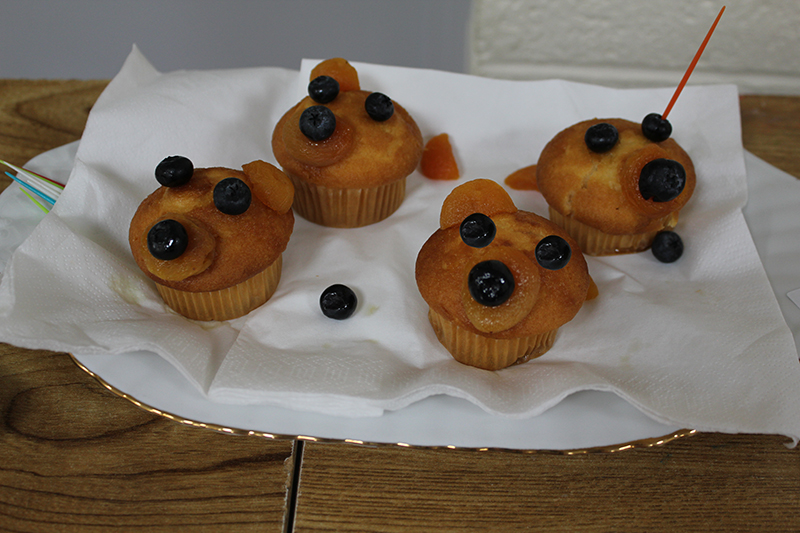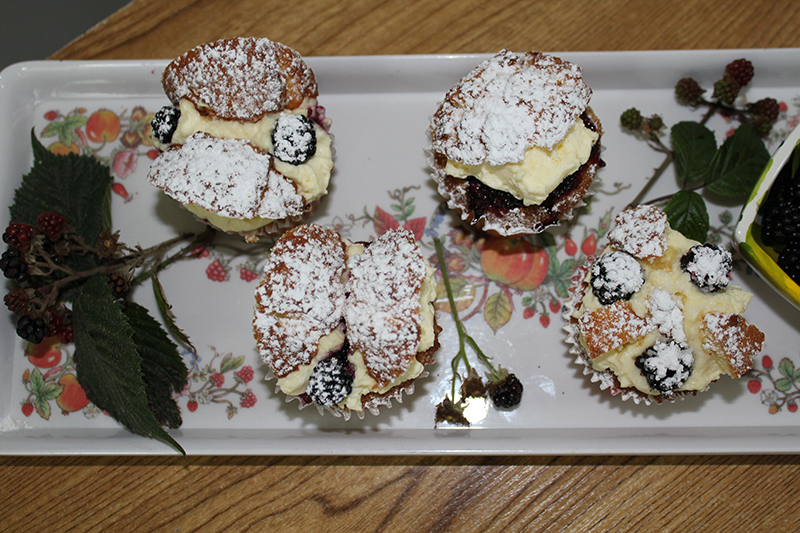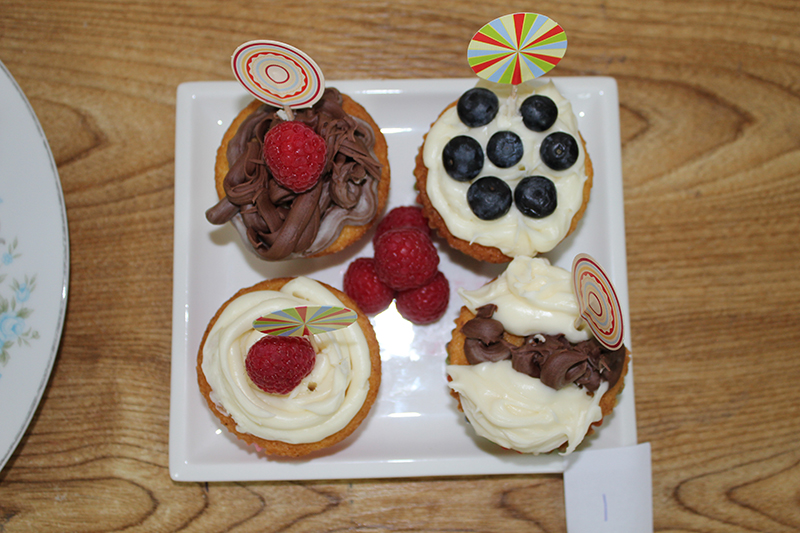 ---
---
News: 6th July 2019
Federation Farm Walk and Gaol Visit
ICA ladies from across Wicklow Federation visited An Tairseach in Wicklow Town. At the scenic carpark and on the walk through the fields we saw the beautiful landscape and the town spreading out to the north, west and south. We also enjoyed the peace, calm and natural habitats for birds, bees and rabbits. After an enjoyable farm walk at An Tairseach, beautiful food at the Jailer's Rest was greatly appreciated before the group headed off on The Gaol Tour. All in all "A Grand Day Out".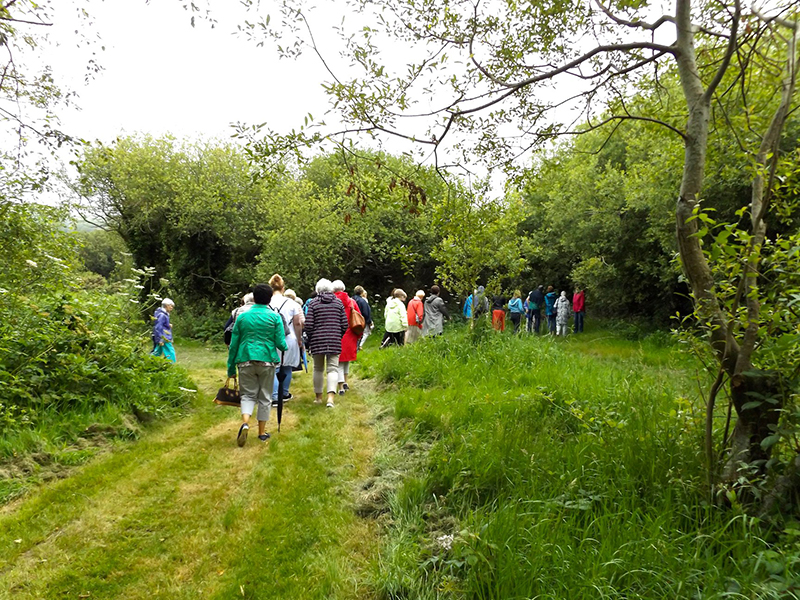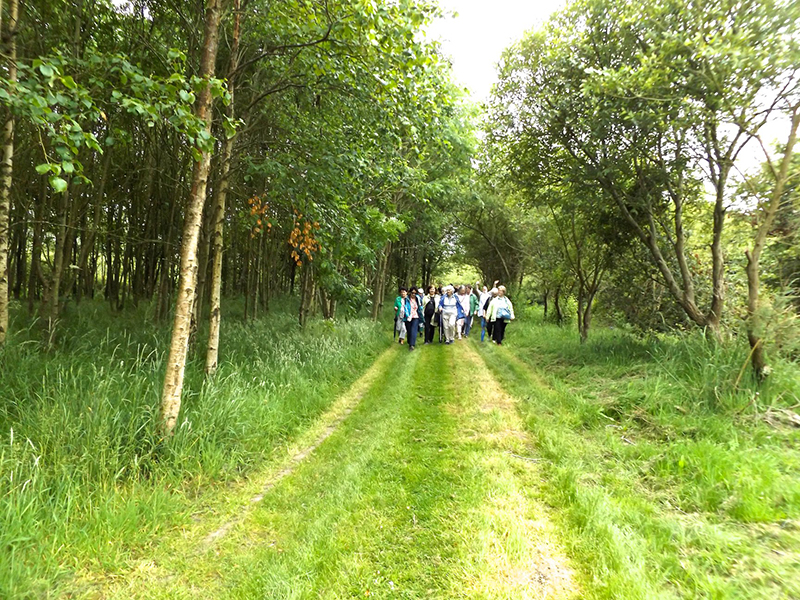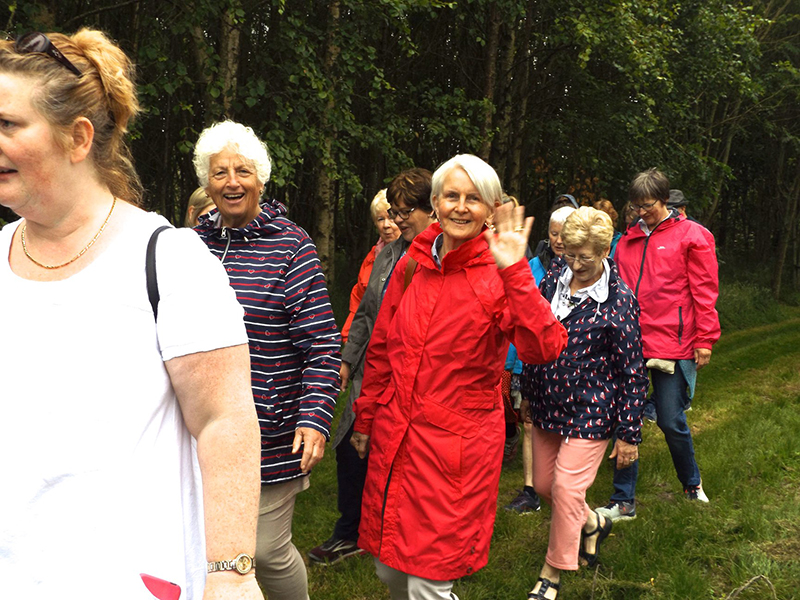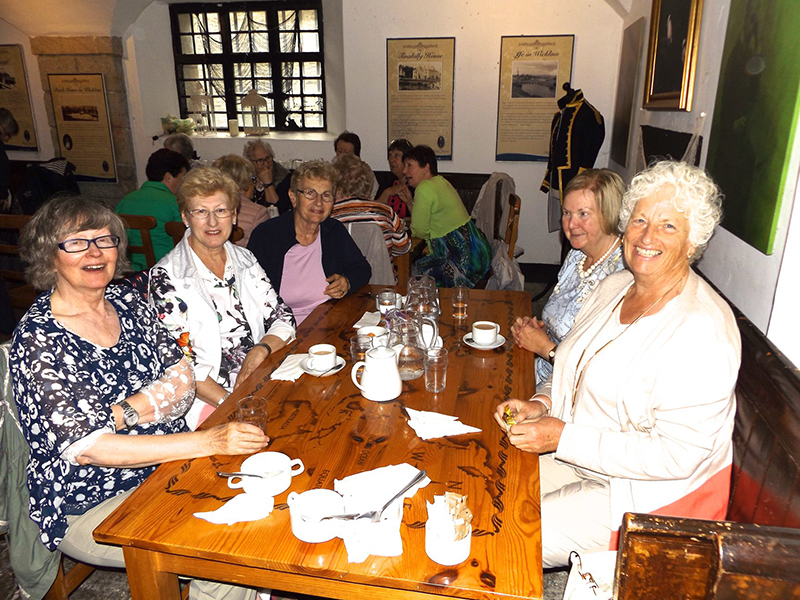 ---
News: 1st July 2019
Wicklow Town Summer Outing, Carlingford and Cooley Peninsula
We enjoyed a fascinating coach tour of the Cooley Peninsula, followed by a walking tour of historic Carlingford. Free time in the town saw a number of bargain purchases at an extensive antiques and collectibles emporium as well as some boutique shopping, and a lovely afternoon tea in the town.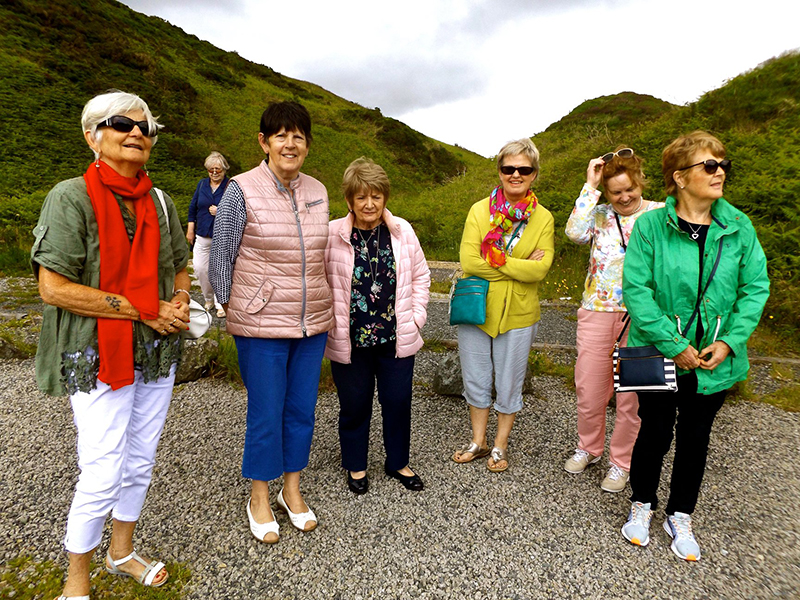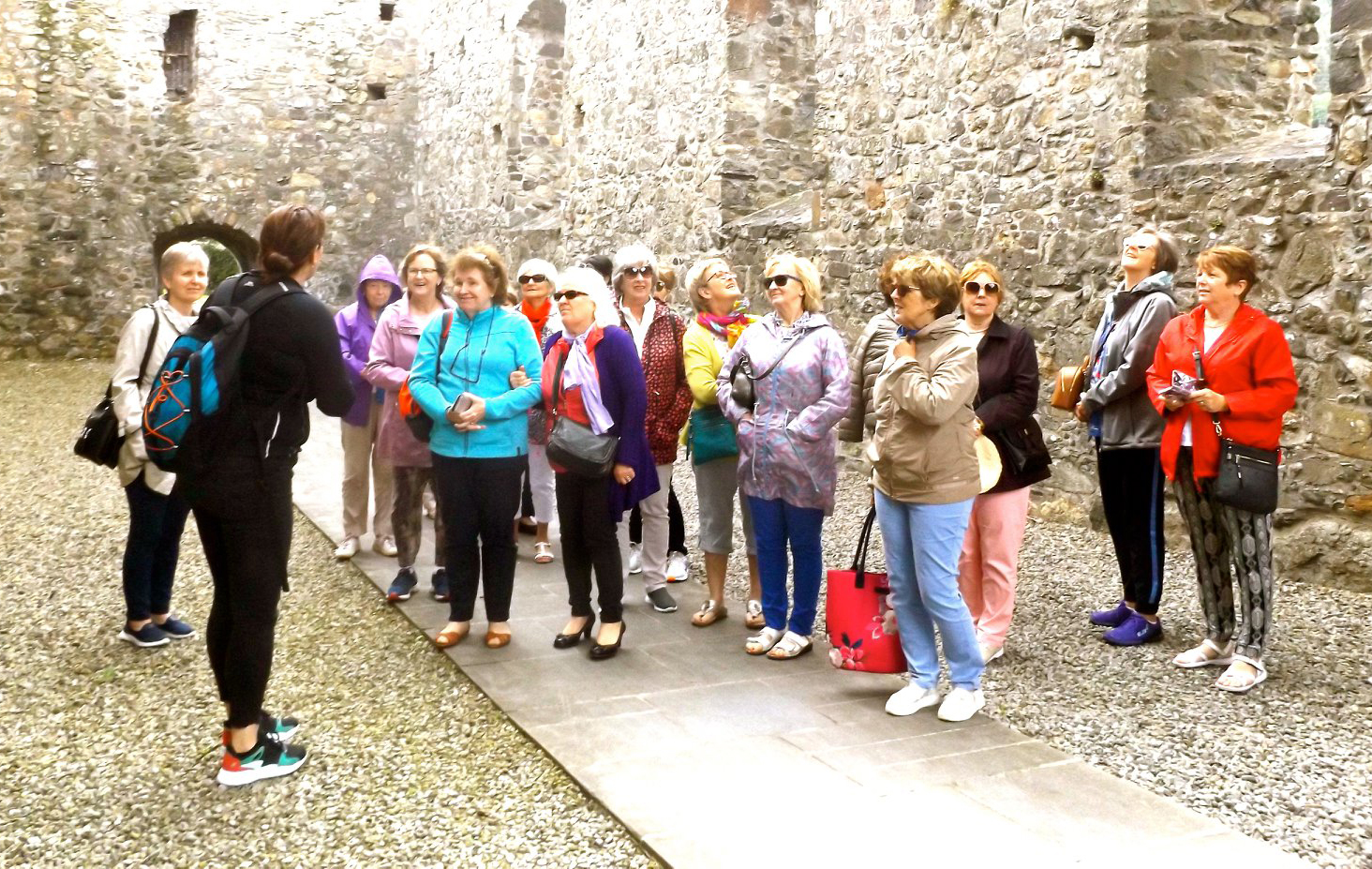 ---
News: 10th June 2019
Saving Ireland's Swifts
Huge thanks to our guest speaker Oran O'Sullivan formerly of Birdwatch Ireland and now director of his own bird food, bird gifts and bird accessories company Irish Garden Birds who came to tell us about the life of swifts, who migrate to Ireland inhabiting the eaves of older, tall buildings from early May to early August each year. Swifts are in decline nationally, one of the reasons being the removal or rennovation of old buildings, making their former nest sites inaccessible. Starting with a childhood ladybird book Oran developed a lifelong passion for birds and other wildlife. Recently Oran has travelled the country surveying swifts and advising on ways to encourage and protect them. A truly fascinating talk.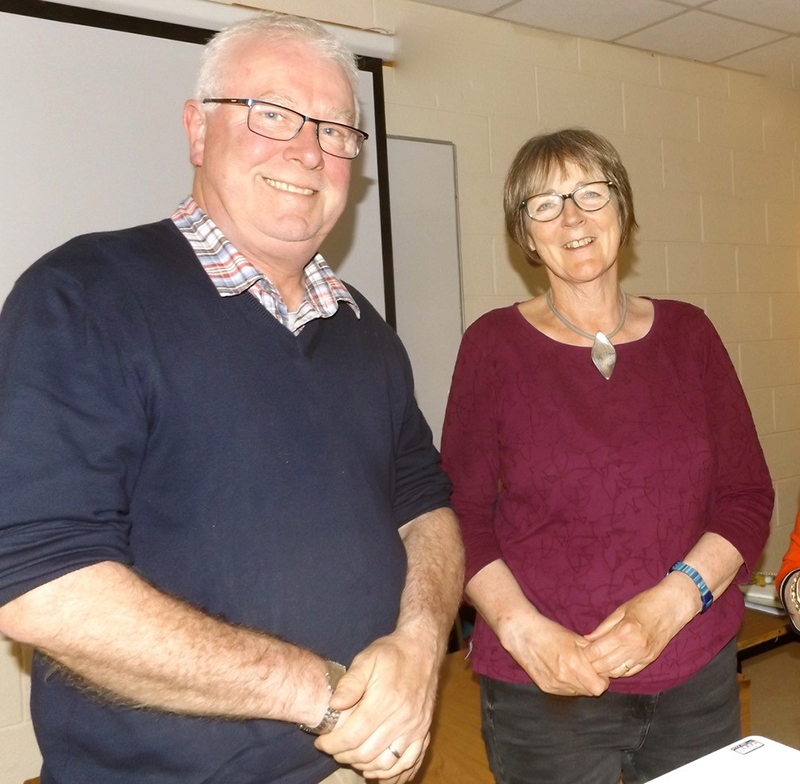 Above: Oran O'Sullivan of Irish Garden Birds with Guild President Margaret Jones.

In keeping with the spirit of the evening our competition was a Name the Birds Quiz.
The June Winners are:
1st - Sylvia Tracey and Susanna Braswell
2nd - Christina Murley
3nd - Betty Teahan and Catherine Higgins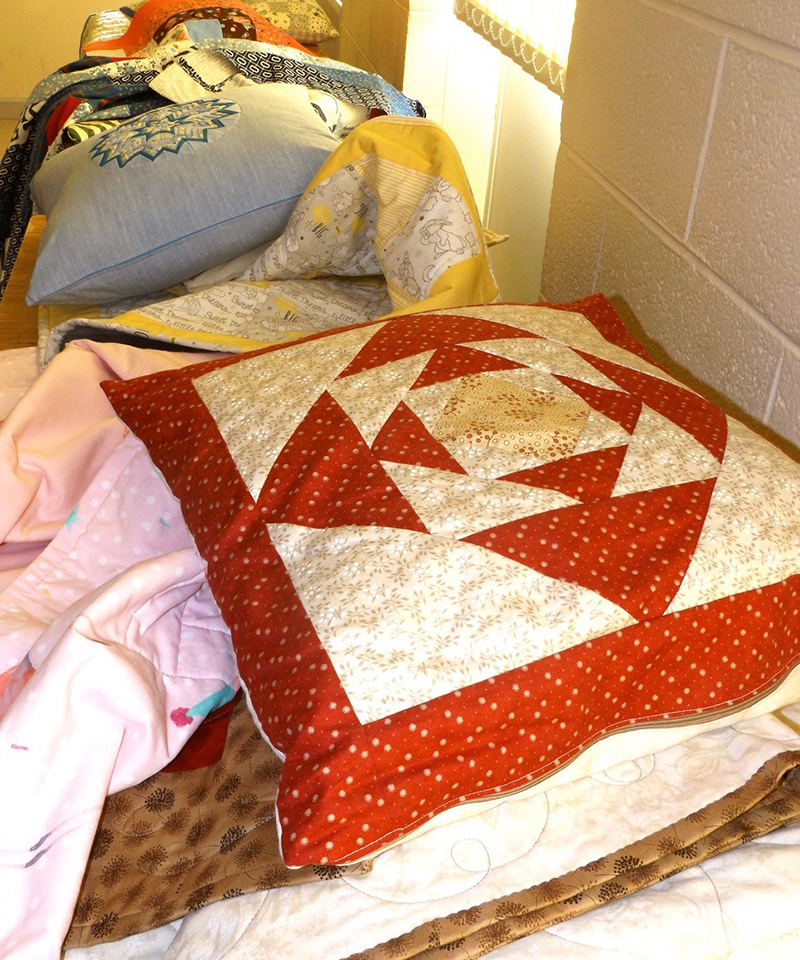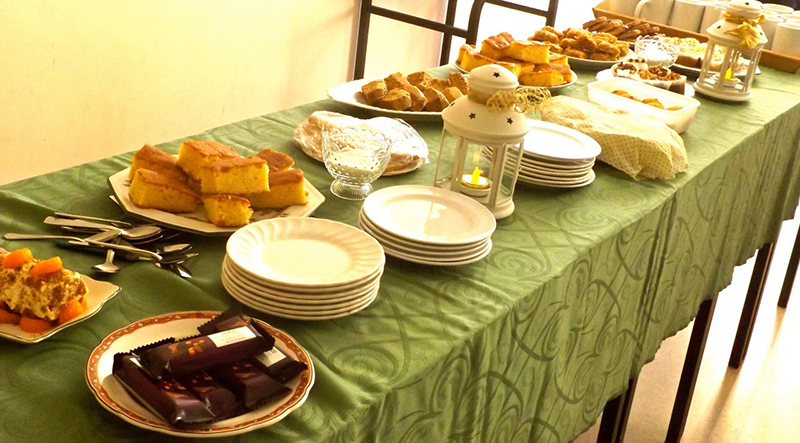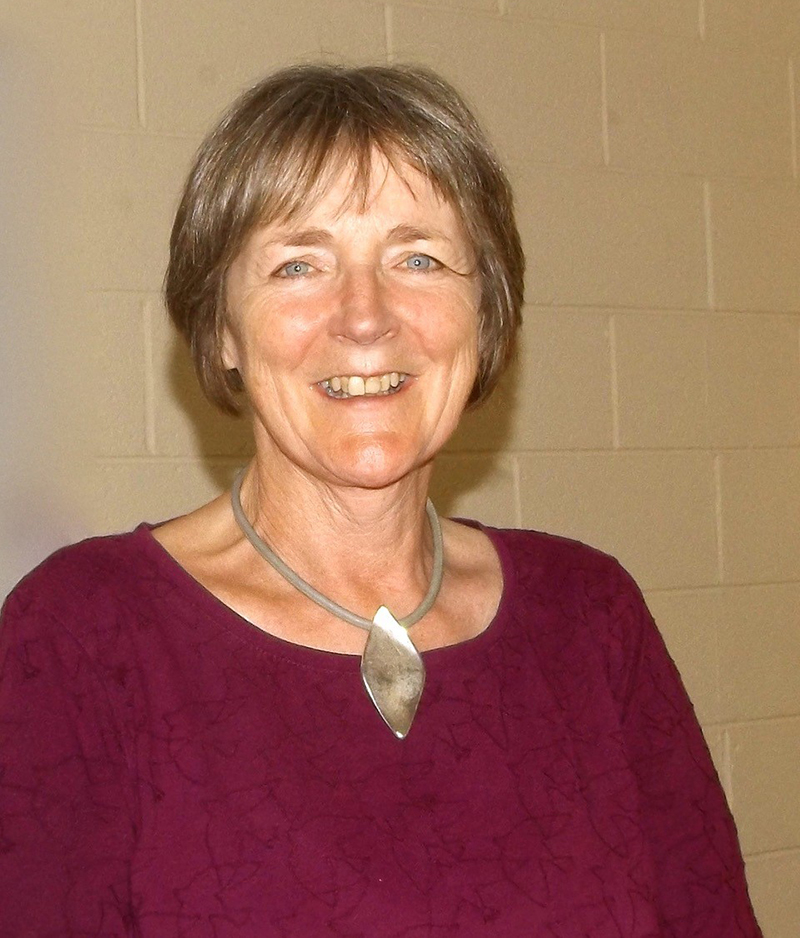 ---
News: 8th June 2019
Federation Meeting and Demonstration Afternoon, Hollywood
June is a lovely month to travel over the Wicklow mountains to Hollywood. Fantastic to see so many ICA ladies leading the way in sustainability. We were treated to demonstrations by Kate, a true master of macramé who can make anything (even a bicycle!) out of string, Val McGee (Avoca Guild) who showed us the best use ever for old paper, and the lovely ladies of Kilanerin Guild in Wexford who travelled to show us how simple it is to home-make your own beeswax wraps. Hosting Guild Hollywood gave us a warm welcome and a delicious tea in beautiful West Wicklow.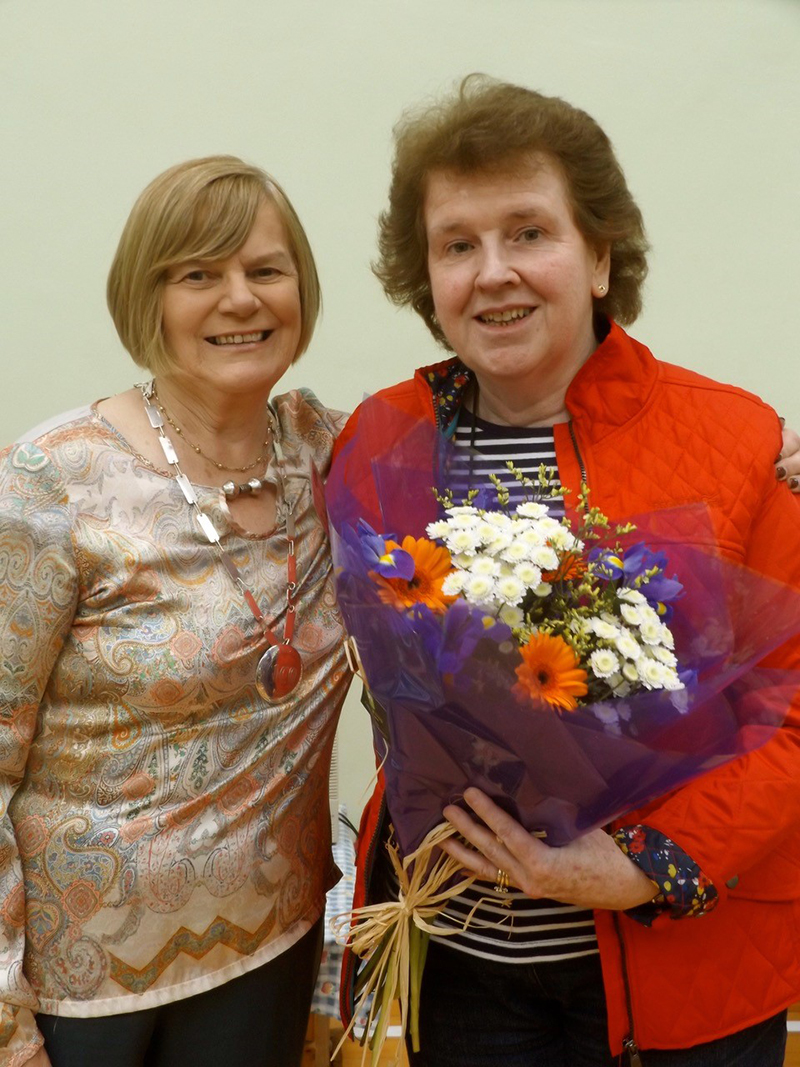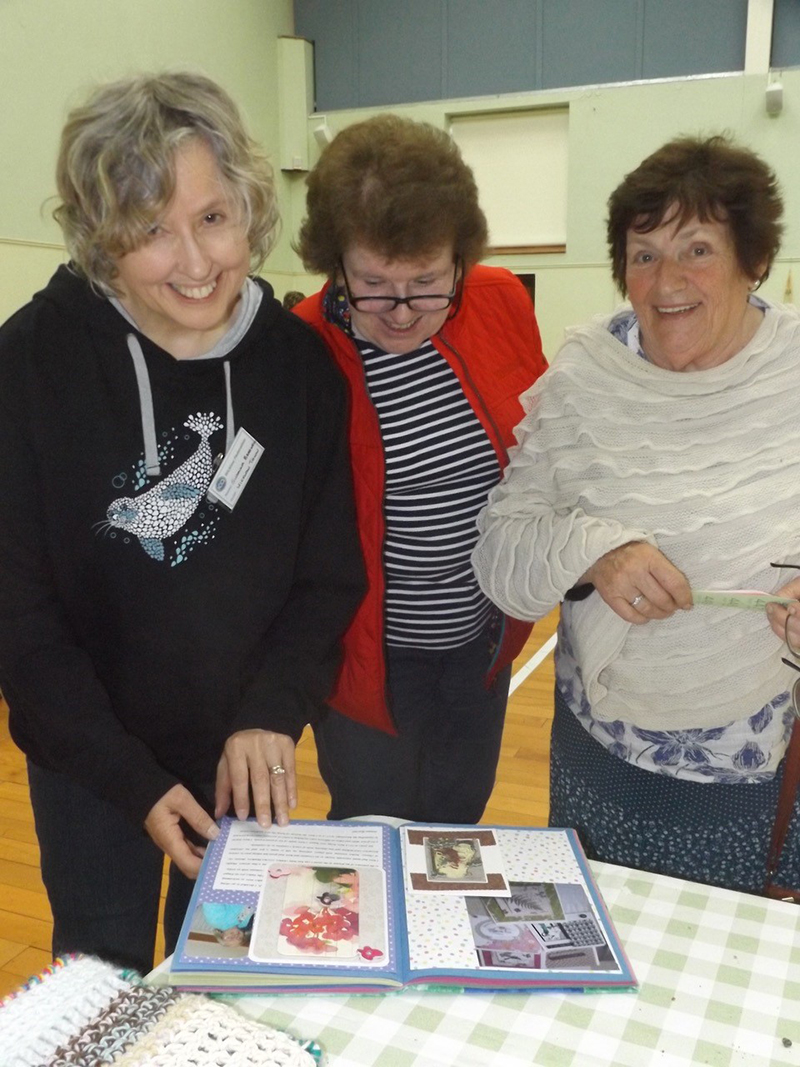 ---
News: 13th May 2019
Ceramic Painting and Fruity Displays
Many thanks to Siobhán Brennan owner of Wicklow Town's new Pottery Painting studio Crazy Glazing which provides opportunities for kids (from around 3 to 103!) to try their hand at all sorts of techniques for painting pottery. Siobhán showed us a great variety of pieces painted using different techniques and demonstrated that there is not a person who can't paint pottery, some of the simplest techniques like finger painting can produce spectacular results.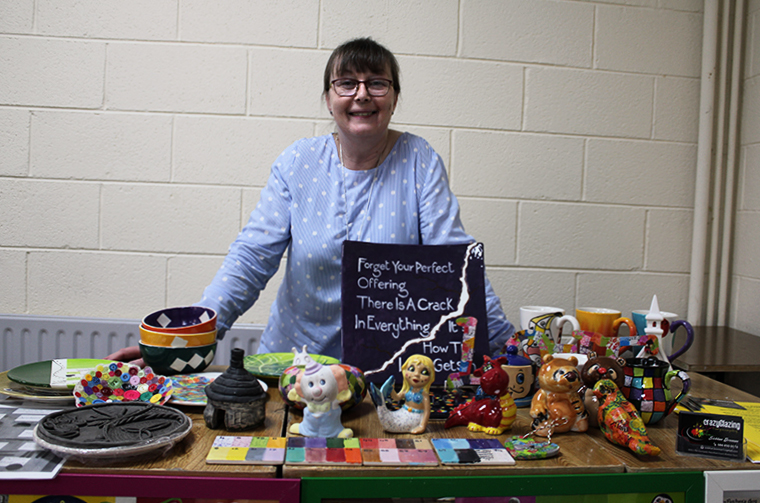 Above: Siobhán Brennan of Crazy Glazing, with examples of some of the different painting techniques.

The May competition was: Present a Bowl of Fruit and wow did that bring out some really spectacular entries. There were entries that looked absolutely like an Old Master painting, entries that were lit up and fun, fruity displays to encourage children to eat healthily.
The May Winners are:
1st - Maura Cregg
2nd - Christina Murley
3nd - Susanna Braswell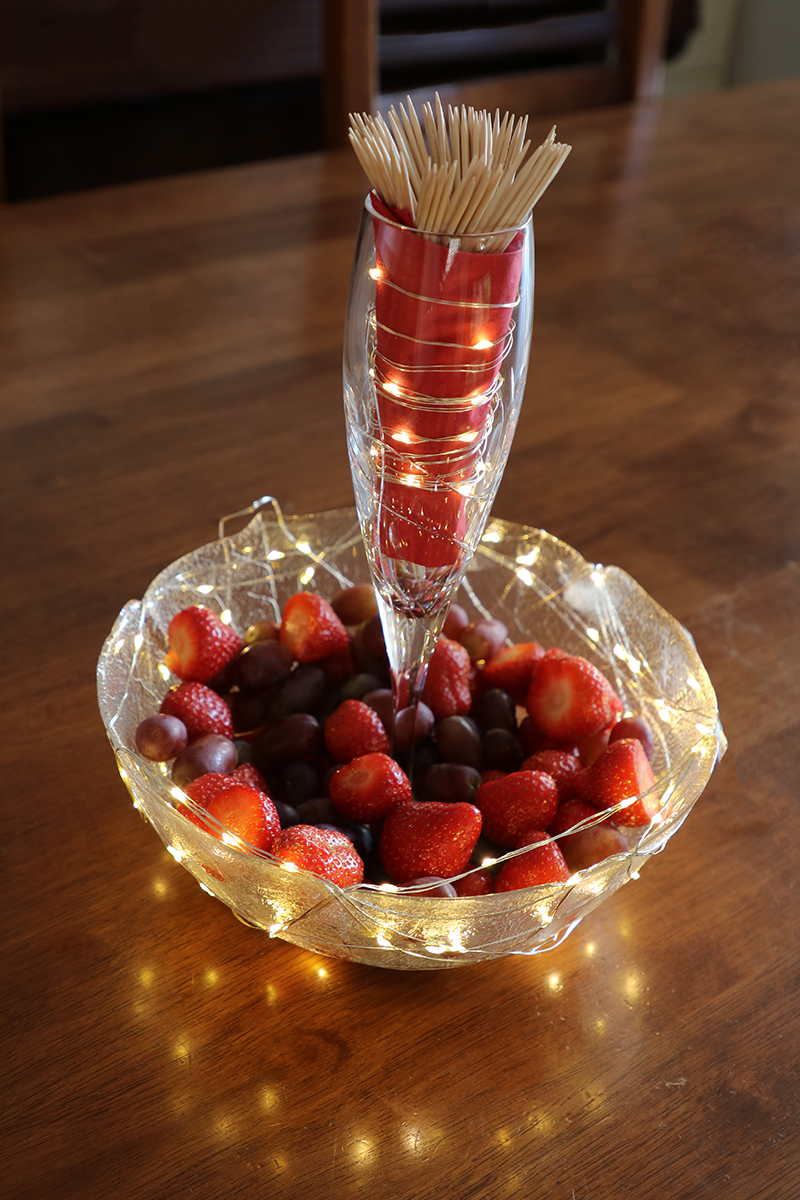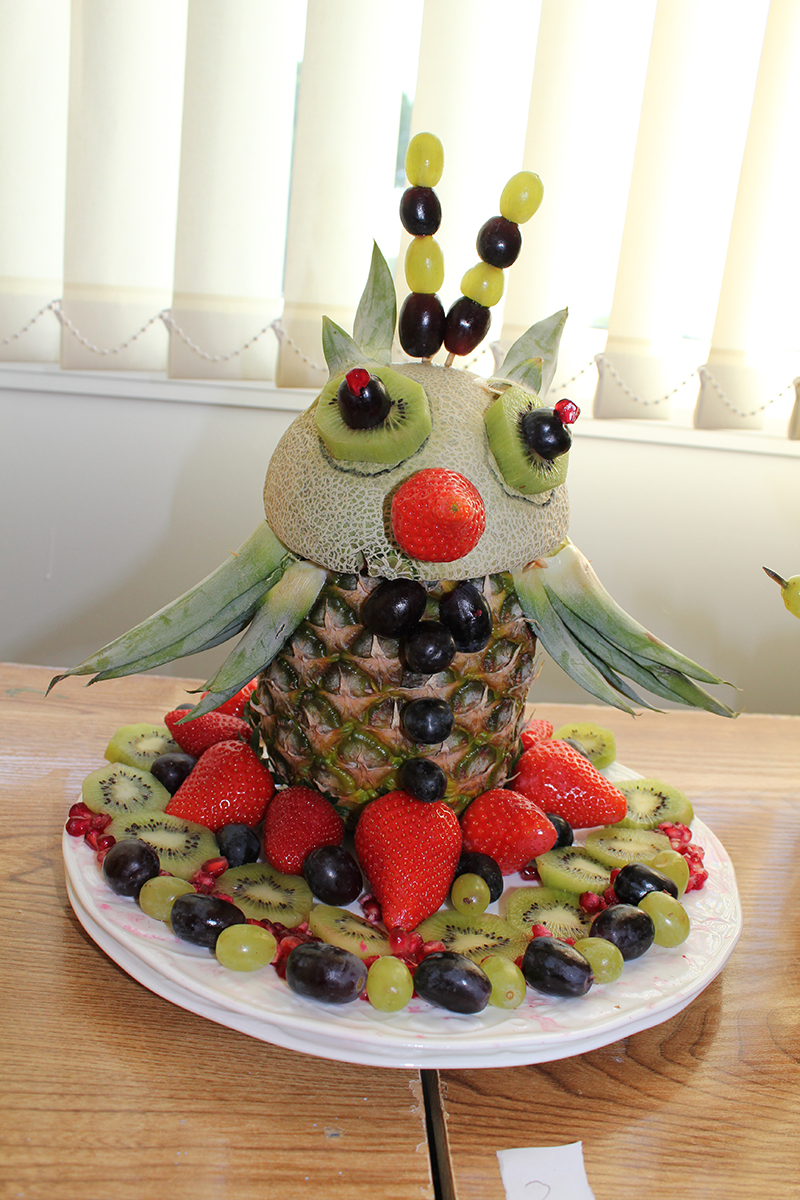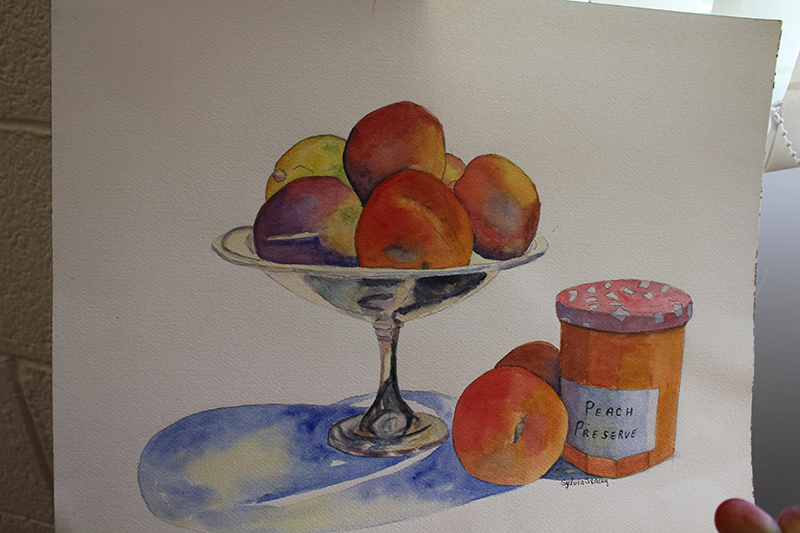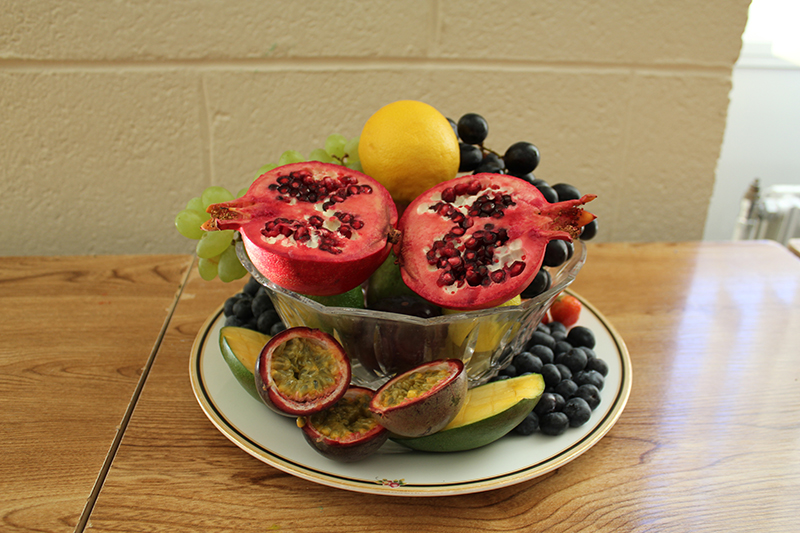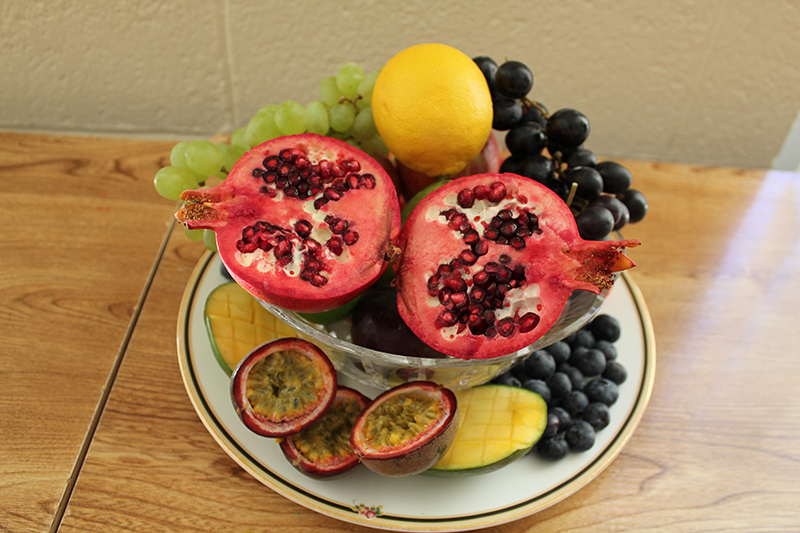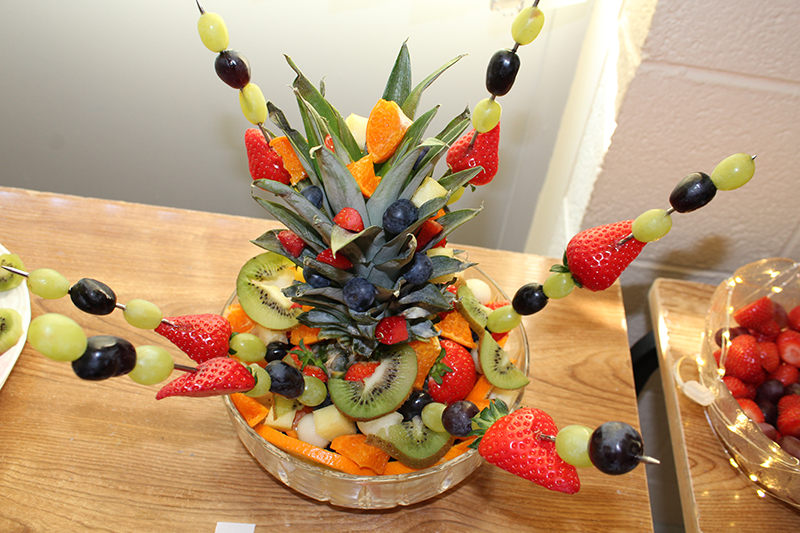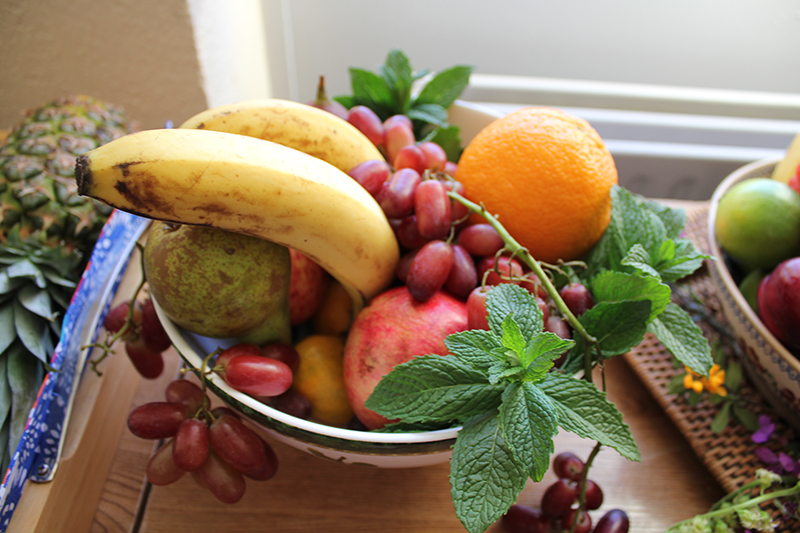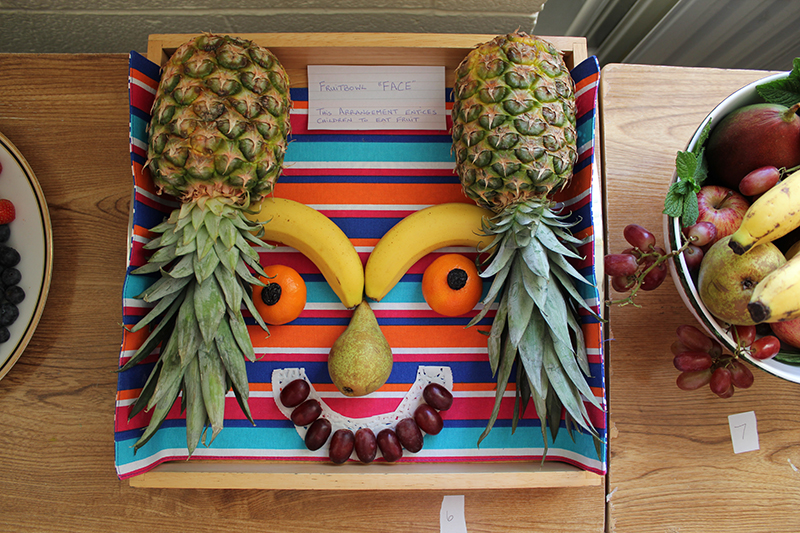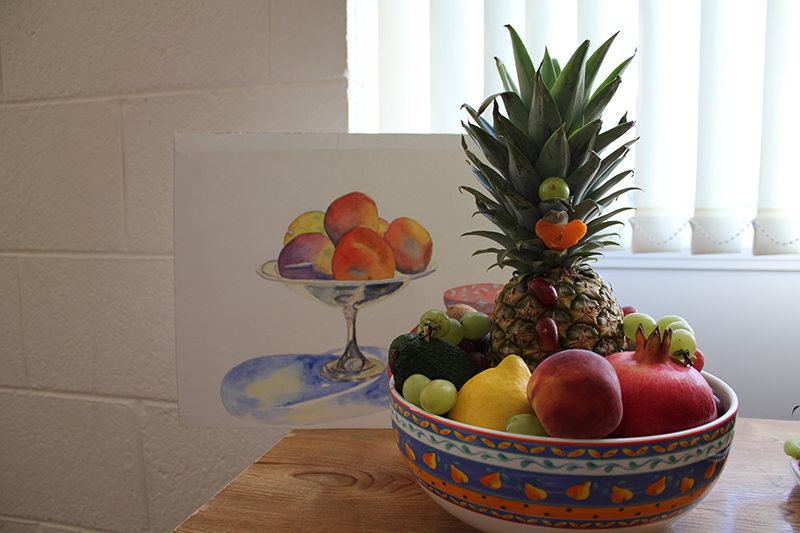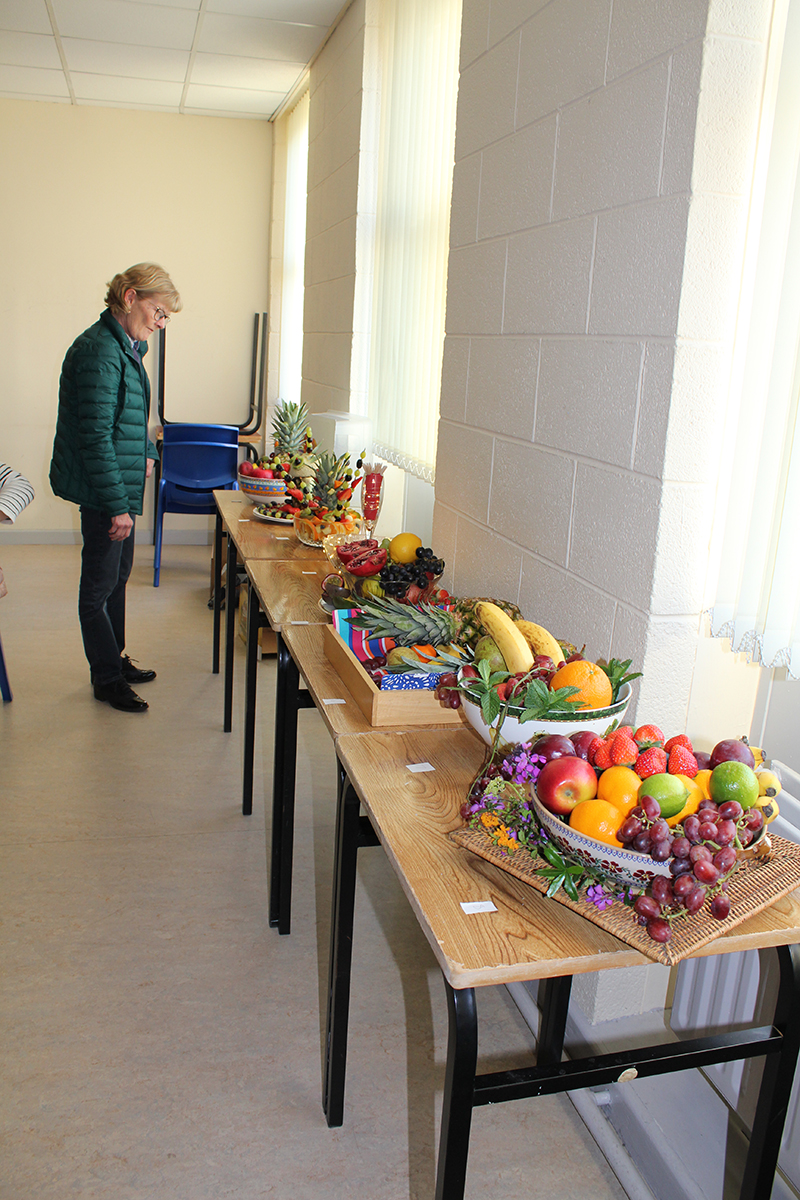 ---
News: 29th April 2019
Federation Arts and Crafts Night 2019 at Woodenbridge
Wicklow Town members had many entries across the different categories at the 2019 Wicklow Federation Arts and Crafts Night. It was a delight to see the skill applied by ICA members across the county to a range of imaginative interpretations of the different competition briefs - From Orange Drizzle Cake, Crochet Cowl, Knitted Bag, Upcycle Make & Model, Comortas Gaeilge (An illustration for the Song Báidín Fheilimí), Paint a Stone, Flower Basket, Garden on a Plate, Handmade Toy and Handmade Bookmark. There was a treat for the mind and ears with the Impromptu Public Speaking Competition - Tales about an imaginary friend, a bicycle, science fiction, cats, goldfish and dream homes to name but a few. And who can ever forget that Santa Claus definitely IS a woman?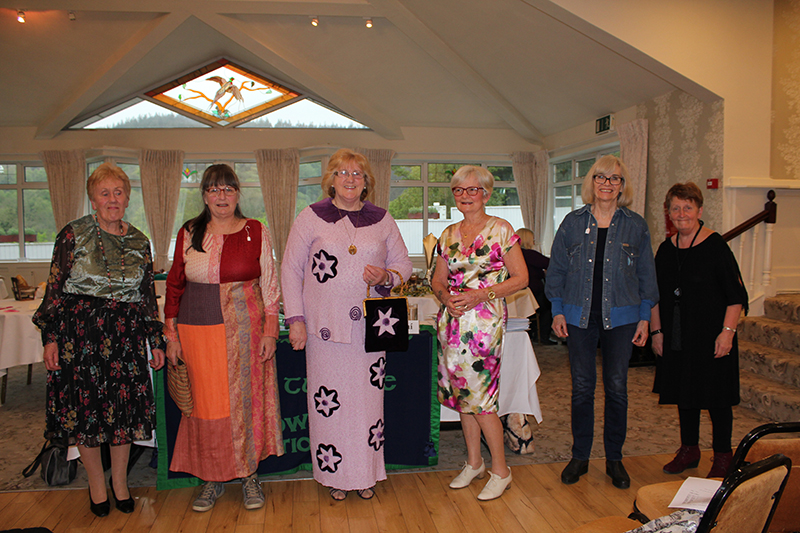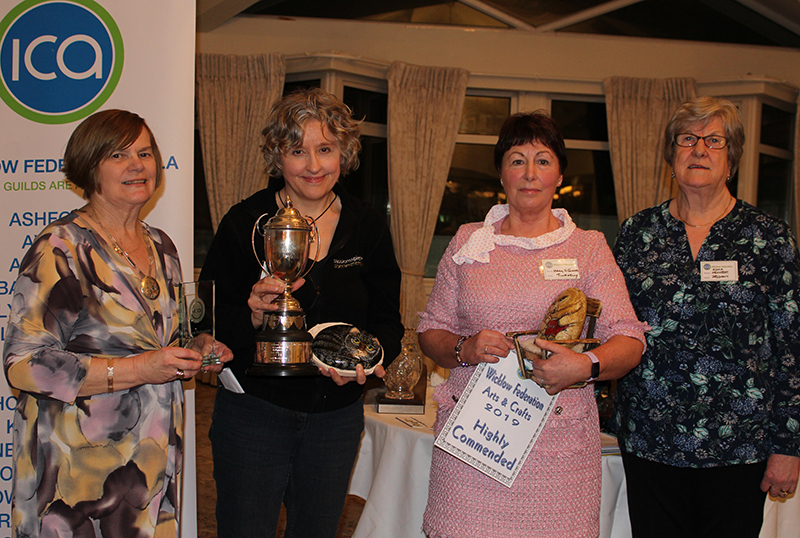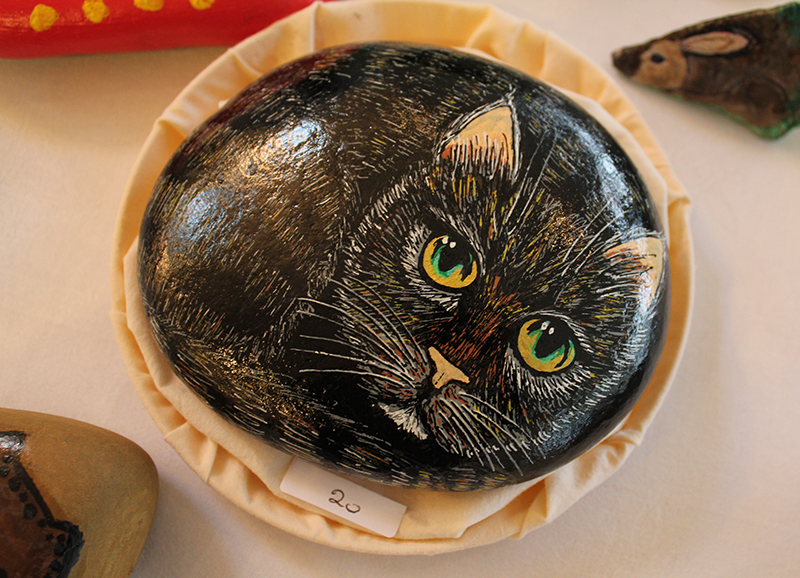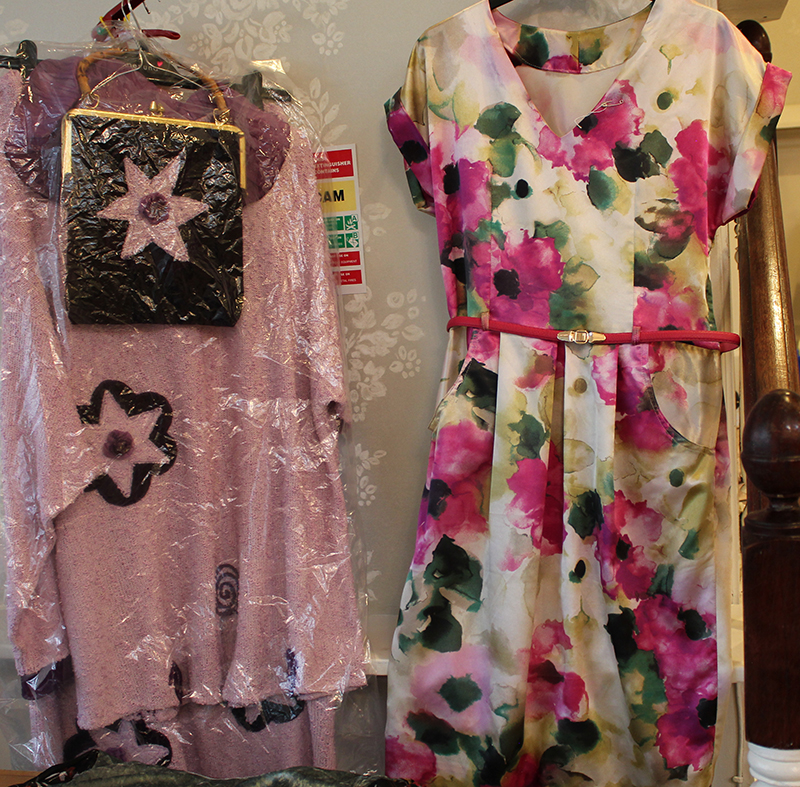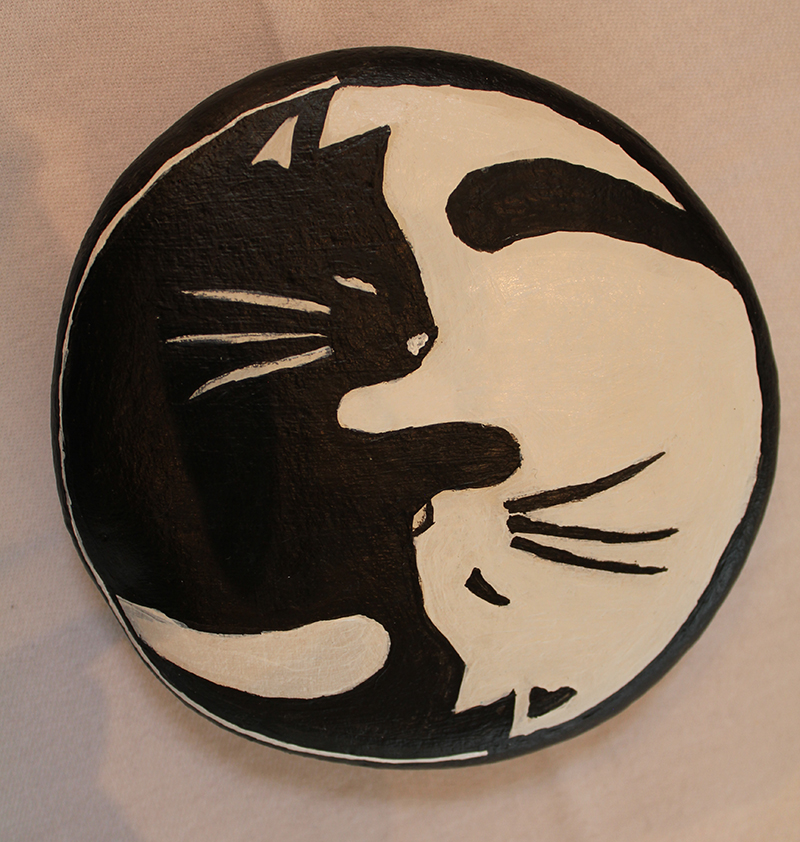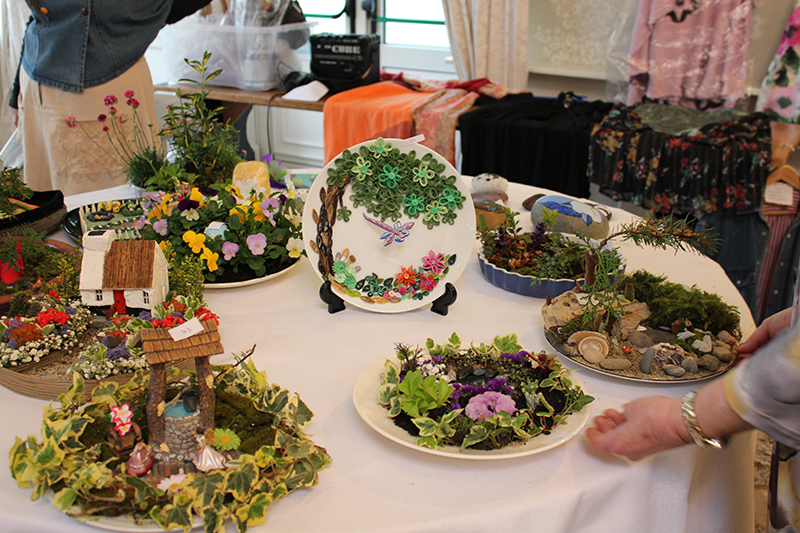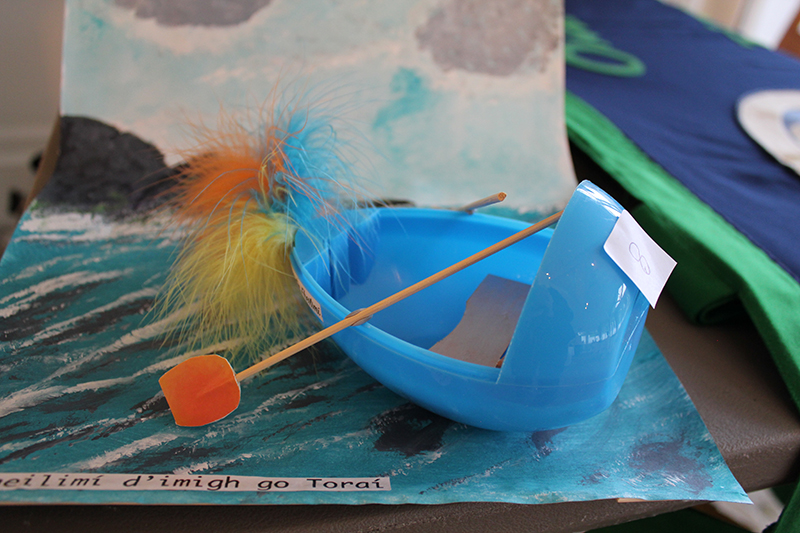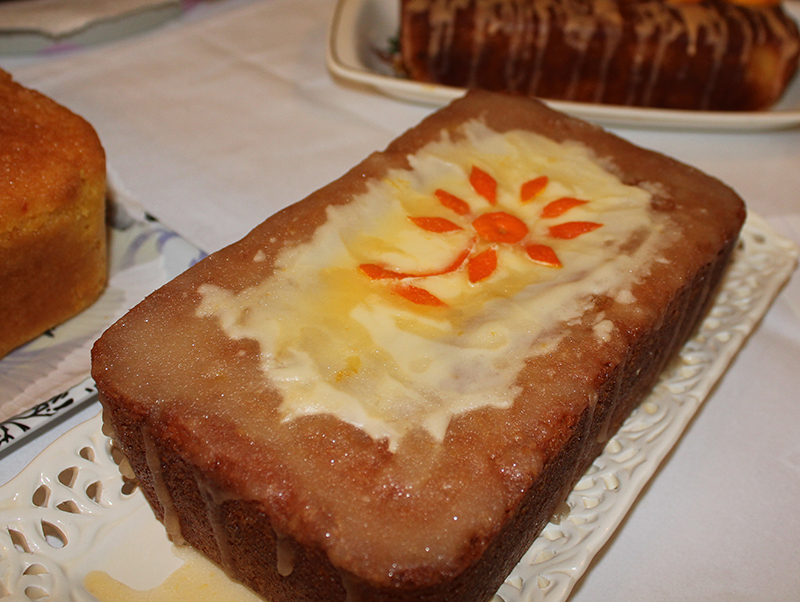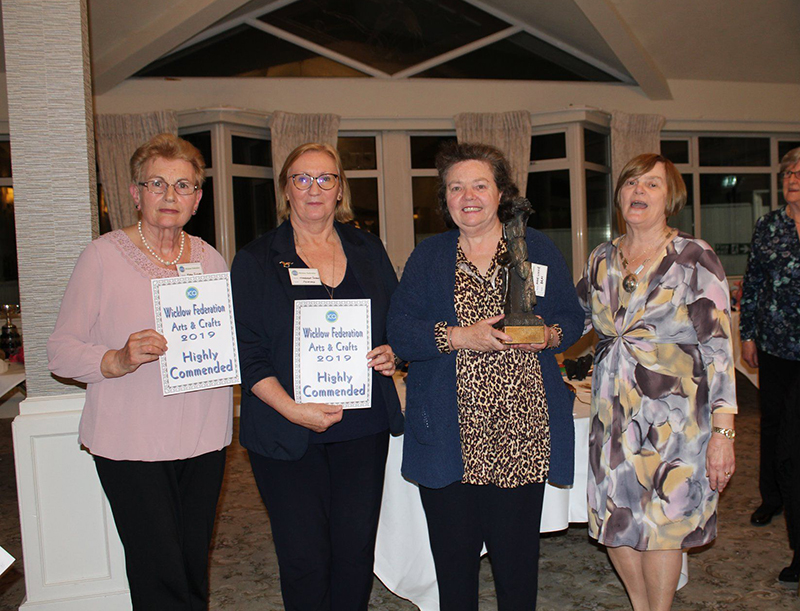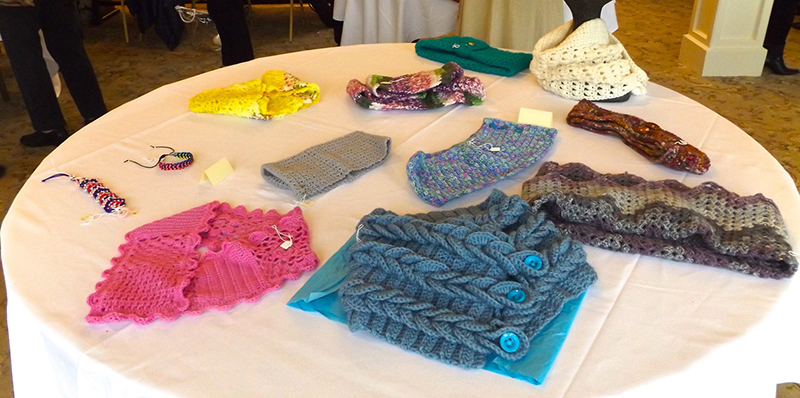 ---
News: 8th April 2019
Wicklow Town AGM
Some very foggy weather and the necessity of proritising safe travel kept a few of our members from attending, as well as our information officer Statia Ivers who was fog bound. However it was not all doom and gloom as we thanked Betty for her years serving as Guild President and welcomed new President Margaret Jones. Susanna was thanked for her years as Guild Sceretary and we welcomed Liz Delaney into the role and Christina Murley who had retired very quitely after her 3 years serving as Treasurer from the foundation of the Guild also received a bouquet and hearty thanks.
---
News: 24th March 2019
Seachtain na Gaeilge and International Women's Day Celebration
Celebrating both Seachtain na Gaeilge and International Women's Day we had a really lovely afternoon with music, songs, dances, really delicious food, chat and fun. We were blessed with guests from Spain, Germany and Zimbabwe who so graciuosly agreed to talk to us about their countries and their experience of living in Ireland. Our guest from Lithuania helped to judge our seana waltz competition and the songs from the Ladies from Zimbabwe helped make a wonderful afternoon even more special.
---
News: 11th March 2019
Beezie and St. Patrick's Day
We were treated to a performance of a one-woman play 'Beezie'. Written by Shiela and David Flitton and performed by actress Shiela Flitton, it told the amazing true story of Beezie Gallagher, born in the 1870s, who was the sole resident on an island off Sligo for over 60 years. Beezie talked about her youth, her friendship with WB Yeats,a rejected marriage proposal, her brief later marriage, her rescue during the great freeze of 1947 and her escape from a County Home. Some photos of "Beezie" below. Watch out for Beezie's old boots! Repair and re-use was a way of life then.
St. Patrick's Day Creations
Our monthly Competition was for a Saint Patrick's Day Badge or Brooch. You can see some of the lovely creations below.


The March Winners are:
1st - Margaret Jones
2nd - Susanna Braswell
3rd - Margaret O'Toole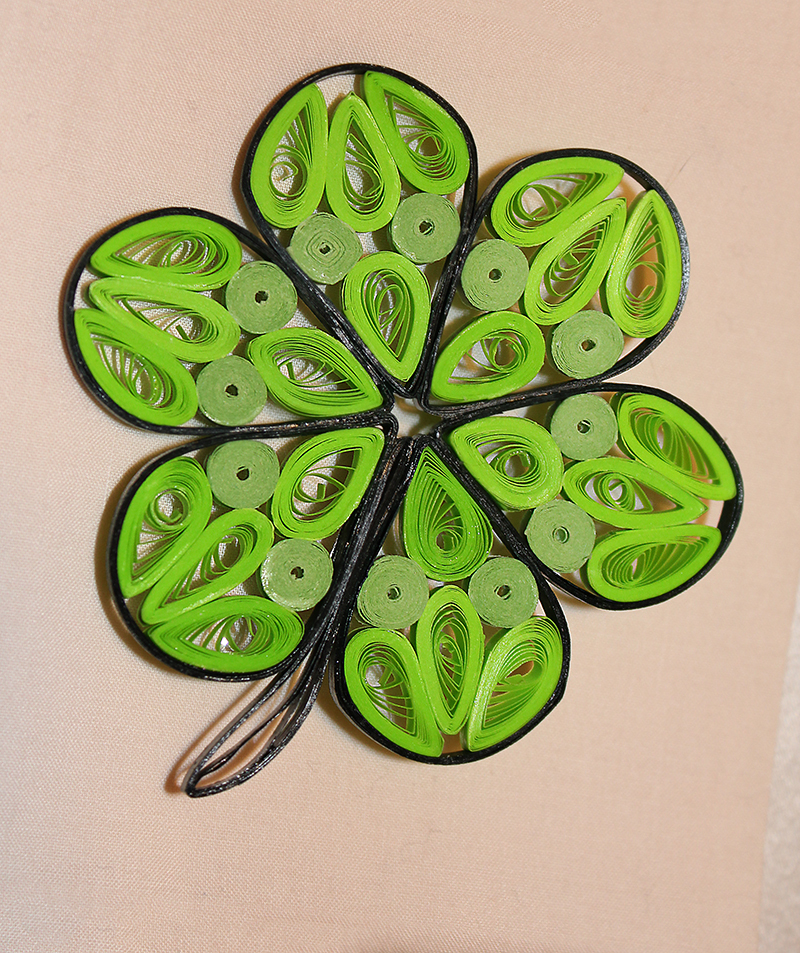 ---
News: 11th February 2019
Beeswax Soap and Valentine Candleholders
Huge thanks to Ann from Ann's Beeswax Products* who demonstrated the making of soap and facecream at our February meeting. Ann also brought a great range of her own produce for members to see, smell and sample. Congratulations to all the members who entered a wonderful array of decorated candleholders for ♥ ♥ ♥ Valentine's Day ♥ ♥ ♥. Photos below.*Ann can be contacted at 086 3798303.

The February Winners are:
1st - Susanna Braswell
2nd - Sylvia Tracey
3rd - Maura Cregg
---
News: 18th - 20th January 2019
Spotted at ICA Wicklow Federation 64th Drama Festival
Just a quick shot showing a few the many ICA Wicklow Town Guild members who attended over the three night festival. These lovely ladies (below) were spotted on Friday 18th. Also pictured are ICA South East Regional President Margot Brennan and ICA WIcklow Federation President Hilda Roche. Congratulations to all the talented companies who trod the Boards, directed, organised hair, make-up and props and of course the many ICA Wicklow Federation members who did administration, manned the door, made the tea and helped in a myriad of ways to mount another wonderful ICA Drama Festival.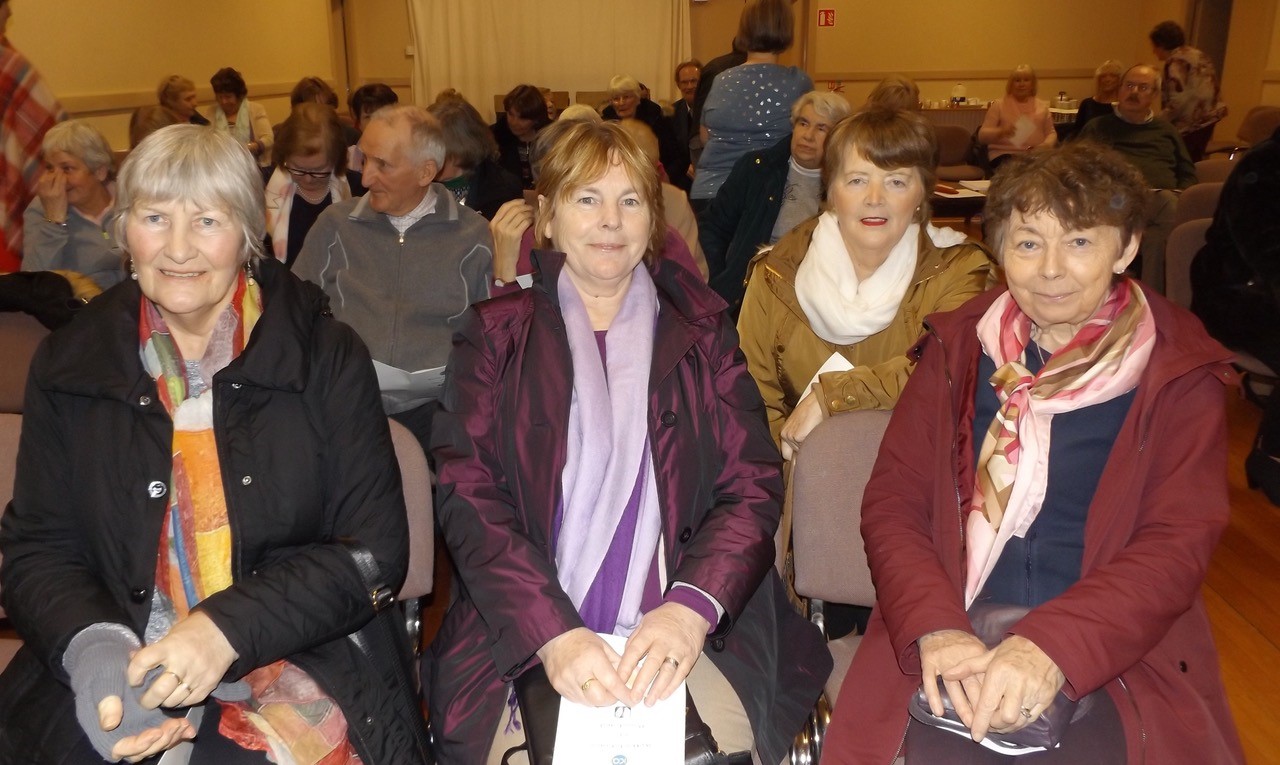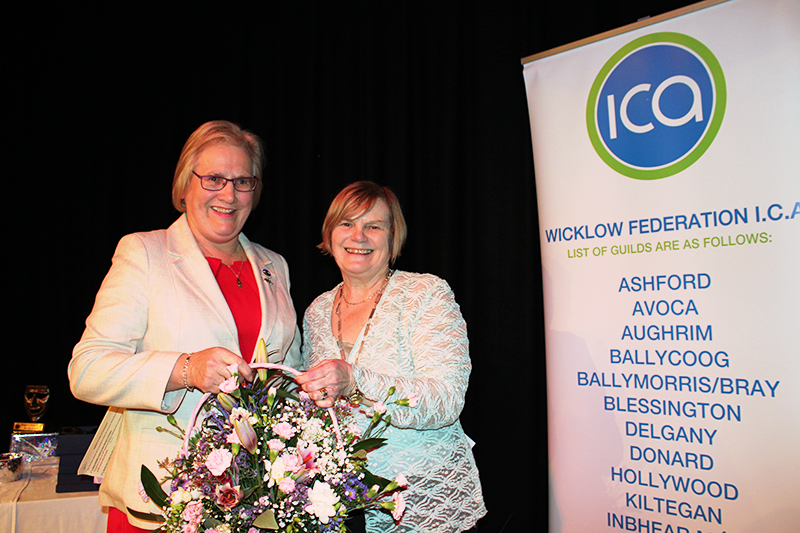 ---
News: 14th January 2019
Helpig Migrants and Assylum Seekers in Lesbos
Many thanks to Verna McGeachin for telling us about her experience of helping migrants and assylum seekers. Not only is Verna part of a group collecting clothing and items as needed by those arriving at Lesbos, but she also recycles fabric from unusable clothing to make a range of bags and purses which are sold to raise money to buy supplies for the appeal. Thanks to all the many members who responded to the appeal for ladies undies!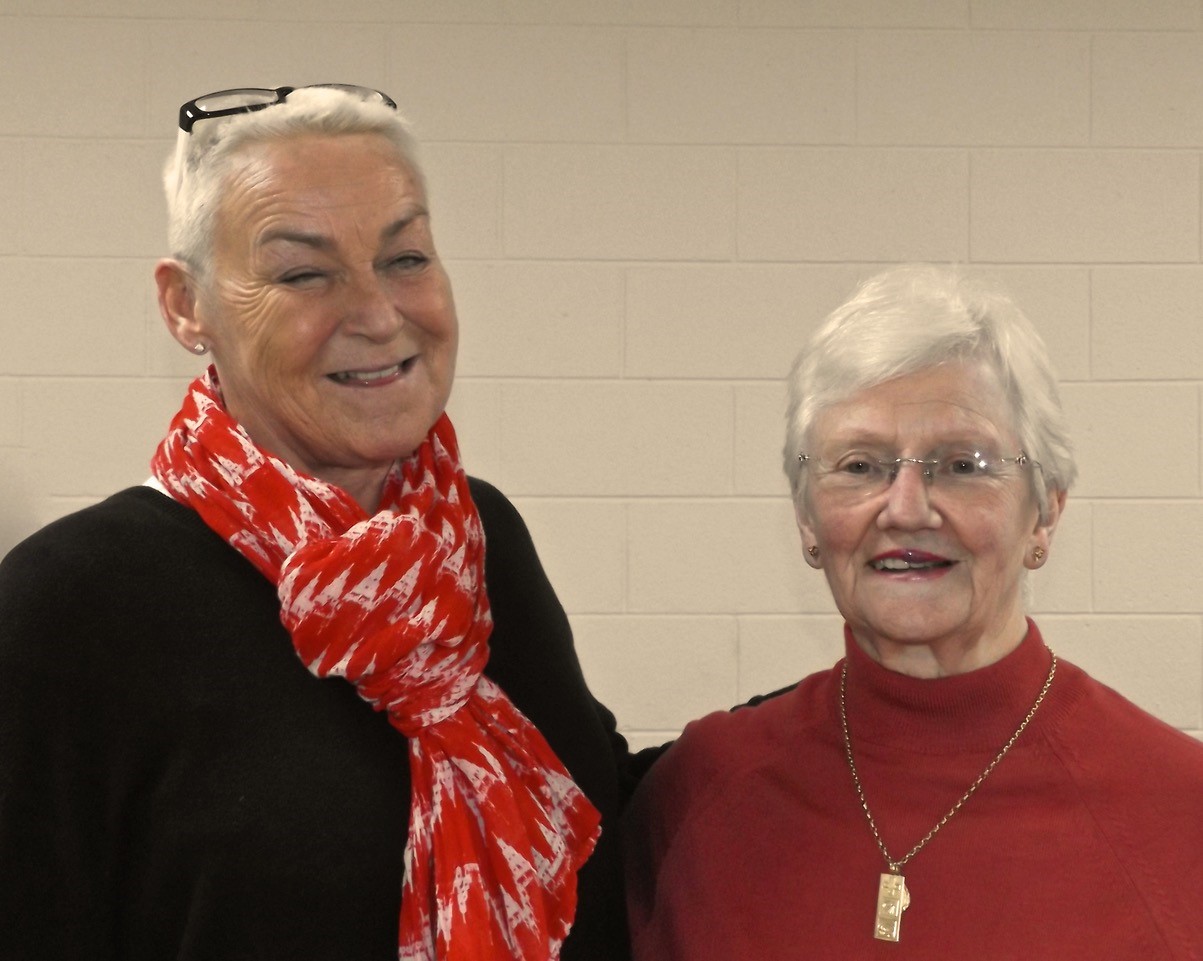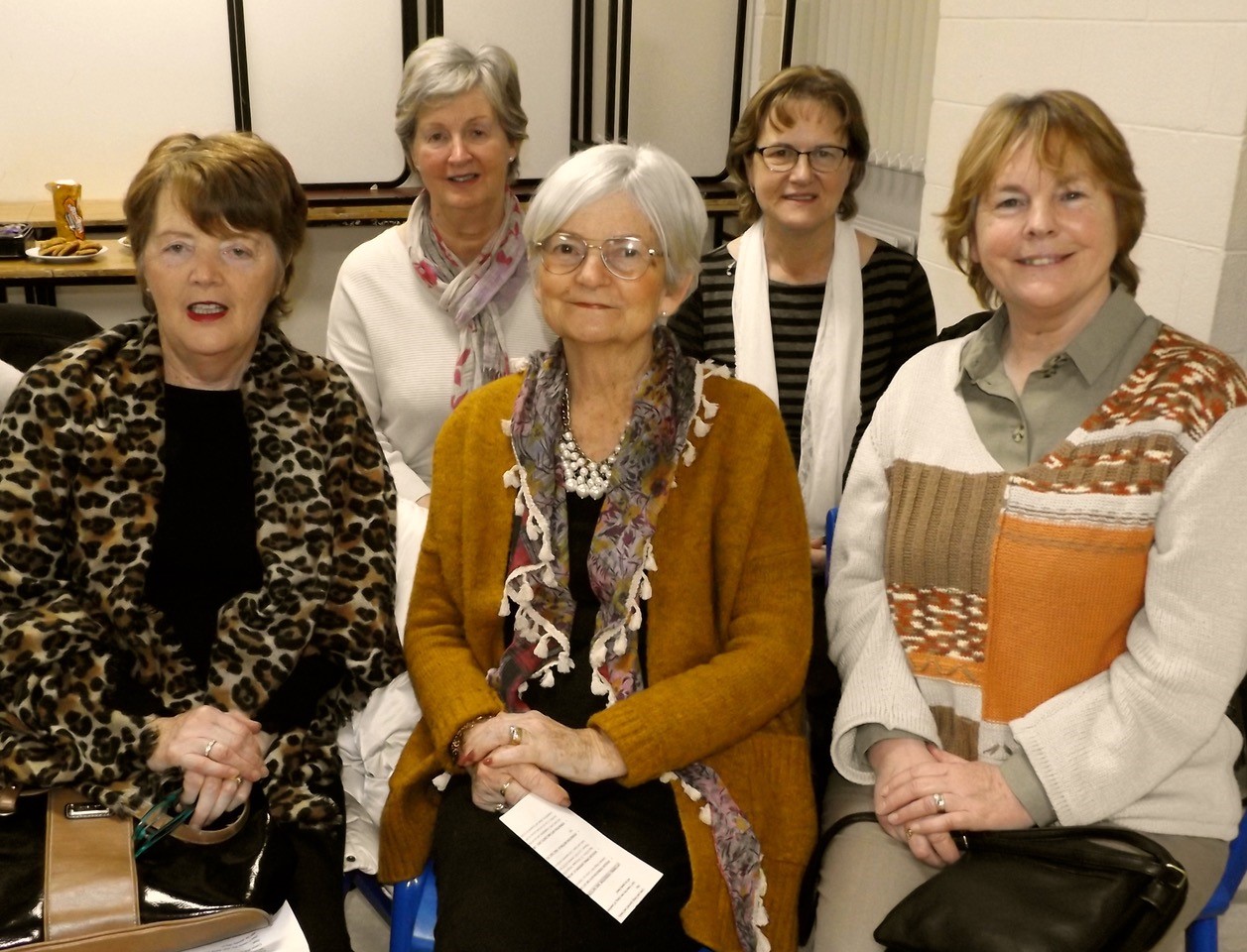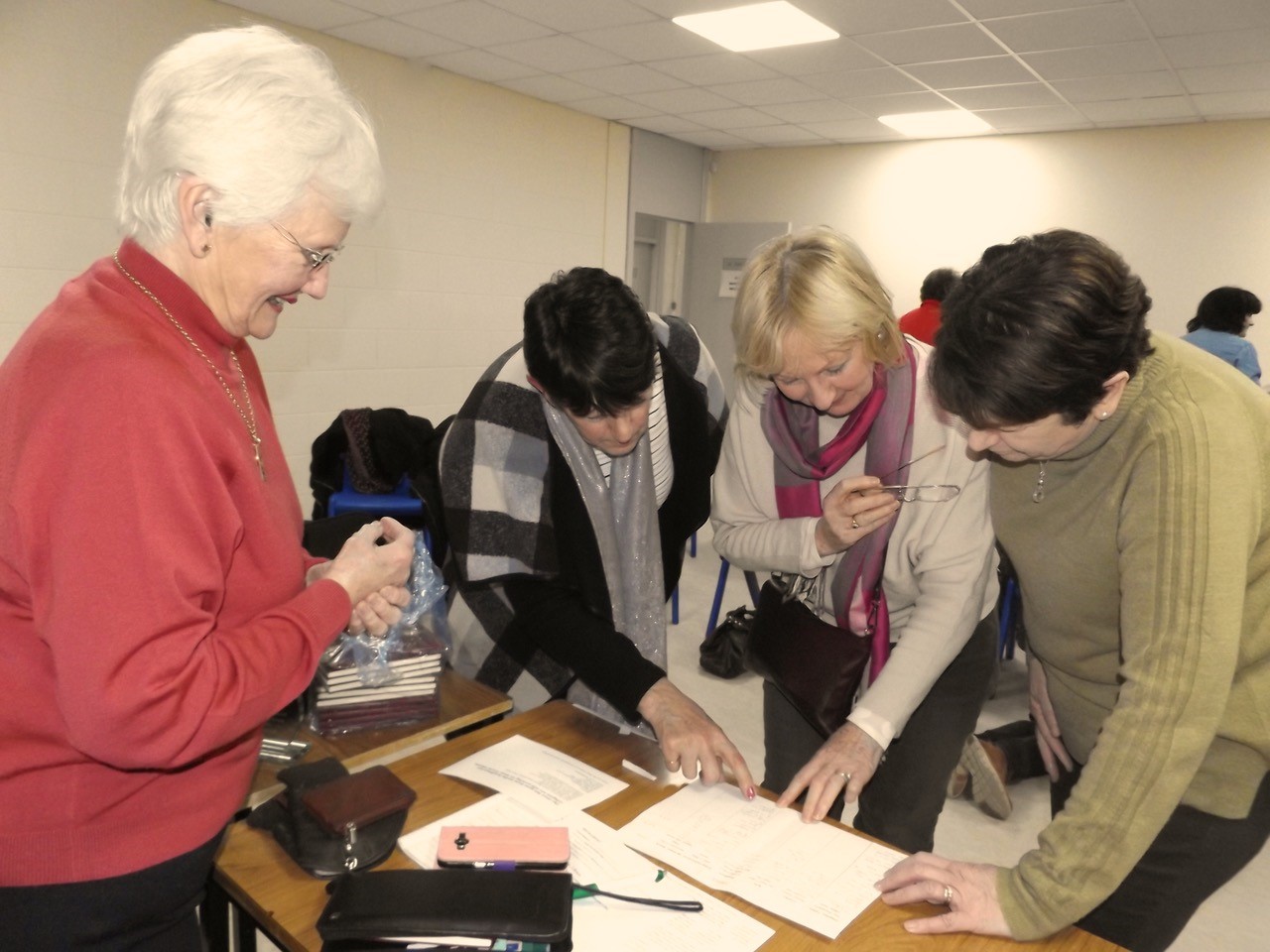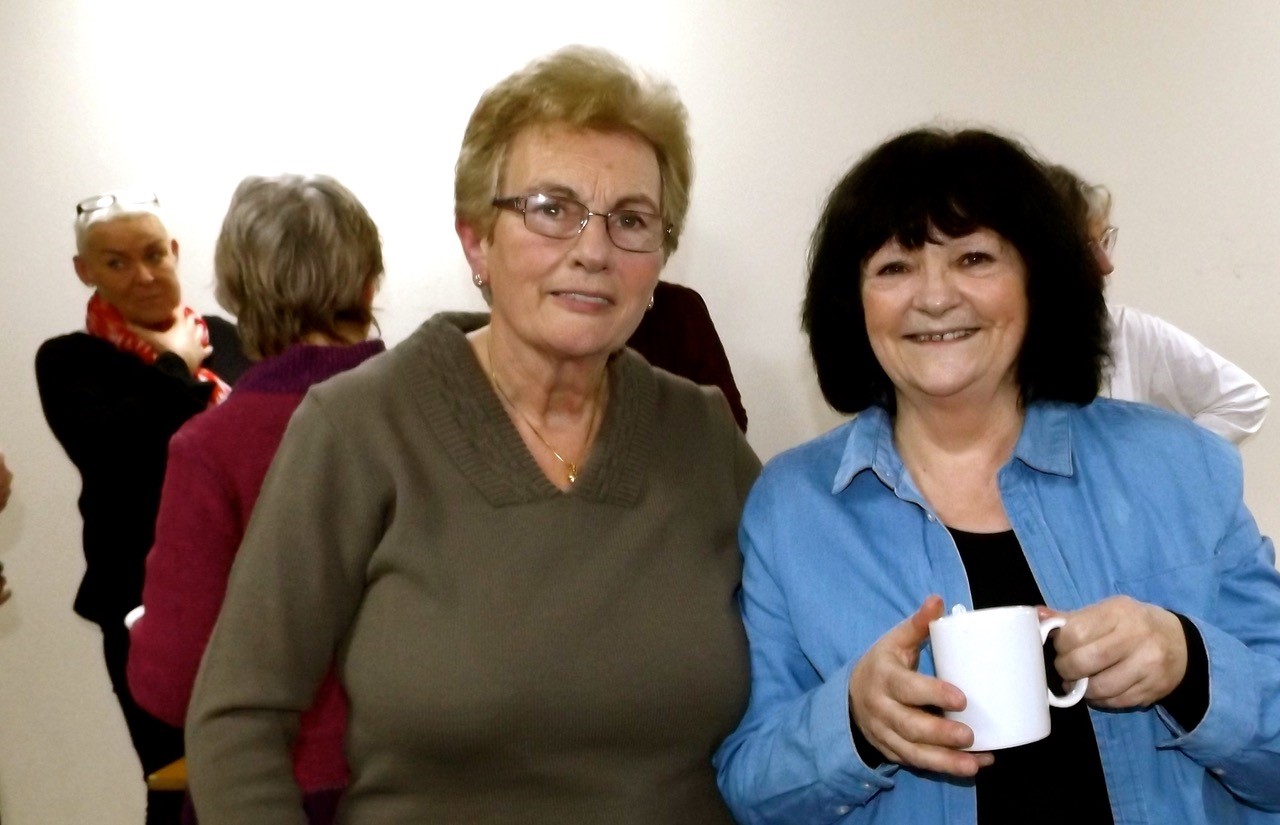 ---
News: 10th December 2018
Christams Dinner
A lovely night at The Bridge Tavern ended with an impromptu sing along of popular Christmas songs!
---
News: 26th November 2018
Sixties Night / Guild of the Year
What a night! Attended by over half the Guild and supported by others who could not come but lent items for the display, this was one fun night. ICA never looked so well...stoned, sloshed and a few other colourful adjectives come to mind as members of Guilds across the county became unrecognisable under extensive wigs and costuming, taking up the dressing in sixties style challenge! To be fair there were also those expressing the more elegant attire of the sixties, recalling designer Mary Quant and style icon Jackie Kennedy. Our Guild's display of authentic sixties items evoked a few memories and sounds of "oh remember Buntus Cainte!" and "Look at the tupperware!" were heard. There was a wealth of imaginative interpretation of the Sixties brief from across the ten Guilds who entered. We were delighted when Betty took first place for her beautiful flower-power pill box crochet hat, and when Liz and Margaret (O'T) were awarded a perfect score of 100% for their Volkswagon cake! Despite a momentary CD gremlin, who crept in unannounced, our Hucklebuck had everyone on their feet dancing! Thanks to the team work and combined talents of all at ICA Wicklow Town, we were truly delighted that our combined score led us to take home Second Prize.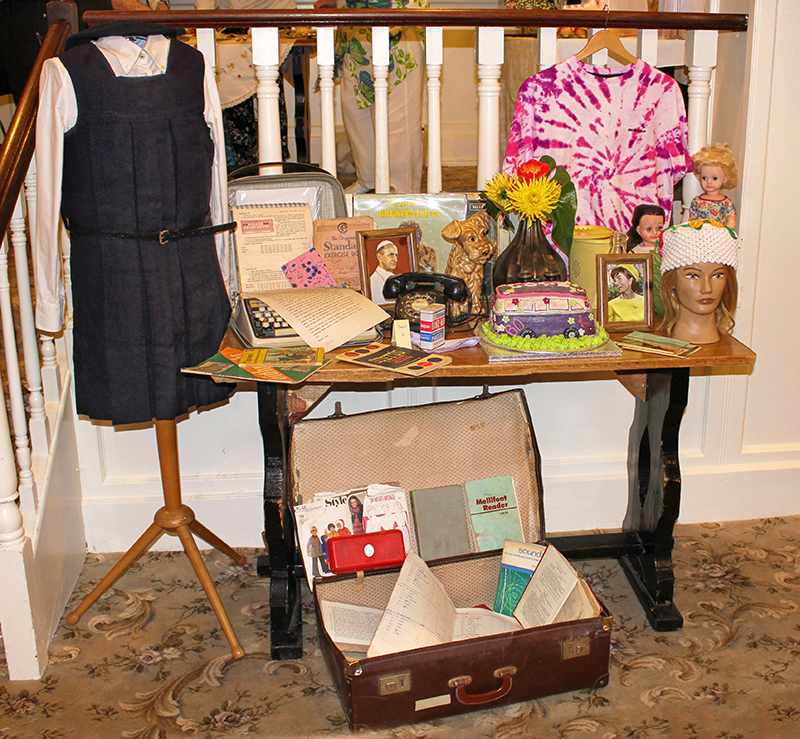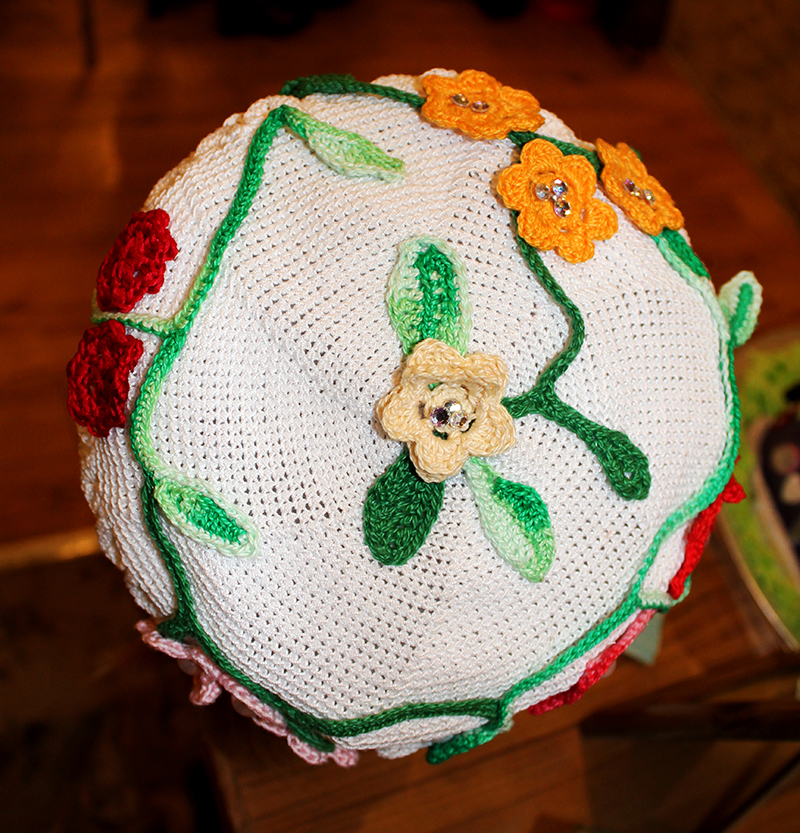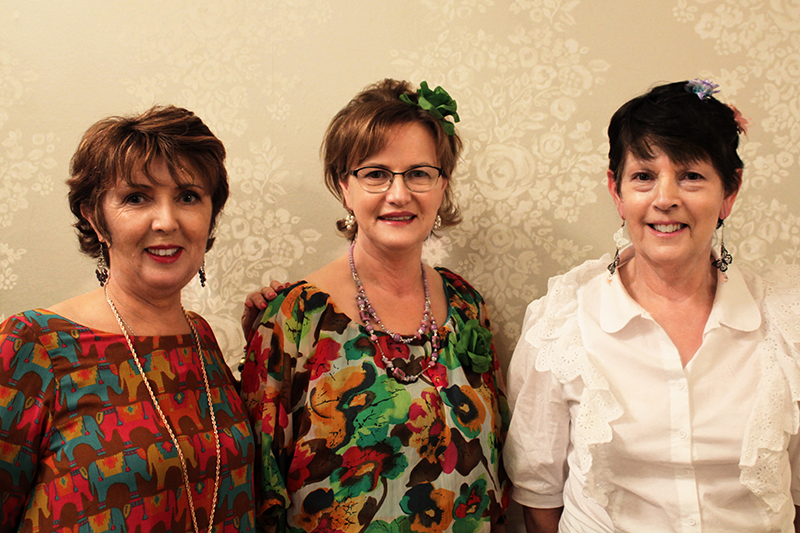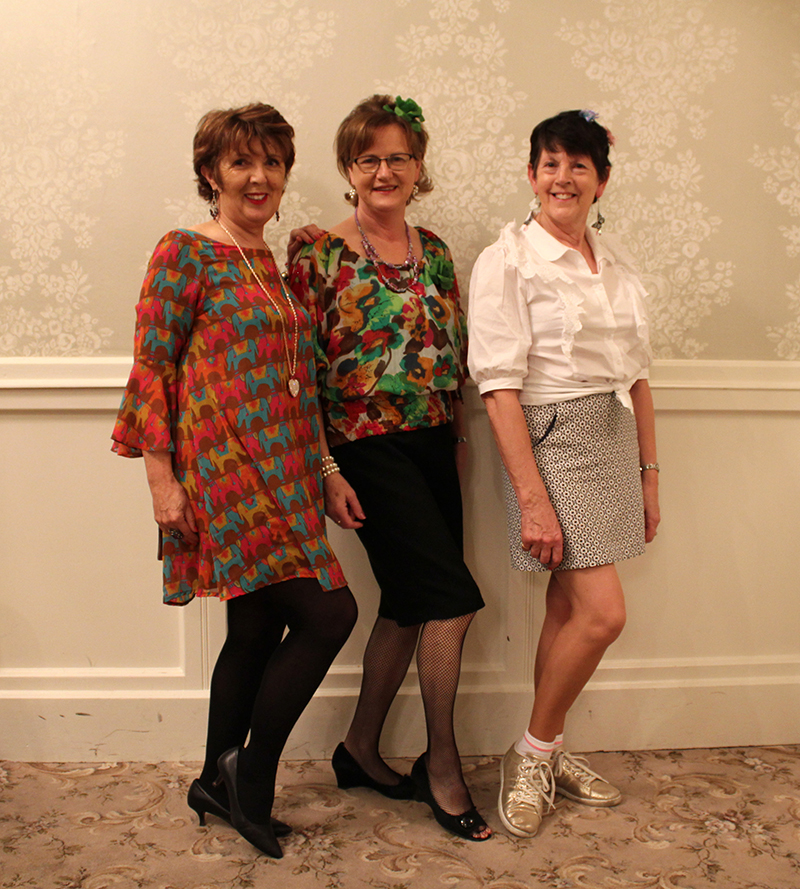 ---
News: 12th November 2018
Christmas Crafts with Denise
Grateful thanks to Denise Rice who led us through a most enjoyable craft session of Découpage, a really simple and effective way to decorate almost any item. Starting out with a plain decoration, everyone applied découpage under Denise's expert eye and each of us went home with our own piece.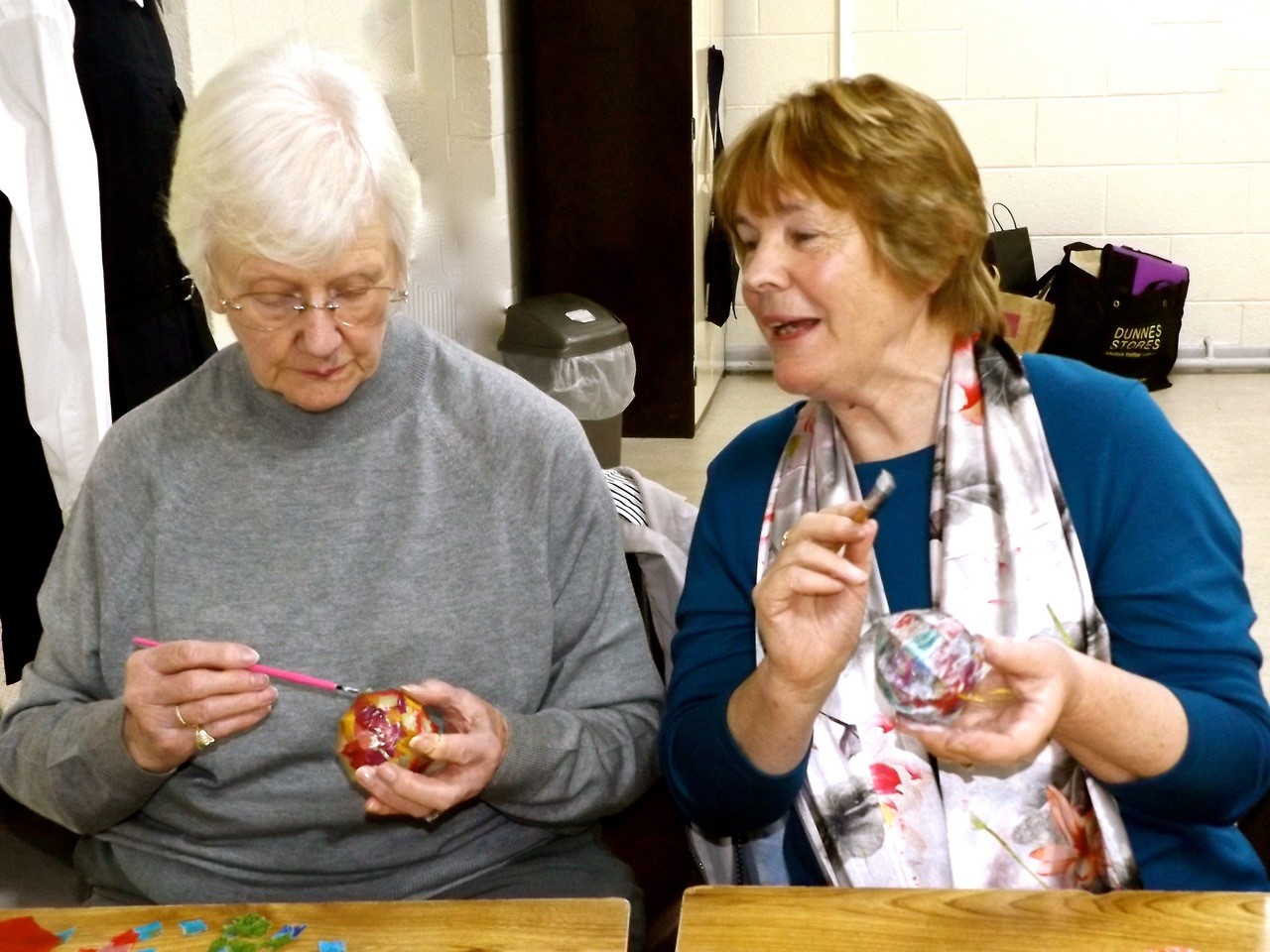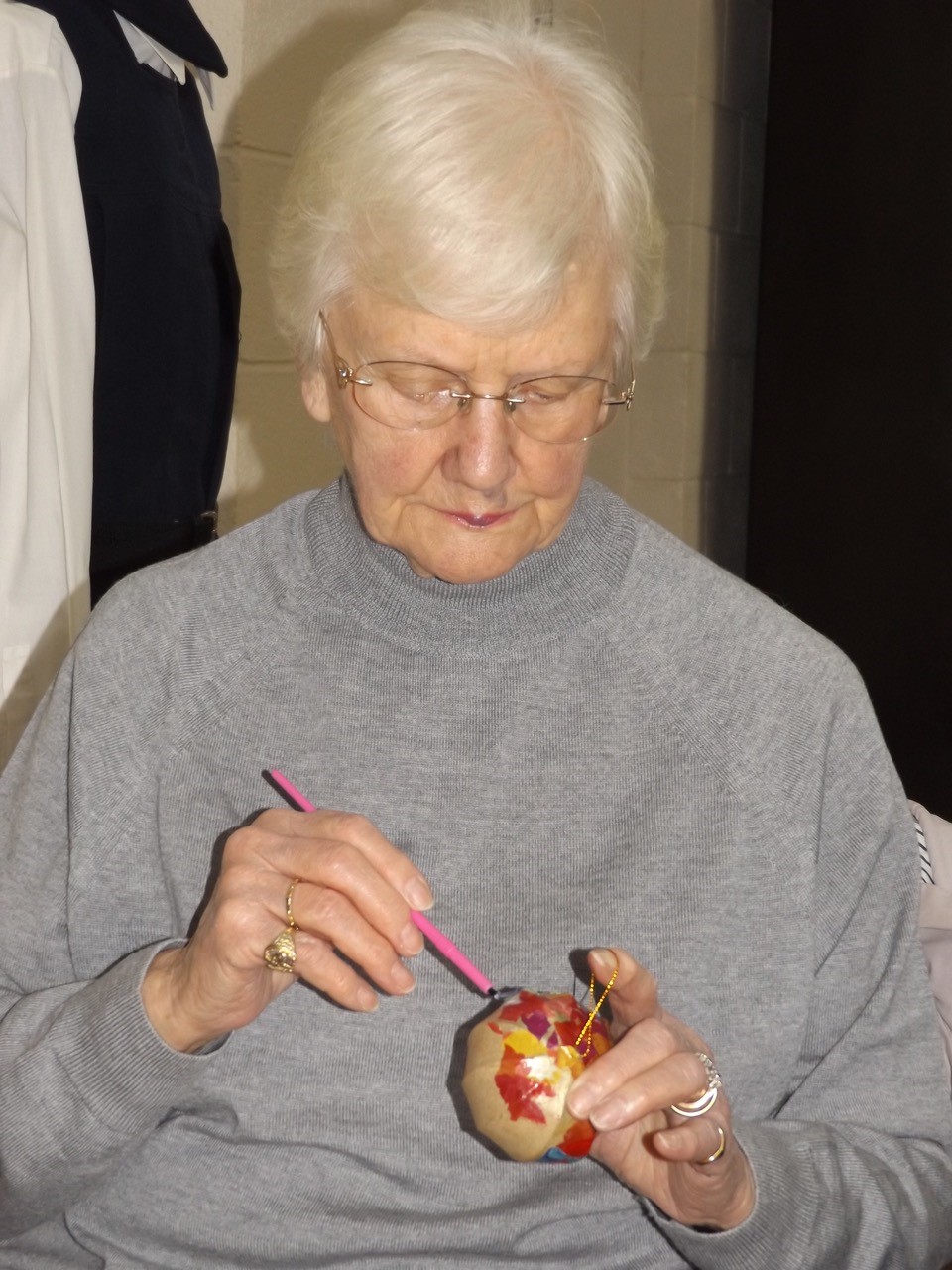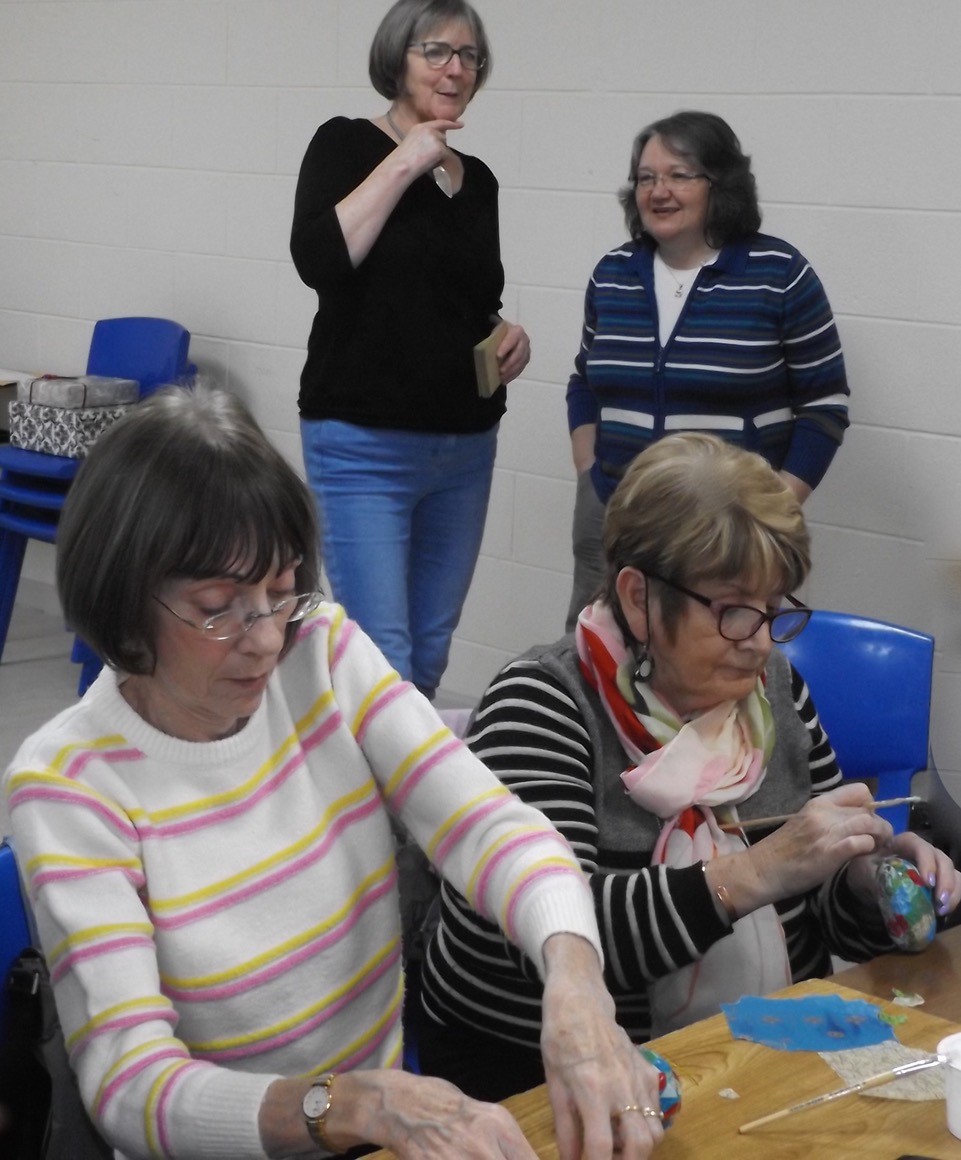 ---
News: 8th October 2018
Talk on Visit to Malawi
Sincere thanks to Sinéad Finlay for a wonderful illustrated talk on her visit to Malawi as a volunteer observer. Sinéad told us about being a "mzungu" (White Person or Wanderer) and her experience of a community which always meets in the shade of a tree and where women run the local bank.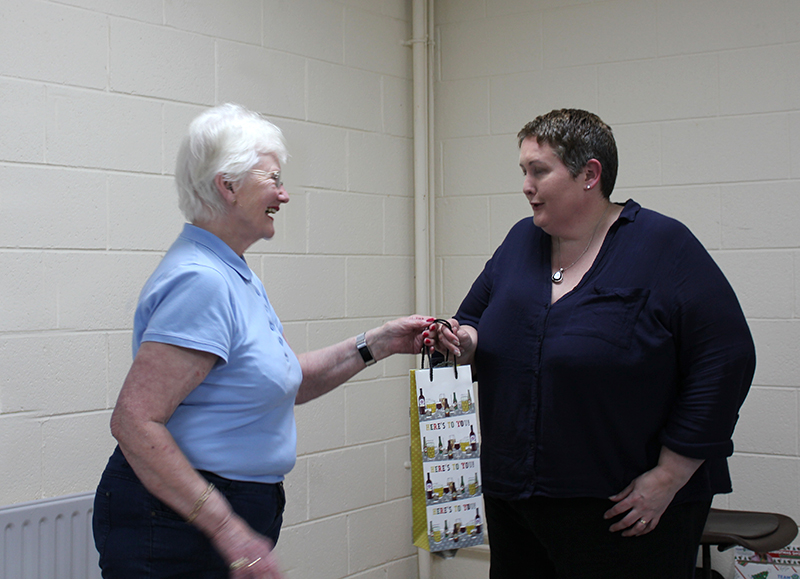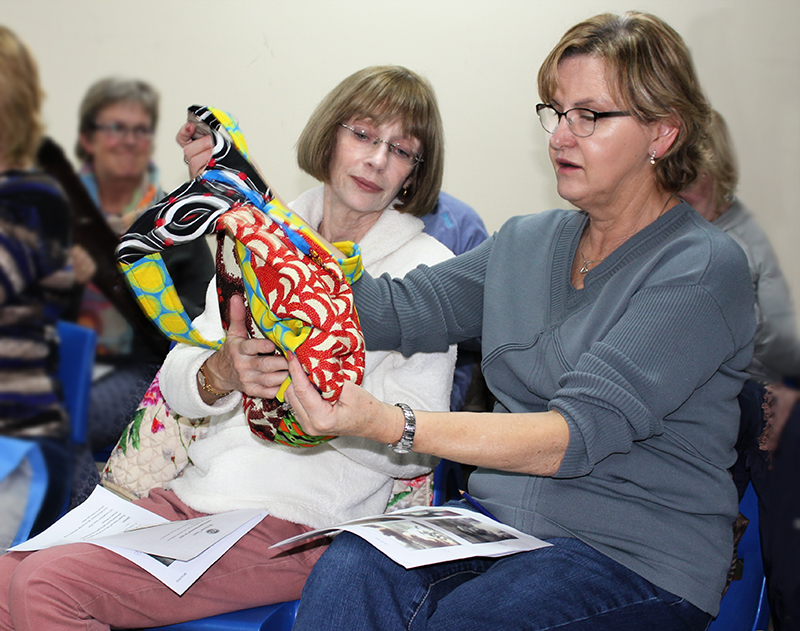 ---
News: 14 - 16th September 2018
Wicklow Weekend at An Grianán
A great weekend at An Grianán saw some of our ladies photographed with handcrafts teacher Josephine Helly, who was soon to be elected ICA National President. Josephine, who is a highly accomplished crafts instructor and who has been organising handcrafts week at An Grianán for almost two decades, was teaching Advanced Mixed Crafts at the weekend. Some of our clever members won Second Place in a pretty challenging (and great fun) Table Quiz. You can see them below with ICA Wicklow Federation President Hilda Roche. Wonder woman Liz Dowling was not going to let a little matter of a broken arm stop her enjoying the weekend, and have a look at the beautiful work produced by the members who undertook the oil painting course.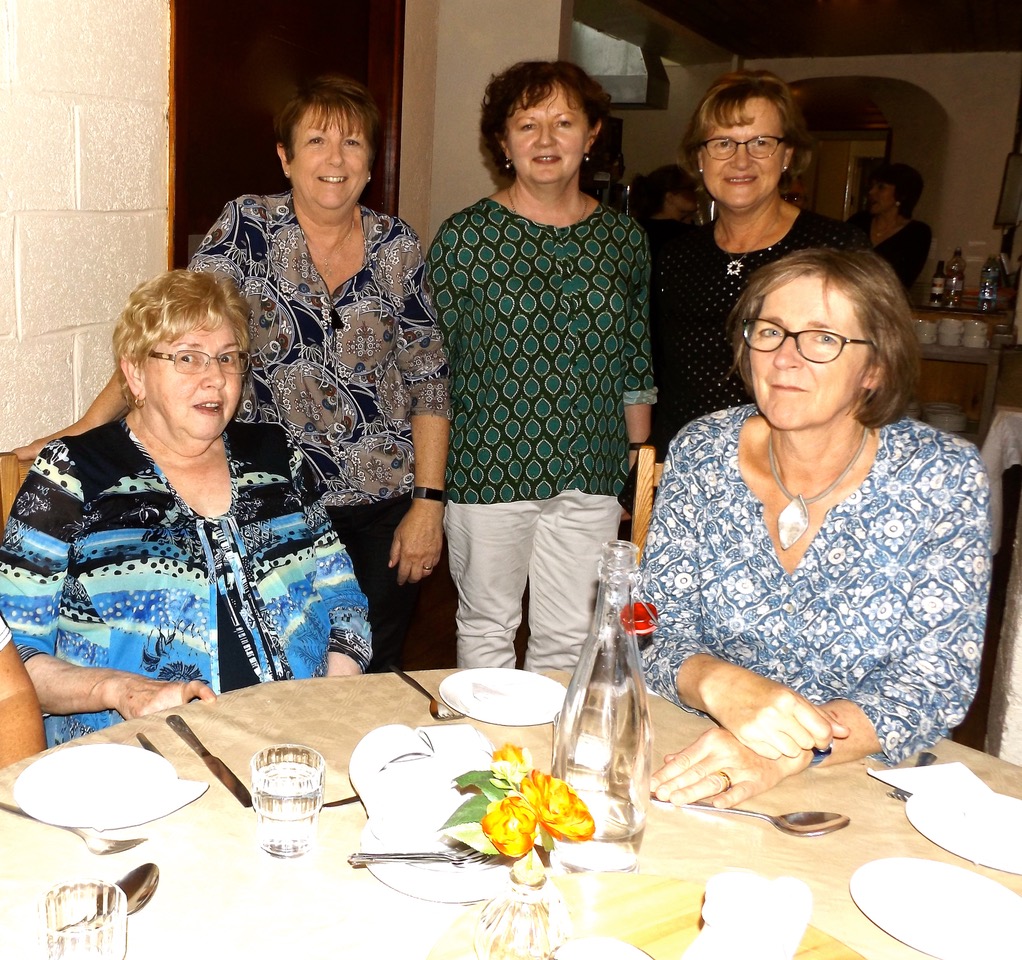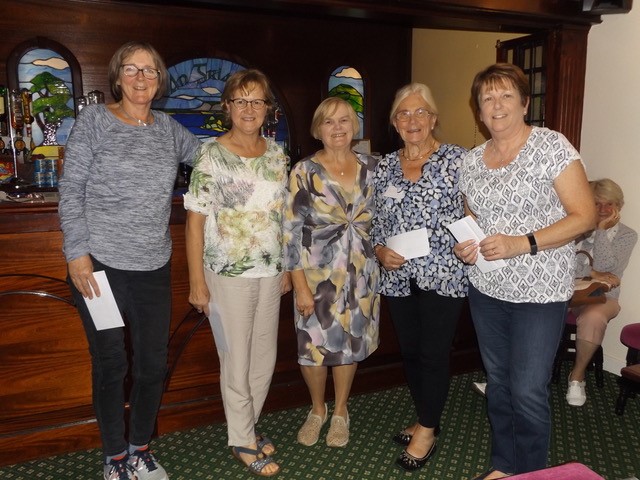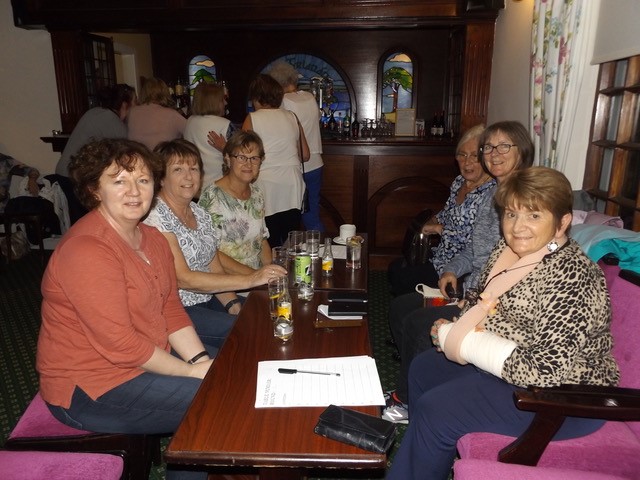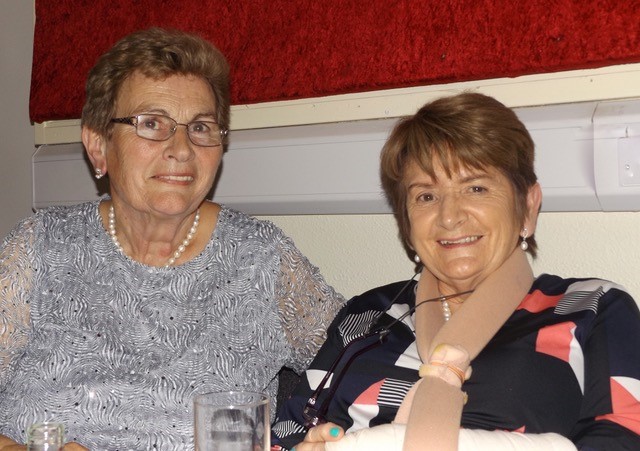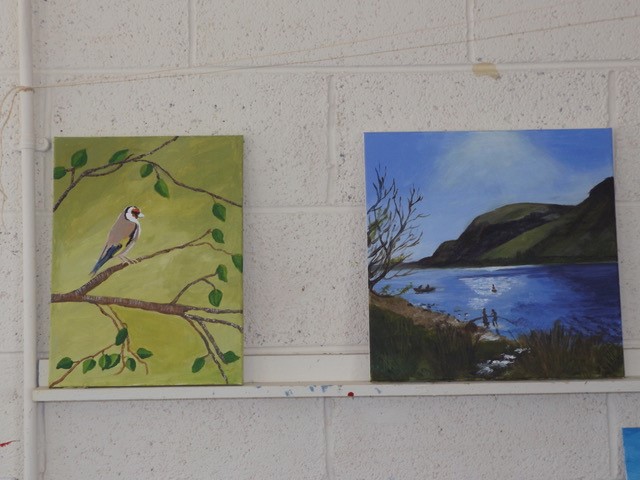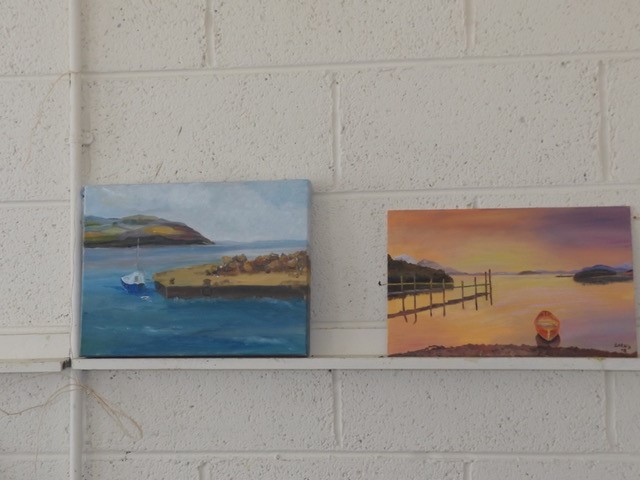 ---
News: 10th September 2018
A Buzz at First Meeting Back
There was a definite buzz at our first meeting back after the summer when Wicklow beekeeper and honey farmer Dermot Fanning came to share some of his expertise and his delicious honey. Sincere thanks to Dermot for so generously sharing his wealth of knowledge and showing us some of the actual frames from his beehives.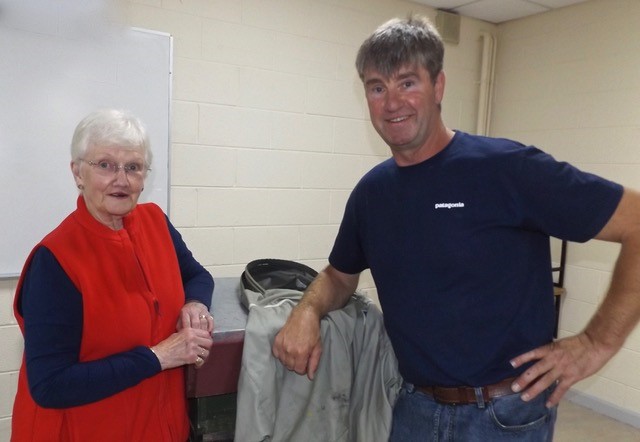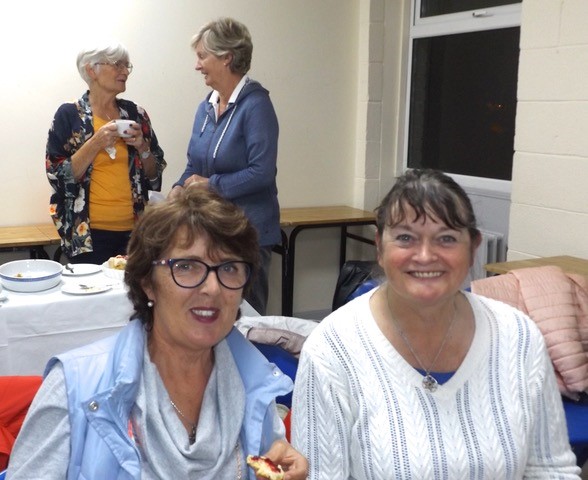 ---
News: 25th June 2018
Summer Outing
We had a beautiful day for a fabulous outing. Starting at the Ros Tapestry Exhibition in New Rooss we had a chance to admire the stunning pieces, which included work by our own Sylvia! After a lovely tea break it was onboard to imagine a life of poverty driving desperate people to board the Dunbrody Famine Ship. Folowing lunch a wonderful guided tour of some of the trees in the JFK Arboretum, finishing up with dinner in the Ferrycarrig Hotel. We were spoiled!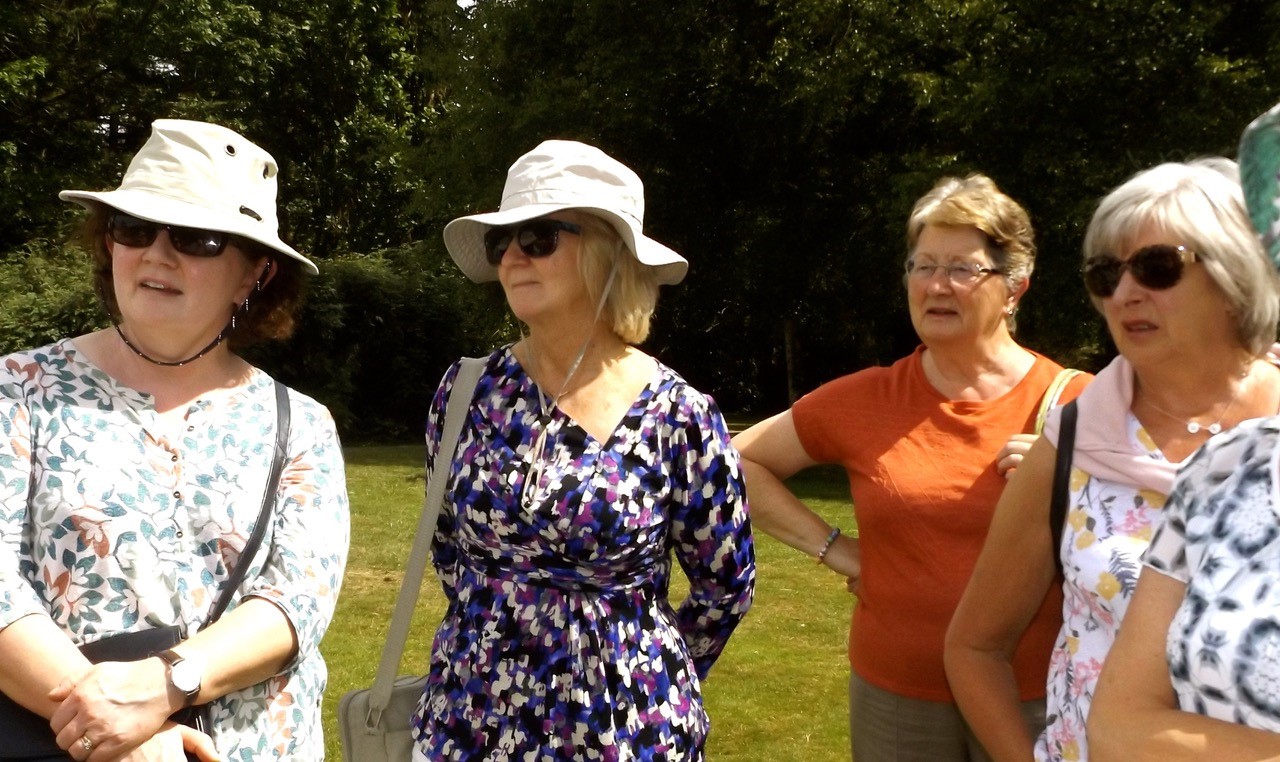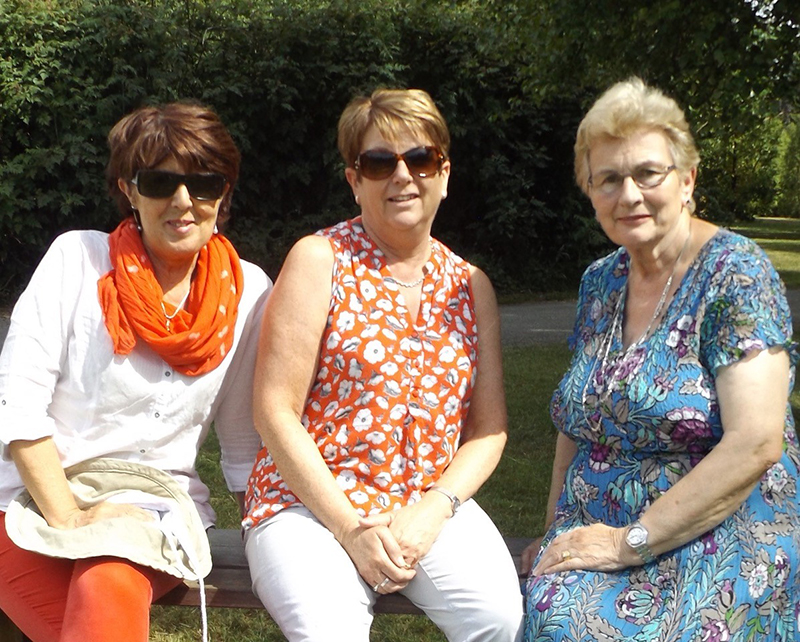 ---
News: 11th June 2018
Sweet Treats
What lovely scrundidlyumptious cakes for our Decorate a Cake June Competition. Does that "Pig Wand" really work? Thanks to our delightful tea ladies Fionnuala and Kay for serving up the delicious treats. A lovely end to the year's meetings.

The June Winners are:
1st - Maura Cregg
Joint 2nd - Mary Finlay
Joint 2nd - Mary Phillips
Joint 2nd - Susanna Braswell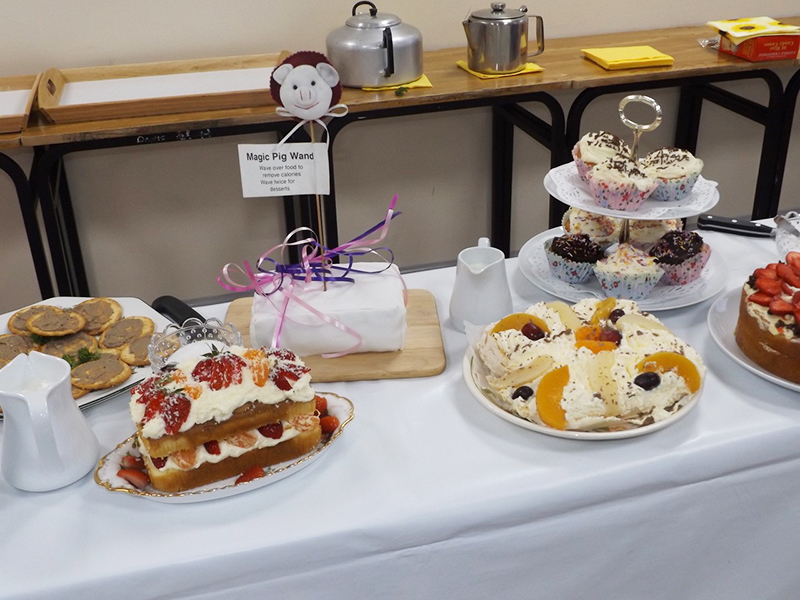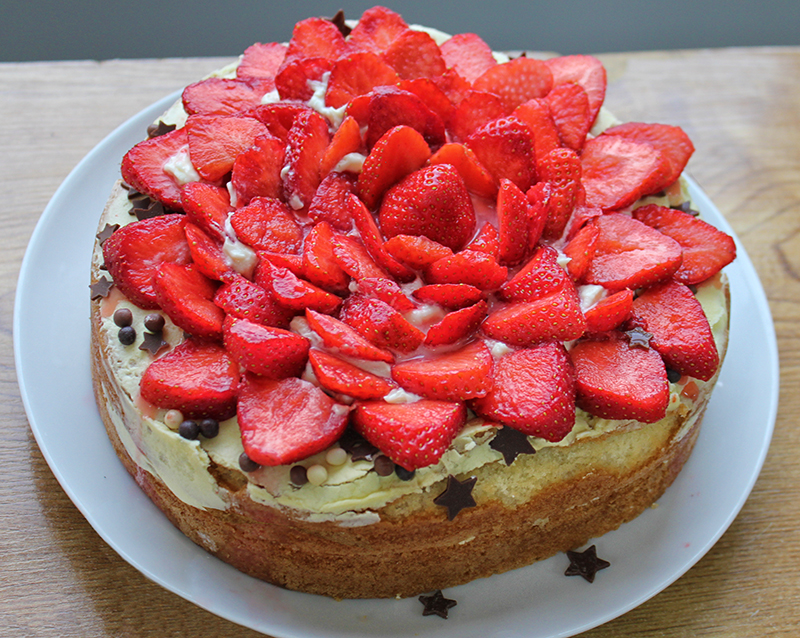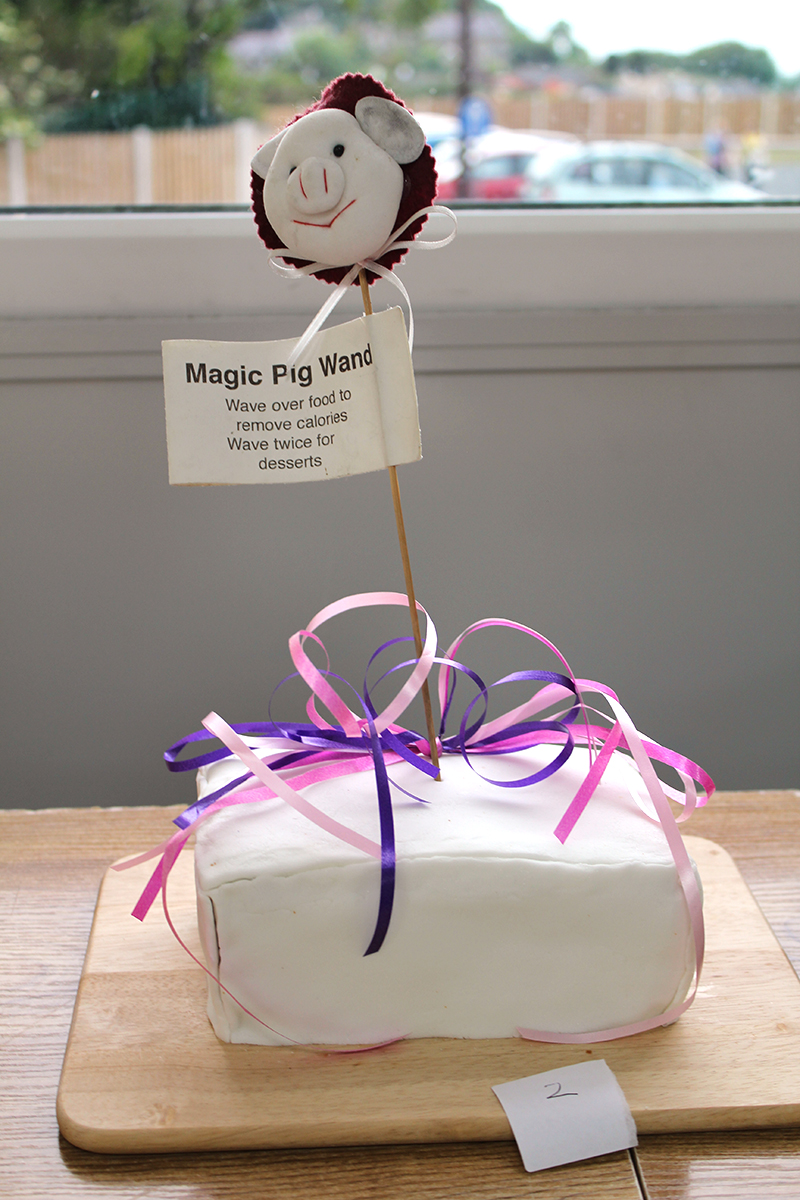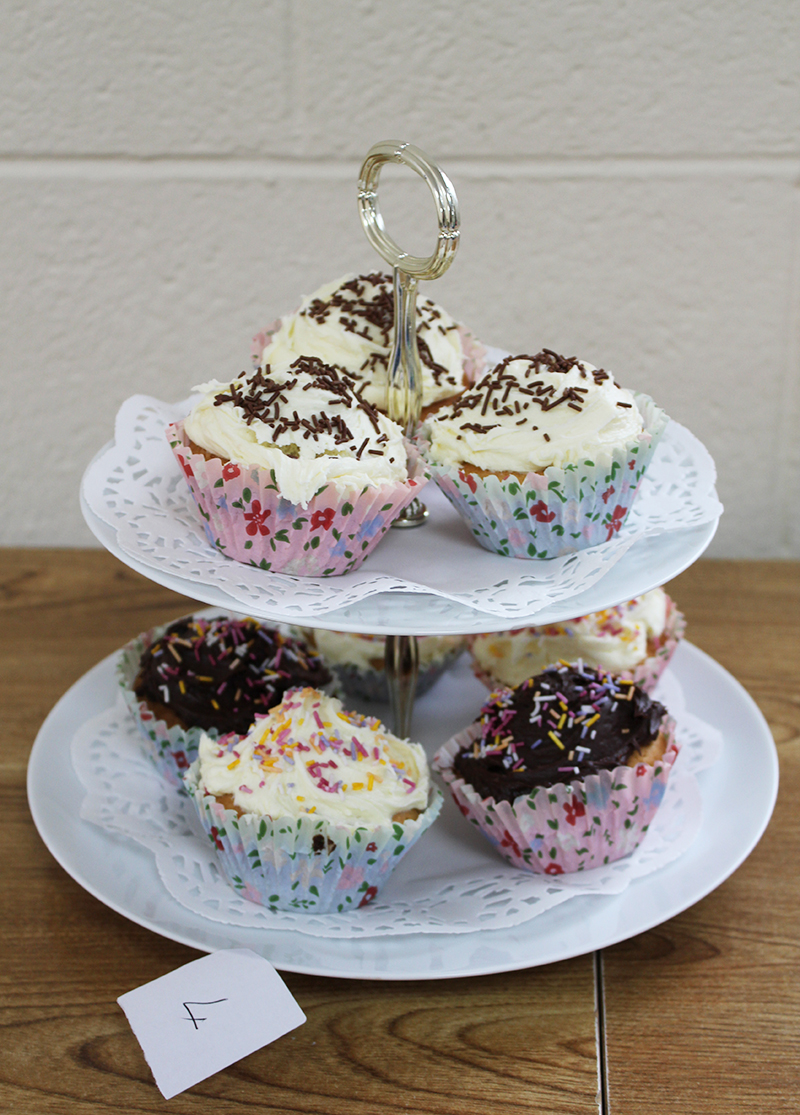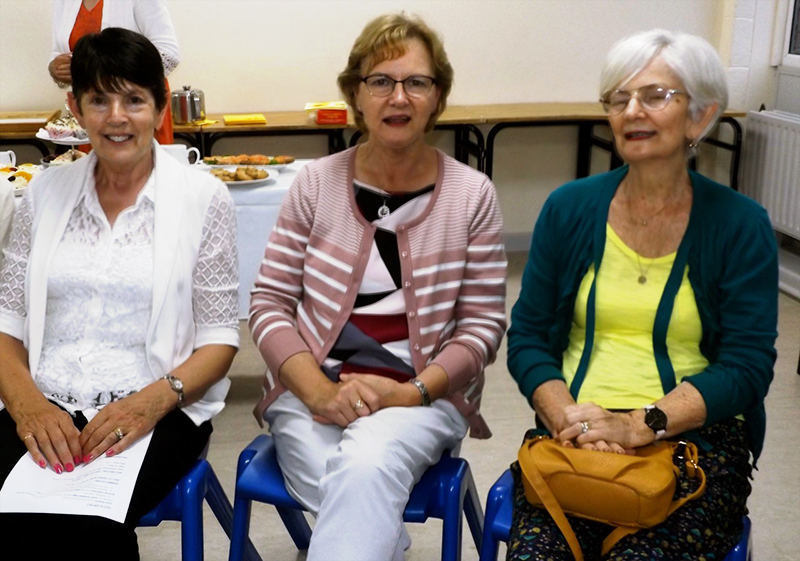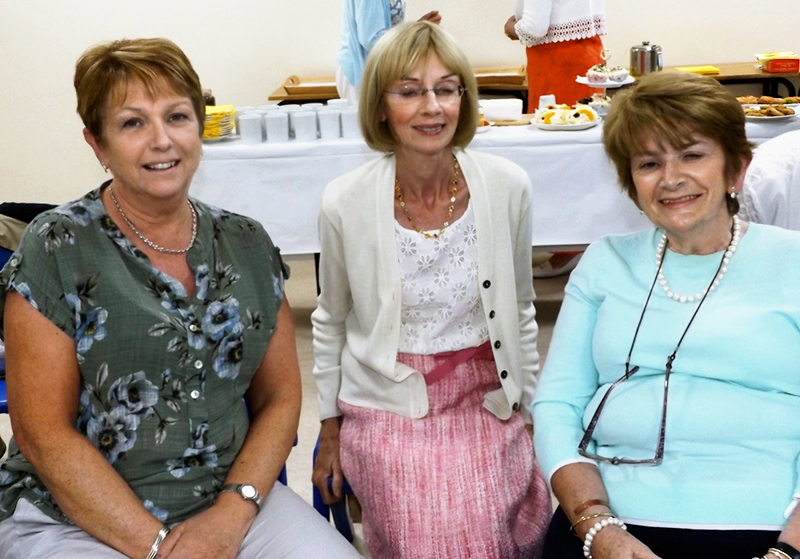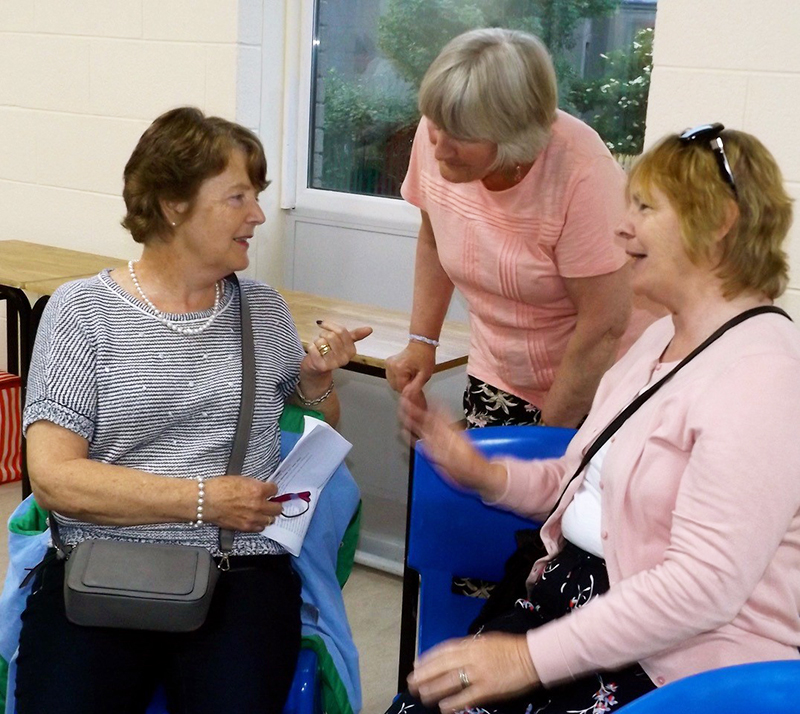 ---
News: 15th May 2018
Federation Dinner 2018
The annual Wicklow Federation Dinner was attended by both our past president Mary Finlay and our current president Betty Teahan. Here they are with Carmel, Deirdre and Wanda from Delgany.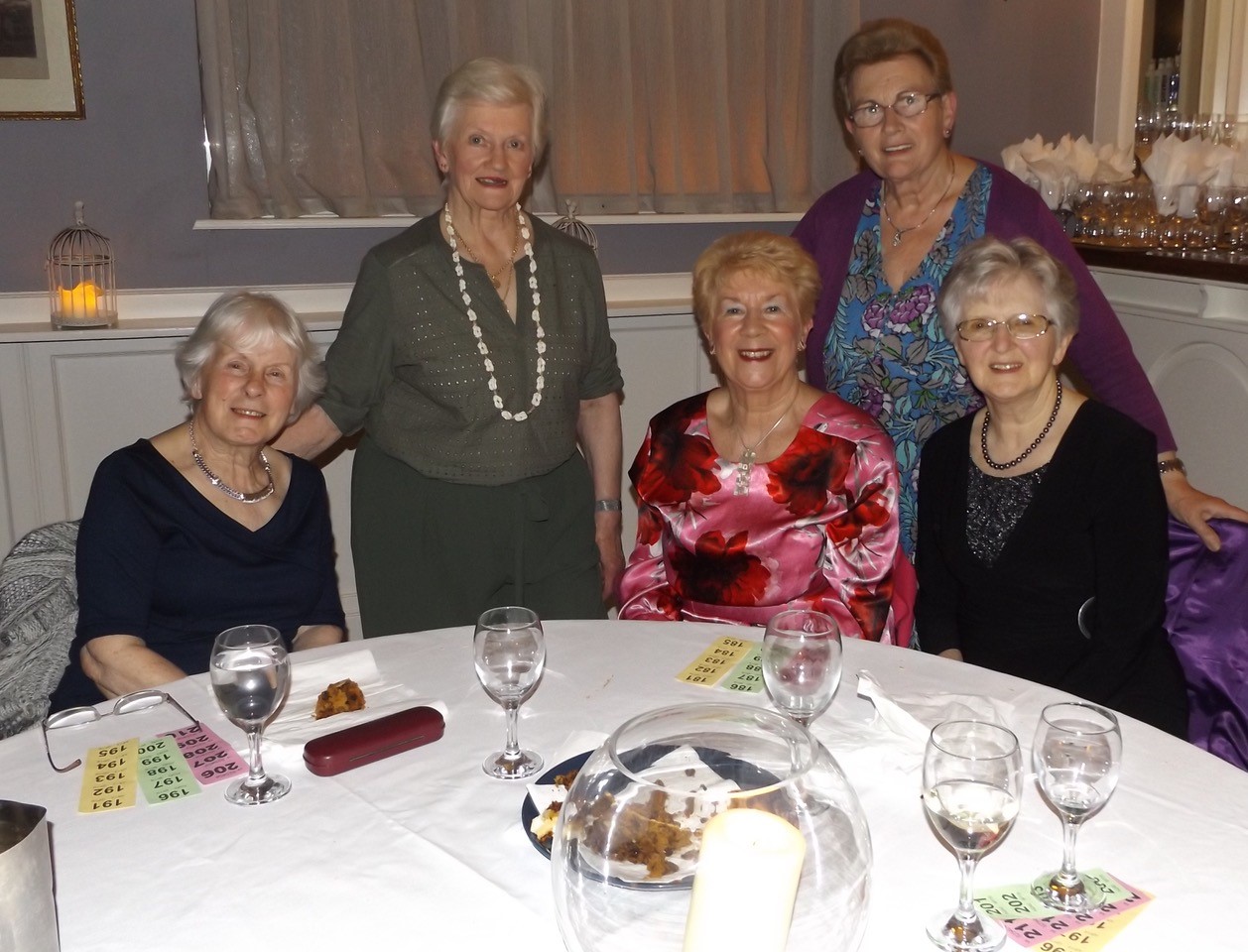 ---
News: 14th May 2018
Best Cuts and Wooden Spoons
Many thanks to Pat Kealy Craft Butcher from Supervalu Wicklow Town who generously took time to talk and give us his best tips. Thanks also to Pat for judging our Dress a Wooden Spoon competition. Some of the happy spoons are below.

The May Winners are:
1st - Maura Cregg
2nd - Eilish Bradshaw
3rd - Susanna Braswell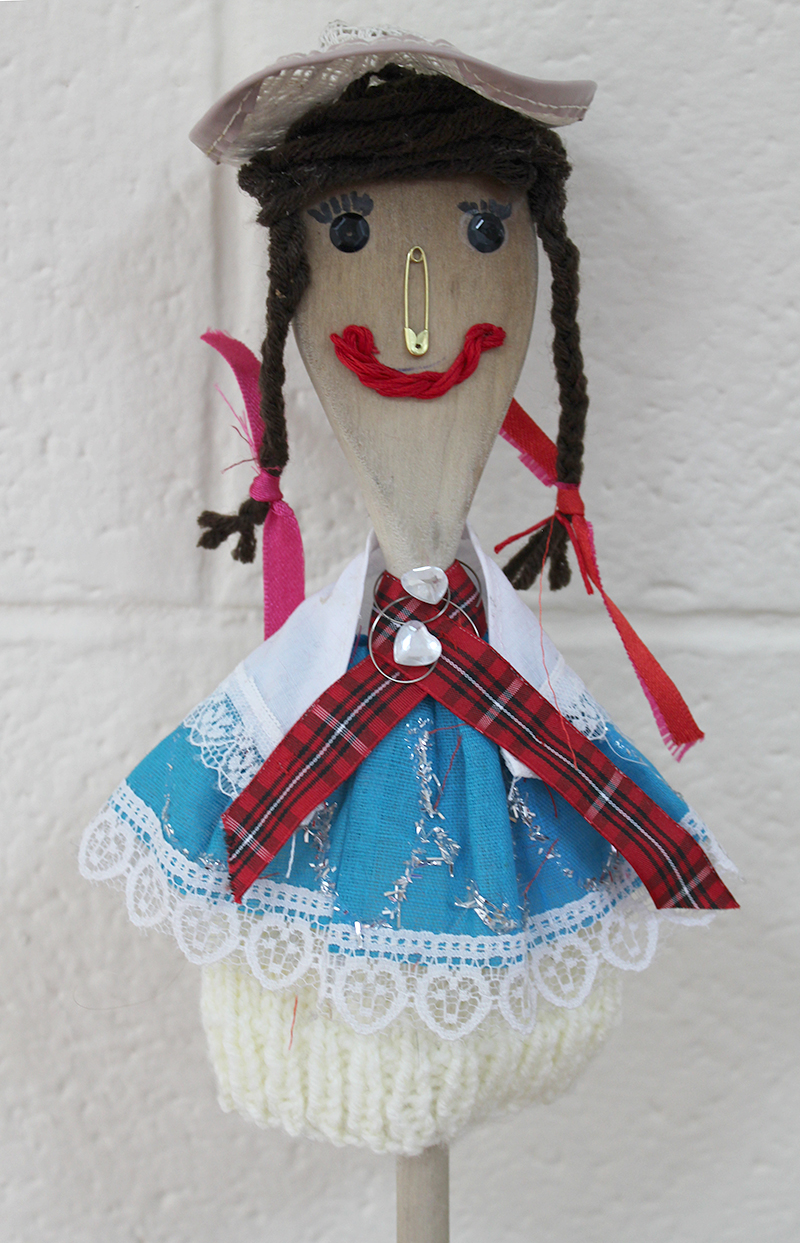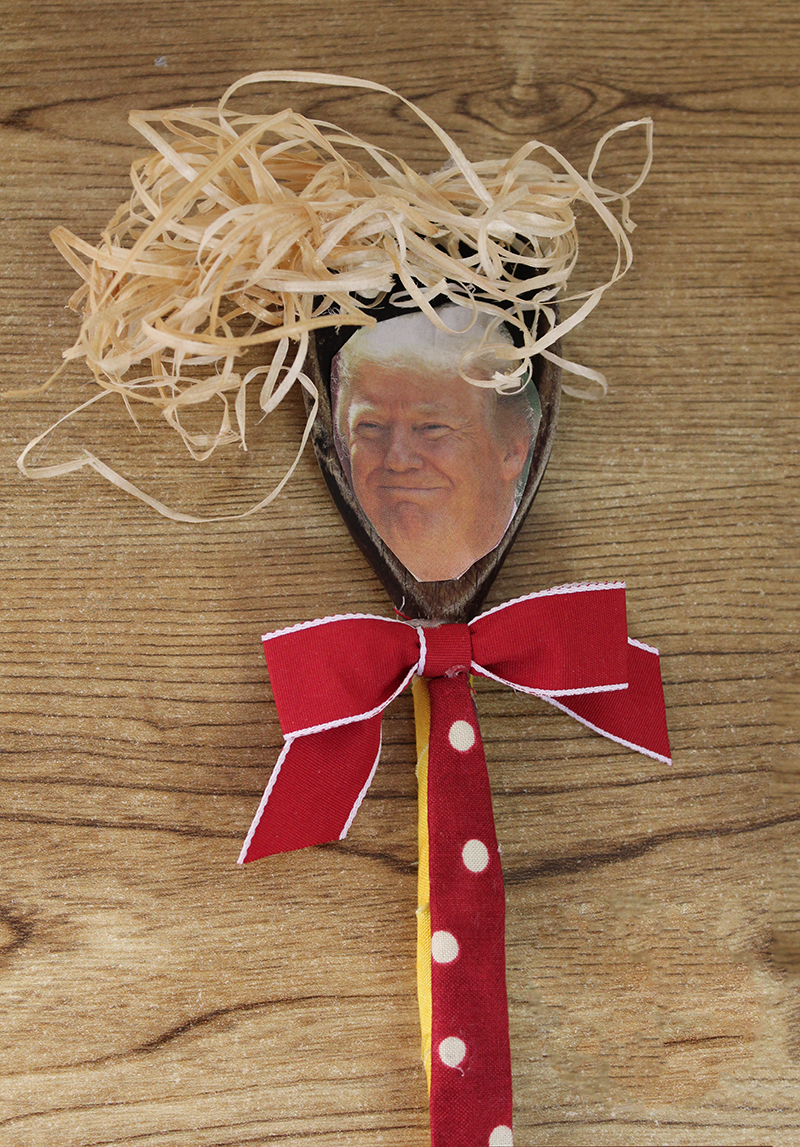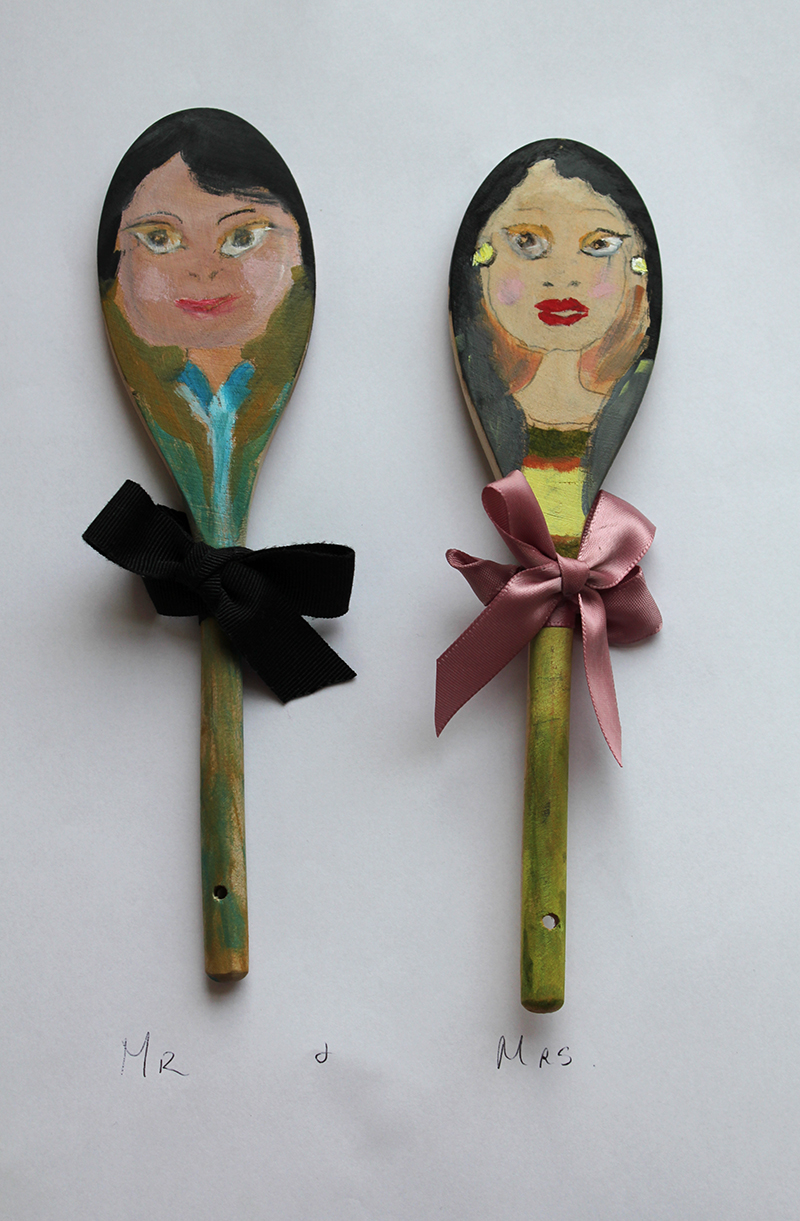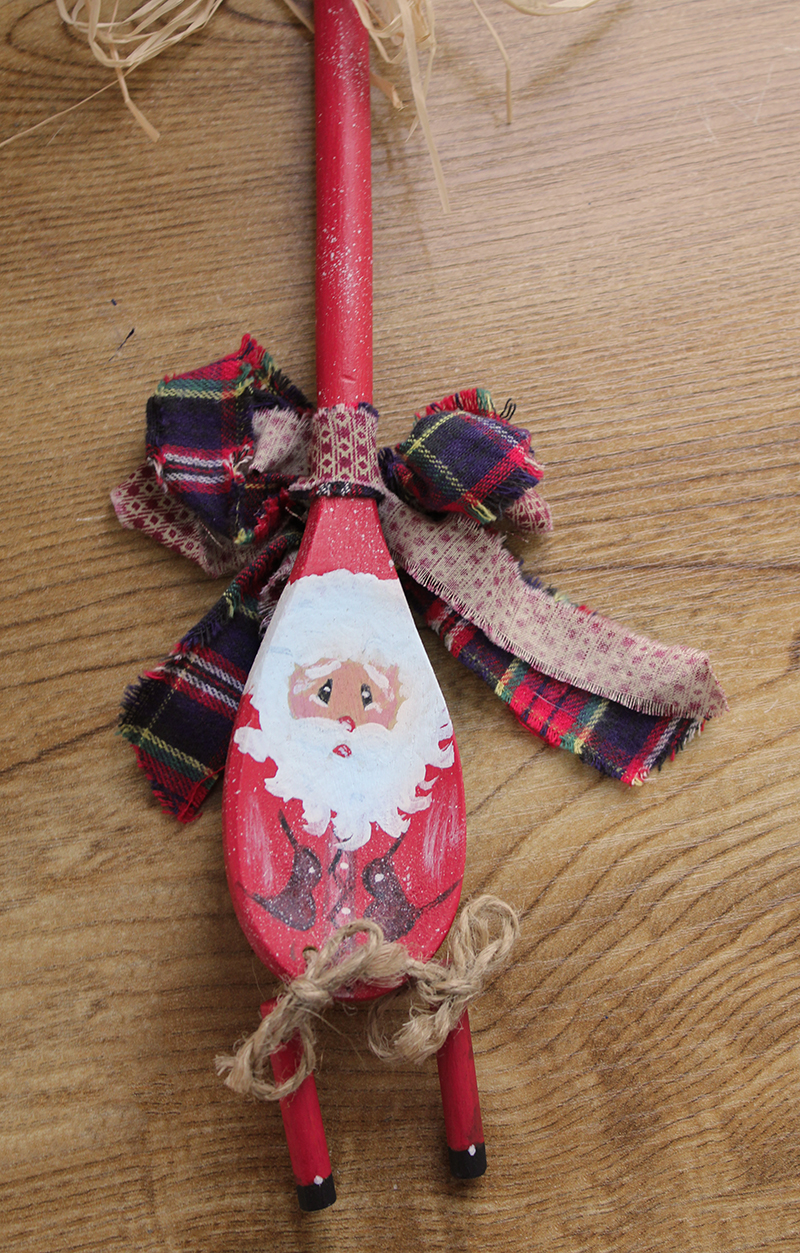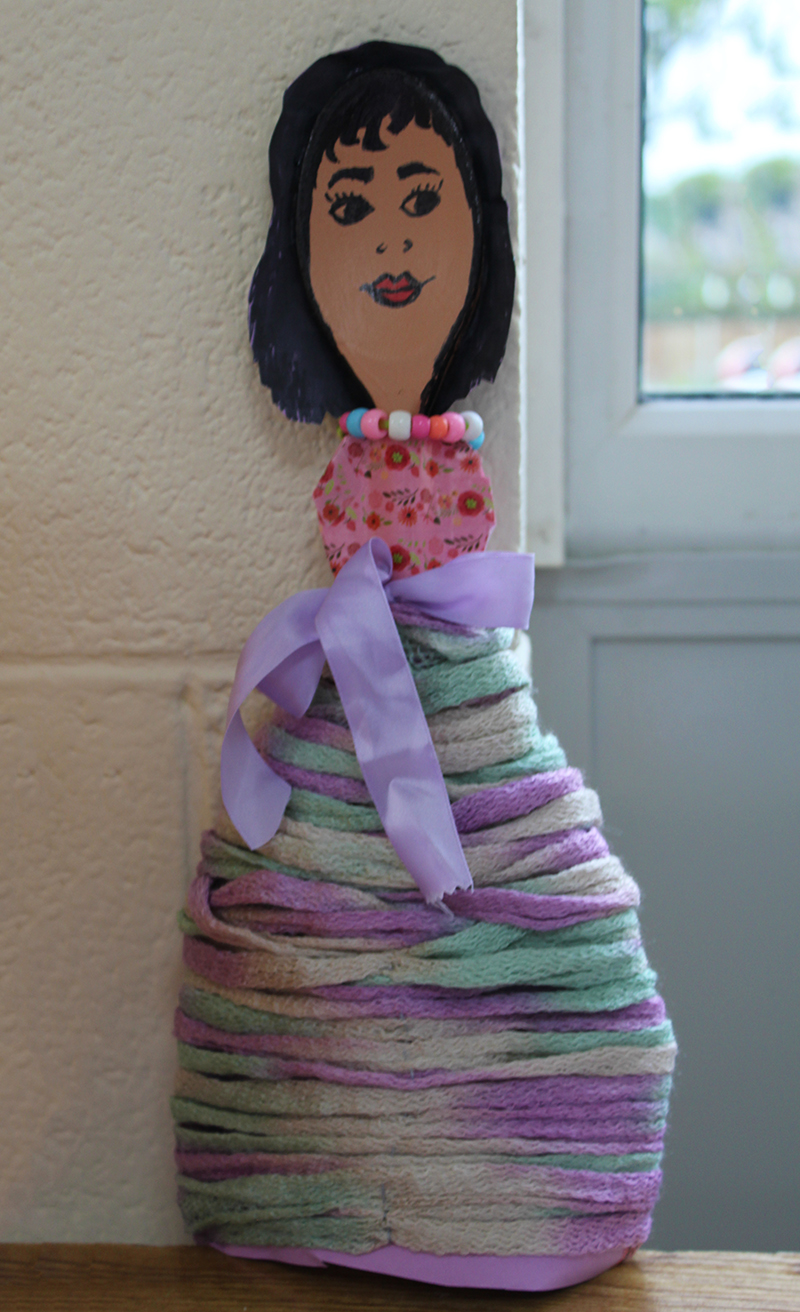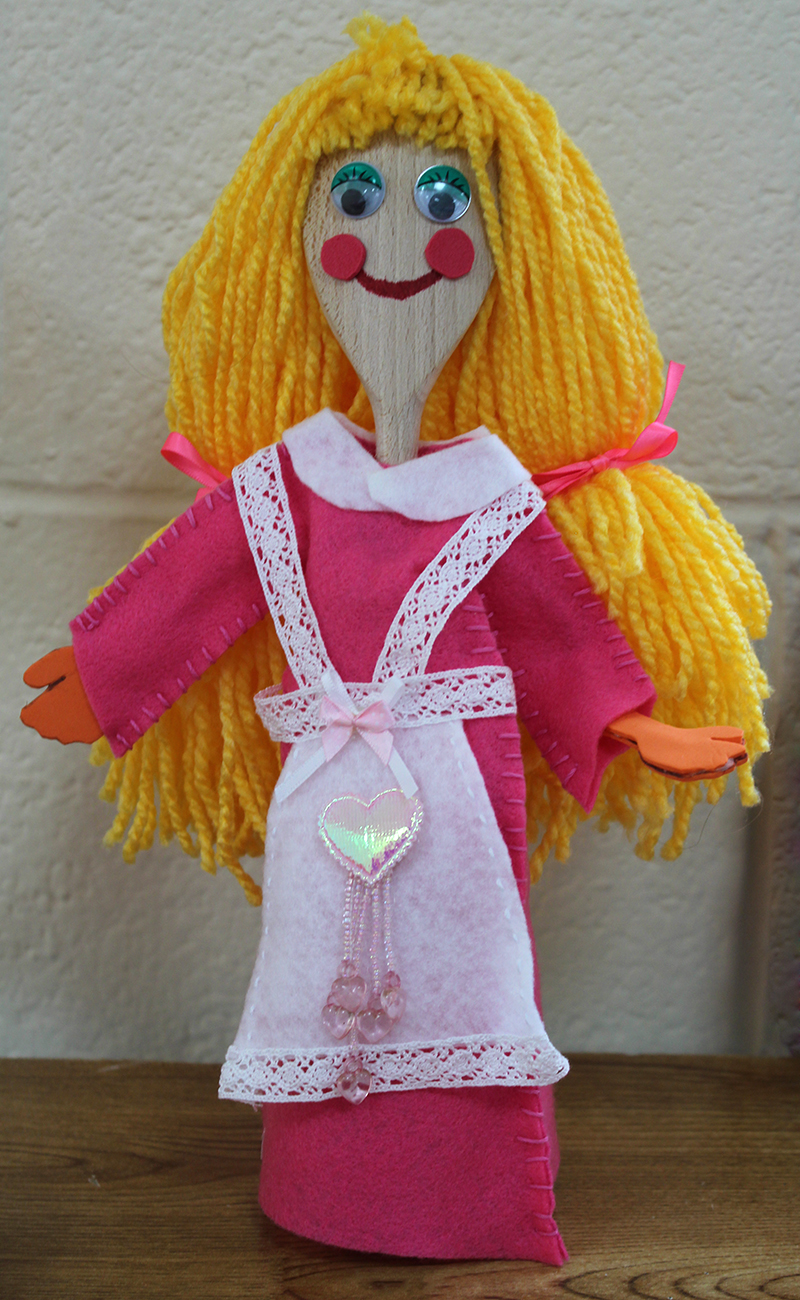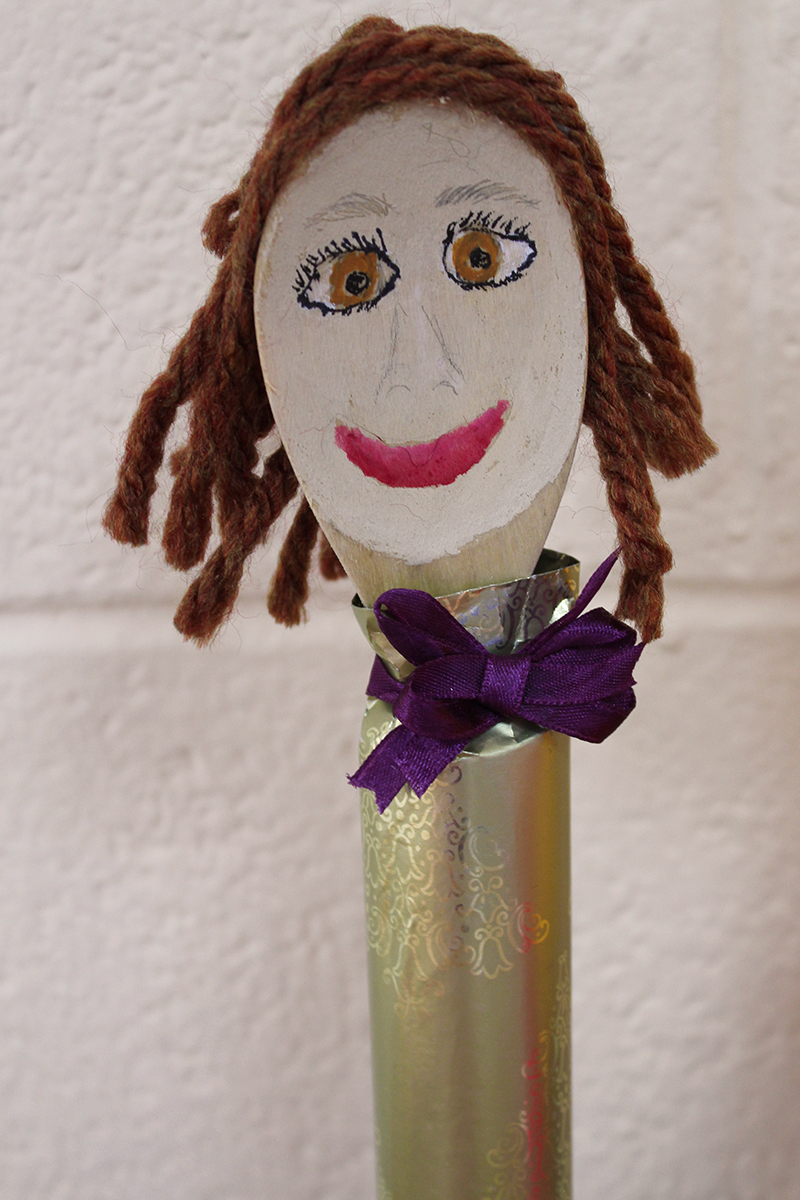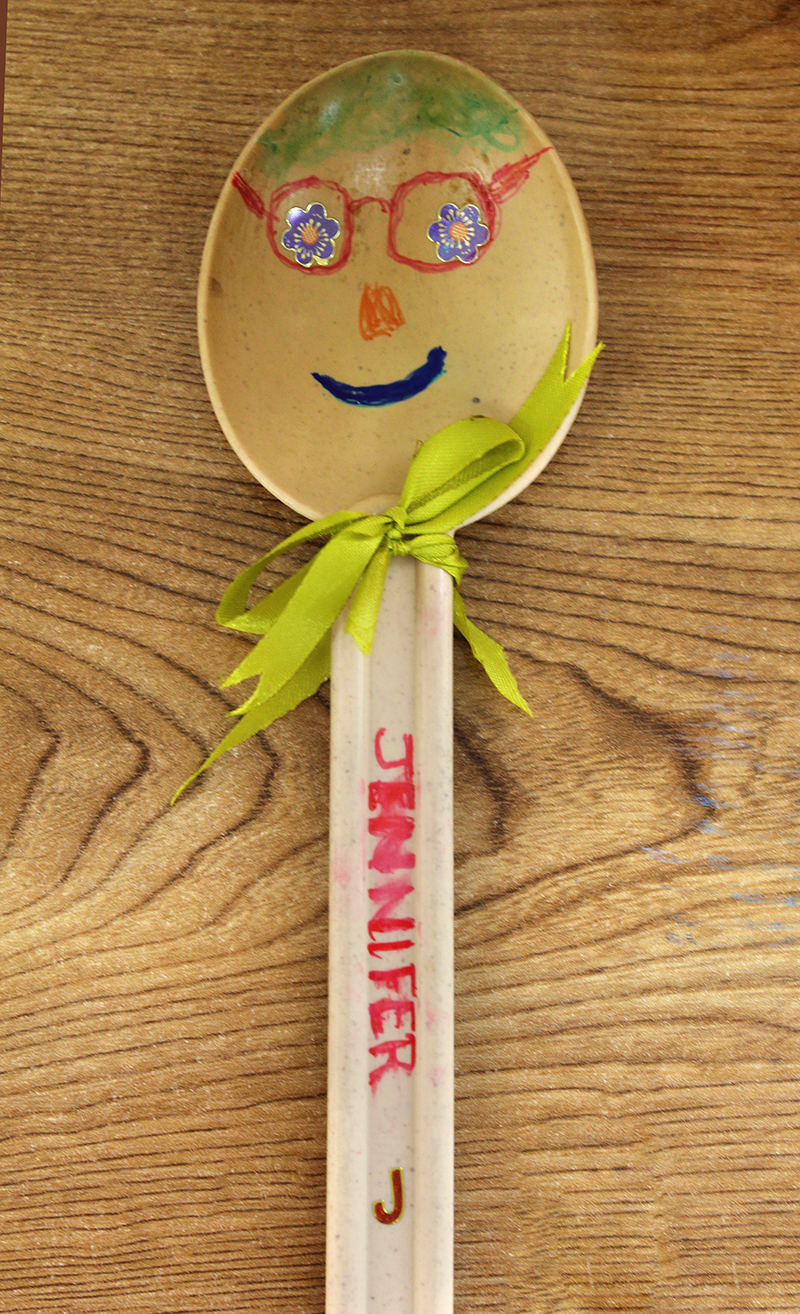 ---
News: 23rd April 2018
Federation Arts and Crafts Night 2018
Federation Arts and Crafts Night 2018 took place at the Woodenbridge Hotel. The Guild was represented in the contests for Public Speaking, Decorate a Bottle, 3-D Découpage, Comórtas Gaeilge and Flower Arranging. Uachtarán na hÉireann was particularly well represented in the tea cosy contest(see below). There were a large number of entries from across the county. It was also an evening of farewells and welcomes. We said good bye to retiring Federation President Madge Kenny and her committee and welcomed incoming Federation President Hilda Roche. Susanna was the winner of the Comórtas Gaeilge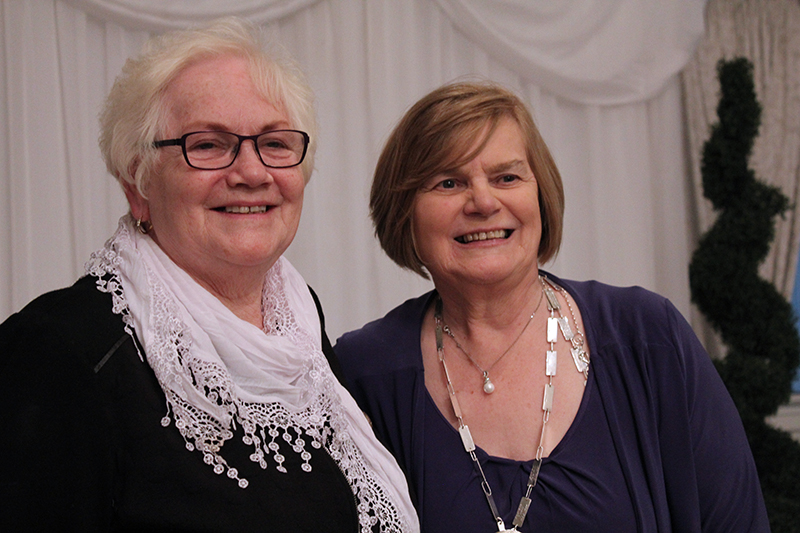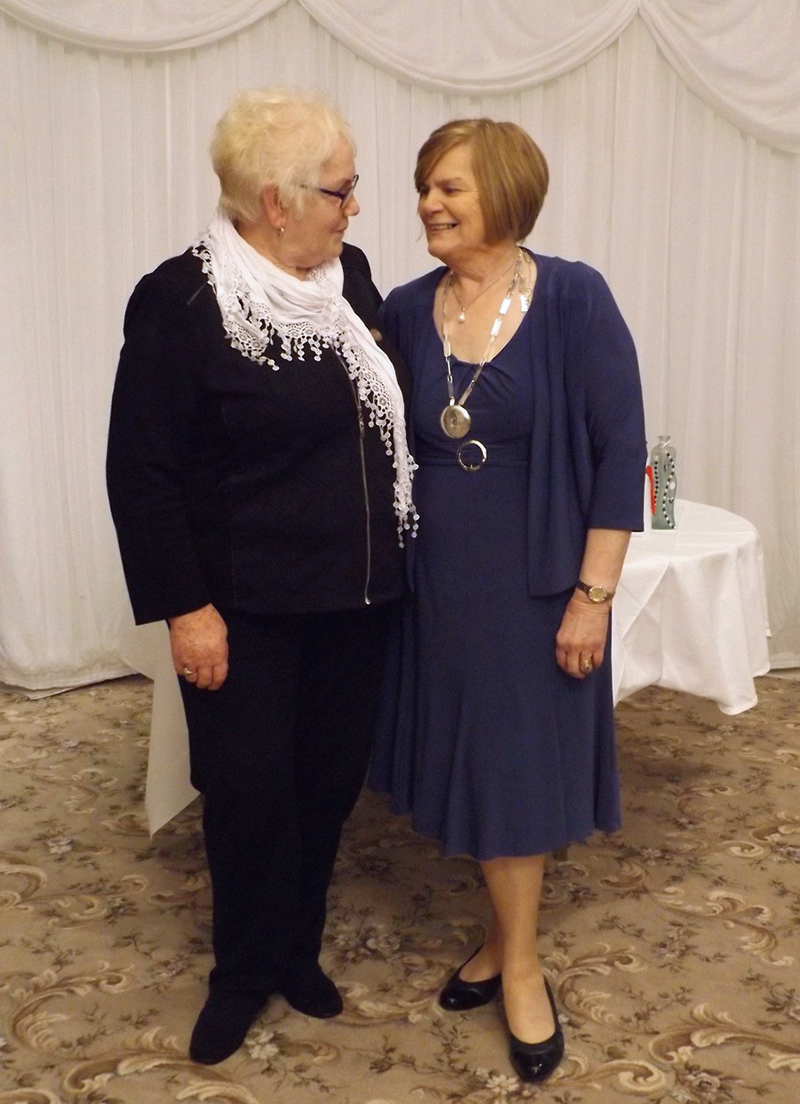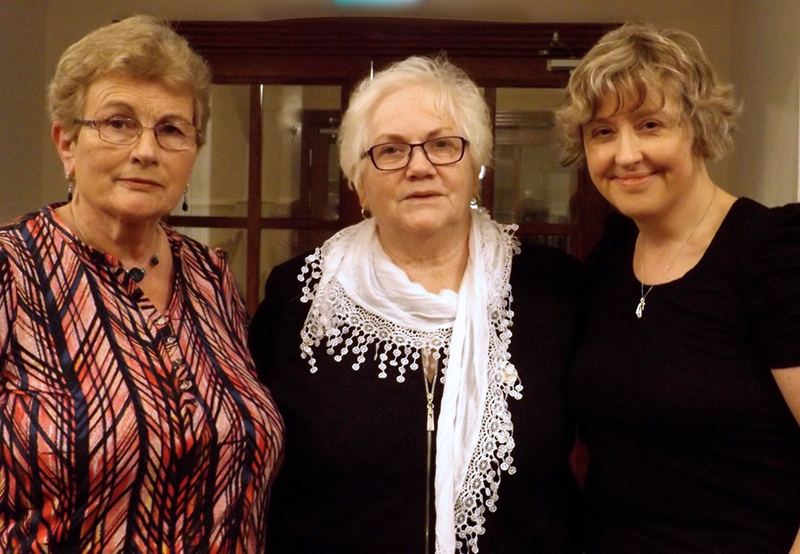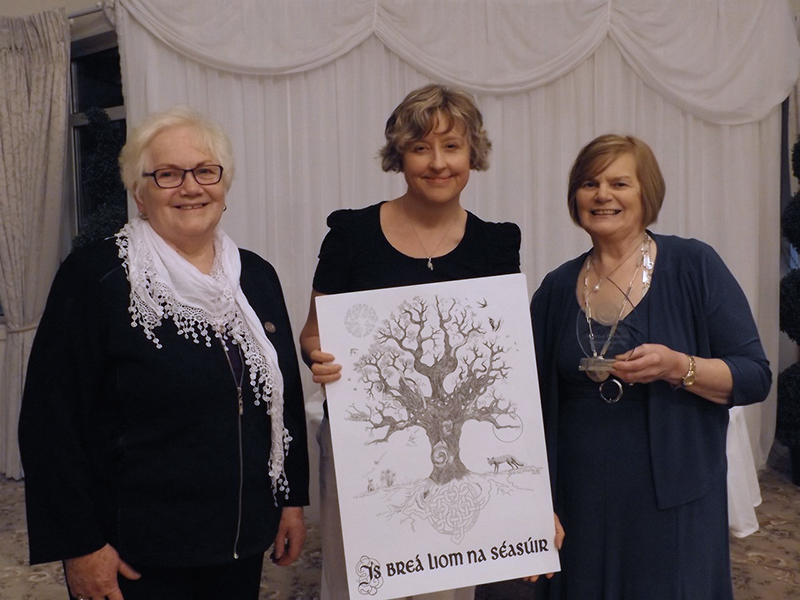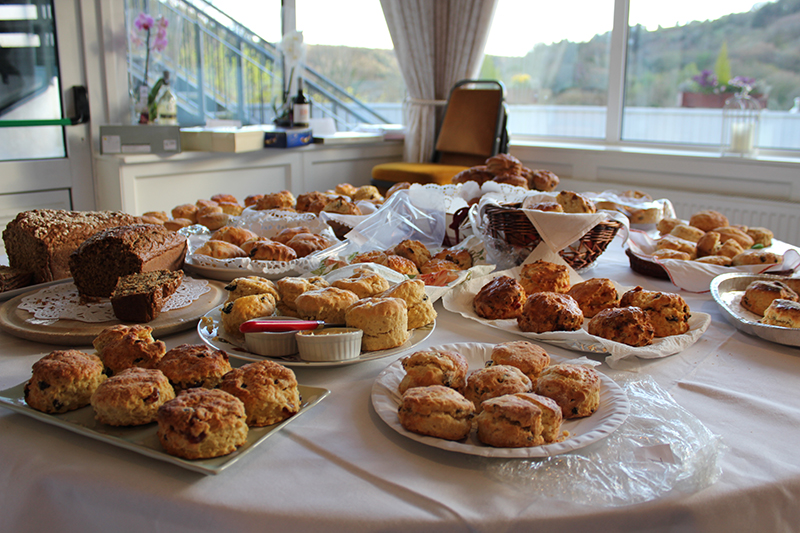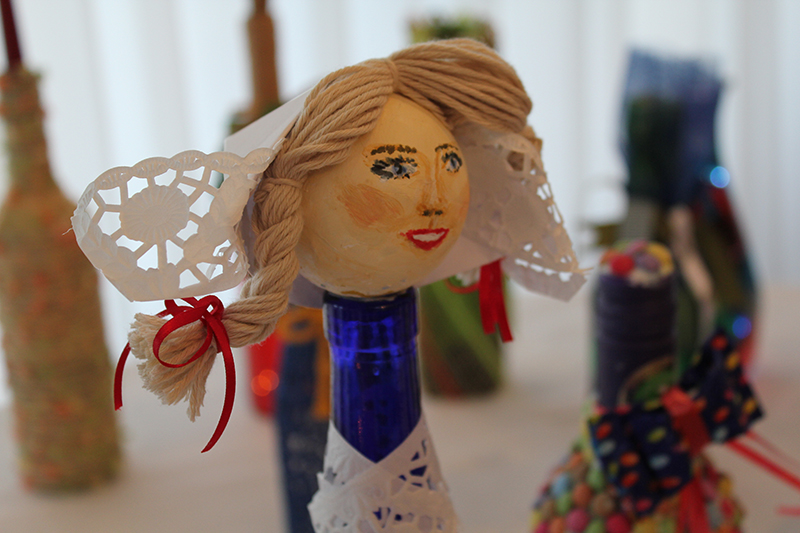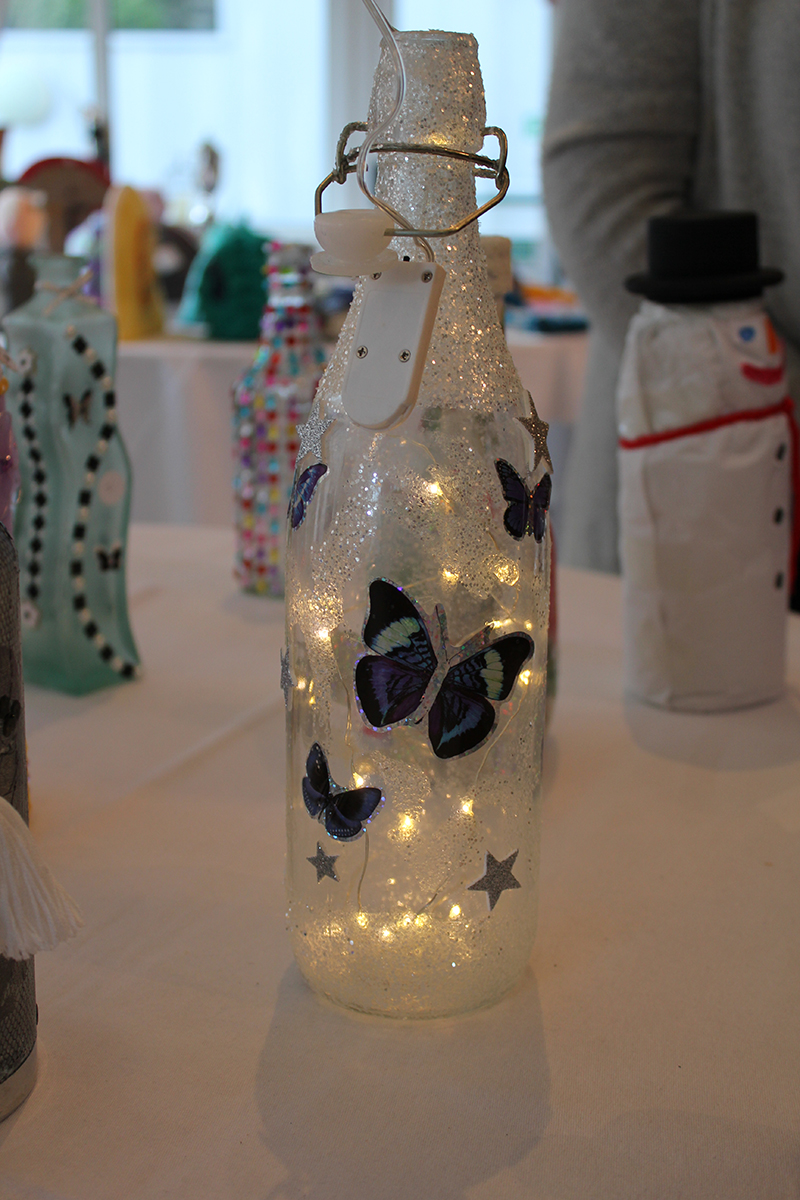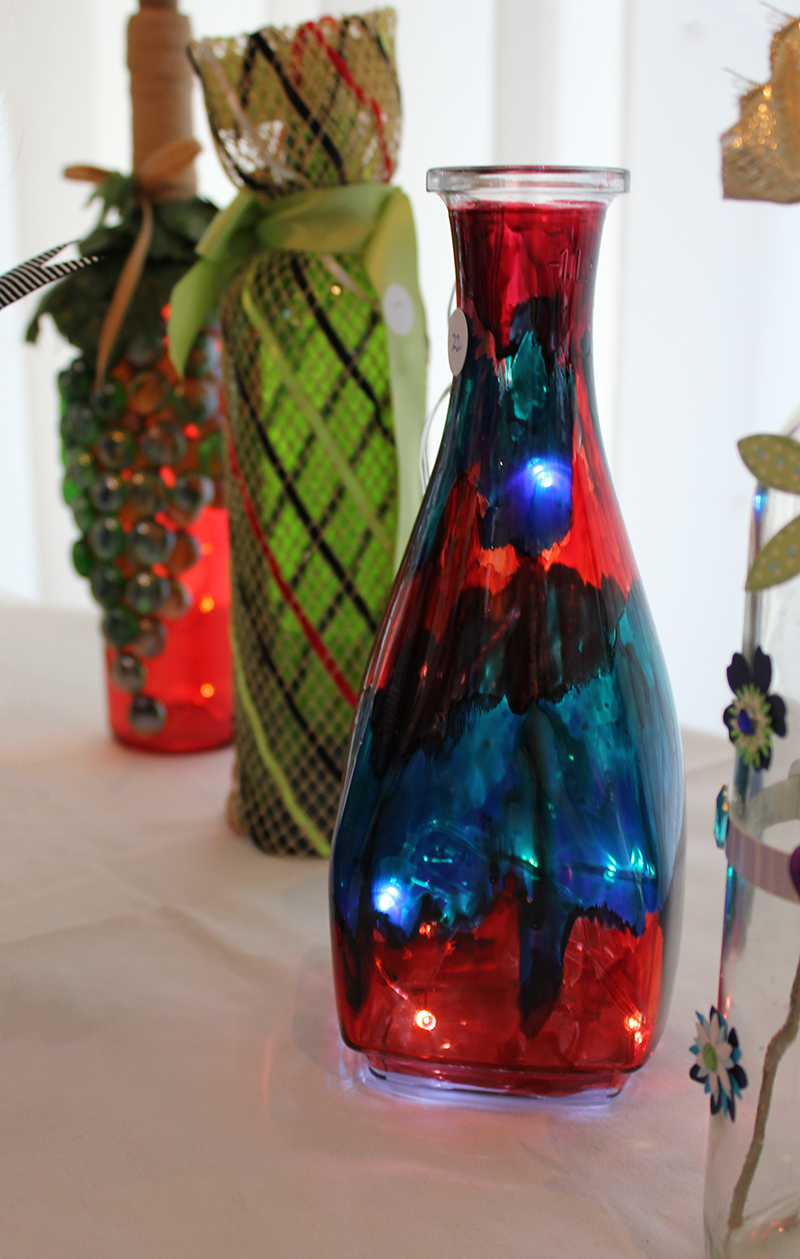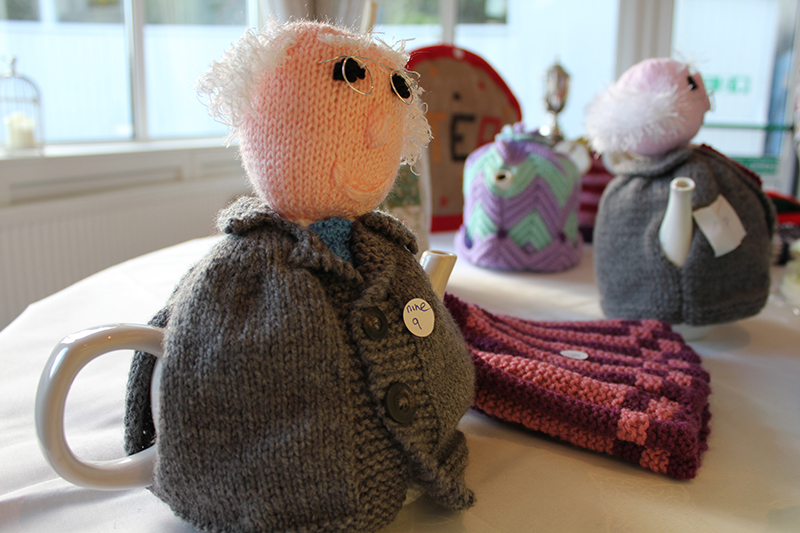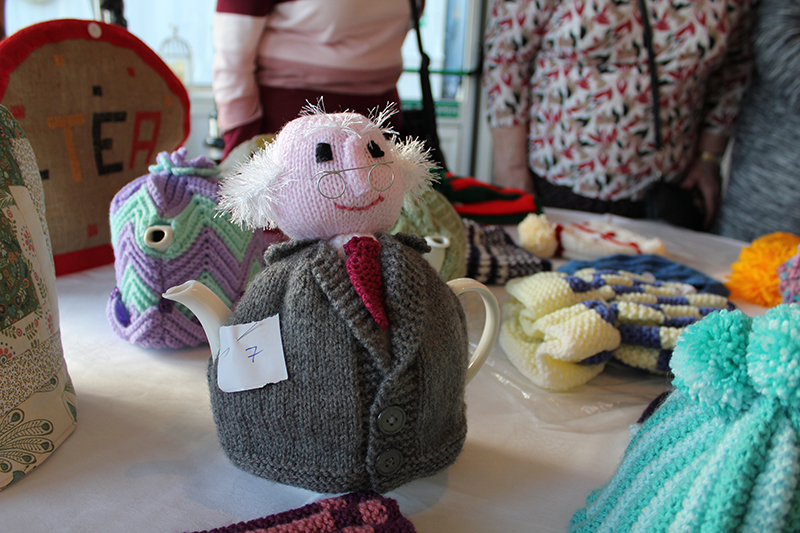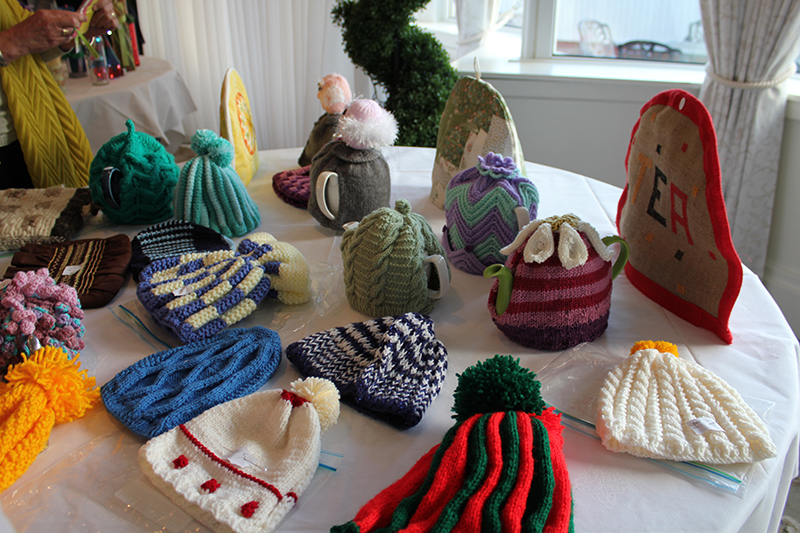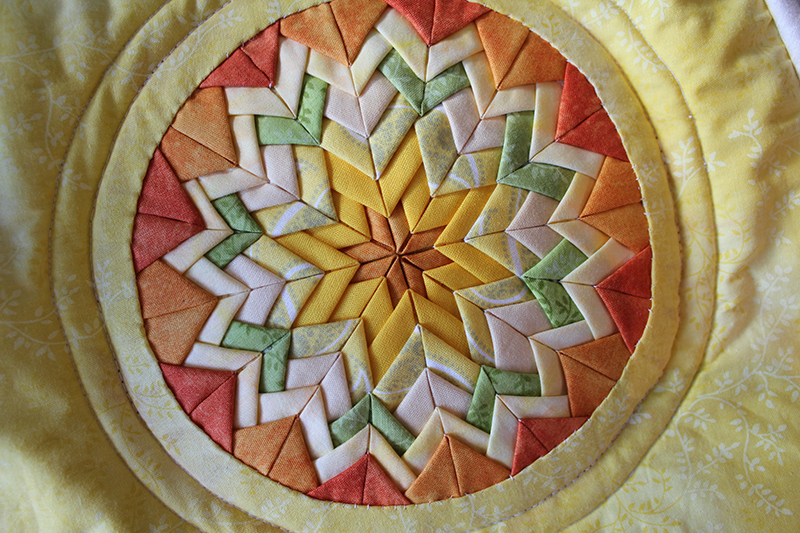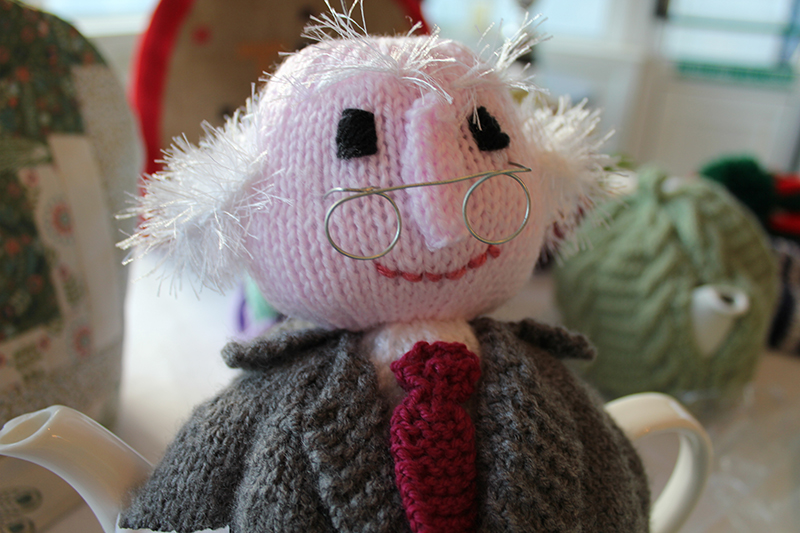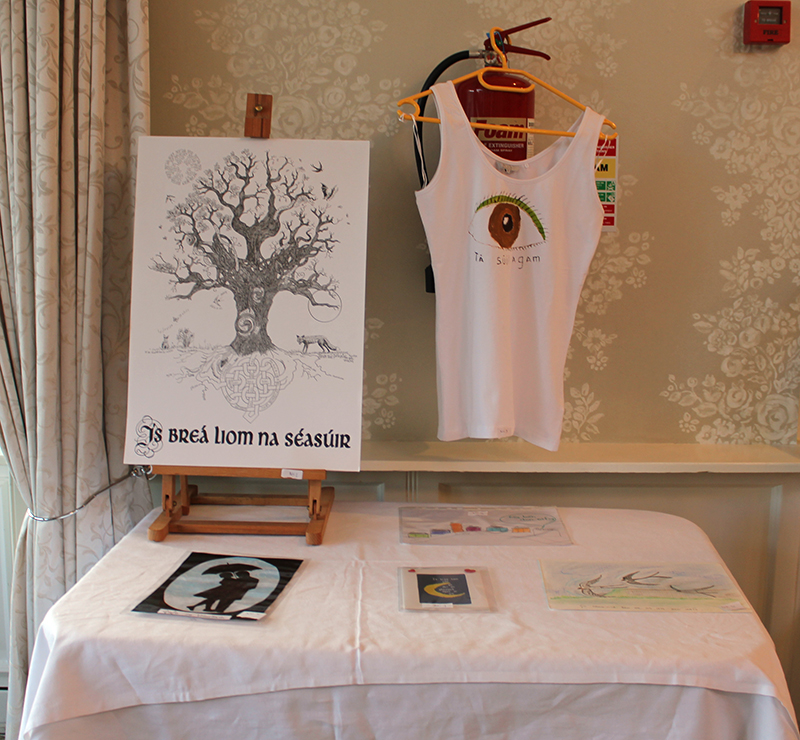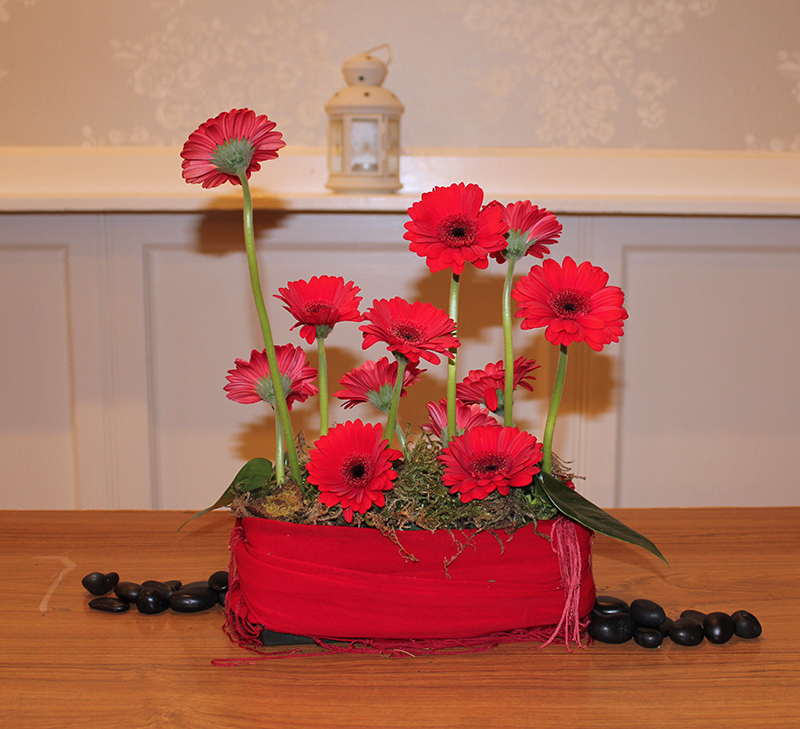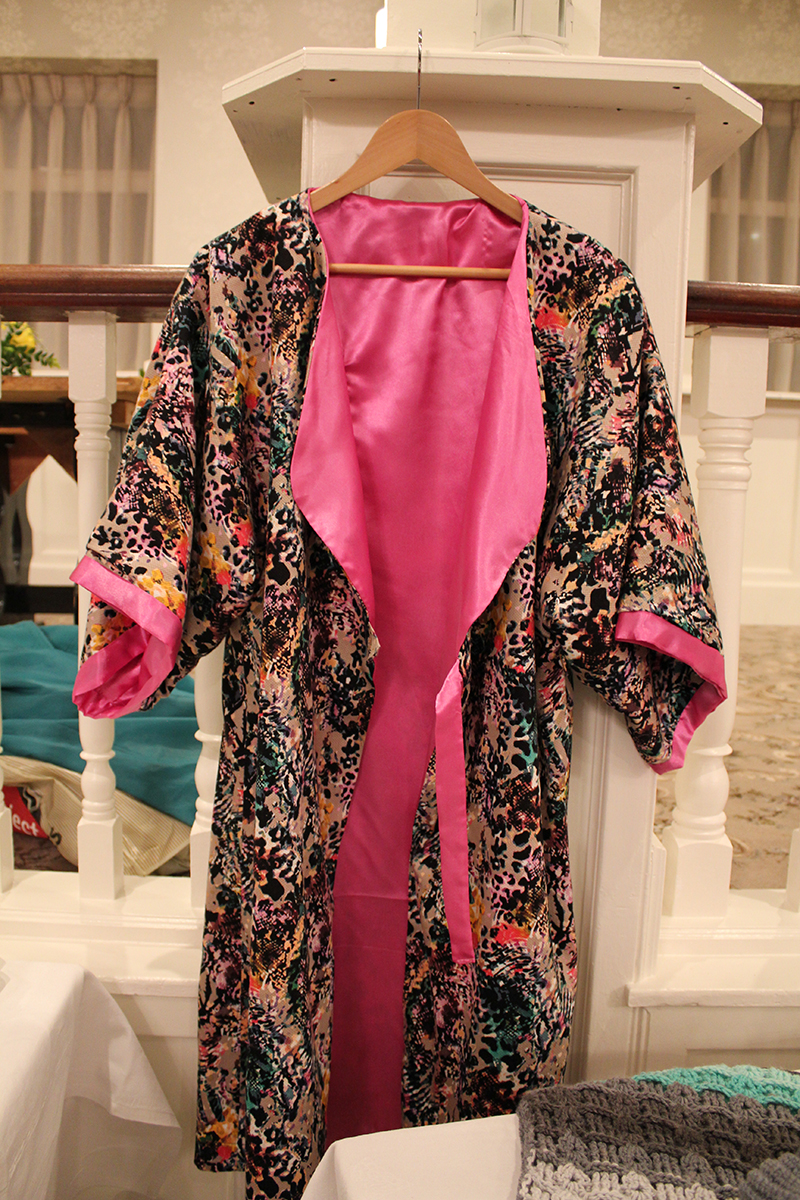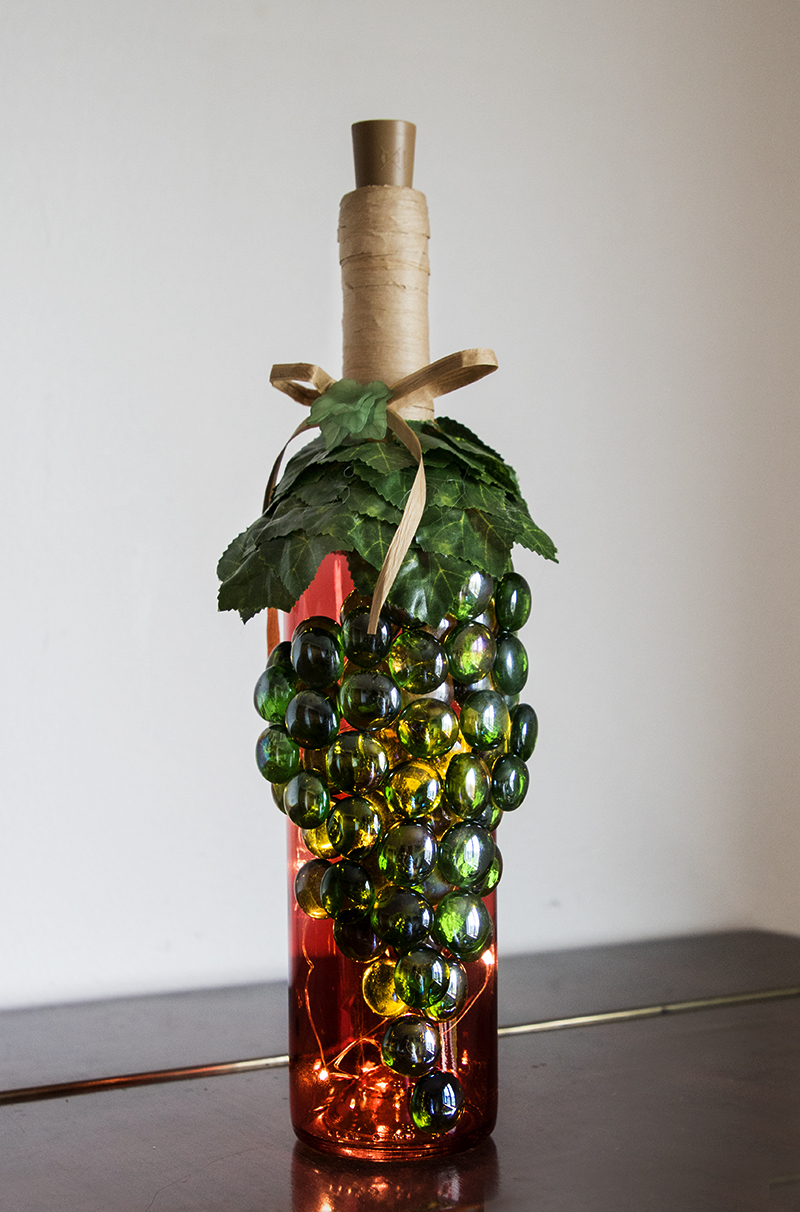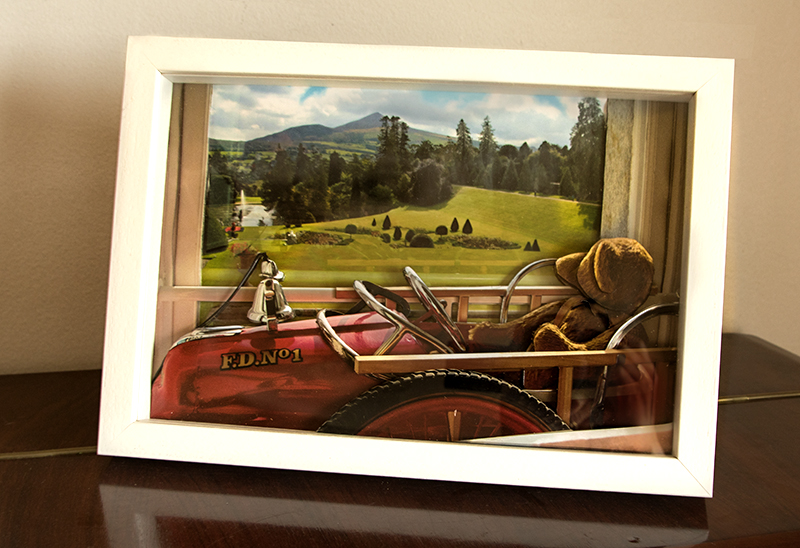 ---
News: 9th April 2018
Congratulations - Guild Member of the Year
Congratulations to Mary Finlay and Christina Murley Joint winners of ICA WIcklow Town Guild Member of the Year 2018. Christina and Mary were the overall winners of our monthly competitions. A big thank you to everyone who entered the monthly challenges during the year. Mary and Christina each win their Guild Membership for the year ahead.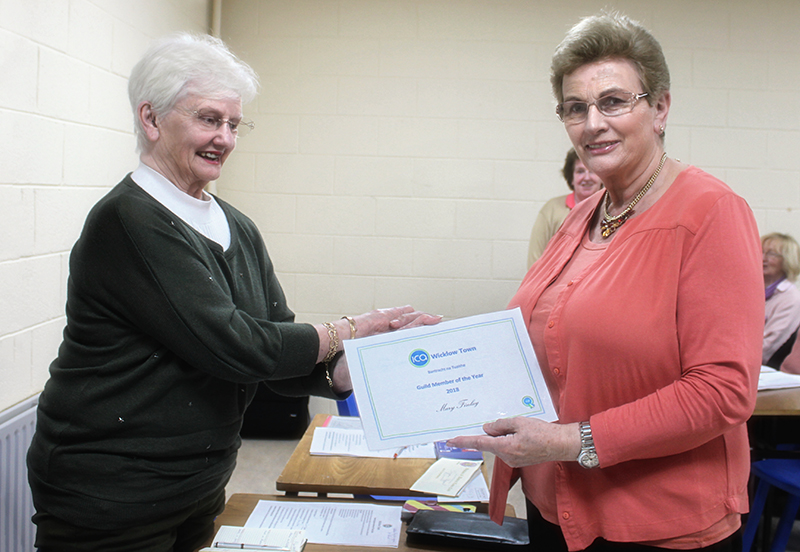 Betty hands Mary her Certificate for Guild Member of the Year 2018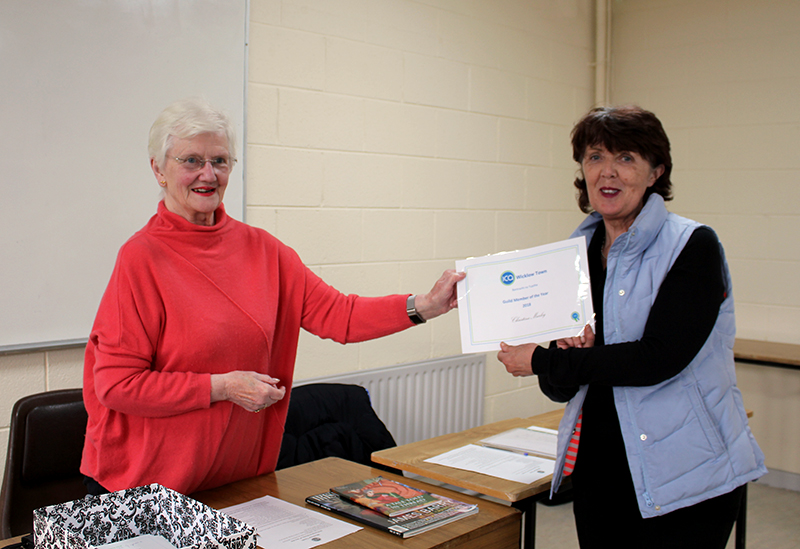 Betty hands Christina her Certificate for Guild Member of the Year 2018
---
Macramé Demonstration
Many thanks to Statia Ivers for taking time to visit our Guild and show us some of her work, and to demonstrate macramé, or the art of knotting string in patterns to make useful and decorative articles. See below for pictures.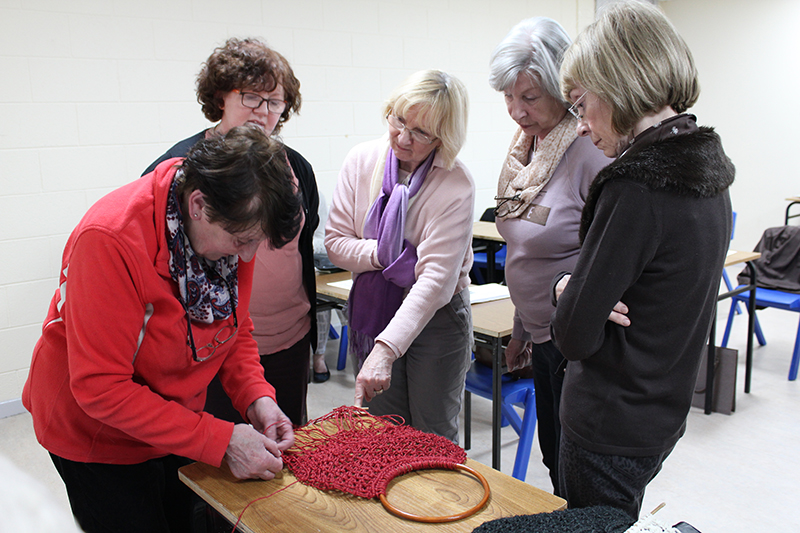 Statia demonstrates macramé to Guild members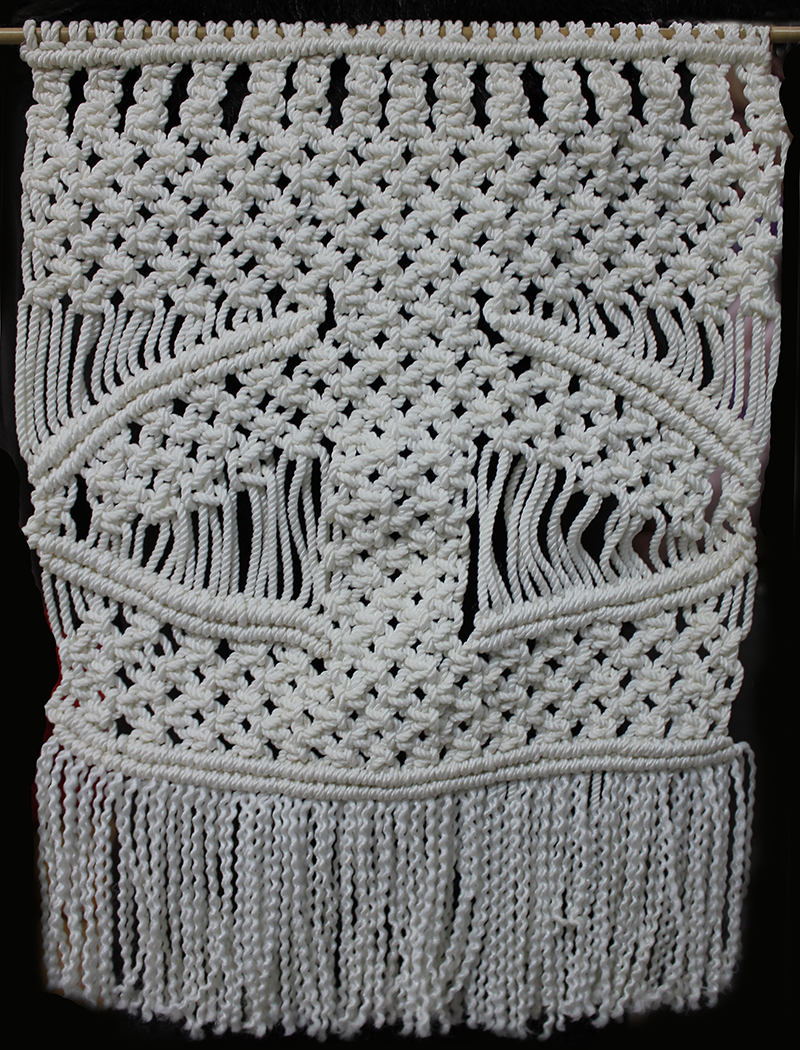 A macramé wall hanging by Statia Ivers
A two-tone macramé handbag made by Statia Ivers
---
News: 7th April 2018
Congratulations - National Contest Double Act
Congratulations to Mary Finlay and Susanna Braswell. Mary Finlay has won first place in the National Black and White Photography Competition. The Black and White Topic was "A Person at Work". Mary's beautiful image captures a lacemaker at work in Bruges, Belgium. Mary took the photo during a trip with Wicklow Historical Society. Susanna Braswell has won first place in the National Colour Photography Competition. The Colour Topic was "Fun in the Sun". Susanna's picture shows three young ladies from Northern Ireland who she met during a sunny afternoon at the Bridges of Ross in County Clare. Susanna also placed third in the Black and White and received two Highly Commended in Colour. The Inter-Federation Trophy for Art (Photography) comes to Wicklow. You can see Mary and Susanna's photos below.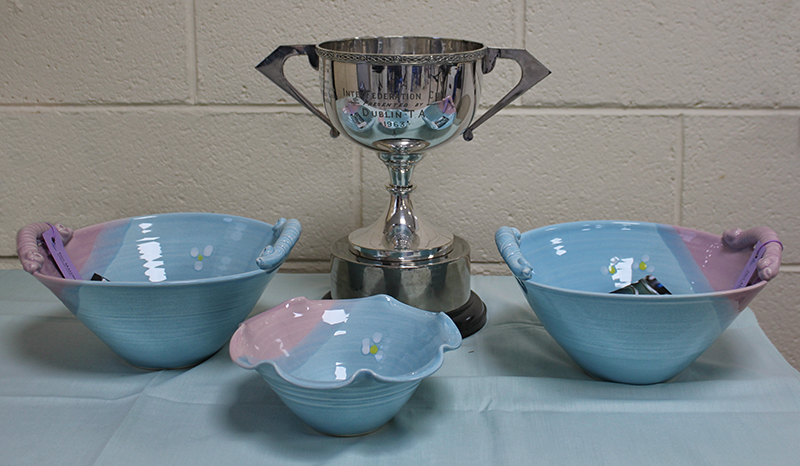 Bowls and Trophy presented to Mary and Susanna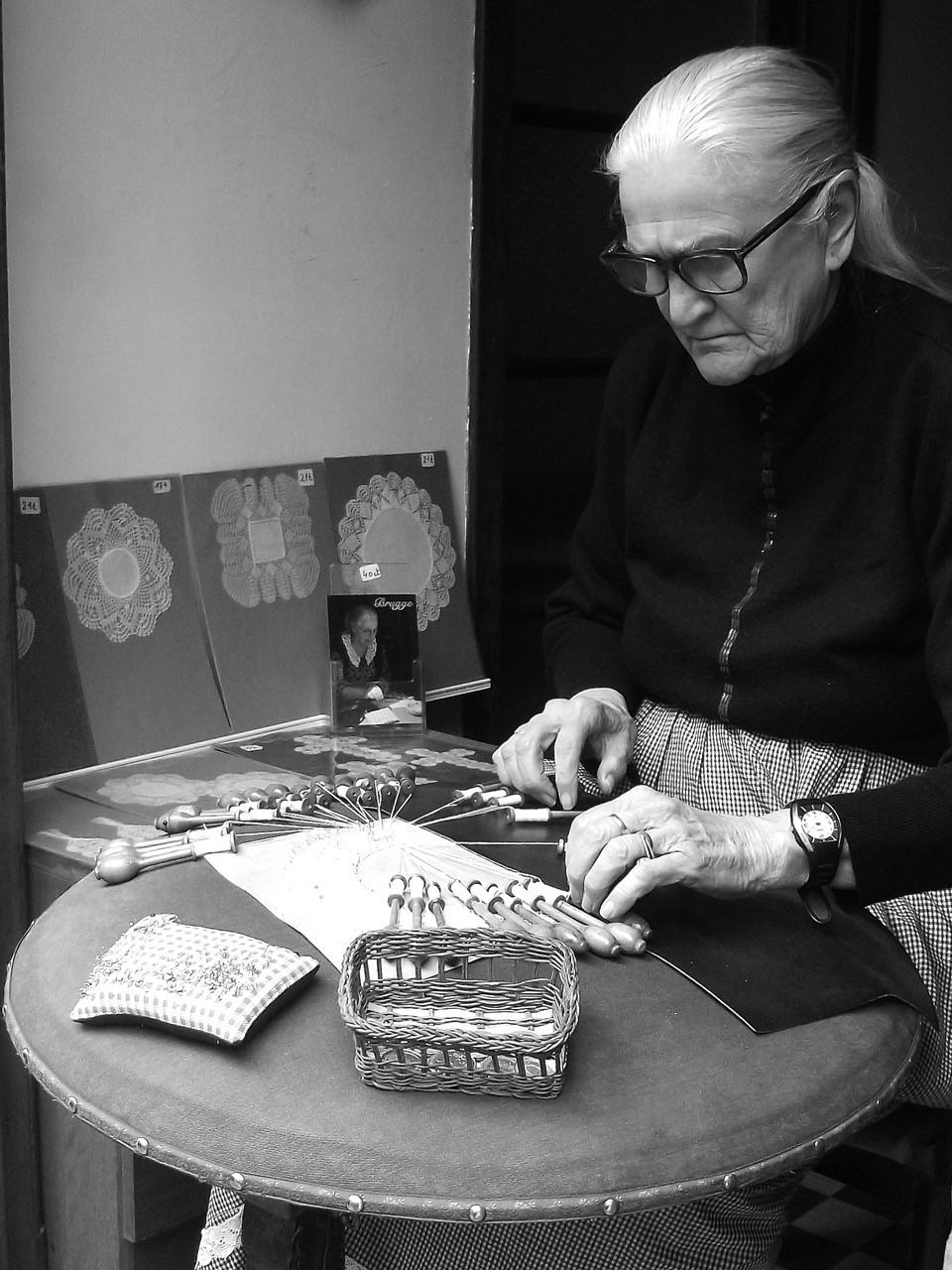 Mary's portrait: A Lacemaker at Work in Bruges - 1st Place in Black and White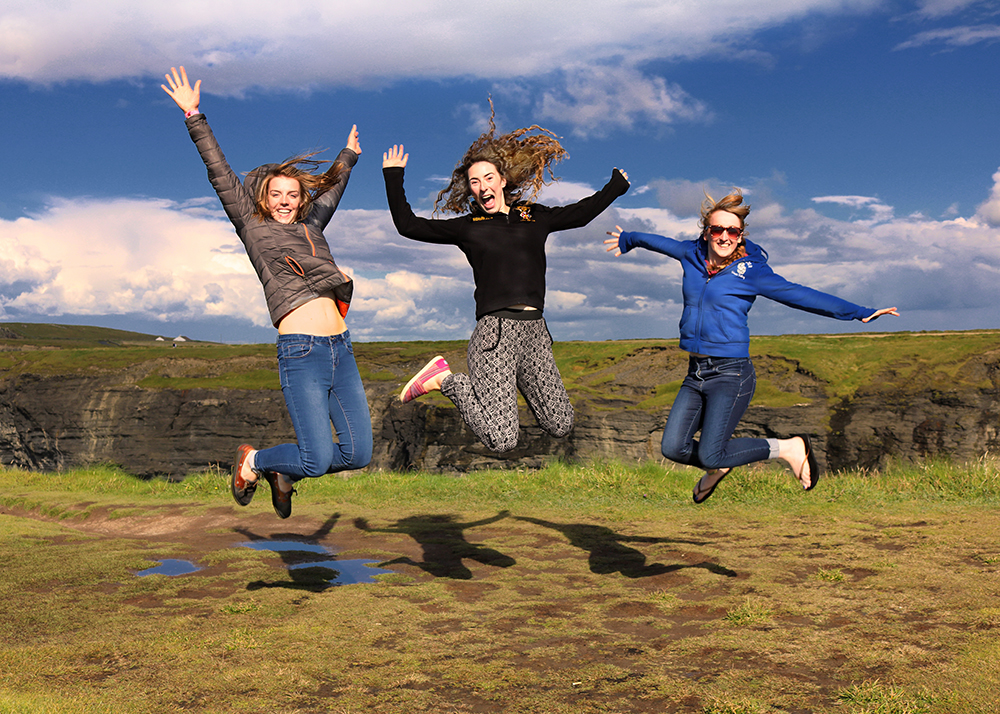 Susanna's picture captures three holiday makers having 'Fun in the Sun' in Clare - 1st Place in Colour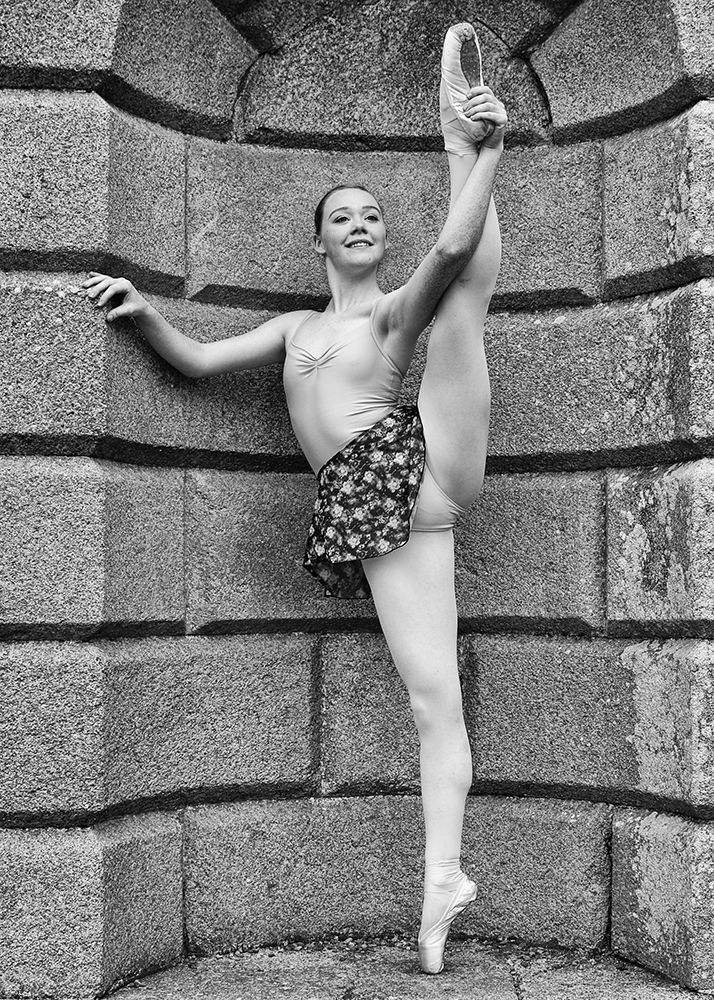 Susanna's picture of a ballet dancer stretching - 3rd Place in Black and White

More 'Fun in the Sun' - Highly Commended in Colour
---
News: 5th March 2018
Easter Bonnets
Many thanks to all who entered the Easter Bonnet challenge. Once again proving the variety of ideas that can be created on a simple theme. The colour yellow was everywhere, but there were no two the same. From big, bonny bunnies to fabulous florals and sophisticated fascinators. Only days after the snow, spring has well and truly sprung at ICA Wicklow Town.

The March Winners are:
1st - Liz Delaney
2nd - Margaret O'Toole
3rd - Maura Cregg
Below are some pictures of the beautiful Easter Bonnets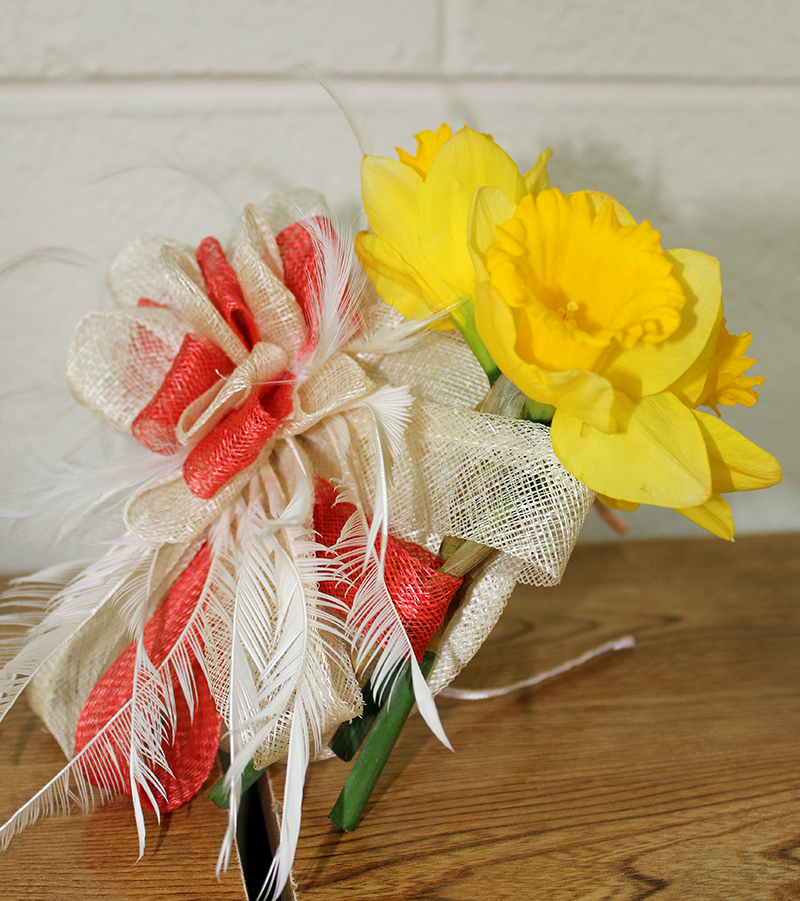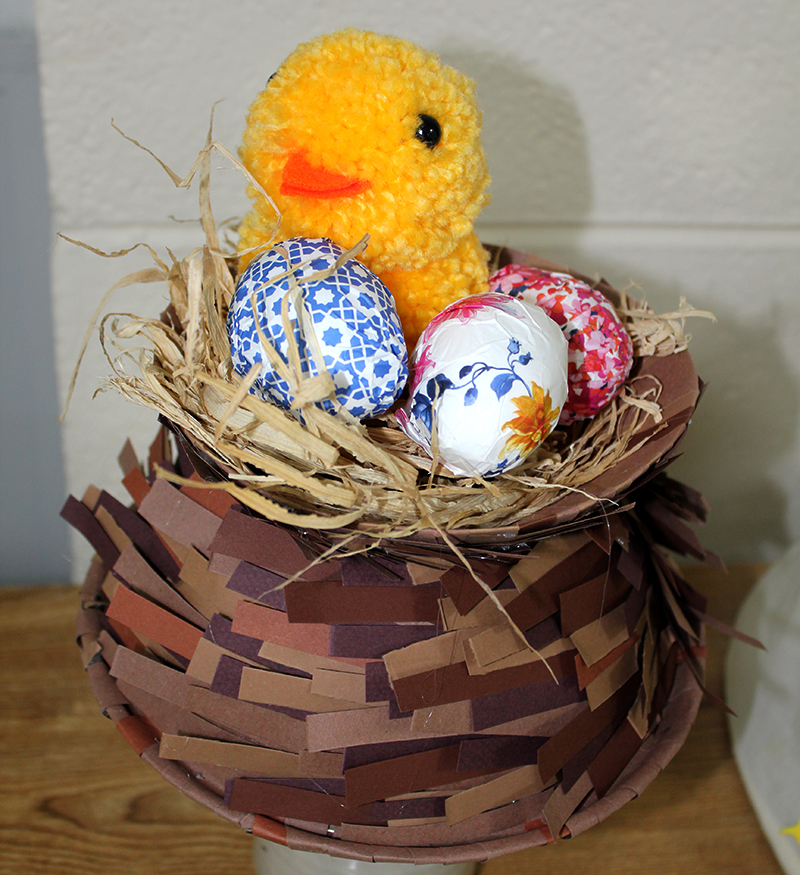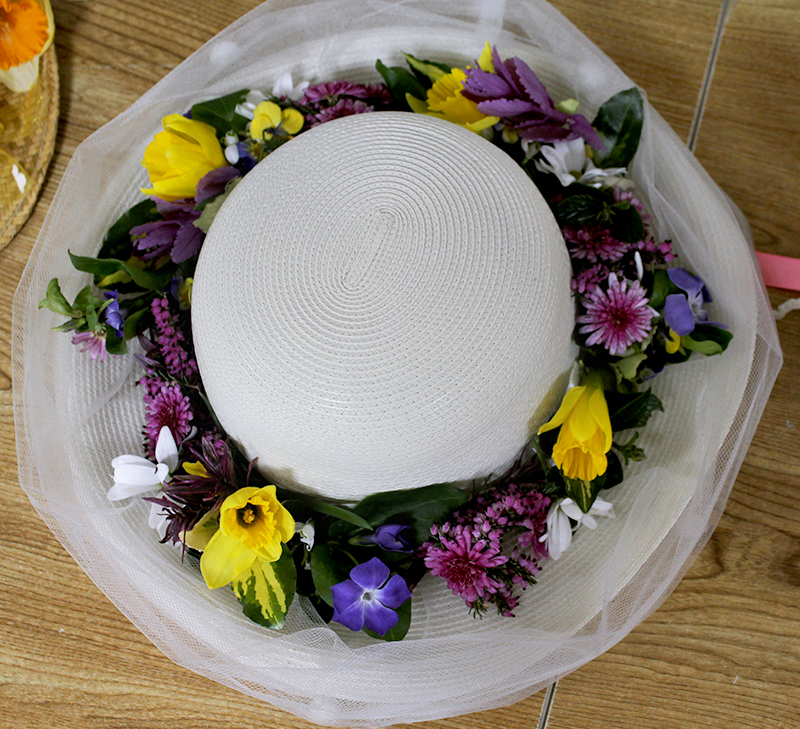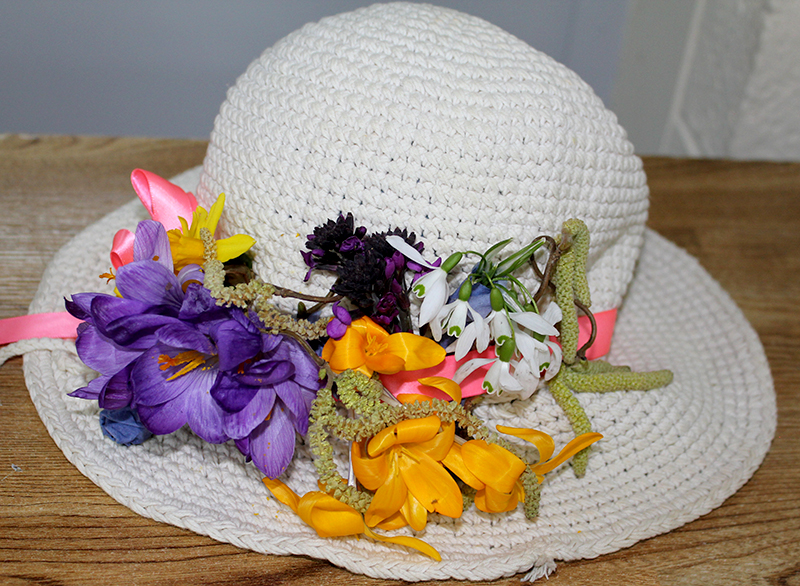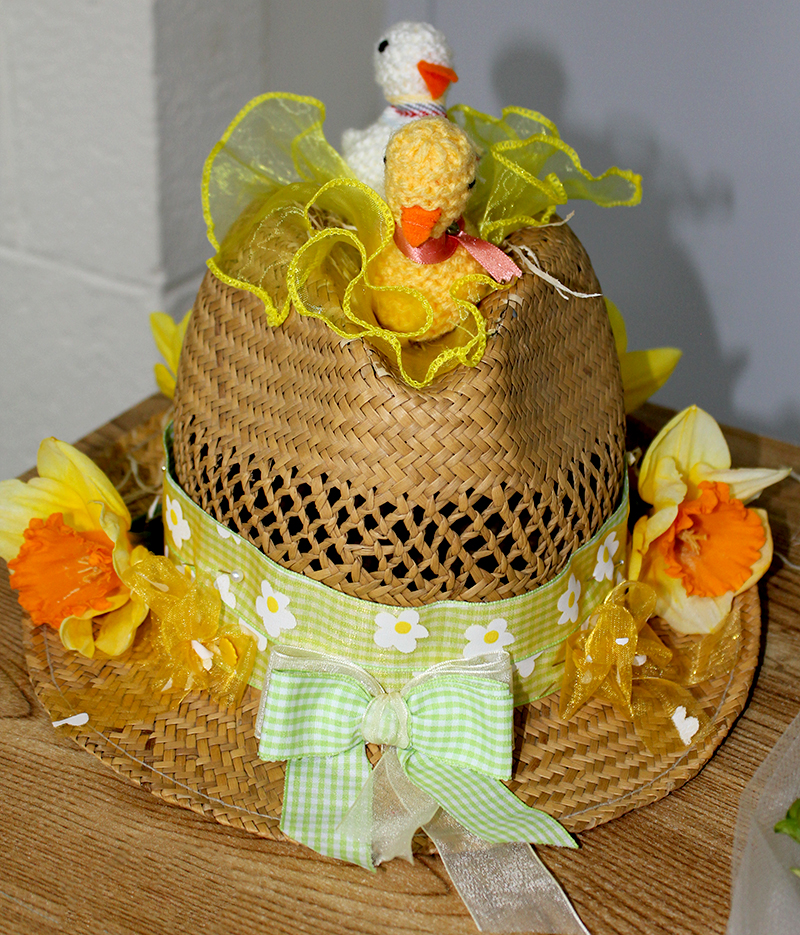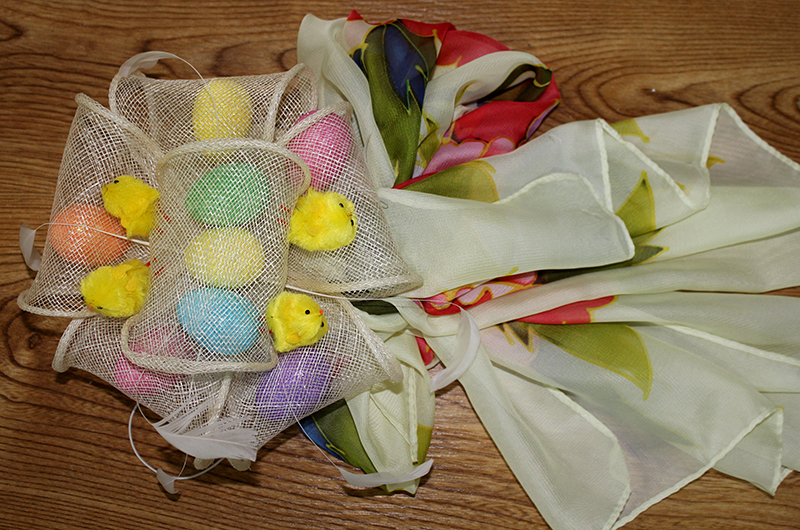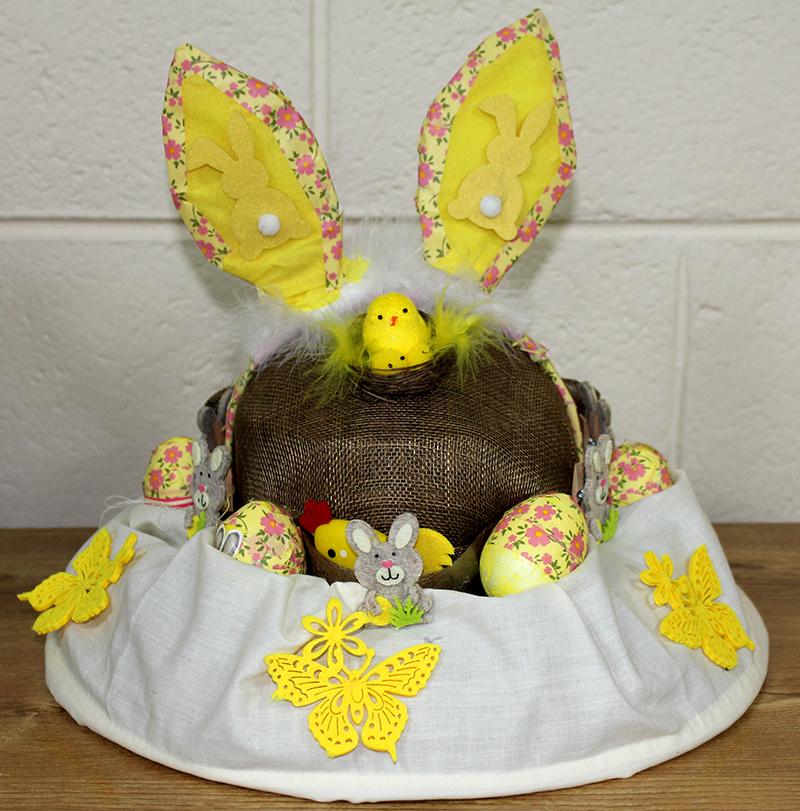 ---
News: 12th February 2018
Appletree Crafts, Quilts Galore & Needlework
Many thanks to artists, expert quilters, teachers and quilt shop owners Marie and Trina O'Mahoney from Apple Tree Crafts Newtownmountkennedy. Apple Tree Crafts is a working quilt shop and studio and the O'Mahoney family also run quilting classes at the studio. Marie and Trina brought some of their beautiful quilts to show us. Marie and Trina talked about the origins of the Log Cabin design and how quilts can provide a wonderful repository for scraps of fabric as well as memories. Thank you also to Marie for judging our needlework competition.
(Below) Marie and Trina O'Mahoney from Apple Tree Crafts Newtownmountkennedy talk quilting with Guild members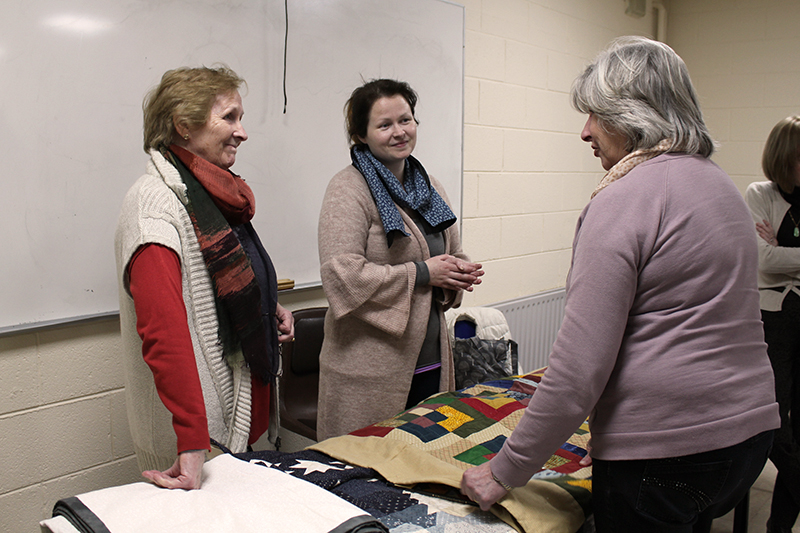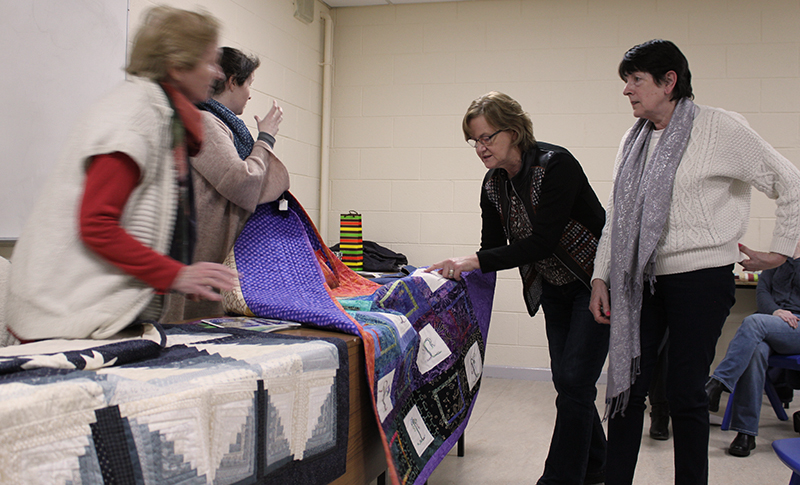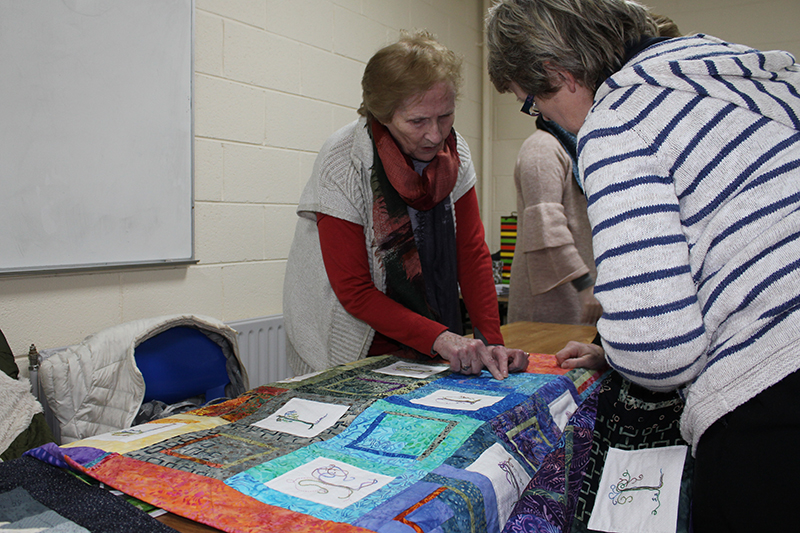 The February Winners are:
1st - Susanna Braswell
2nd - Sylvia Tracey
3rd - (Joint) Maura Cregg and Mary DeCourcy
Pictures below are from the February Needlework Competition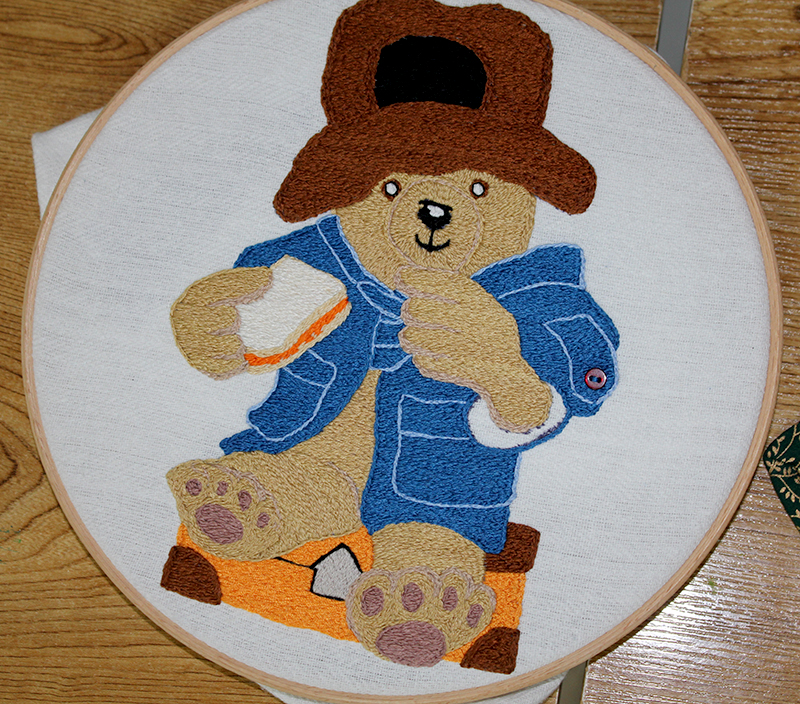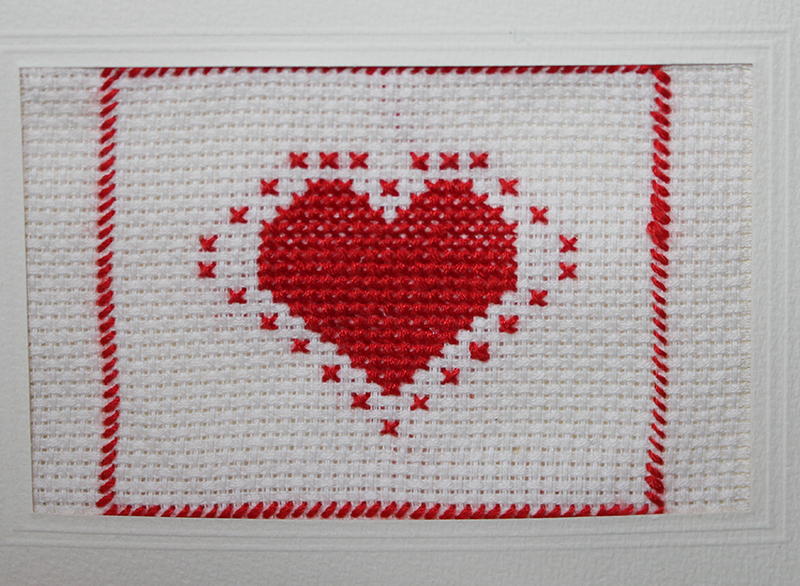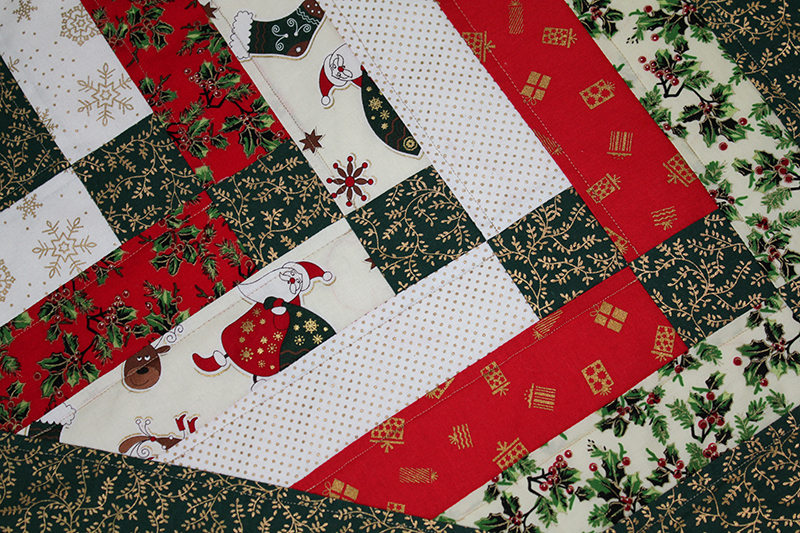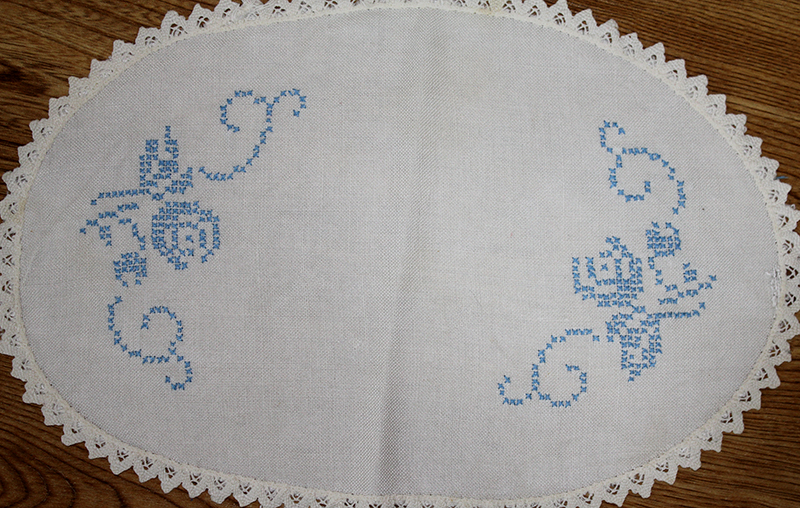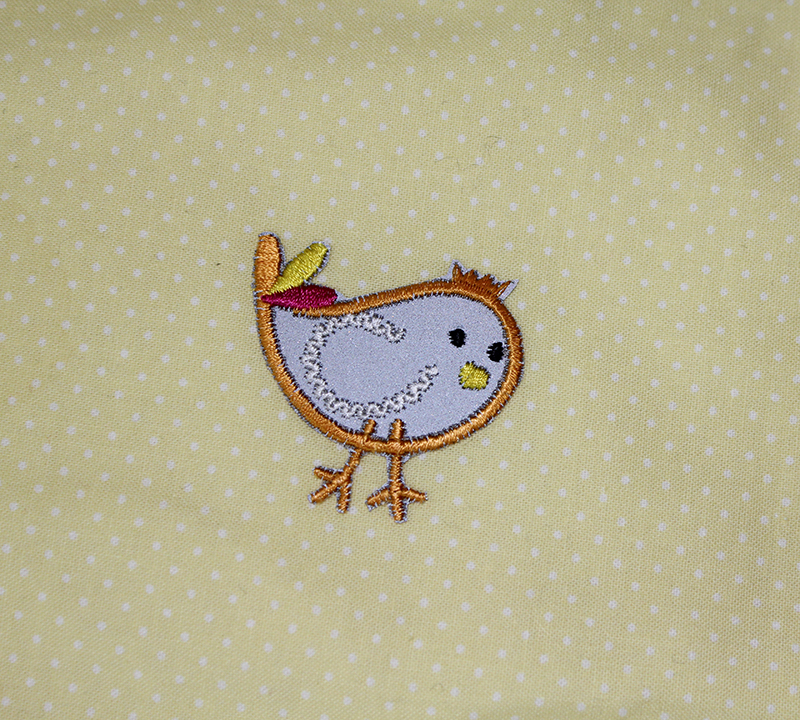 ---
News: 8th January 2018
Top Tips and Wicklow RNLI
For a bright and bracing start to the New Year we were treated to a wonderful talk on the history of Wicklow RNLI by Ciarán Doyle. Ciarán is a longserving RNLI volunteer and author of "All Clear, Let 'er Go", a history of Wicklow RNLI. Ciarán had a wealth of historic and more recent photographs to illustrate his talk. All proceeds from Ciarán's meticulously researched book go to the RNLI. Many thanks to Ciarán also for the highly informative Respect the Water campaign souvineers which he kindly brought.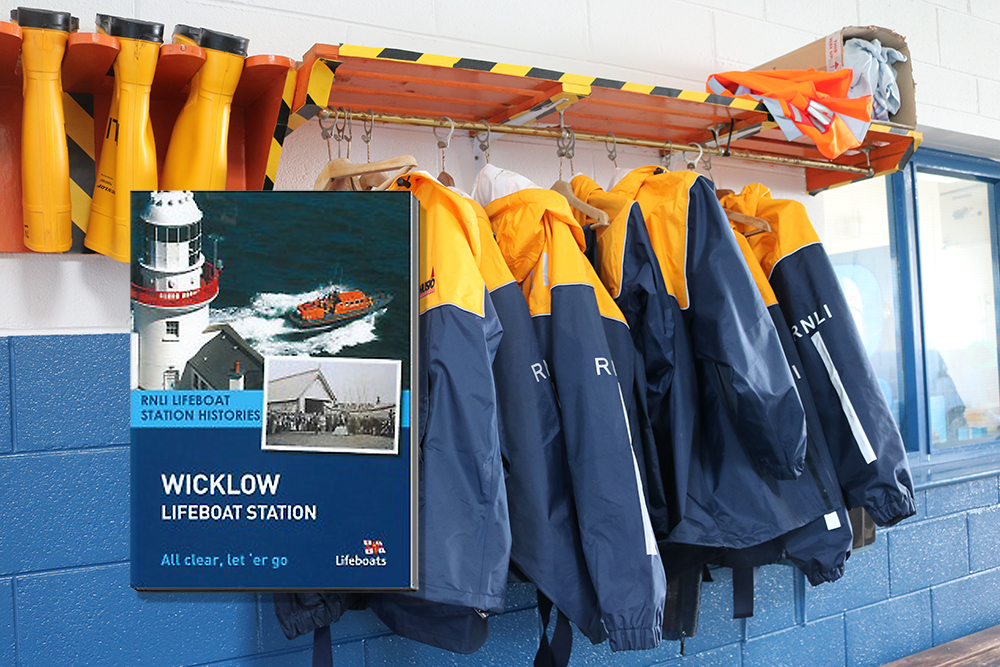 Thanks to everyone for a wonderful and varied selection of top tips.
The Competition Winners for Your Best Tip were:
1st - Susanna Braswell
2nd - Liz Delaney
3rd - Fionnuala O'Reilly
---
News: 11th December 2017
Christmas Dinner at The Jailer's Rest
ICA Wicklow Town Guild spent a lovely evening at The Jailer's Rest, Wicklow Gaol. Kris kindle Gifts were exchanged and the delicious food and delightful company were enjoyed by all. Many thanks to Mary Finlay for capturing some lovely images of the evening.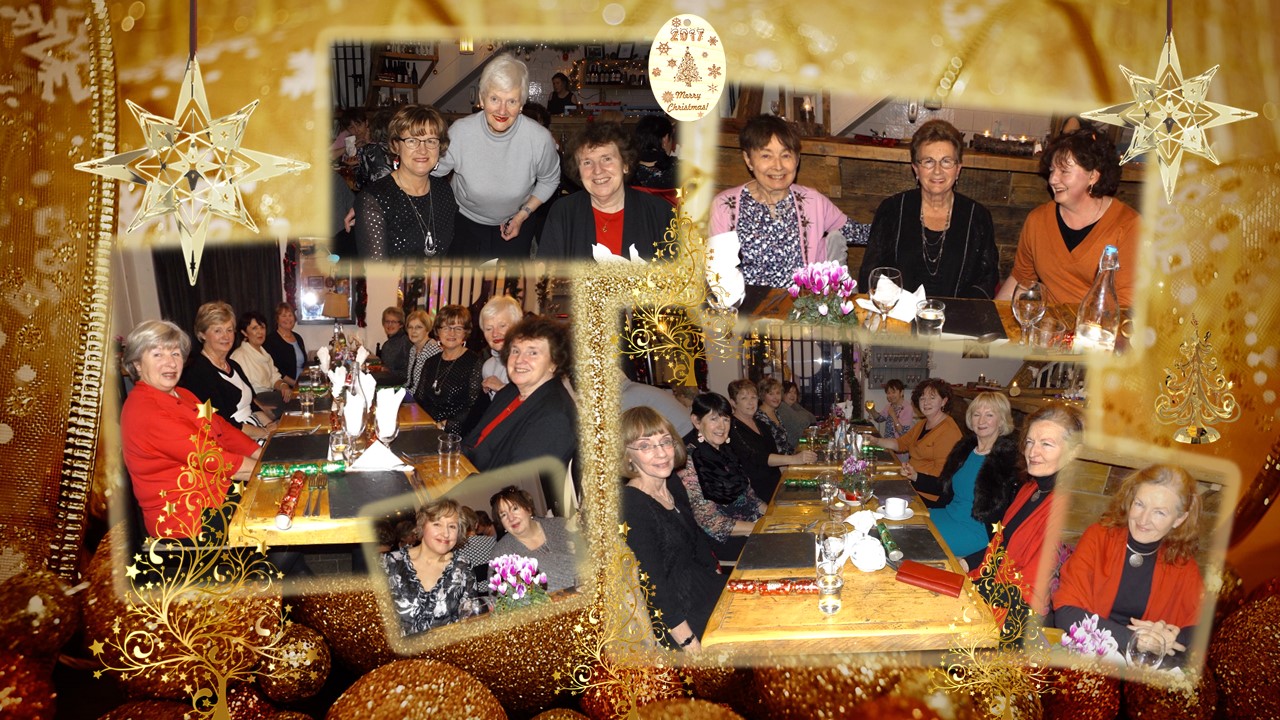 ---
News: 9th December 2017
Happy Birthday Betty
Massive Congratulations to our President Betty on her 80th Birthday. Betty celebrated by completing a sponsored horse ride through Wicklow Town. Betty and her horse Rosie did two laps of Main Street and looked very happy together. Betty's chosen charities the Irish Pilgrimage Trust and Suicide or Survive will benefit from Betty's endeavour. Can't wait to see what Betty does for her 90th!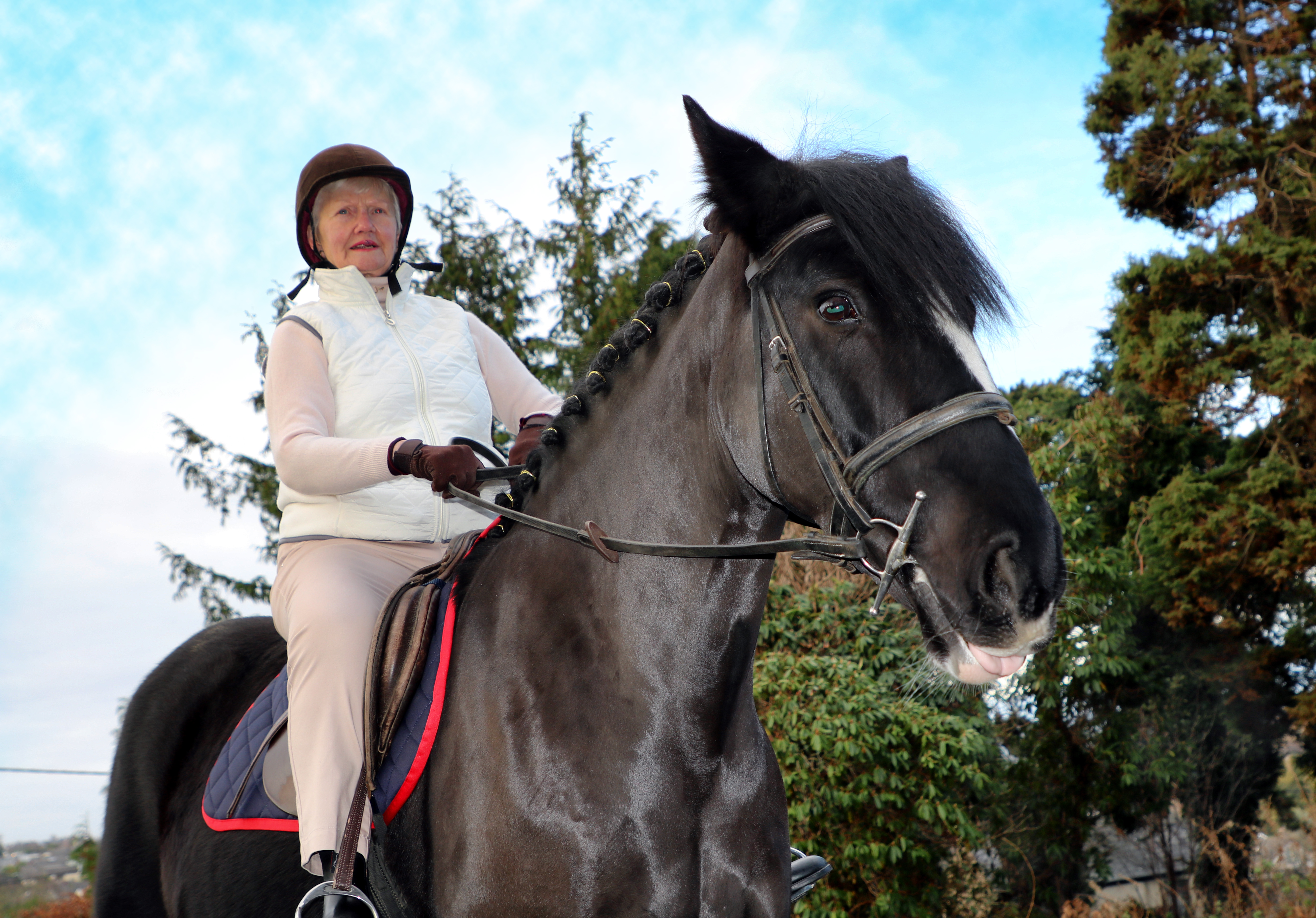 Betty and Rosie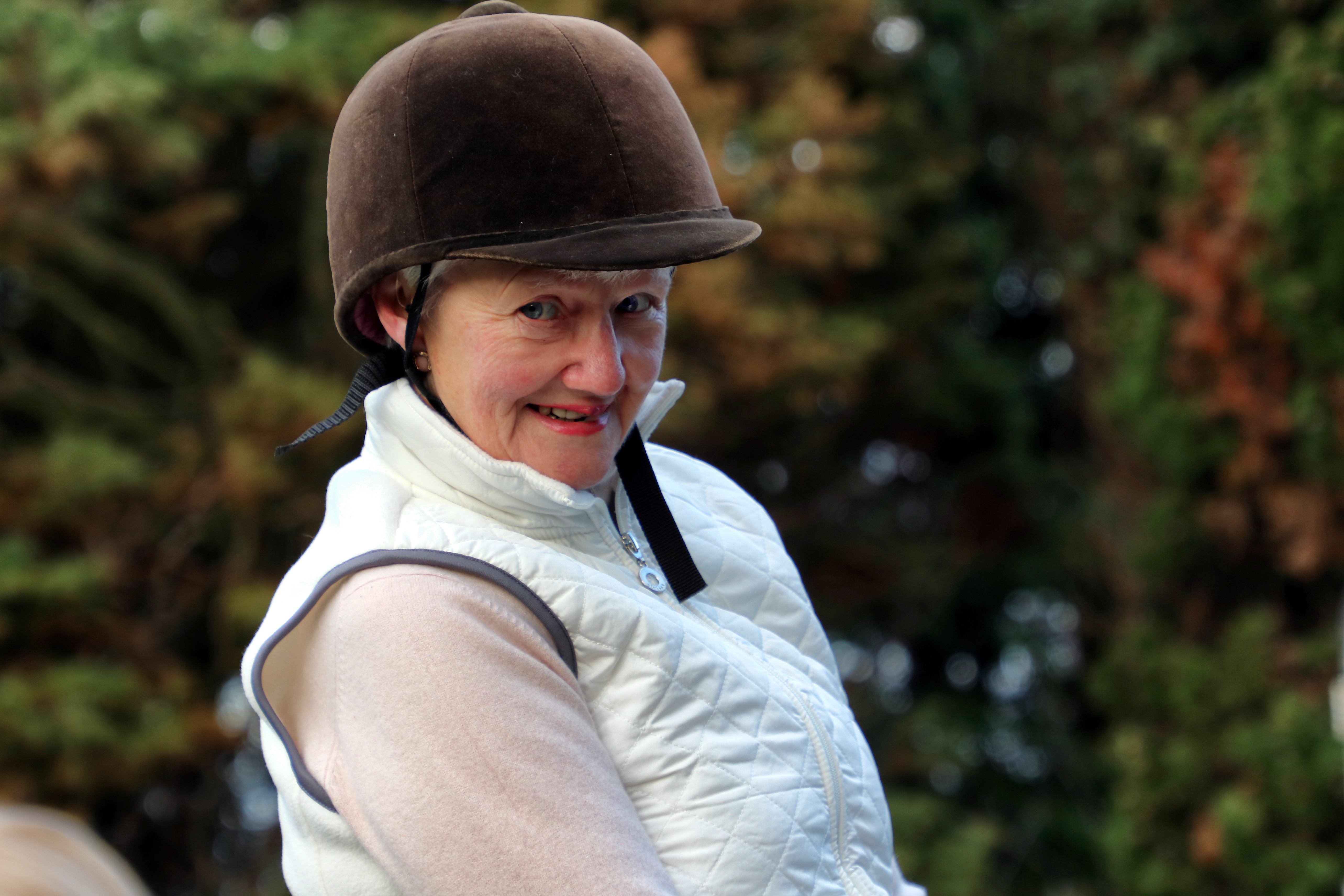 Betty looking forward to the next decade
---
News: 13th November 2017
Has Anyone Seen Israel?
Members displayed hidden talents for visual communication, mime and guesswork at our Pictionary Board Game Night. Team spirit and a good sense of fun were very evident. Hardest Word of the Night Award was unquestionably taken by Liz Dowling who drew (and then had to draw) Israel! Congratulations to all.
Well done to all who rose to the November challenge - Compose an Original Limerick


By popular vote, the November Winners (Joint Firsts and Joint Seconds) are:
1st - Margaret Jones
1st - Margaret O'Toole
2nd - Mary Finlay
2nd - Christina Murley
2nd - Mary Phillips
2nd - Susanna Braswell
2nd - Catherine Wynne
2nd - Liz Delaney
---
---
News: 9th October 2017
Herbs with Isobel
Sincere thanks to Greystones-based herbalist and naturopath, Isobel Jordan Keeling, who gave us a packed talk on herbs for health and demonstrated a delicious fresh pesto and a sweet smelling facecream.
Halloween Spooks and Autumn Fruits
A beautiful display of Autumn fruit and foliage, black and orange , candles, and one very scary cake!! Thank you to Isobel Jordan Keeling for judging!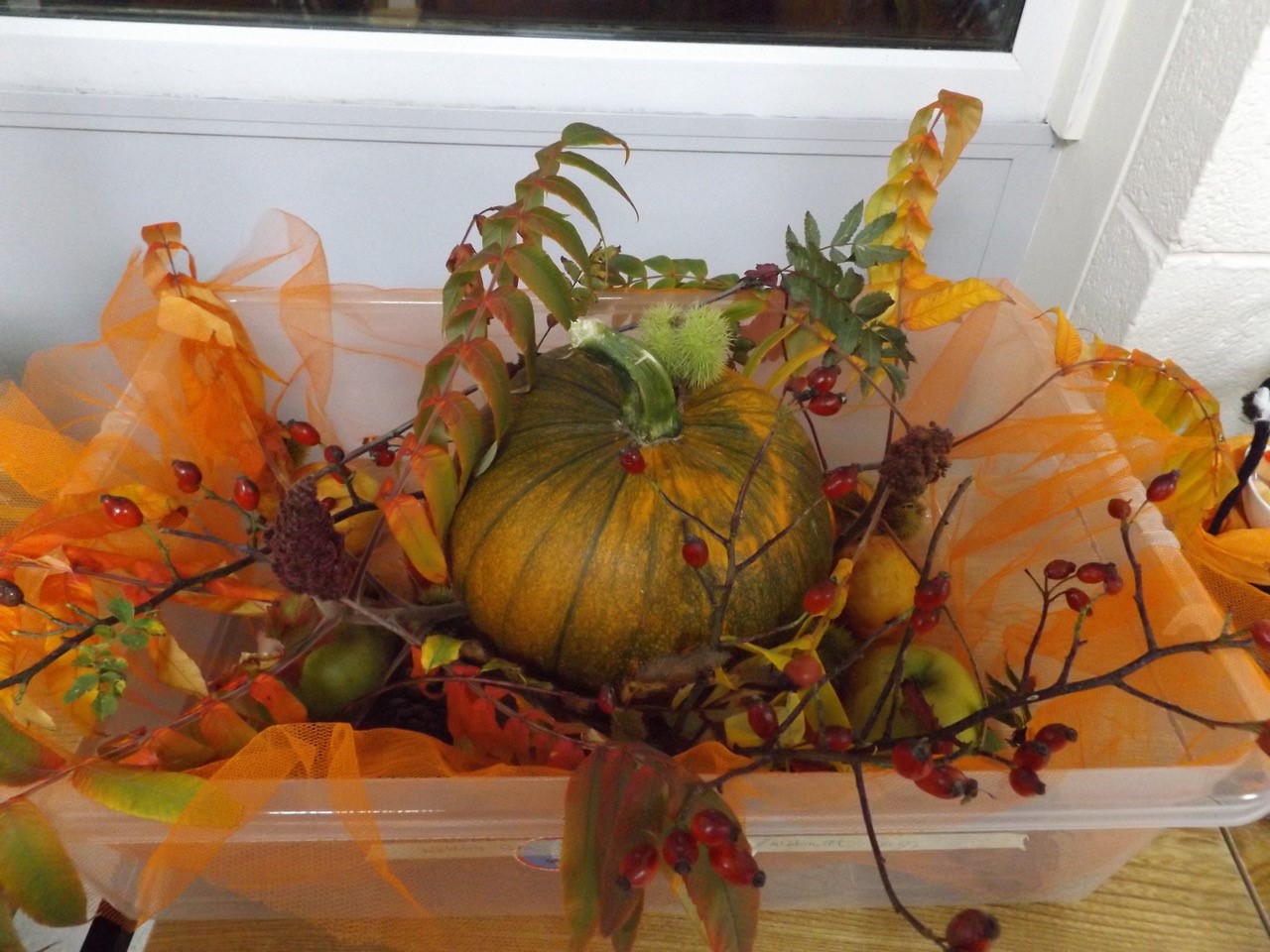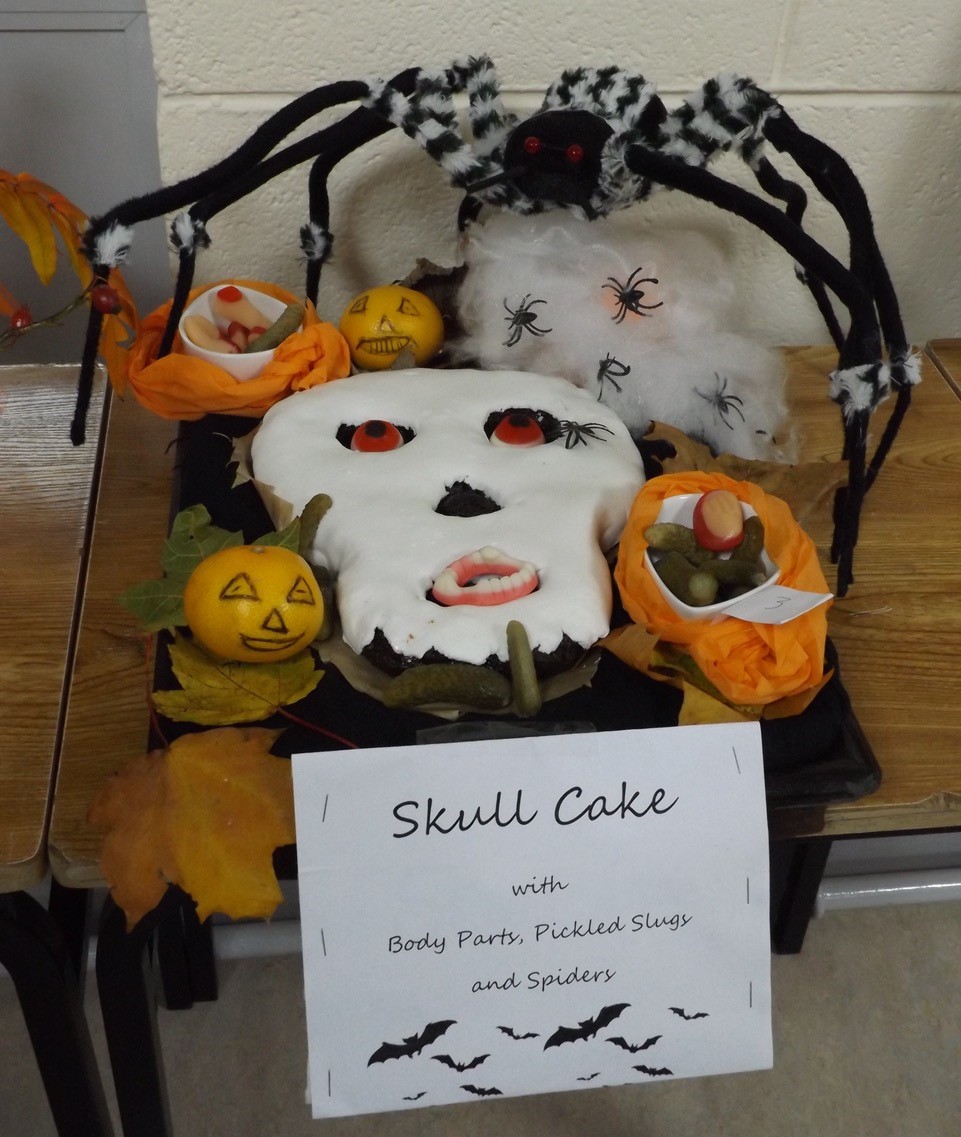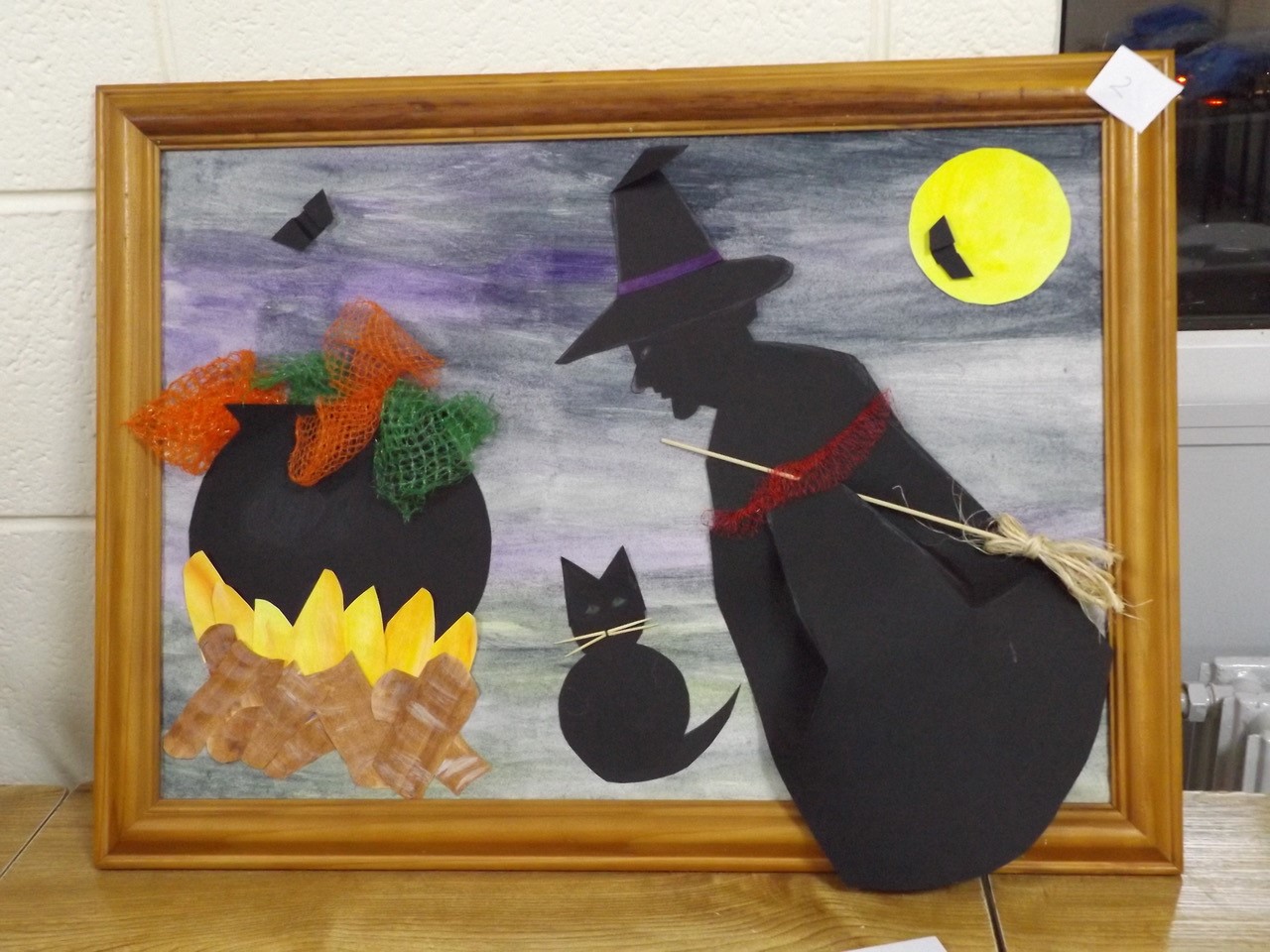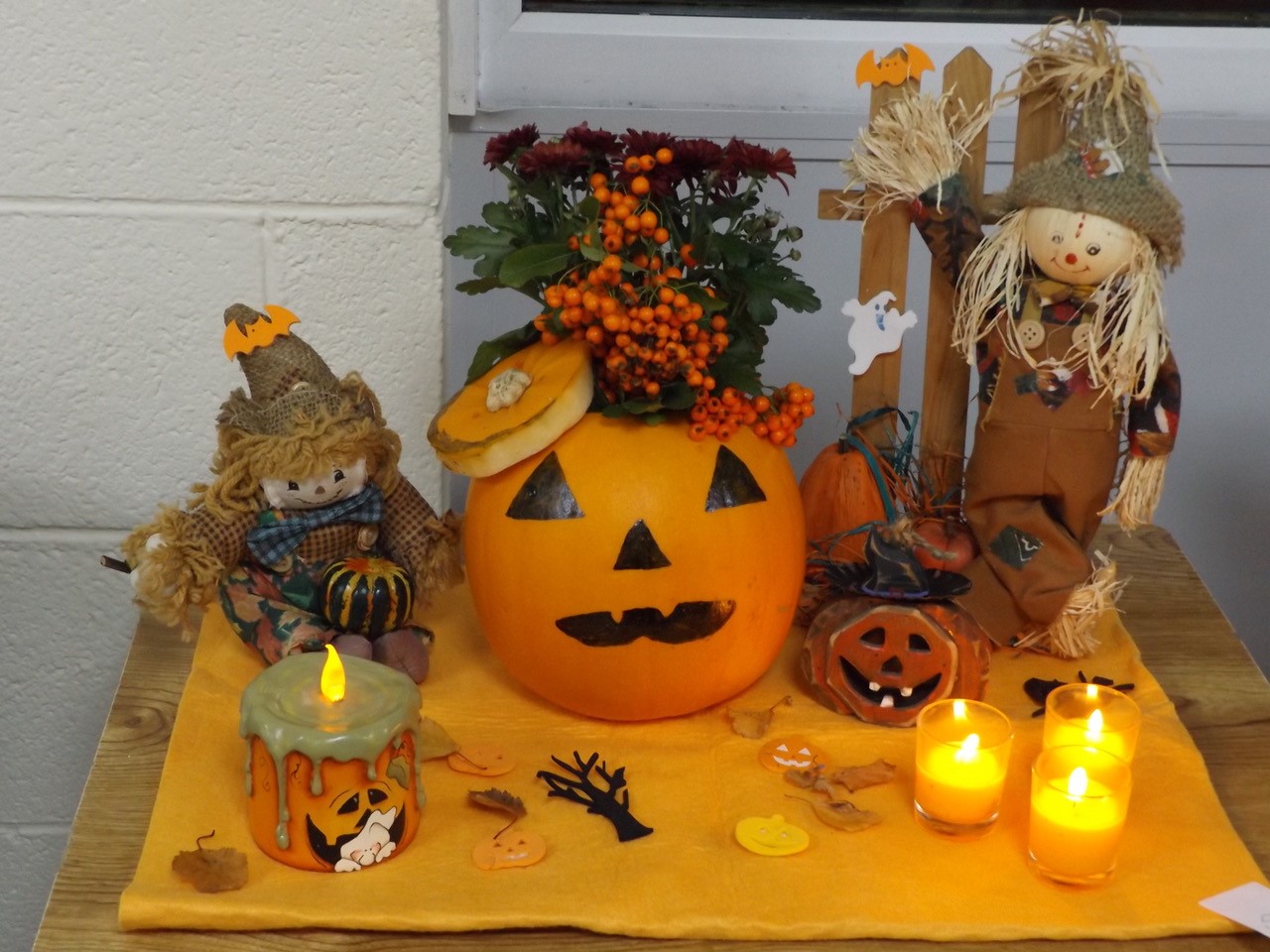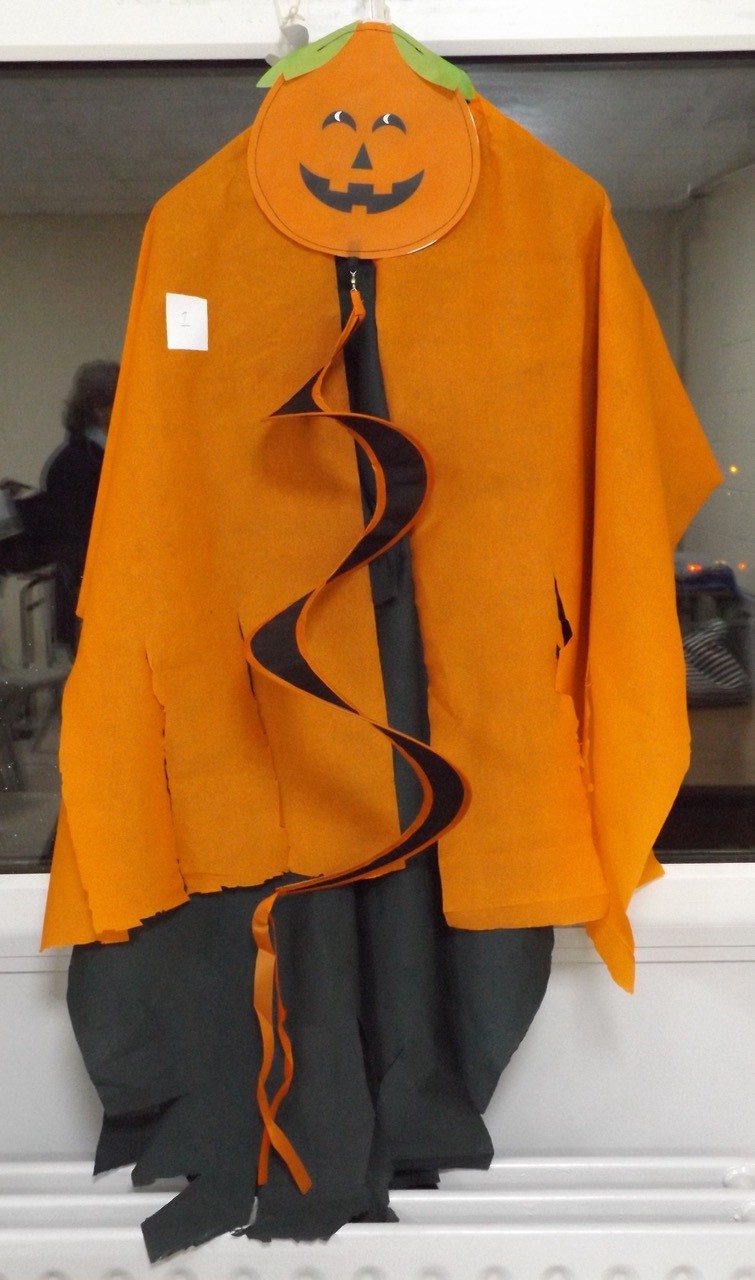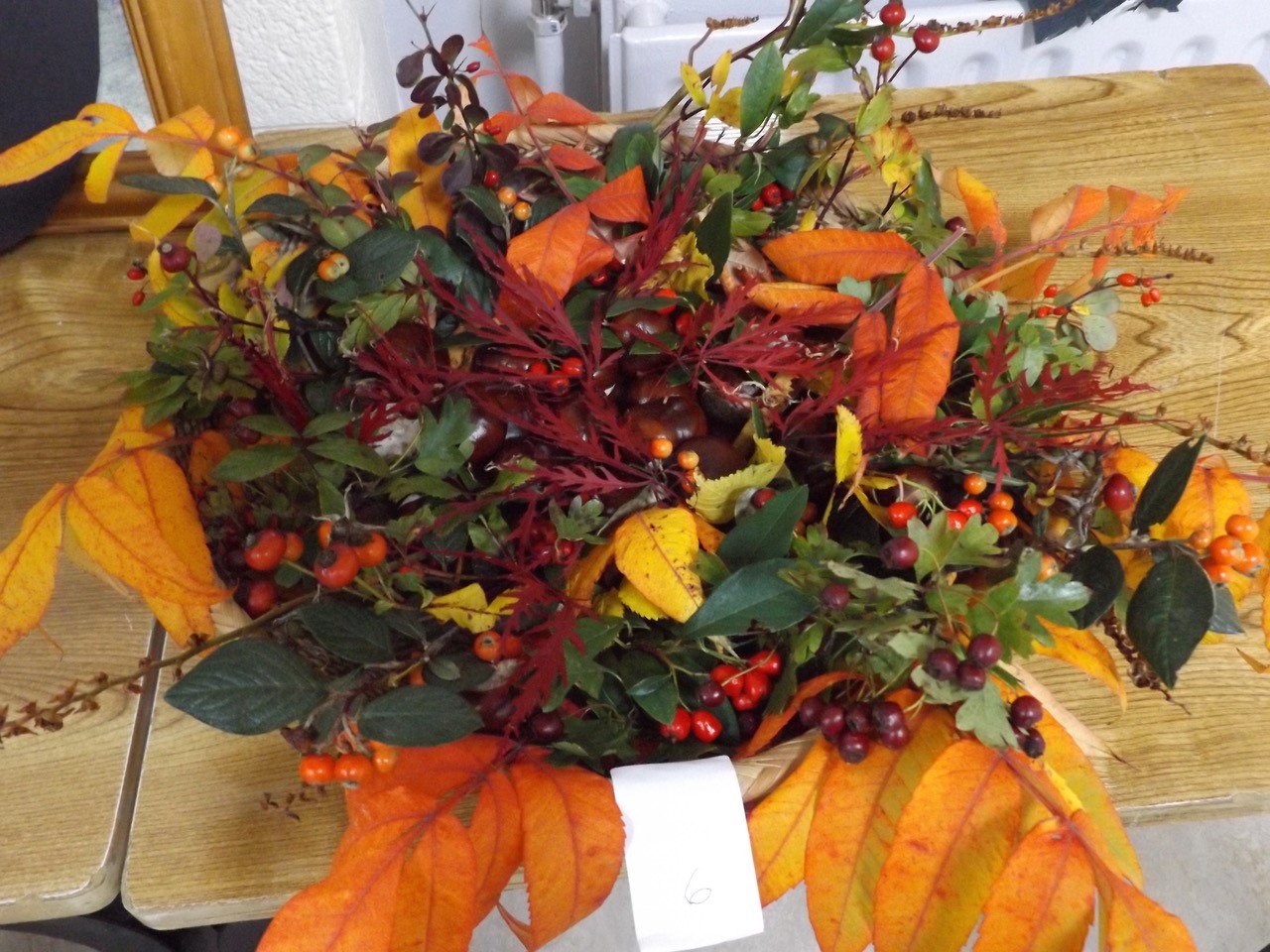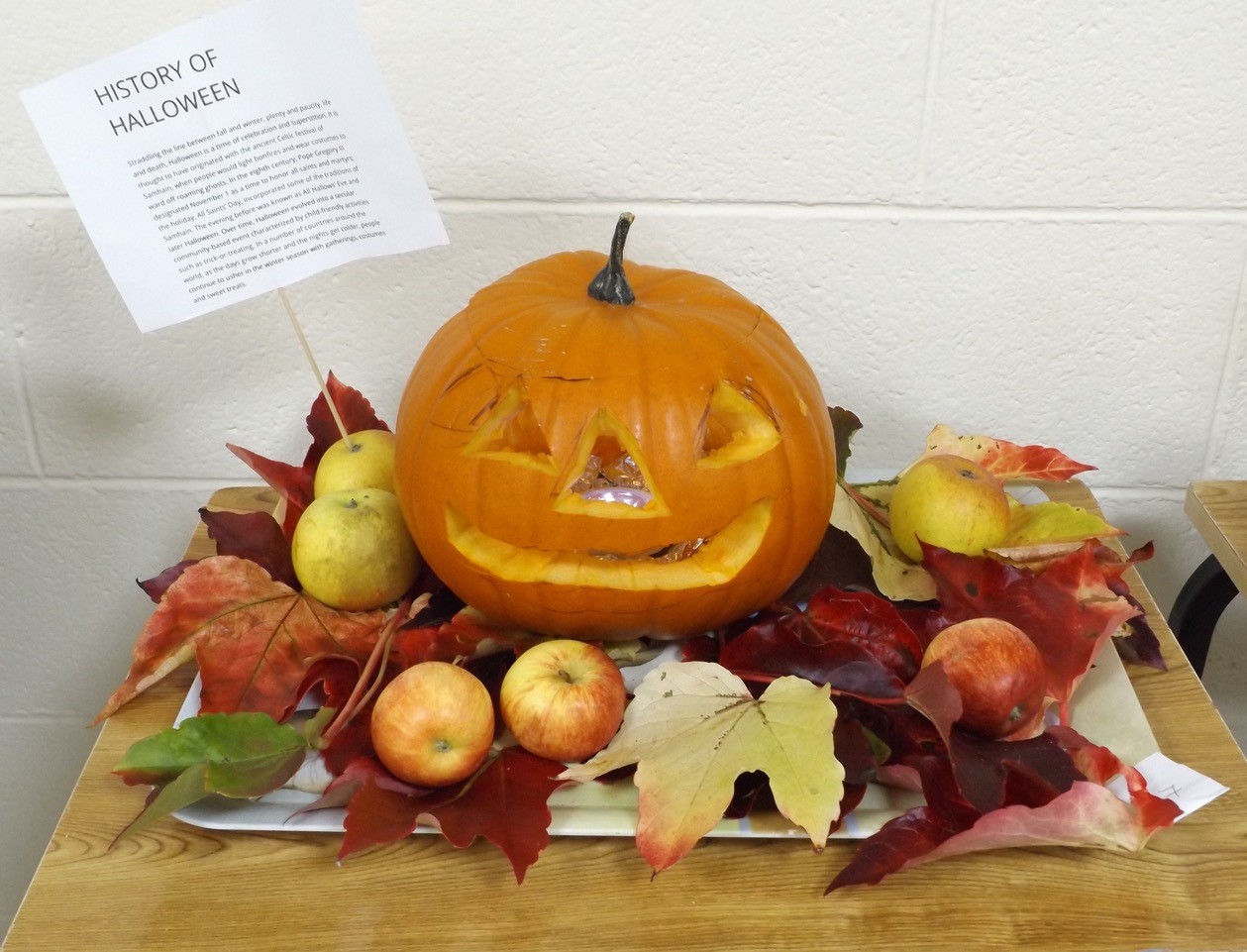 Some wonderful entries for the Halloween competition

The October Winners are:
1st - Christina Murley
2nd - Catherine Higgins
3rd - Maura Cregg
---
News: 8th May 2017
First Responders and Fancy Hats
Many thanks to Wicklow Town First Responders who so generously gave their time and expertise to us. Valuable lessons were learned such as "Place your Eircode on your fridge or in another prominent place", and "Dial 112 for prompt emergency service". We learned how the defibrillator is programmed to assess heart activity and determine whether a shock is necessary, and how the machine will talk the user through the process. We were also witnesses to the valuable service provided by First Responders when Kevin, a member of the team, had to leave to attend an emergency.
What a beautiful array of fancy hats. A great response to the challenge and such a variety of themes. Hats for gardening, mad cows, stylish occasions and general sunning and looking good! Unfortunately the evening was so busy that no photographs were taken, which is a real shame, but for those who saw them they will linger long in the memory! Many thanks to Myrtle from First Responders for judging.

The May Winners are:
1st - Mary DeCourcy
2nd - Sylvia Tracey
3rd - Mary Finlay
News: 24th April 2017
Success at Federation Arts and Crafts Night
A great night was had at the Woodenbridge Hotel. Federation President Madge Kenny welcomed attendees from Guilds across the county. The number of entries was up significantly on last year and the standard of the entries was very high. A wonderfully entertaining competition in Public Speaking (topic drawn at random directly before speaking) saw speeches on, among others: "When I get up in the morning", "Turning a Negative into a Positive", "Miracle Drugs", "Be Thankful" and "Emotional Boost". Christina represented our Guild superbly at flower arranging. This competition was done live at the hotel. The brief was a modern flower arrangement using only 5 flowers and any foliage. Christina's beautiful piece saw her awarded the Tinahely Show Cup, the first time the cup has come to Wicklow Town. Mary and Susanna entered the lions den of Public Speaking and Susanna was awarded the Annie Holt Trophy for Public Speaking, retaining the trophy for Wicklow Town as Mary won it last year. The Guild was also represented in the Crochet, Irish Soda Bread, Comortas Gaeilge and Handmade Jewellery competitions. The jewellery contest was for two pieces of handmade jewellery. Susanna was awarded the Sadie Ryan Trophy for her quilled peacock pendant and earrings. This is the Guild's second year winning the Sadie Ryan Trophy, which was awarded last year for creative writing. In addition to those who participated in the contests, a big thank you to members of our own and of other Guilds who came to watch and support the contestants.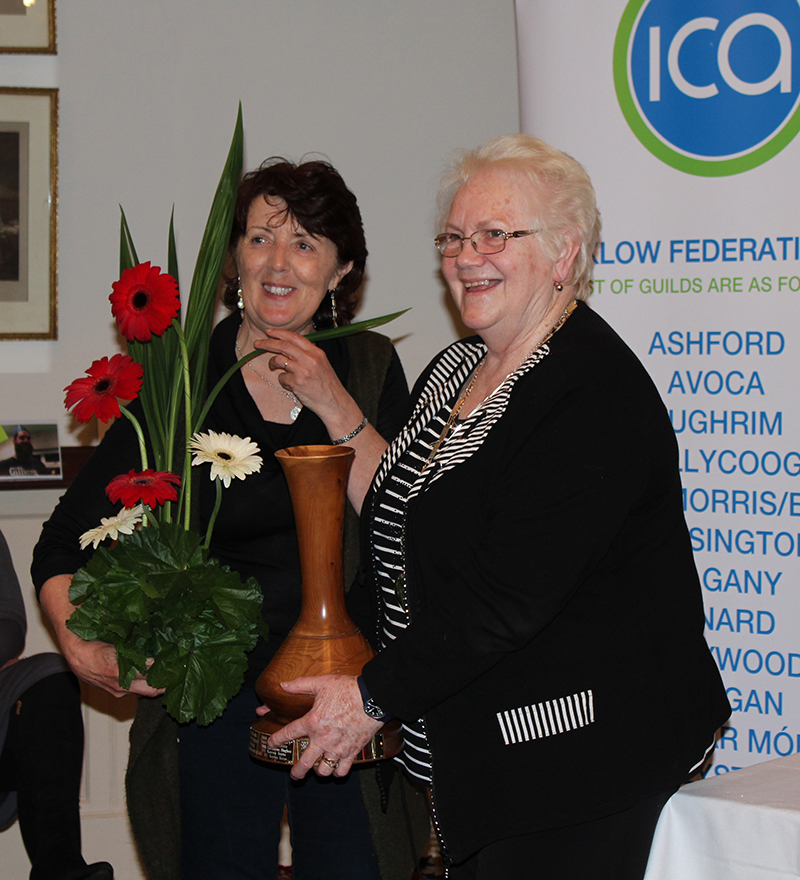 Christina holds her prize winning arrangement with Madge Kenny, Wicklow Federation President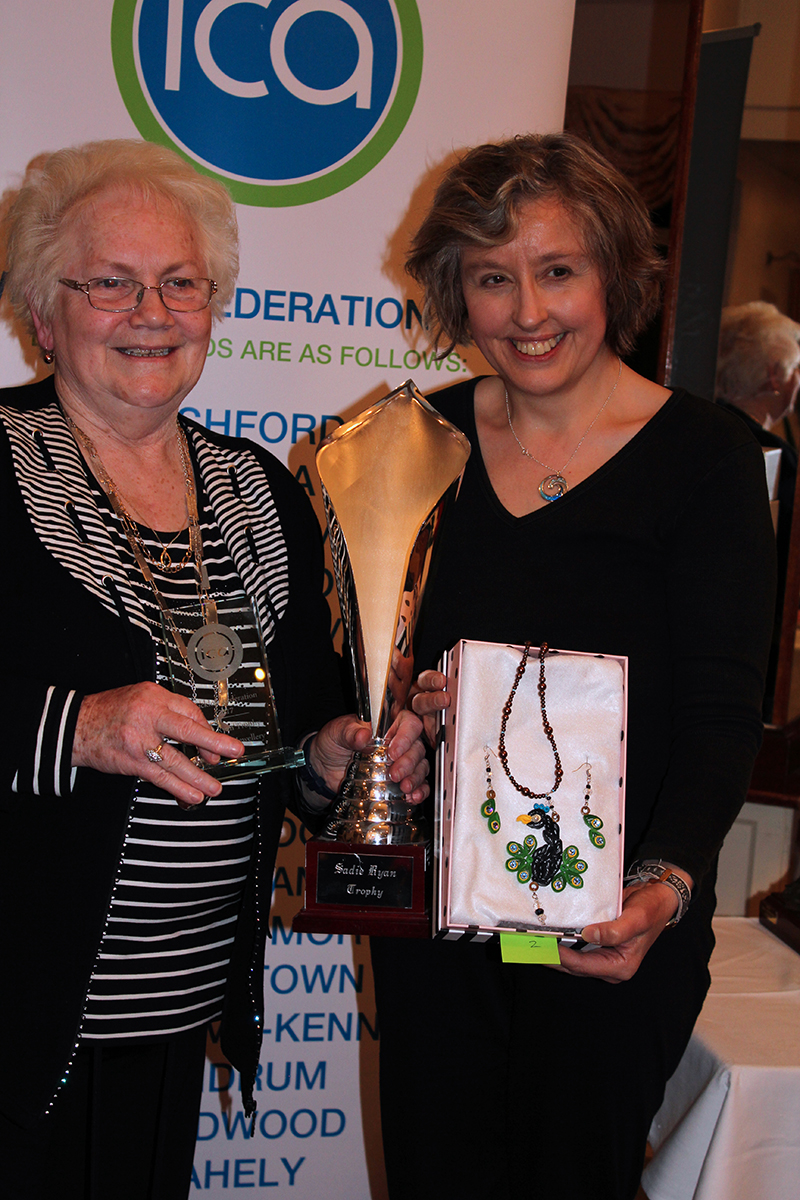 Madge Kenny, Wicklow Federation President with Susanna and her handmade jewellery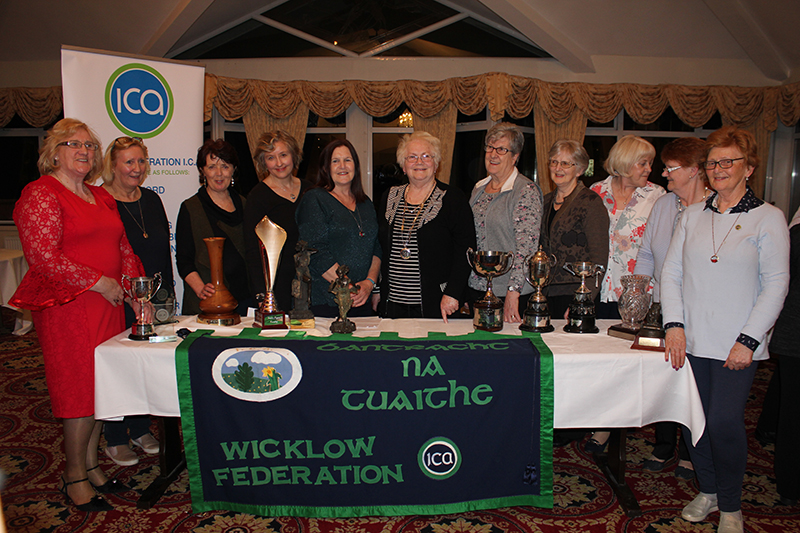 Prize Winners together with their trophies and Cups and Madge Kenny (centre) stand behind the Wicklow Federation Banner
---
News: 10th April 2017
Cake Icing
A huge thank you to Master Baker Jennifer Doyle who came all the way from Clonmel to give us a wonderful demonstration on icing an Easter cake. Along the way Jennifer shared her favourite recipe for chocolate biscuit cake and gave tips on best practice and hygiene. After Jennifer had finished the beautiful cake she gave it to the Guild and it was decided to give it to Guild member Mary DeCourcy to raffle in aid of the Wicklow Branch of Spina Bifida Hydrocephalus Ireland.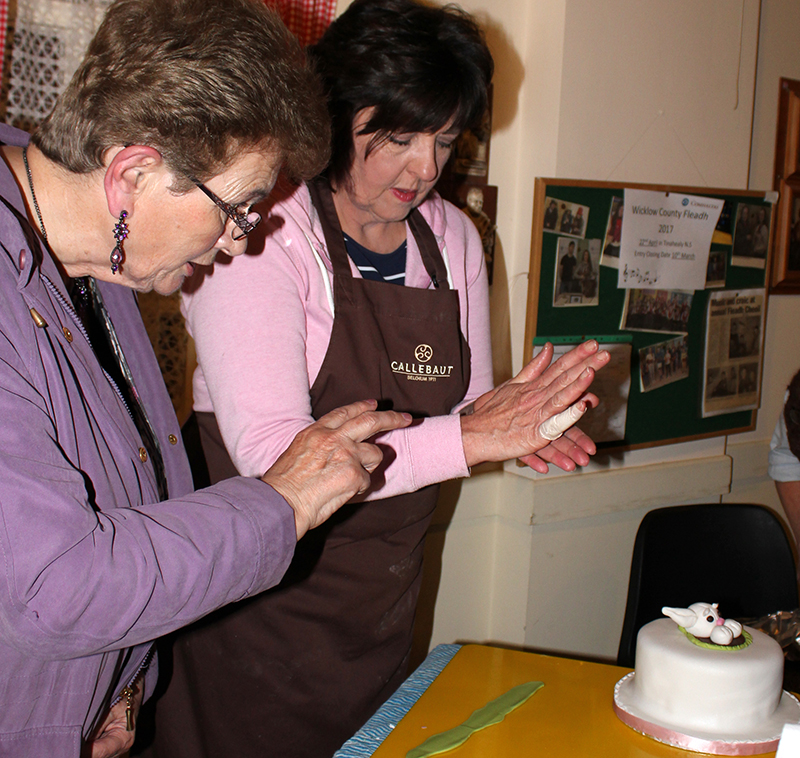 Jennifer Doyle at work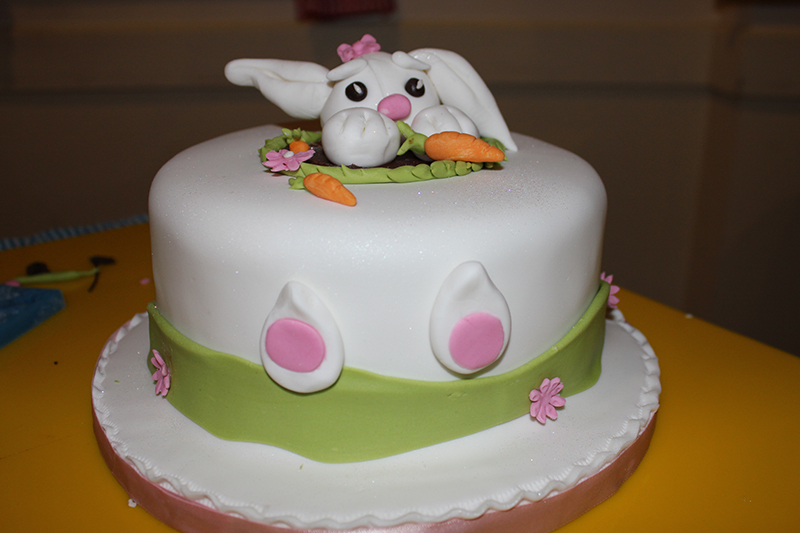 The finished cake!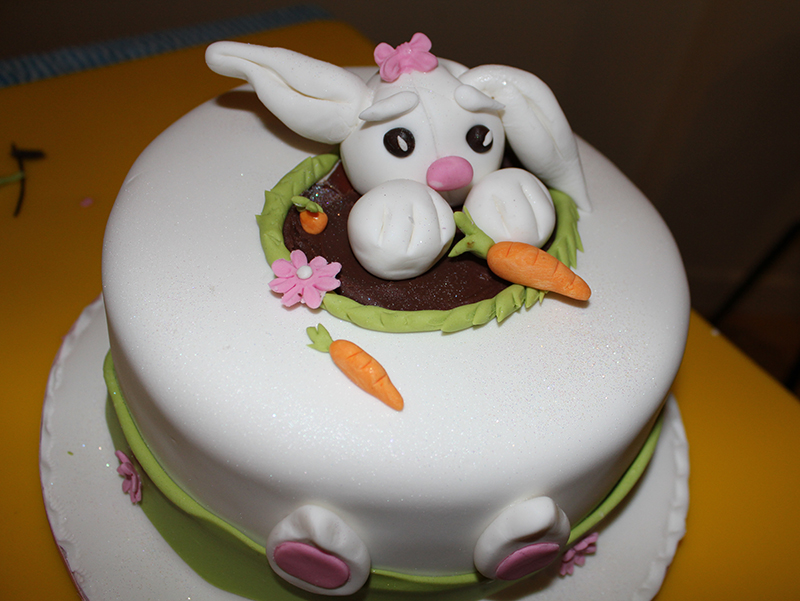 Don't you just want to take him home?
Guild Member of The Year 2017
Congratulations to Maura Cregg, Guild Member of the Year 2017. Maura was the overall winner of our monthly competitions. A big thank you to everyone who entered the monthly challenges during the year. Maura receives free ICA membership for the year ahead. We look forward to more monthly competitions for the 2017/18 year.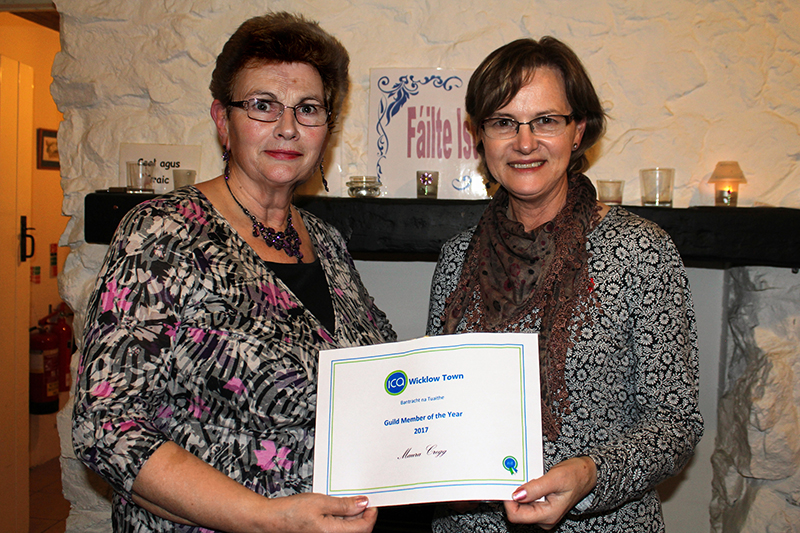 Mary Finlay congratulates Maura on being Guild Member of the Year 2017
New President
Welcome to Betty Teahan, who has been elected Guild President. Betty is a long time ICA member, past president of Ashford Guild and founding member of Wicklow Town Guild. Betty takes over the Guild Presidency from Mary Finlay who retires by rotation after three years service. Many thanks Betty. Also a big thank you to Mary for her hard work, encouragement and enthusiasm, which have all been hallmarks of her Presidency from the very first meeting at which our Guild was formed.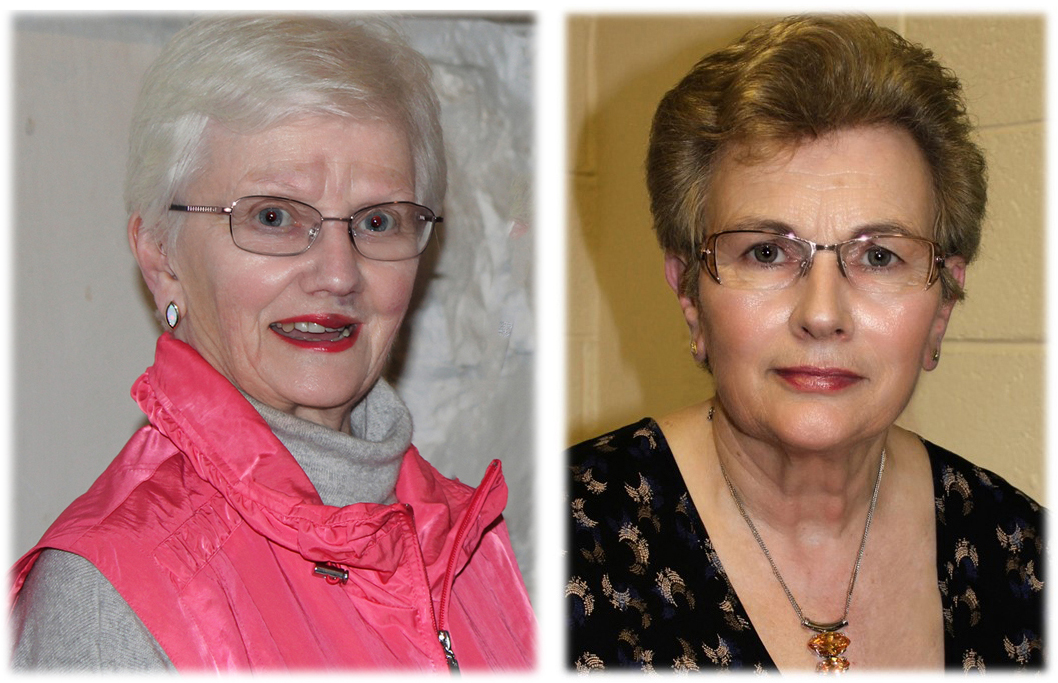 Betty Teahan, new Guild President and Mary Finlay, outgoing President
---
News: 13th March 2017
Encaustic Art
Many thanks to artist Hilary Fitzgerald, from Kilmantin Arts, who gave us a live demonstration of encaustic art, the art of painting with wax. Hilary demonstrated different methods, and tools. She showed us that ordinary wax crayons can be used, as well as special wax blocks. Hilary recommended buffing a finished piece with a lint free cloth, and repeating this about a week later, for a perfect finish. She also told us about some of her own mixed media encaustic art pieces involving incorporating other elements, such as coins, jewellery, dried leaves and even photographs.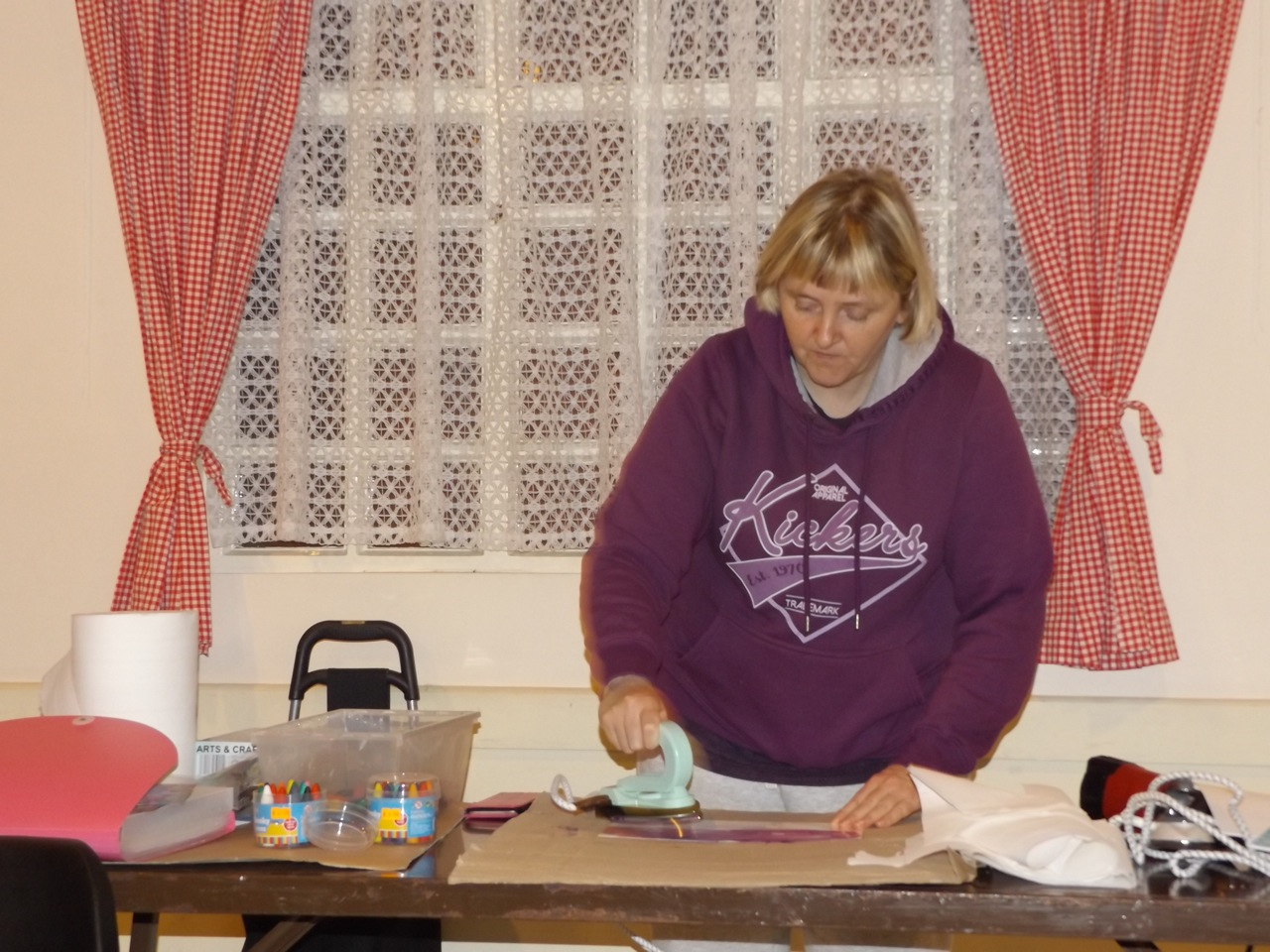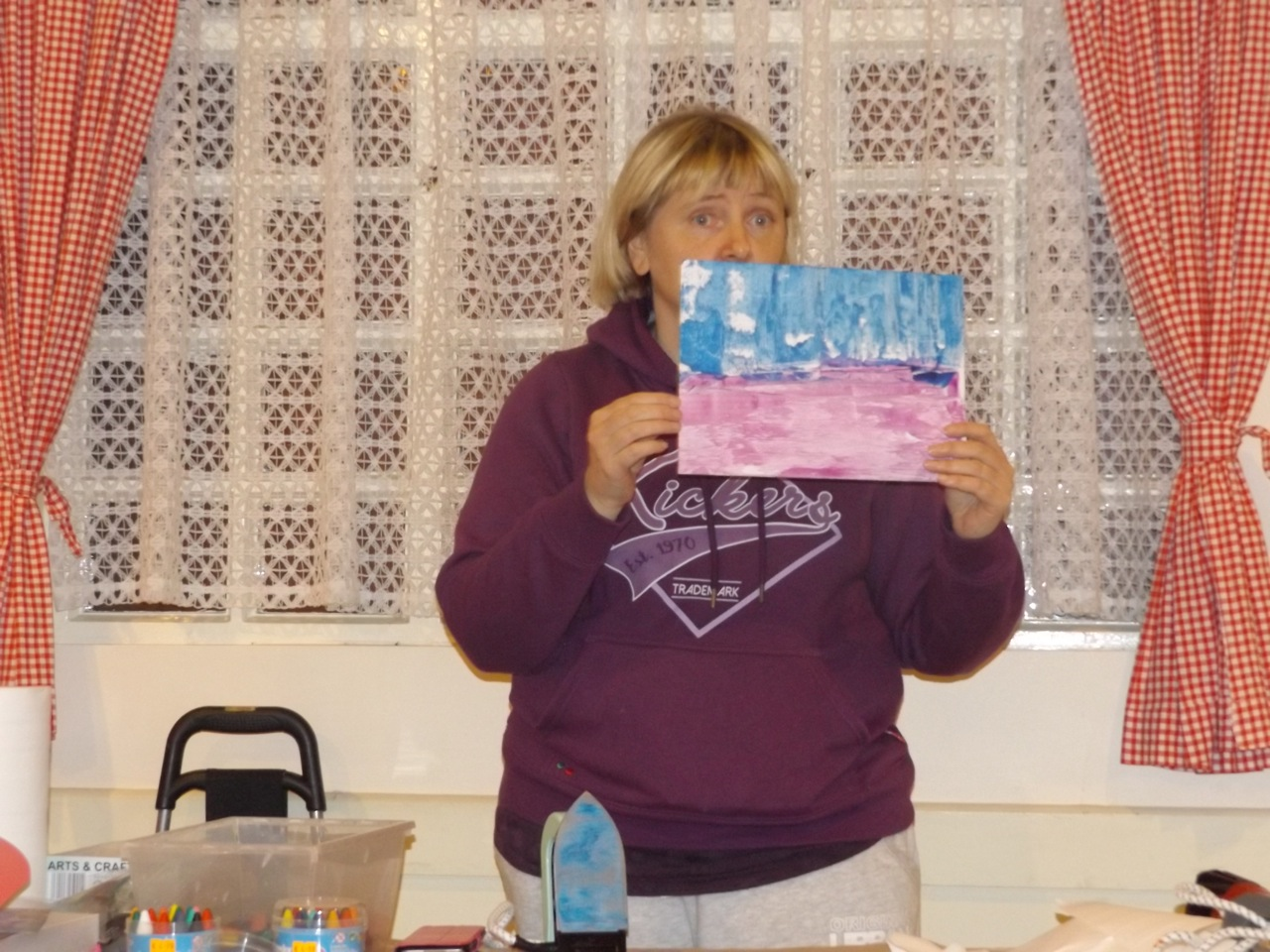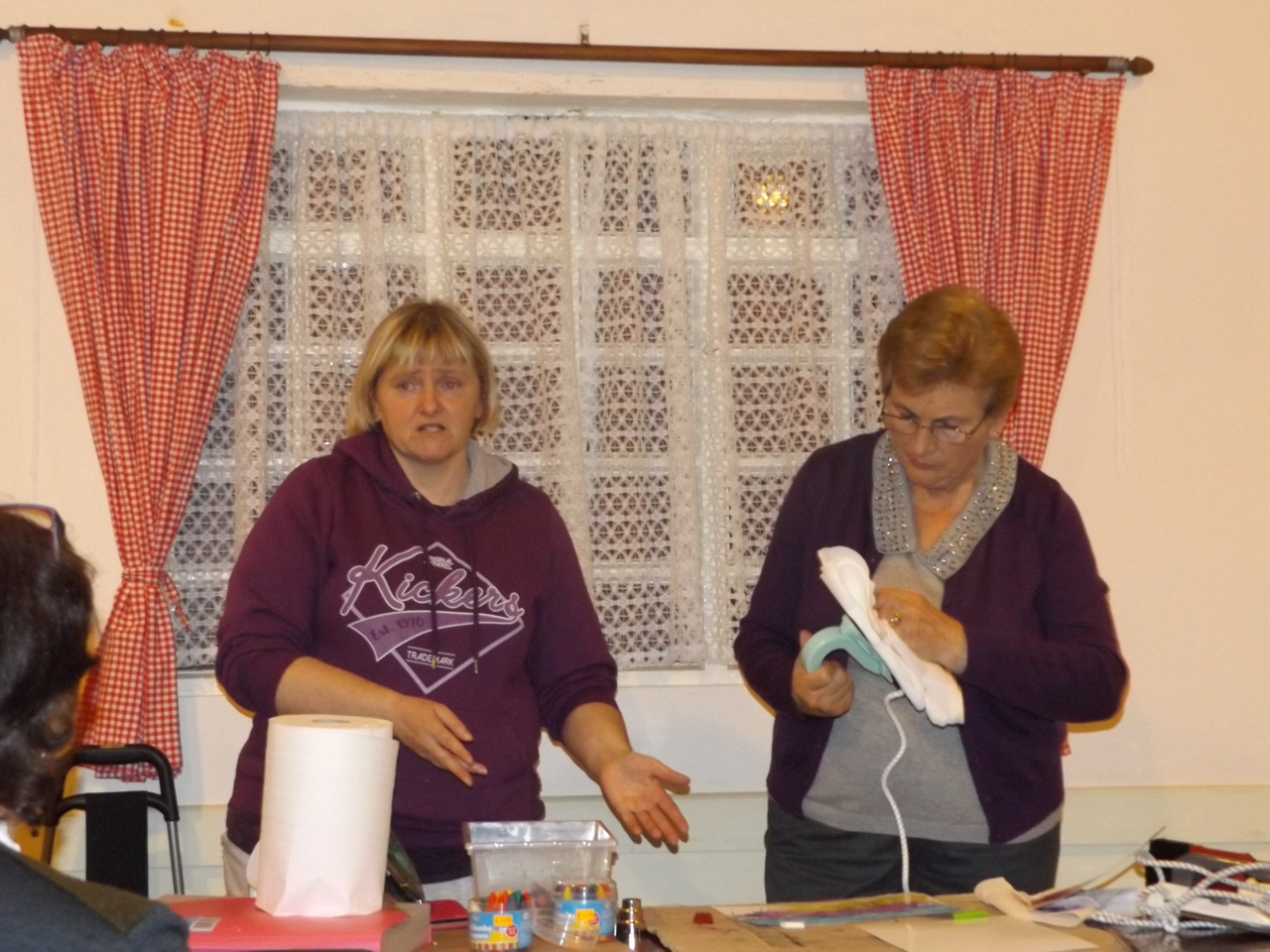 Hilary Fitzgerald demonstrating encaustic Art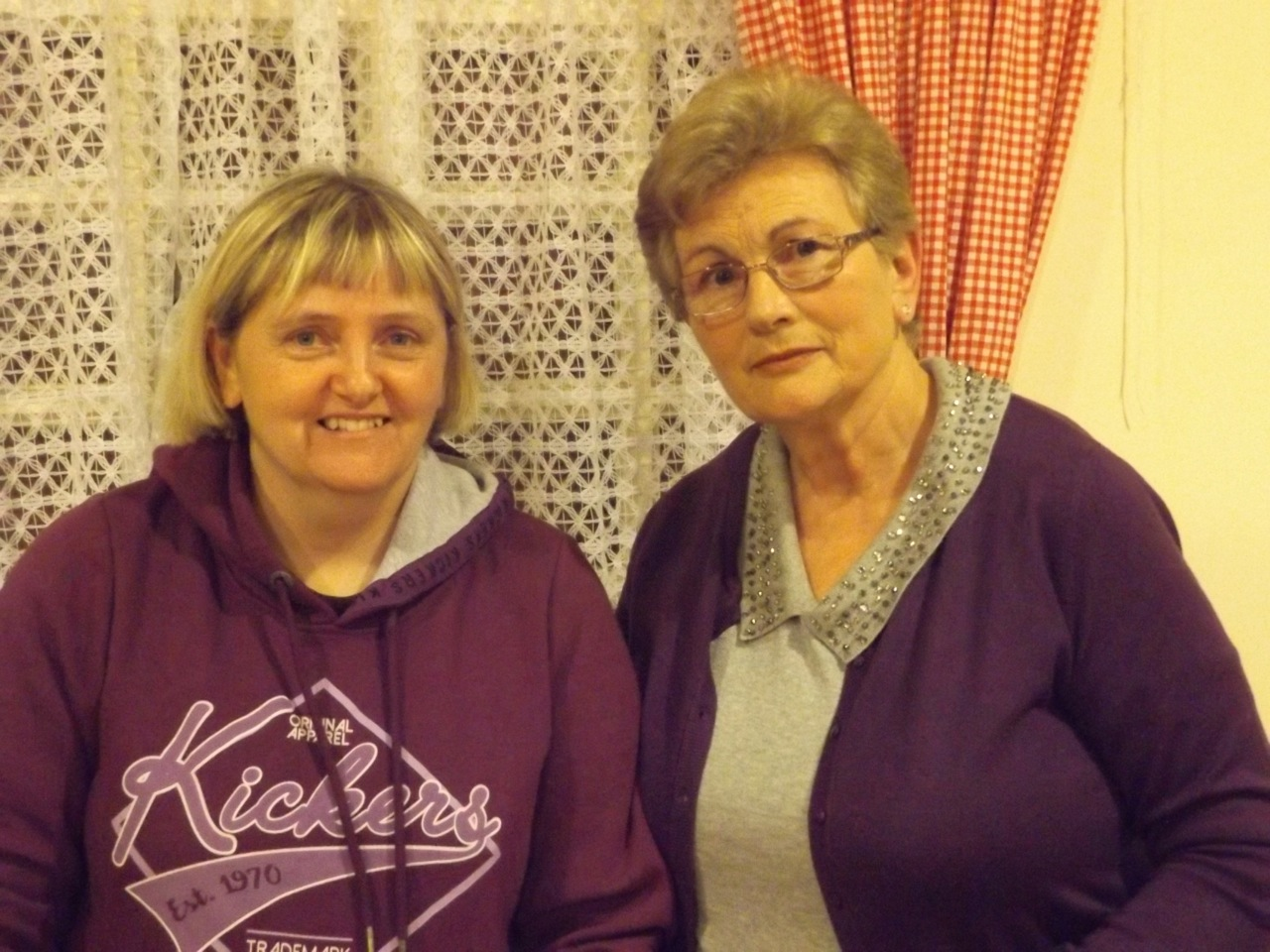 Hilary Fitzgerald with Guild president Mary Finlay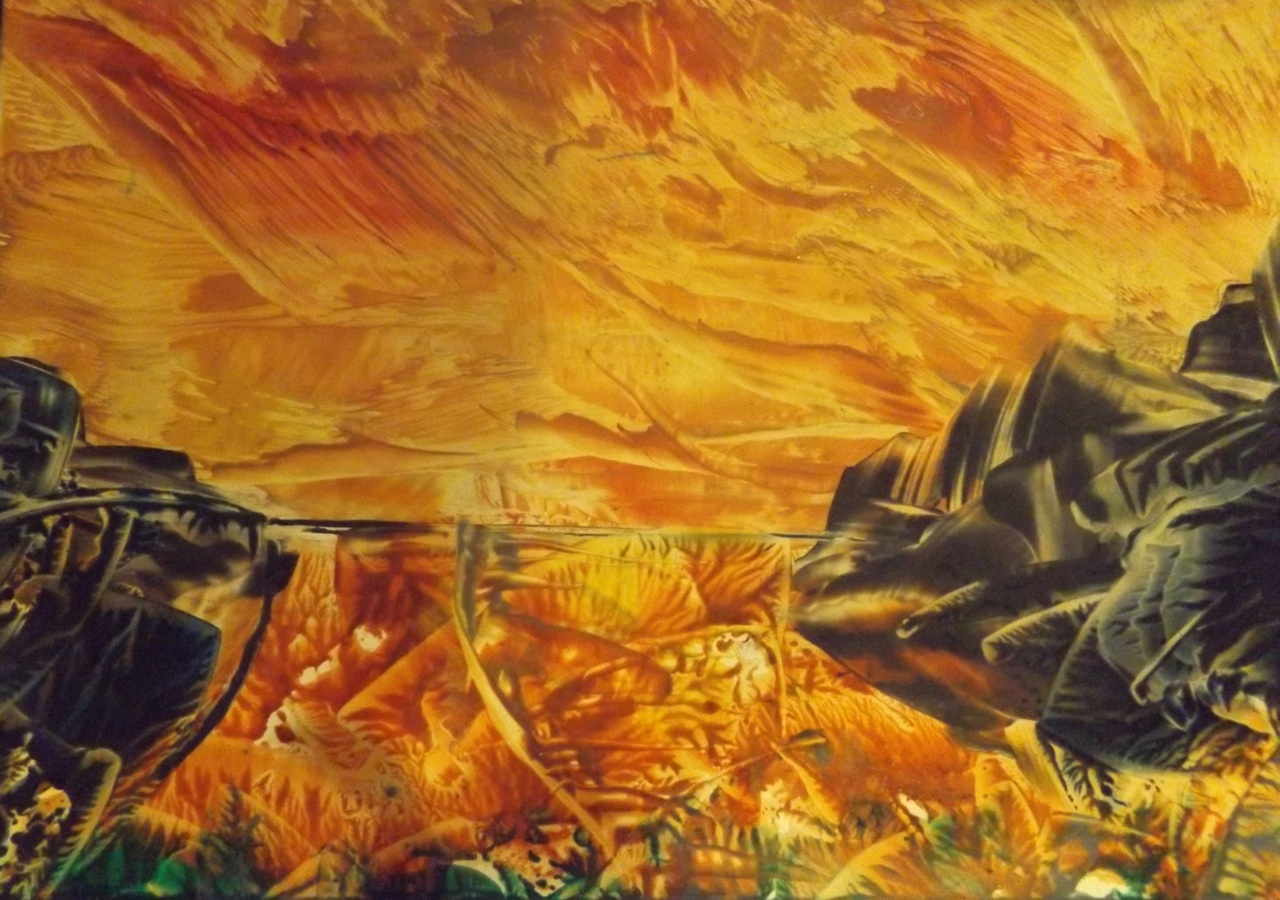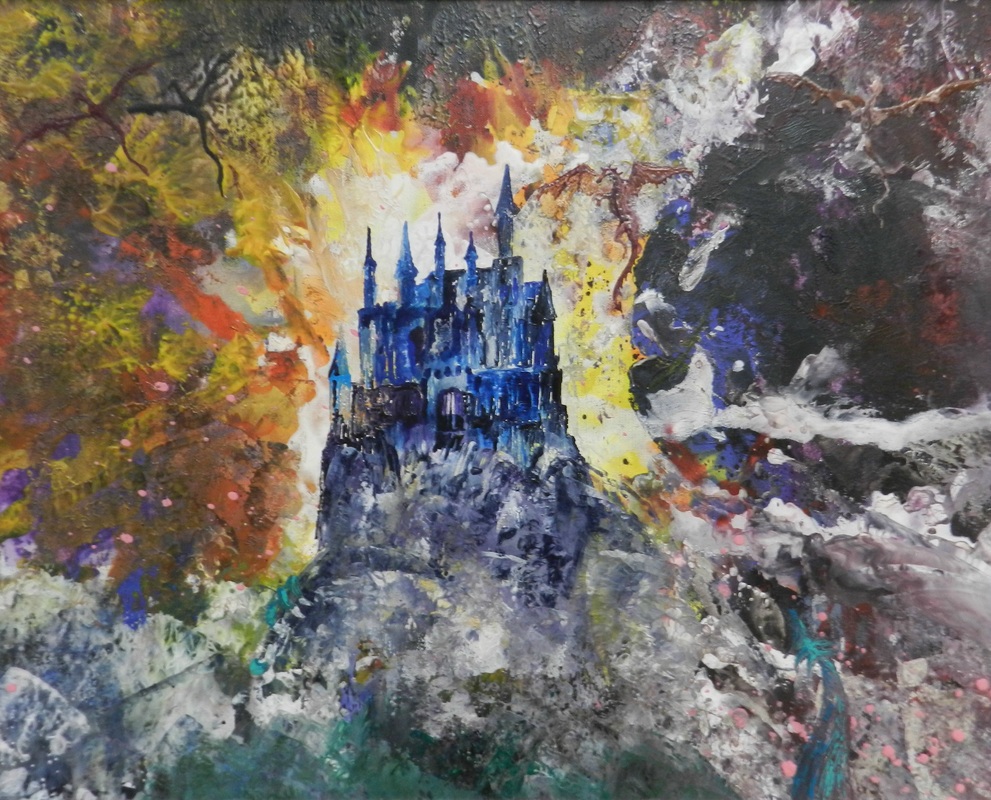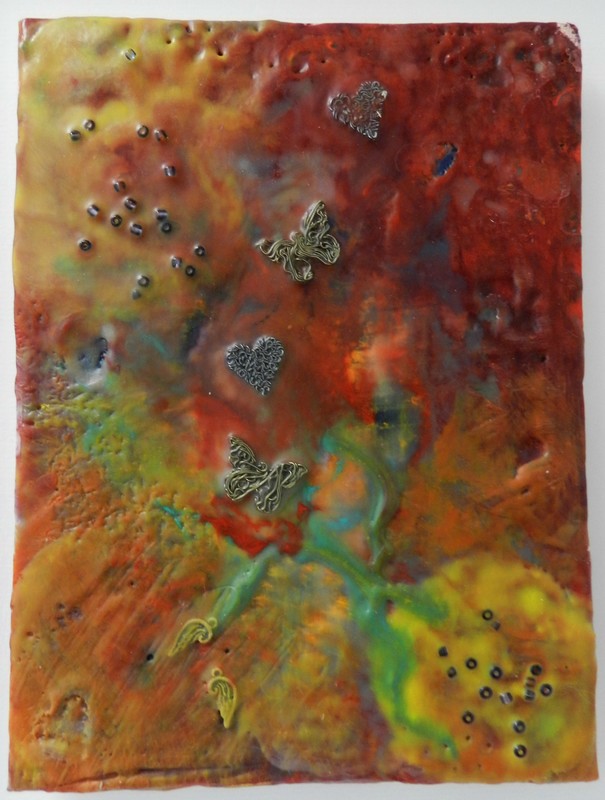 Encaustic art by Hilary Fitzgerald
Spring has Arrived at ICA Wicklow Town!
Thank you to Hilary Fitzgerald from Kilmantin Arts for taking the time to judge our March competition, a colour photo on the theme of Spring.
The March Winners are:
1st - Eilish Bradshaw
2nd - Susanna Braswell
3rd - Christina Murley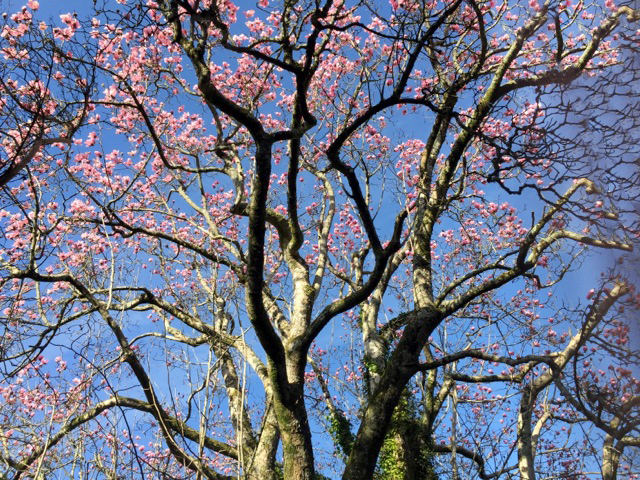 Magnolia Blossom at Kilmacurragh. Photo by Eilish Bradshaw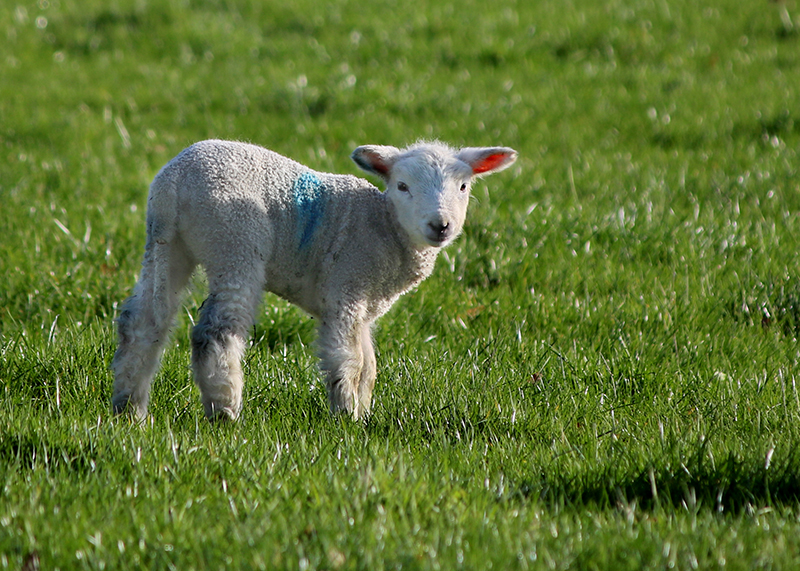 Sunlit Lamb. Photo by Susanna Braswell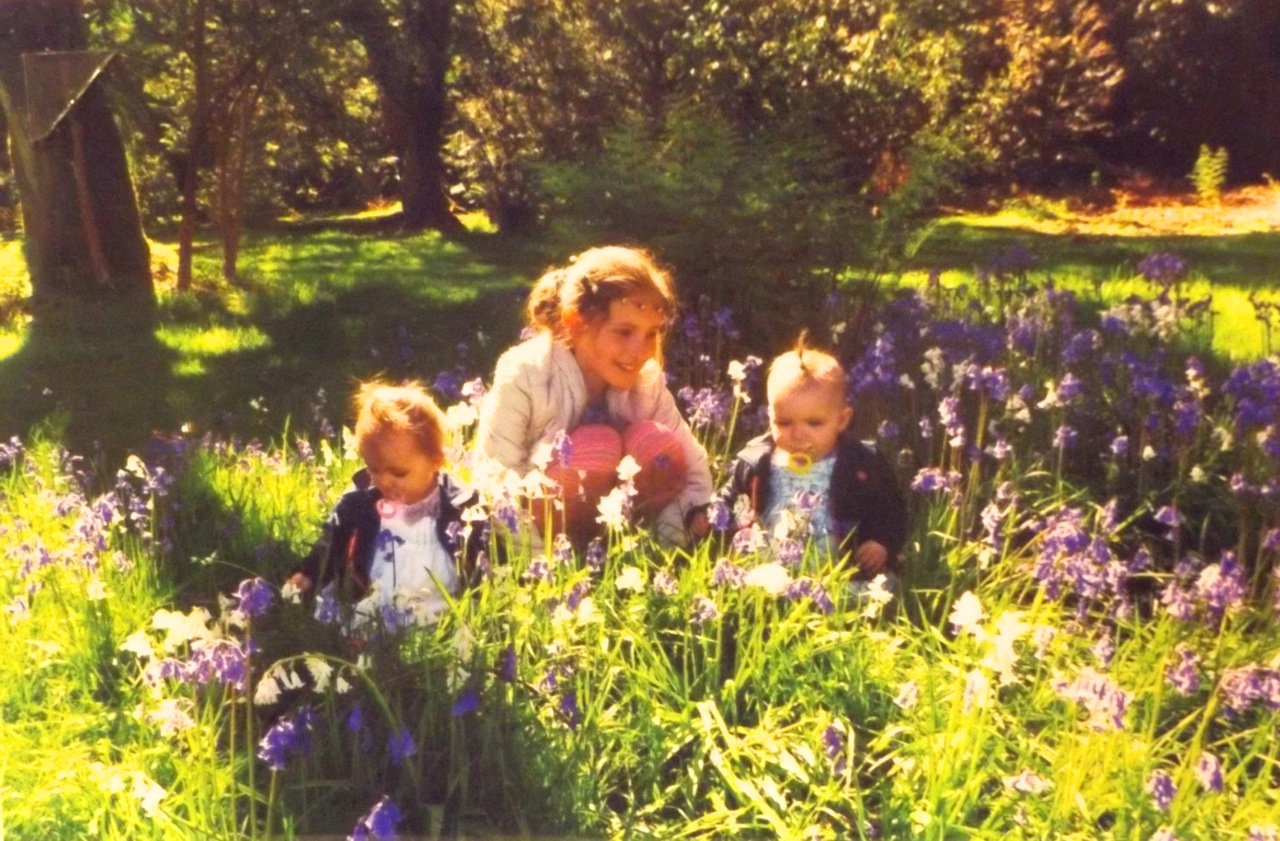 Family Afternoon among the Bluebells. Photo by Christina Murley
---
News: 8th March 2017
Finals Night at Lions Club Quiz
Wicklow Town Guild, put forward two teams for the final Lions Club Quiz night. As always, the night proved to be lots of fun and our team members learned a few surprising facts along the way! Guild President Mary Finlay was delighted to accept a cheque for proceeds from our Quiz Night in February. This generous donation will be split between two local charities: Wicklow Town First responders and Wicklow Town RNLI.
Tony Lyons, President of Wicklow and District Lions Club, presents a cheque to Guild President Mary Finlay
---
News: 27th February 2017
Successes at National and Federation Competitions.
Federation Table Quiz
Wicklow Guild are sending a Table Quiz team to the National Final. Twenty seven teams wracked their brains and pitted their wits at the Federation Table Quiz in Glenealy on Monday 27th of February. Wicklow Town Guild fielded two teams. Team one, Betty Teahan, Christinal Murley and Mary Finlay, took the title "The Gaol Birds" (Christina might have had a hand in that) and team two, Margaret Jones, Catherine Wynne and Susanna Braswell, became "The Three Musketeers". It proved that All for One and One for All was a good motto as, to their surprise and delight, "The Three Musketeers" proved top scorers on the night. Who would have guessed that knowledge of such diverse topics as goat breeding, the location of the Rio Grande and the name of Hiawatha's bride would come in so handy! So with valiant hearts and derring do the three will set off to represent Wicklow Federation at the National Final at An Grianán on Saturday 8th April.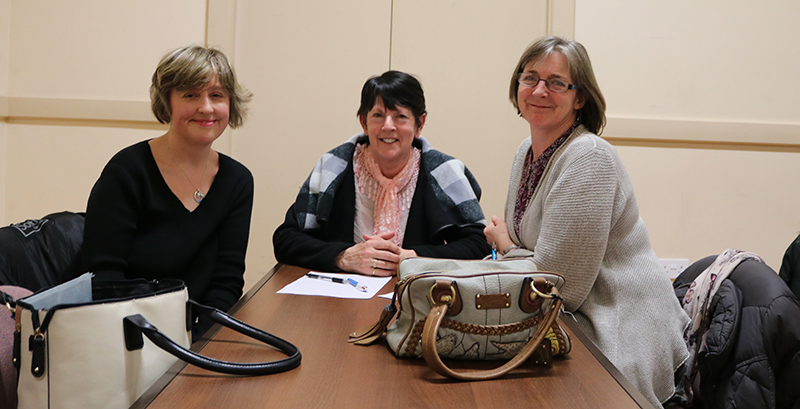 "The Three Musketeers"
"The Gaol Birds"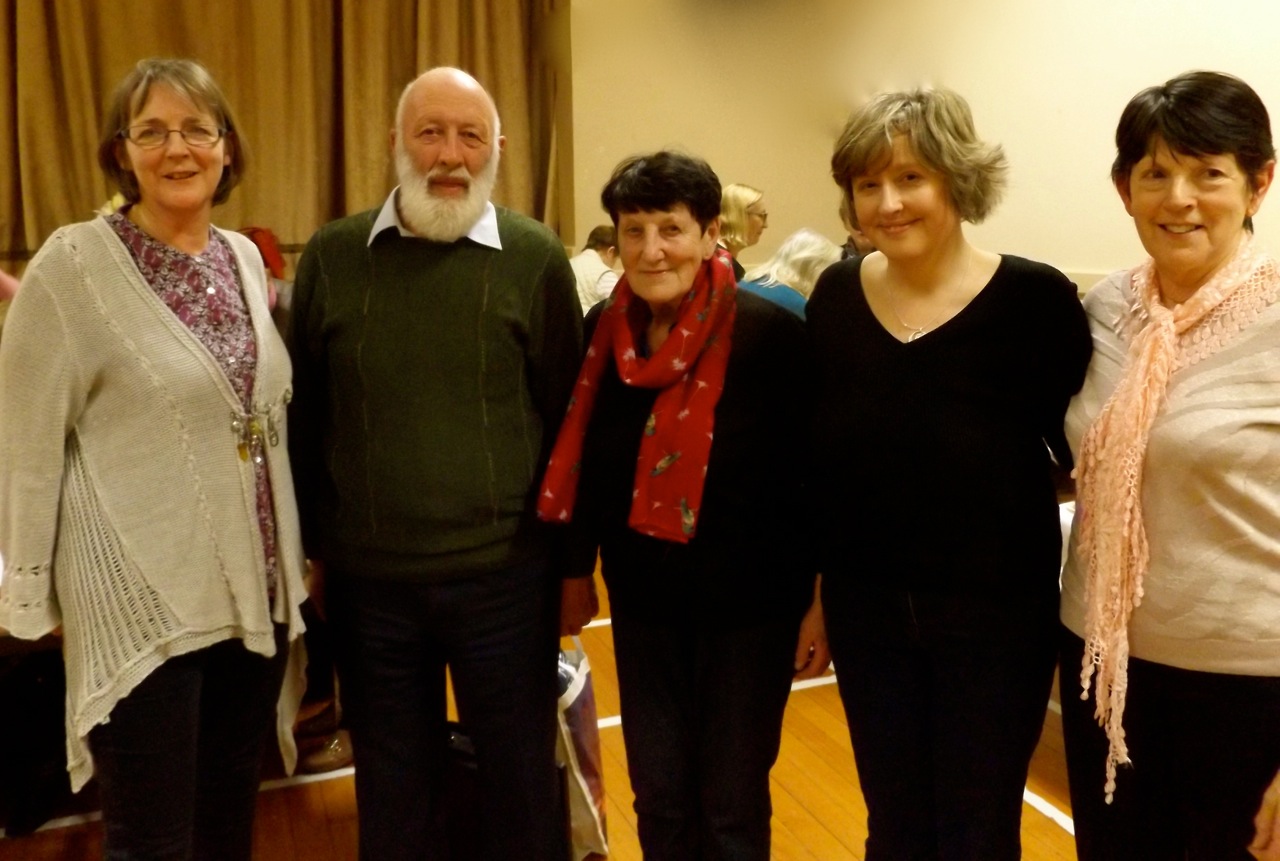 Margaret Jones, Quiz Master Andy Merrigan, Statia Ivers (Deputising for Wicklow Federation President Madge Kenny), Susanna Braswell, and Catherine Wynne and the motto is .....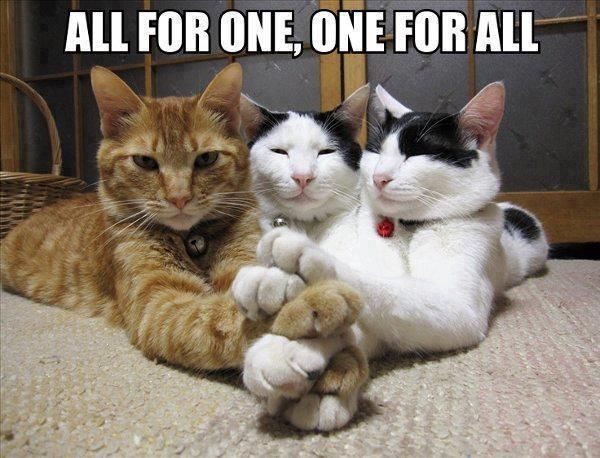 ---
National Creative Writing Competition
Susanna Braswell took third place in the National Creative Writing Competition. The final took place at An Grianán on Saturday 25th February where the six shortlisted writers read their stories. There was double delight for Wicklow Federation as Mary Manley from Donard Guild took second place.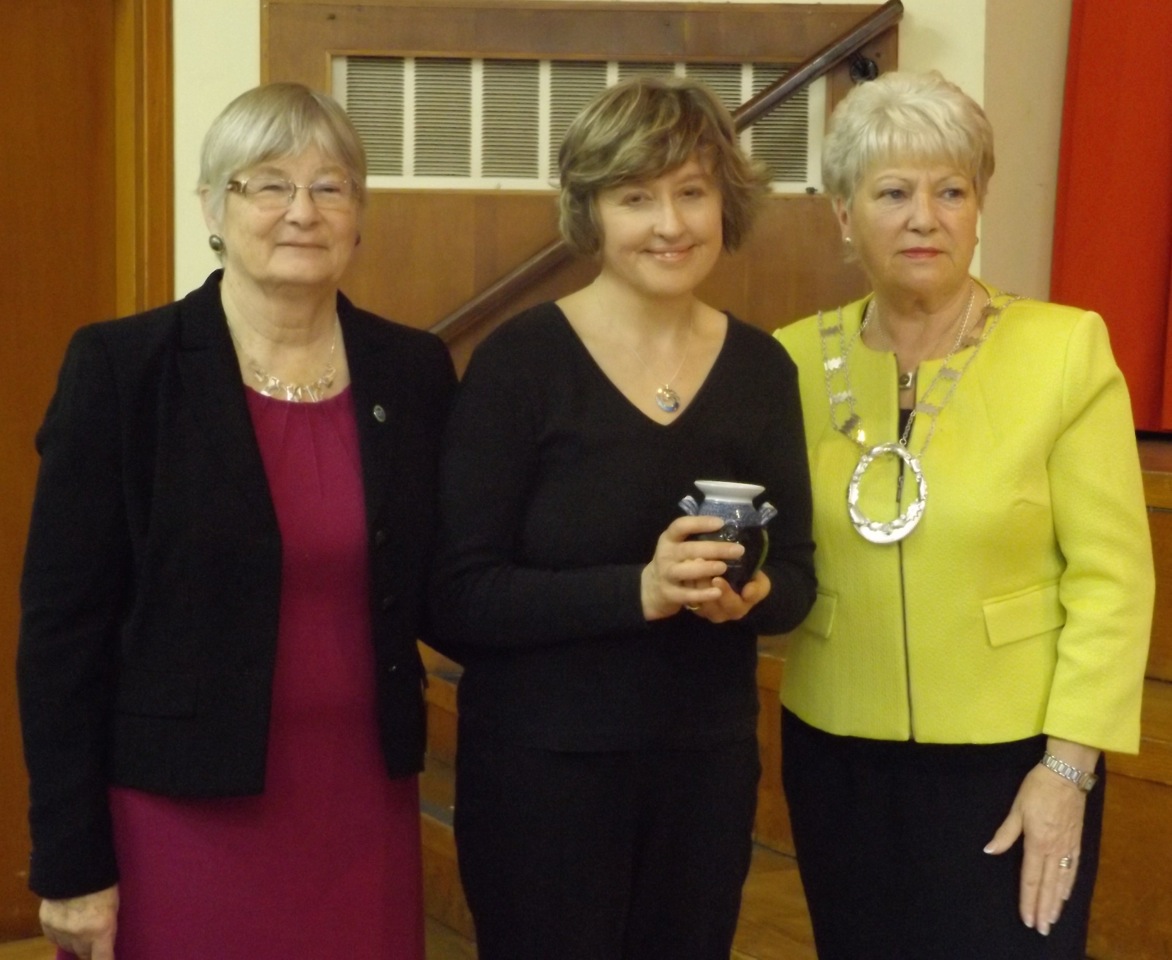 National Contest Committee Chairperson Deirdre Connery, Susanna Braswell and National President Marie O'Toole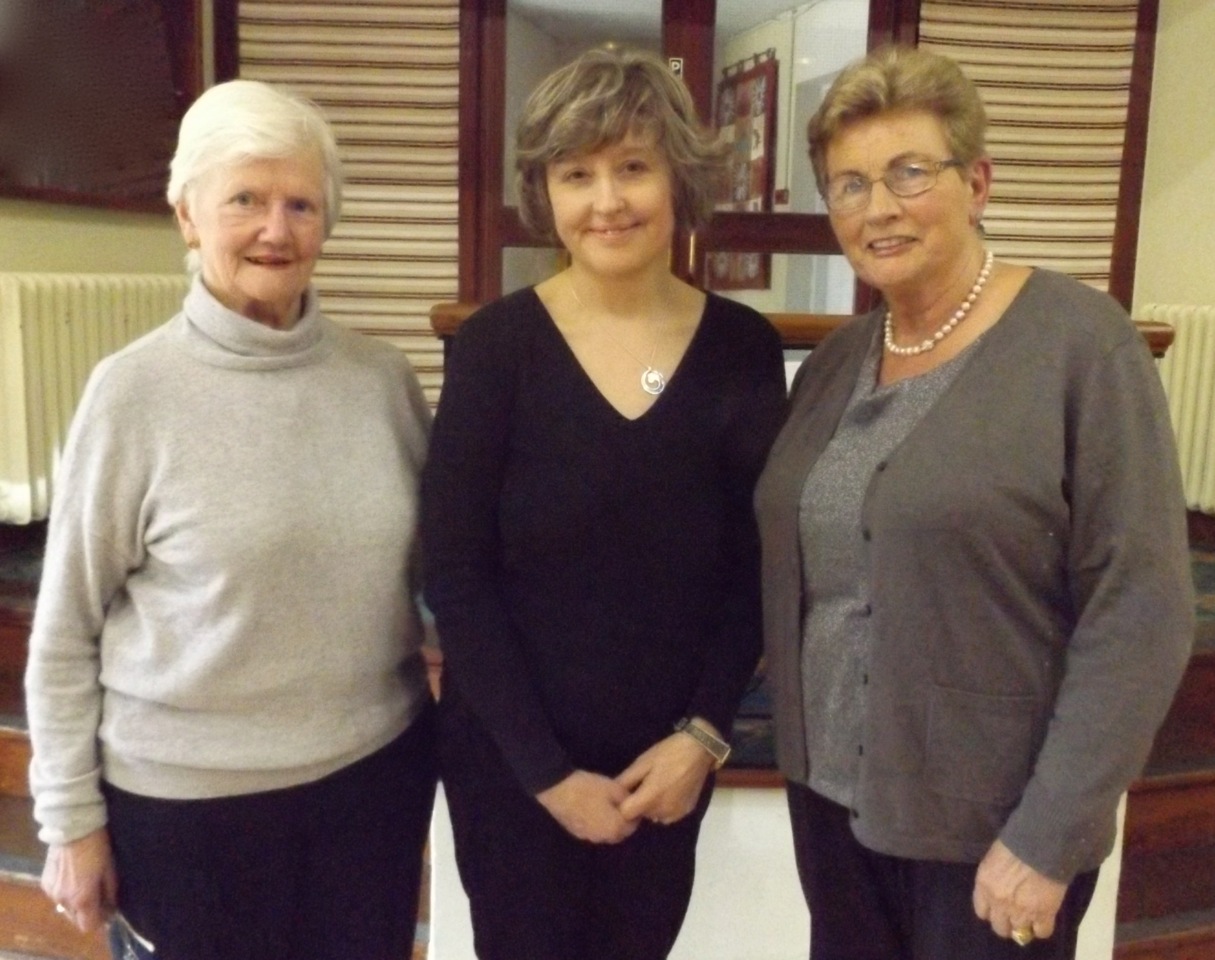 Mary Finlay and Betty Teahan travelled to An Grianán to celebrate with Susanna
---
News: 13 February 2017
Abridged Yarns and Organic Gardening
Many thanks to Wendy Nairn who gave us an inspirational introduction to Organic Gardening on a very special day for her family. Wendy and her husband Richard had the joy of their first grandchild's birth a few hours before the talk. Thank you also to Wendy for judging the February Competition. The challenge was 'Tell a Story in Six Words'. This challenge was originally issued to the American writer and journalist Ernest Hemingway, who responded with "For sale: baby shoes, never worn".
The February Winners are:
1st - Maura Cregg
2nd - Sylvia Tracey
3rd - Fionnuala O'Reilly
4th - Margaret Jones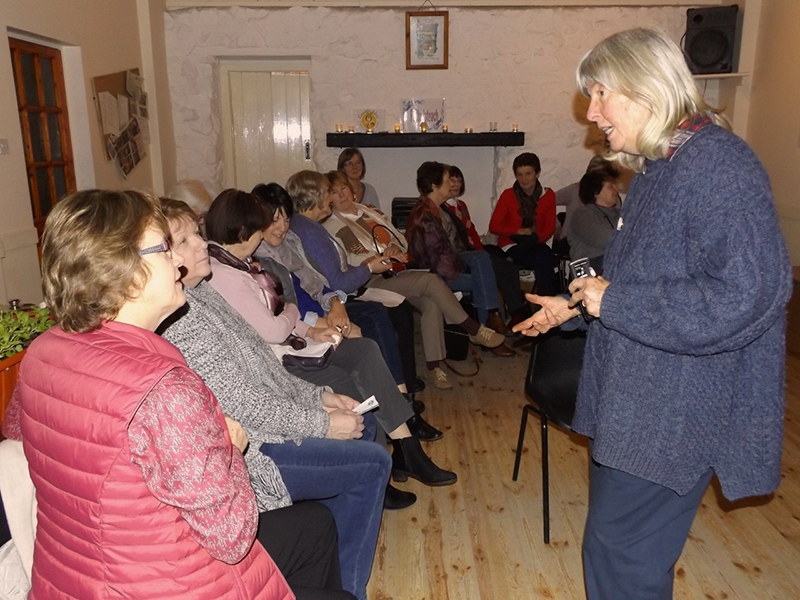 Wendy Talks to members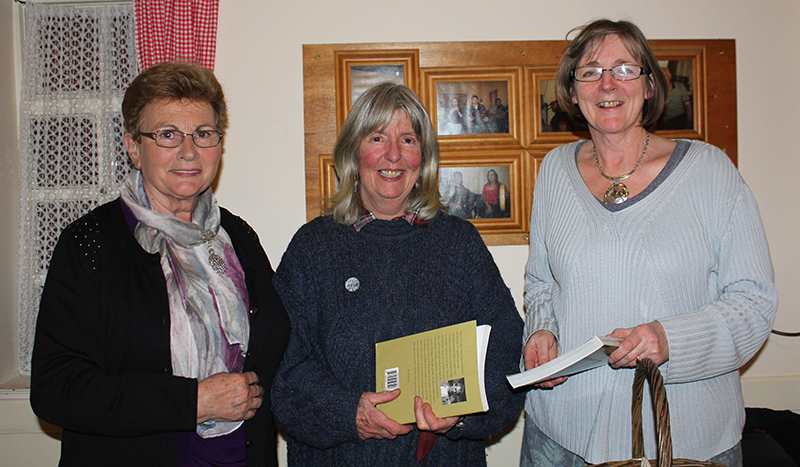 Mary Finlay with Wendy Nairn and Margaret Jones
---
News: 9 January 2017
Lots of Glove
Many thanks to Ashleigh Tobin IS Hom, Lic ISH, RGN, from Natural Health Solutions. Ashleigh gave us a great start to the New Year with a talk on Women's Health and Well Being. Taking just 10 minutes a day to do something you love, something that makes your heart sing, can be the start of a happier, healthier life. Thank you also to Ashleigh for judging the January Competition. The challenge was 'Do something with a glove(s) or scarf', see photos below. Thanks also to those who brought socks, hats, scarves or gloves for migrants and refugees on the Greek island of Lesbos, which is currently in the grip of a severe winter. Please keep these coming as Margaret Jones sends a parcel each time she has collected 80kg. Men's winter accessories and small handwarmers are particularly needed at present.
The January Winners are:
1st - Susanna Braswell
2nd - Mary DeCourcy
3rd - Christina Murley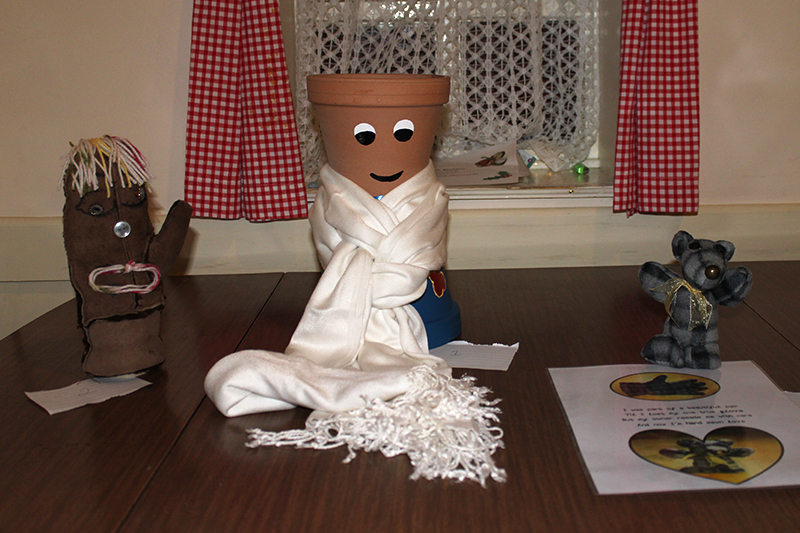 Some of the entries in the January Competition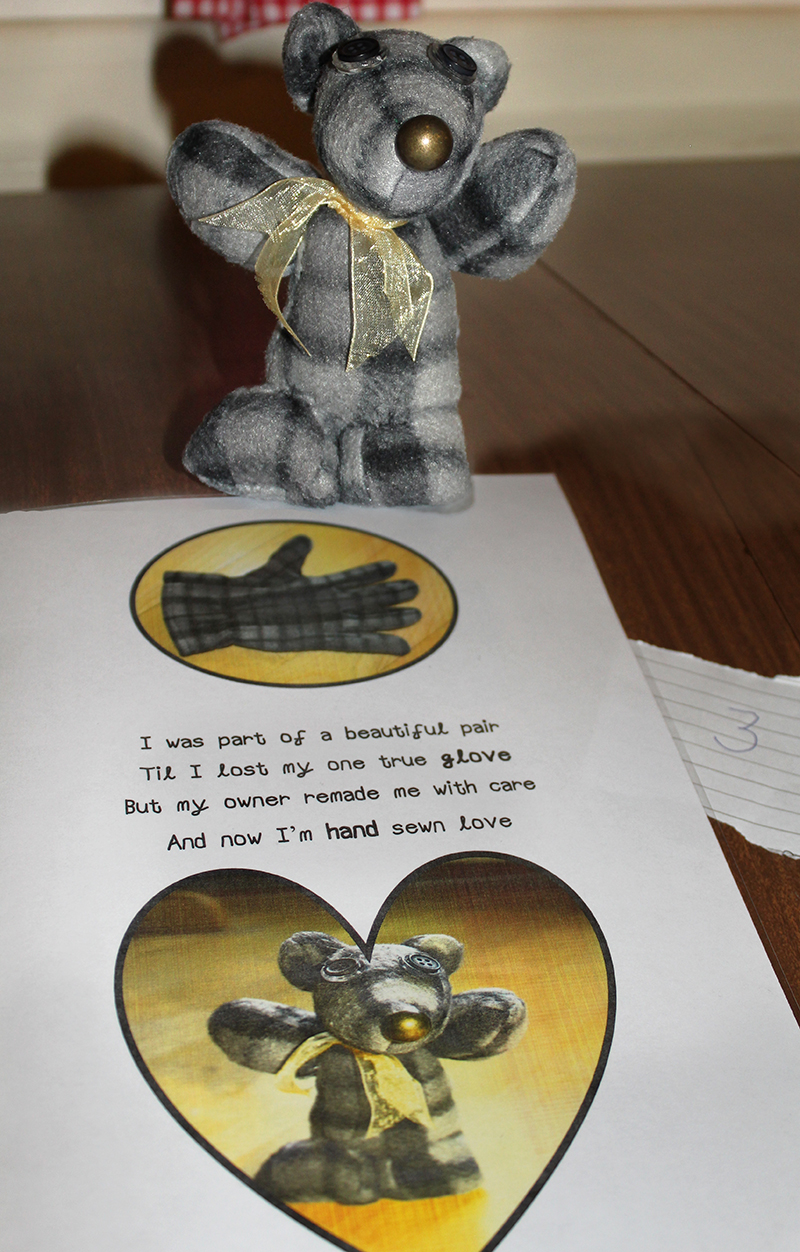 Susanna's lonely glove becomes a hand sewn toy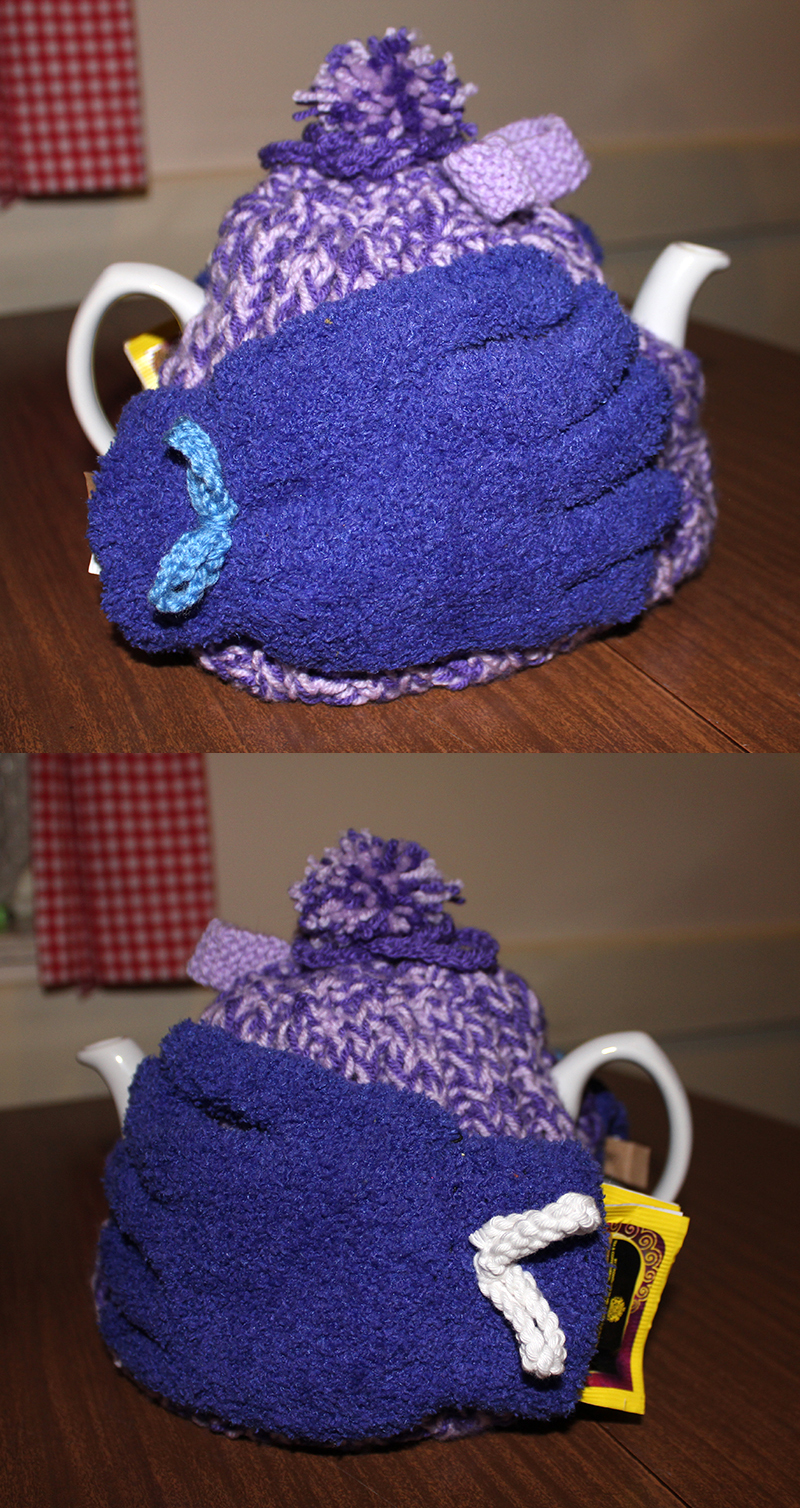 Mary's innovative tea cosy has both sides covered for a gloving cup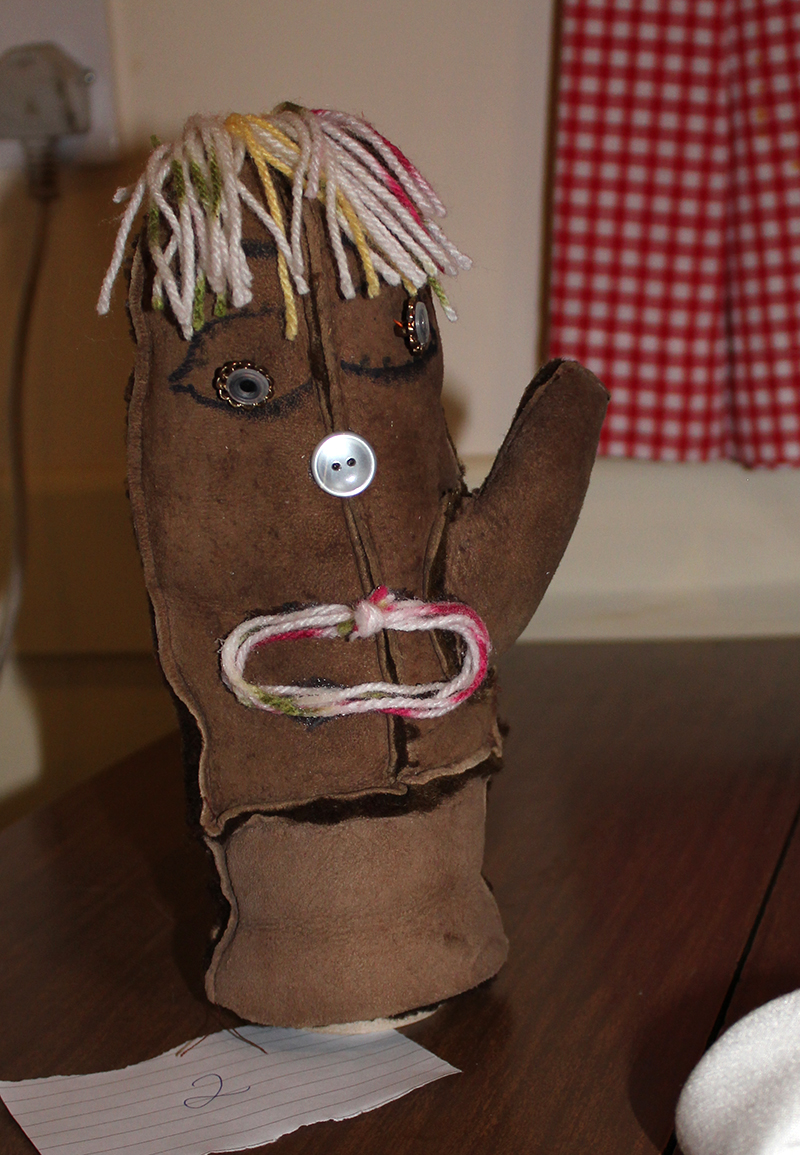 Christina's Glove Puppet has a definite feel of Easter Island
Members with Ashleigh Tobin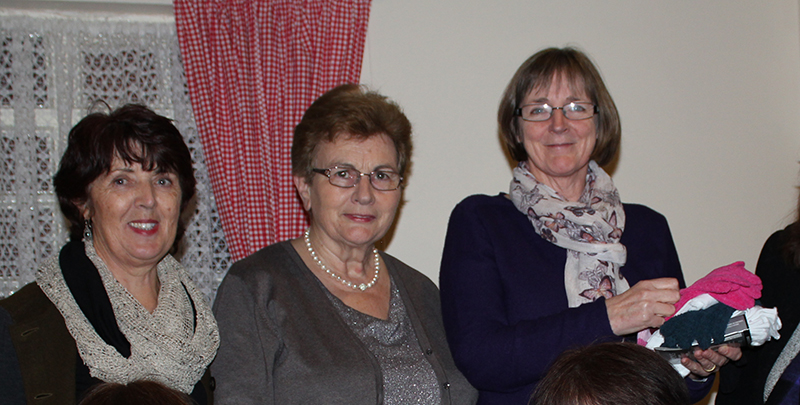 Christina, Mary and Margaret with some of the winter woolies for migrants in Lesbos
---
News: 4 January 2017
CHANGE OF VENUE FOR JANUARY - MARCH
Due to building work the venue for the January, February and March meetings will be The Boathouse, Seafront, Wicklow Town(beside the Leitrim Lounge). If you need any assistance with directions or transport please contact a committee member.
---
News: 12 December 2016
Christmas Dinner
Many thanks to all helped to who made our Christmas Dinner 2016 a lovely night. Thanks ladies for the great wit and conversation. Thank you to Christina for organising the Kriskindle gifts. To Mary DeCourcy for menu and venue research and Mary our President for booking the venue and to Anna for getting us the ICA magazine in time.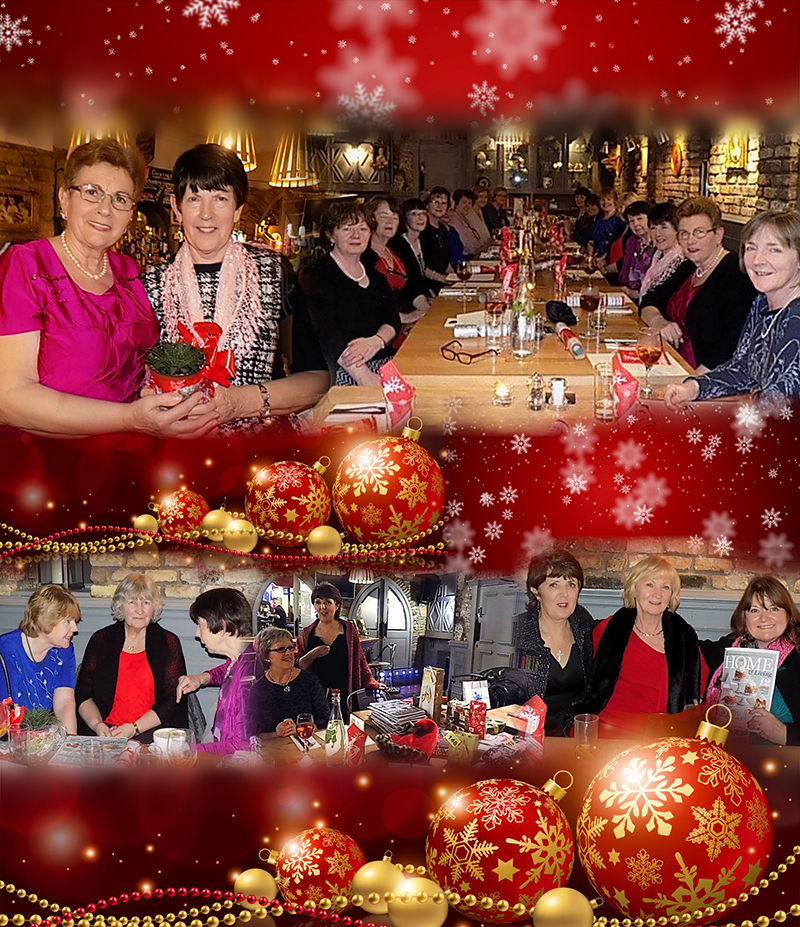 ---
News: 28 November 2016
ICA Wicklow Town at Wicklow Federation ICA Guild of the Year
ICA Wicklow Town had fun coming together to compete for the title of Wicklow Federation ICA Guild of the Year 2016 at the Woodenbridge Hotel. Many thanks to all of those whose generosity, hard work and cooperation made this possible and to those members who supported the team by lending items or coming to watch. The competition had five sections (Writing, Table for Two, Cookery, Craft, Entertainment) and Wicklow Town had an entry in all five. The competition really showed the strength of team work and the variety of creative ideas and different talents that a group can produce. After a fun evening the title, based on aggregated marks from all five sections of the competition, was awarded to Delgany Guild. Well done Delgany! However ICA Wicklow Town did not return entirely empty-handed as Mary Finlay and Catherine Higgins took home raffle prizes! Comhghairdeas don fhoireann go léir.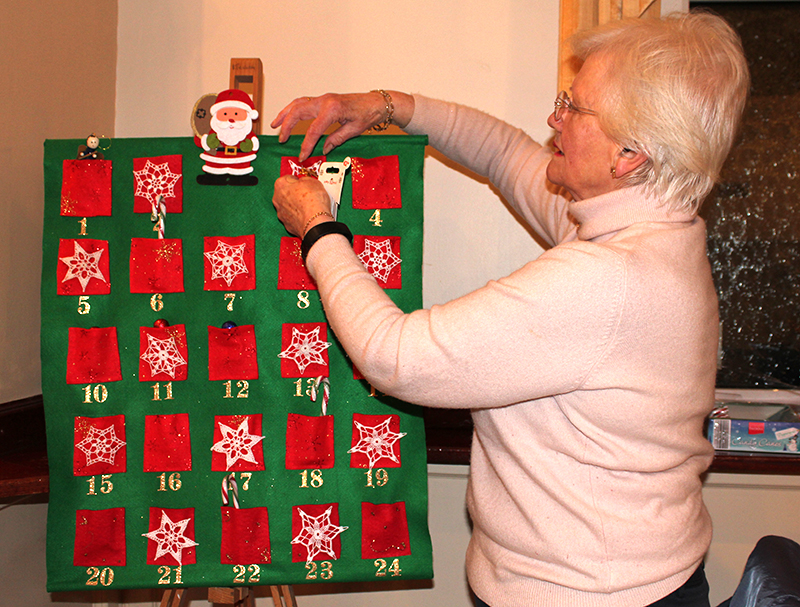 Betty putting the finishing touches to her handmade Advent Calendar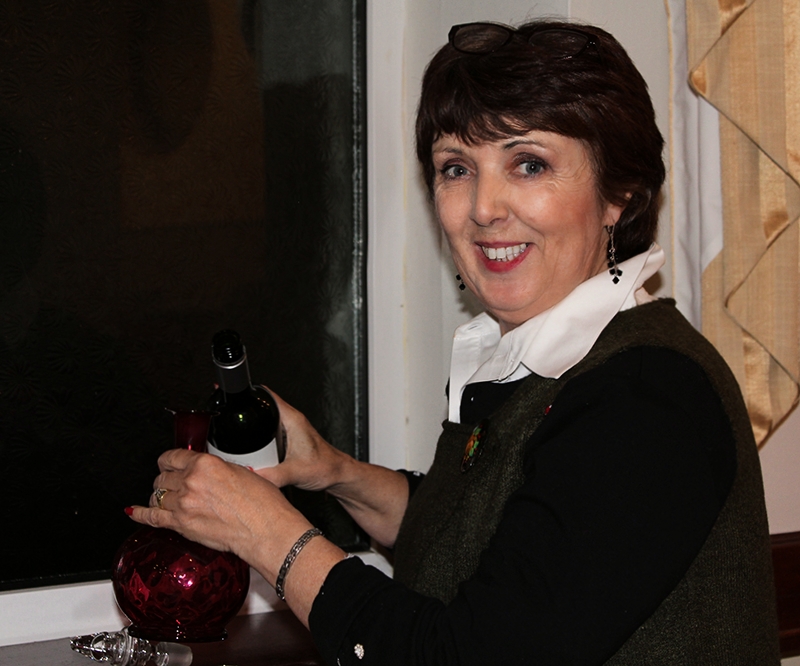 Christina decants the wine for the Christmas Table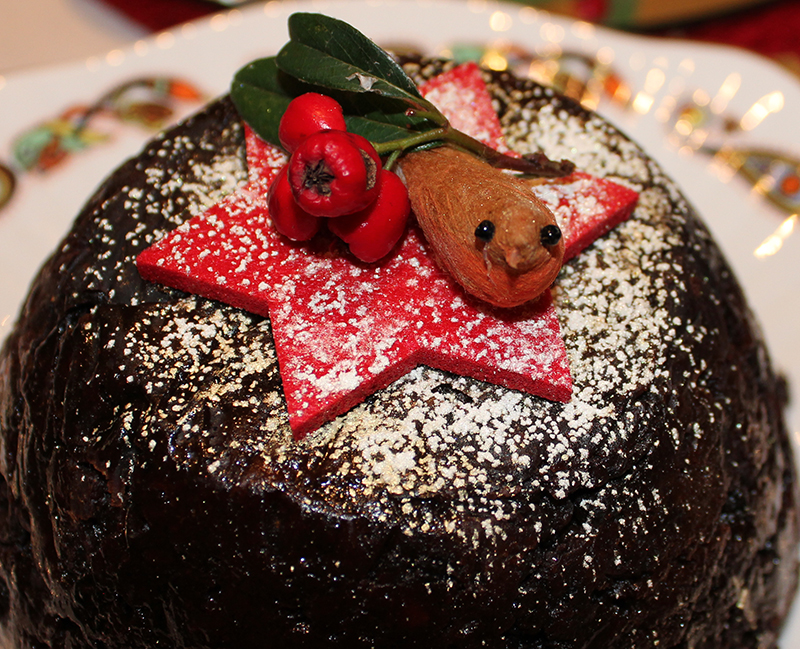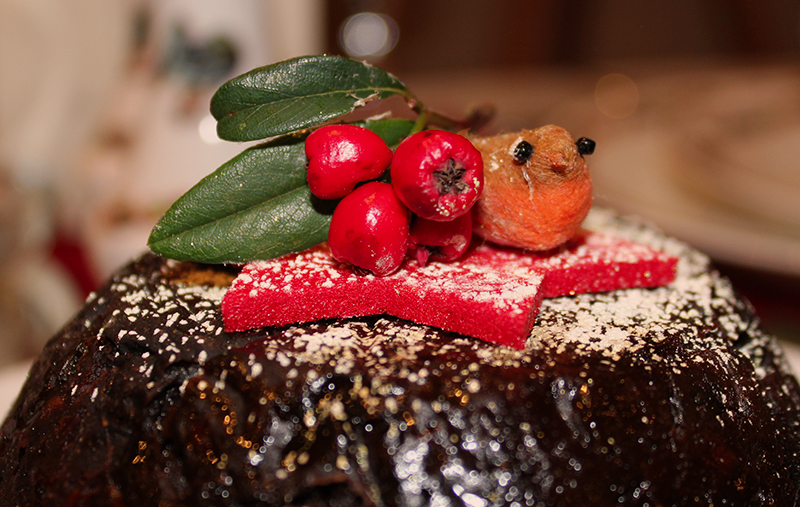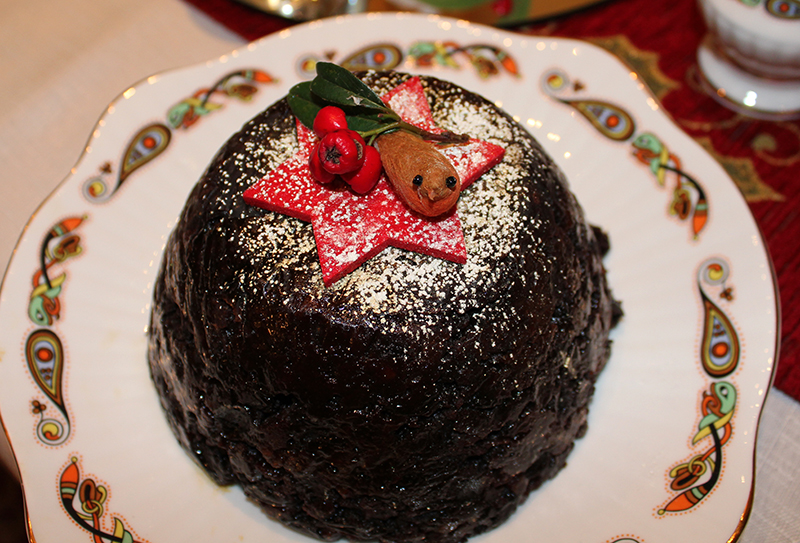 The Christmas Pudding - it smelt divine and sliced beautifully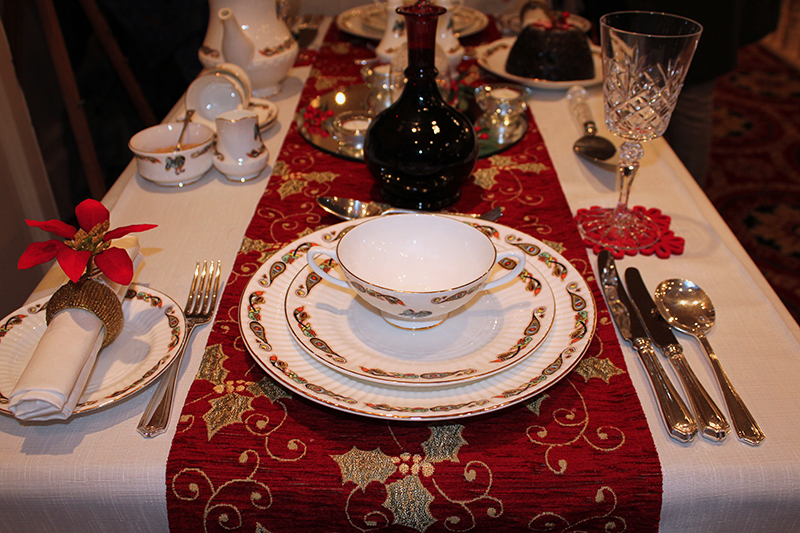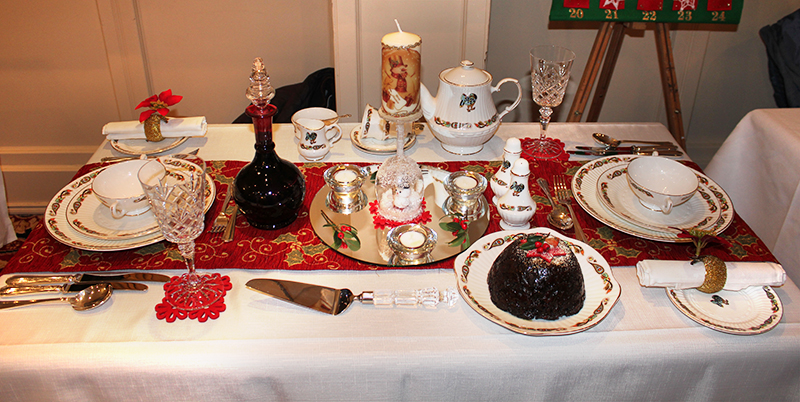 The Christmas Table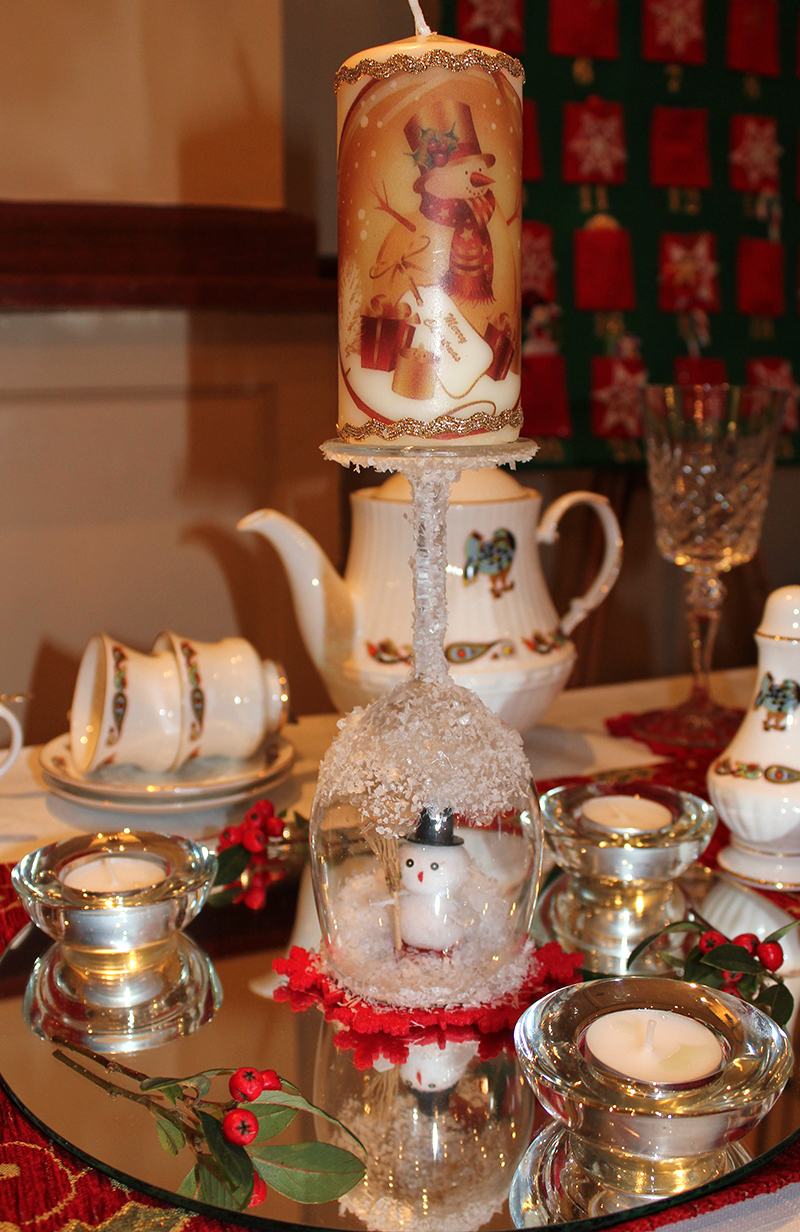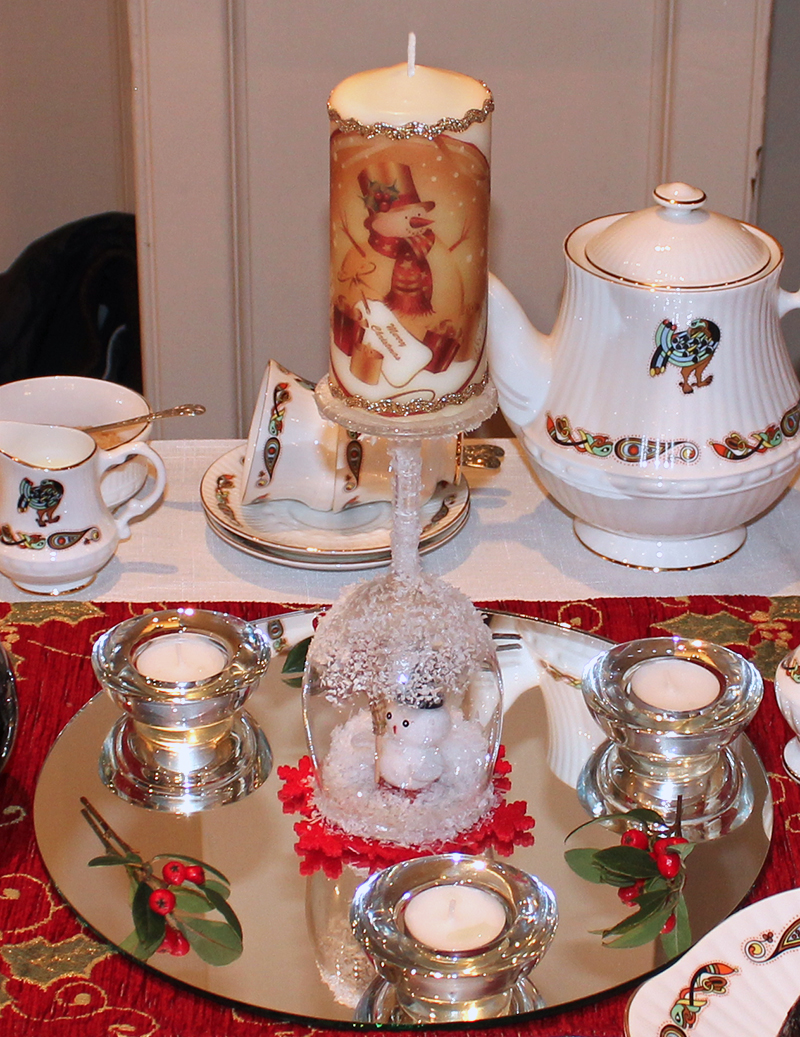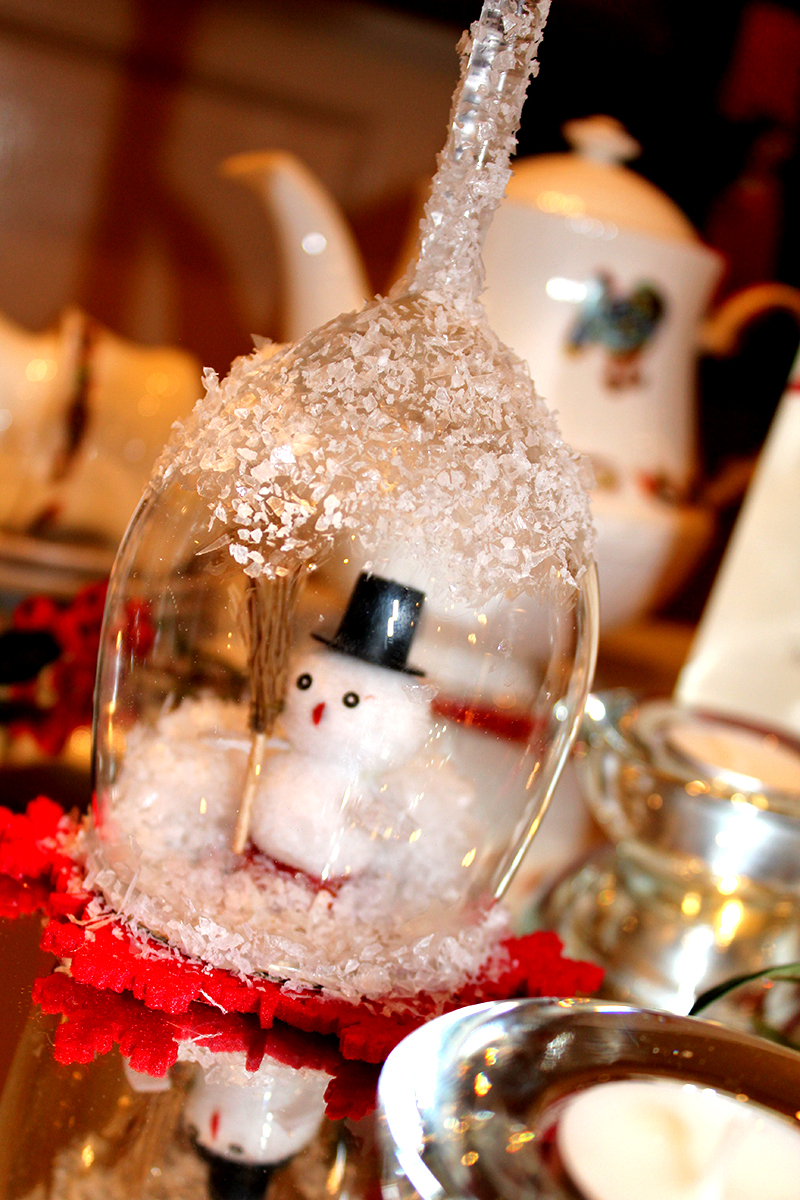 Handmade Centrepiece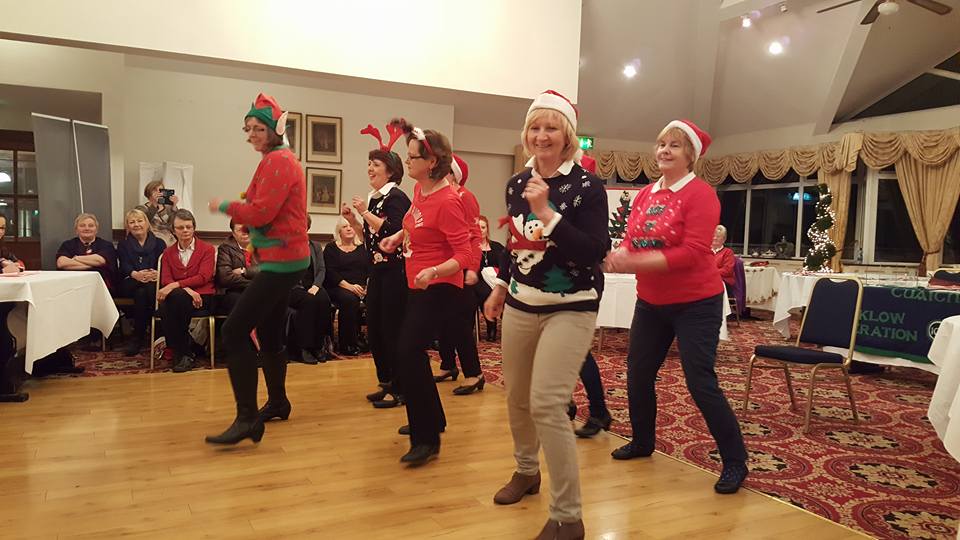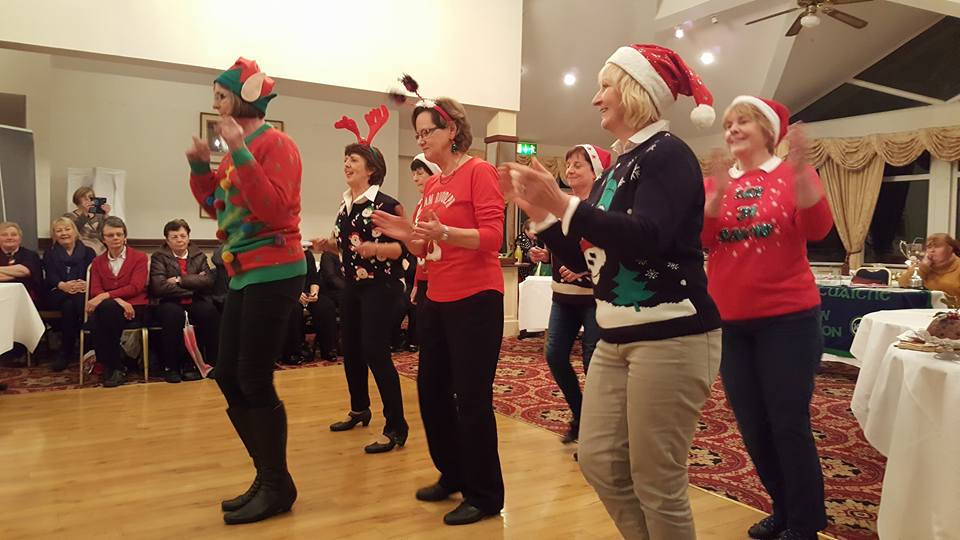 The Entertainment Team in Festive Jumpers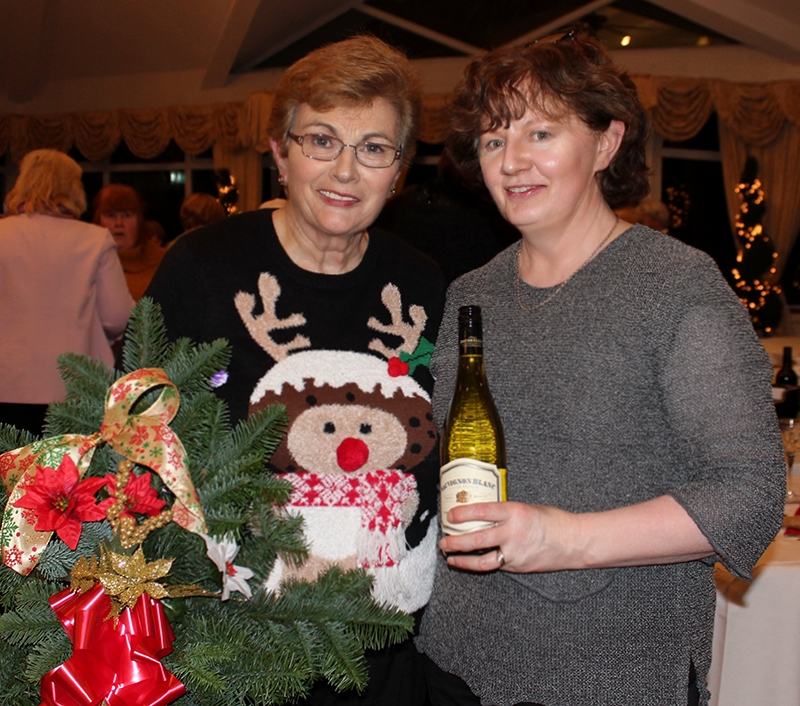 Mary and Catherine with their raffle prizes
---
News: 17 November 2016
ICA Wicklow Town at Leinster House
Despite the threat of snow ICA Wicklow Town headed for Dublin. We enjoyed a lovely lunch in the Dáil restaurant and spotted a few well known faces around the corridors of power! Our local TD Andrew Doyle, through whose office the lunch and tour were arranged, met us and told us about life as a public representative in Leinster House and about some of the repair and refurbishment currently taking place in the historic building. We sat in the Public Gallery for some of Minister's Question Time and were brought on a tour of the building by Dáil Usher Shane O'Neill. There is an original copy of the Proclamation of the Irish Republic in the hall of Leinster House. Shane told us that in the past schoolchildren often had no idea what the Proclamation was, but since the 1916 commemorations they never fail to recognise it. At the end of the tour we were given a gift of copies of the Proclamation. Tar éis sin d'fhágamar slán le príomhchathair na hÉireann.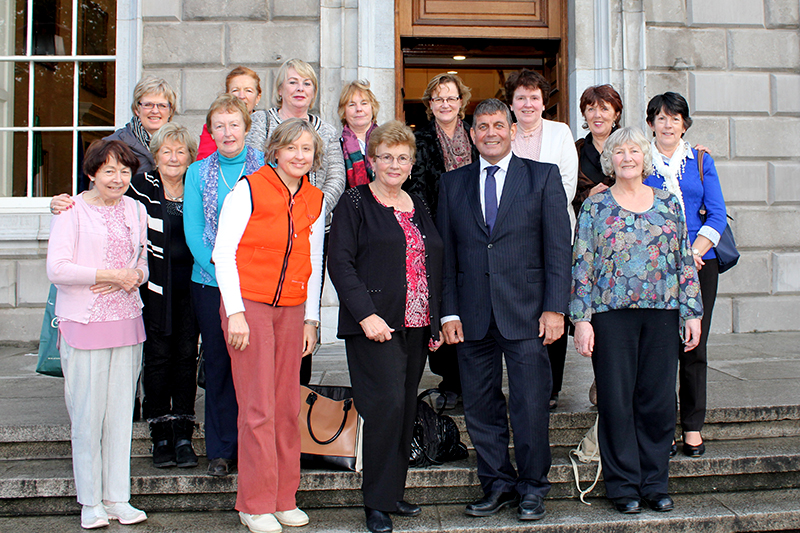 Members of ICA Wicklow Town with Andrew Doyle TD at Leinster House
---
News: 14 November 2016
Congratulations to the Winners of the Handmade Card Competition
The Winners are:
1st - Maura Cregg
2nd - Betty Teahan
3rd - Susanna Braswell
Members' handmade cards on display at the Wicklow Town Guild Meeting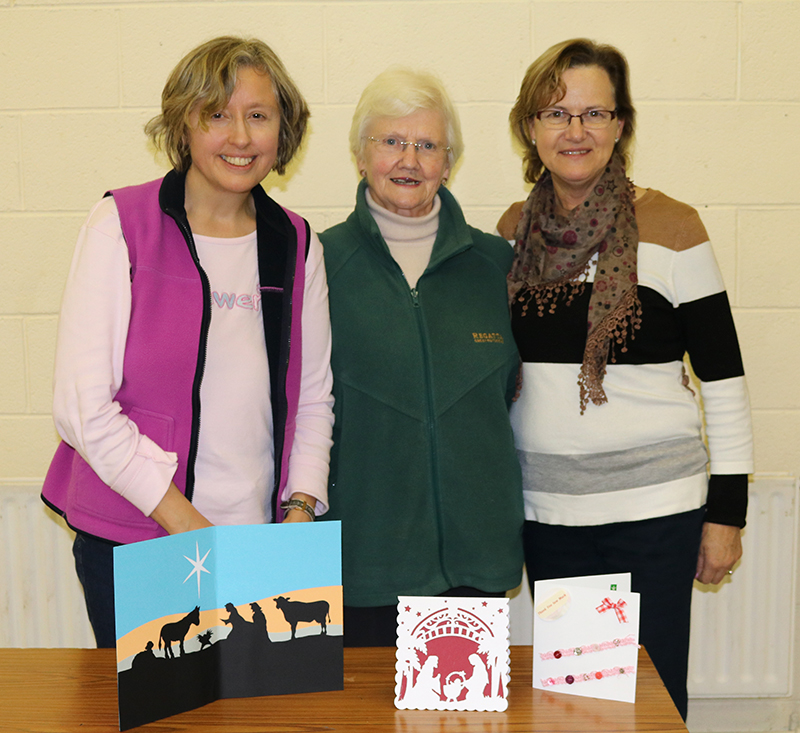 Susanna, Betty and Maura: 3rd, 2nd and 1st in the Card Competition
---
News: 7 November 2016
Shoeboxes for Team Hope
Many thanks to all who came along to the Shoebox for Team Hope night. Your shoeboxes now are at a local collection point waiting for Team Hope and Rudolf to arrive. For anyone who didn't make it to the night but would like to do a shoebox the deadline is Monday Night's Meeting 14th Nov. Any shoeboxes brought in on the night will be delivered to the Team Hope Collection point the following morning.

---
News: 10 October 2016
Congratulations to the Winners of the Jam Competition
Many thanks to all who entered October's jam making competition. What a variety of flavours packed into those jars! They included Gooseberry and elderflower, bramble jelly, blueberry, blackberry, pear, apple and plum! One of the winning entries packed a punch with just a little Creme De Cassis. Delicious! Many of the entries were also beautifully presented. Top marks to everyone for effort. Our lovely judge was very impressed.
The Winners are:
1st - Catherine Higgins
2nd - Mary DeCourcy
3rd - Margaret Jones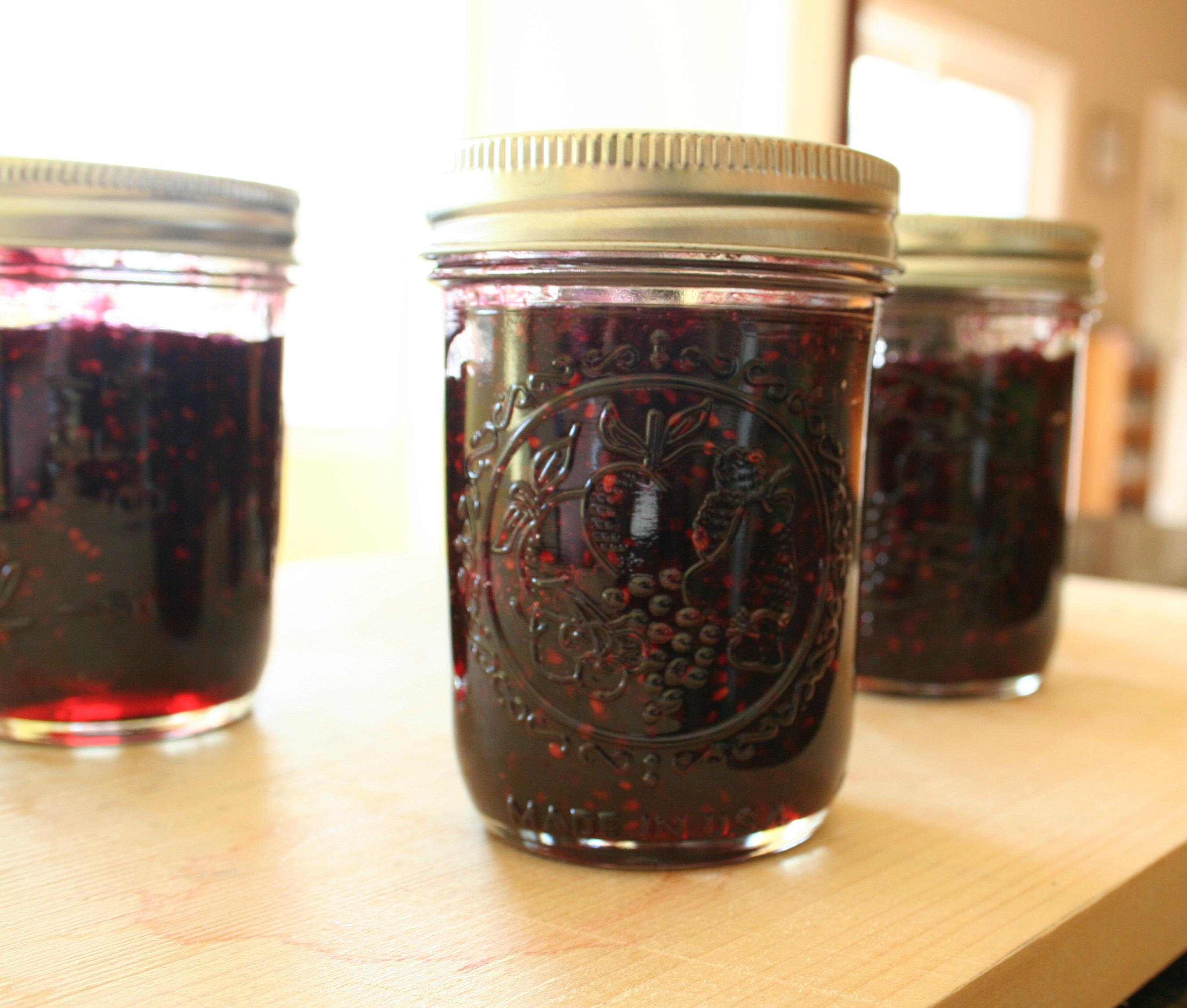 ---
Cards for All Occasions
Huge thanks to Betty Teahan who took time to show us some of her fabulous range of handmade cards and who demonstrated the art of card making at the October meeting. We look forward to putting some of her suggestions to work at the Card-Making Session in November.
---
News: 28 July 2016
Go For Life
Bowlers, who include several members of ICA Wicklow Town, are making good use of the new bowls equipment which was part funded by money from the 'Go For Life' grant received by ICA Wicklow Town.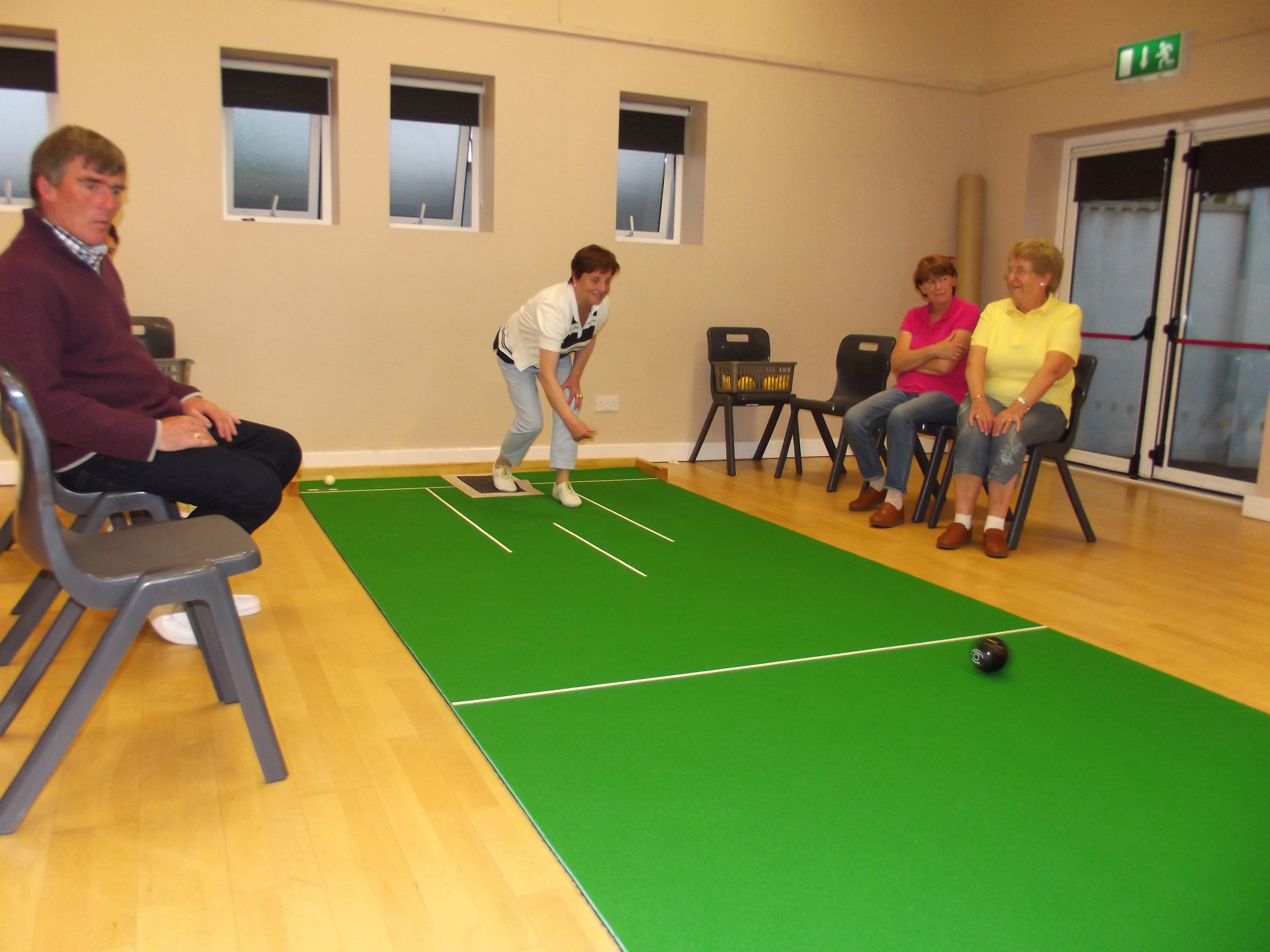 Margaret O'Meara on the mat at St. Brigid's Hall in Rathnew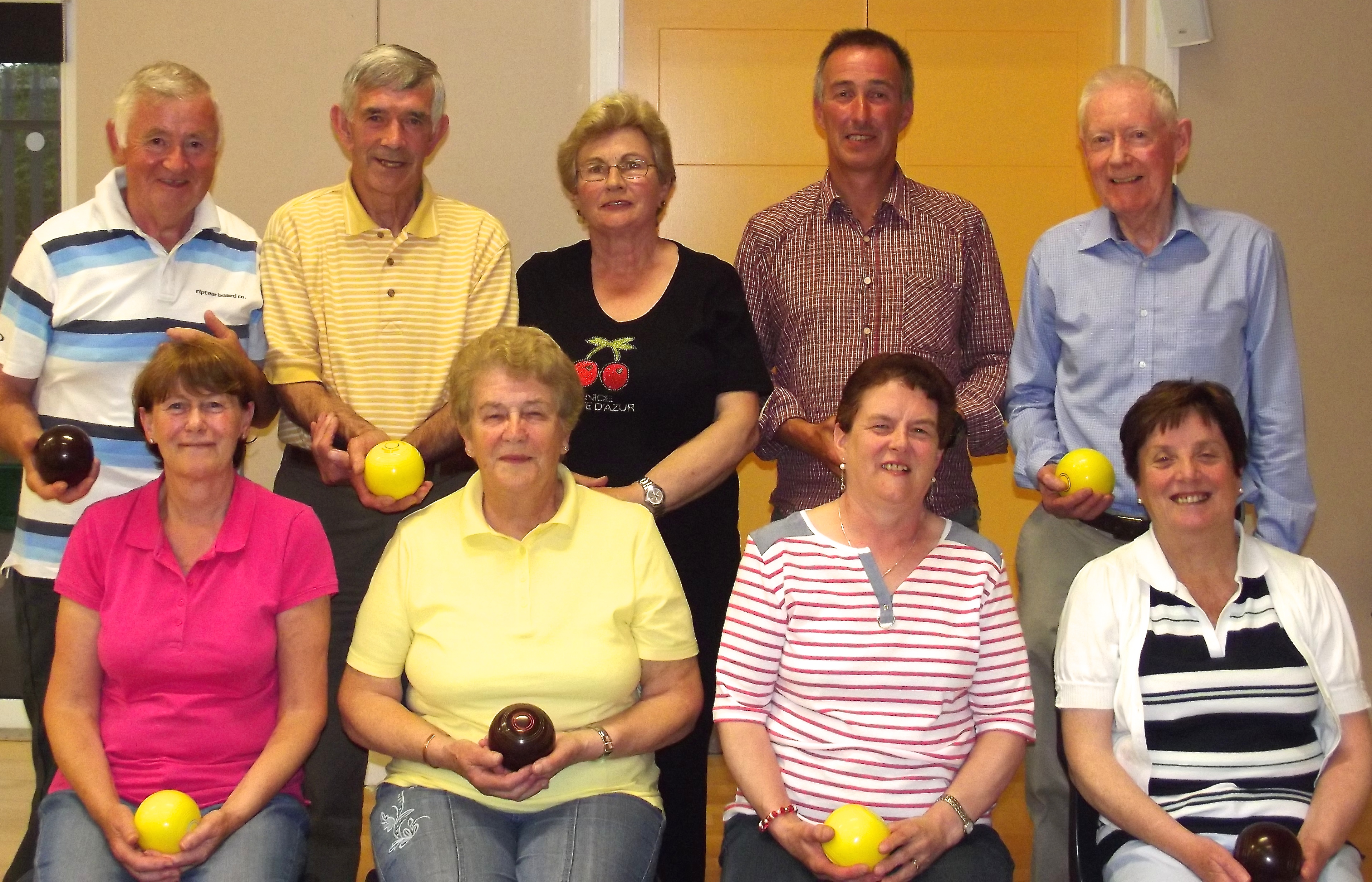 Bowlers, including ICA members, at St. Brigid's Hall in Rathnew
---
News: 2 July 2016
Farm Walk at An Tairseach
Many thanks to Sr. Julie OP and Sr. Jeanette OP who brought ICA members on a wonderful Guided Walk at An Tairseach. We started with a tour of the gardens, animals and vegetables at the Ecology Centre and then travelled up to the scenic carpark on Greenhill Road from where we continued the walk and tour of the 70 acre organic farm. We saw native Irish hedgerows, wild and cultivated plants side by side and diversity encouraged and celebrated. Despite an unpromising forecast we had perfect walking weather and only a very light shower during the picnic lunch at the Ecology Centre. A browse in the organic farm shop among lots of organic fruit and veg, natural soaps and tempting local jams and honeys made a lovely finish to the afternoon. For any members who were unable to make the day and would like to go another time: Guided Farm walks take place from the Farm Shop at 11am on the first Saturday of each month March to Sept. There are two more walks this year - Saturday 6 August and Saturday 3 September 2016.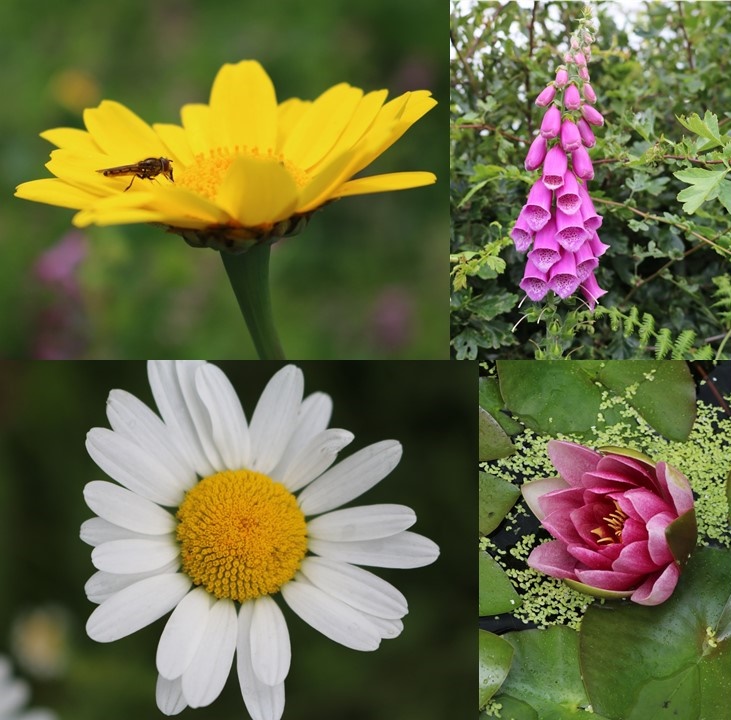 Clockwise from top left: Wild flower diversity is welcomed and insects are vital for pollination, Foxglove, Water Lily, Ox Eye Daisy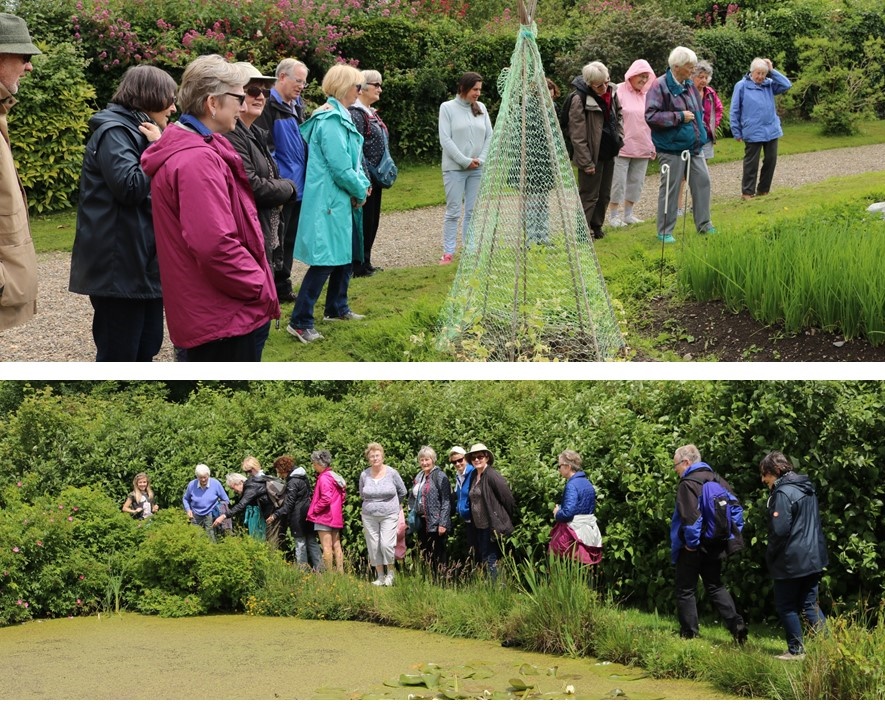 ICA members listen to Sr. Julie (top) and enjoy a pause by the pond (bottom)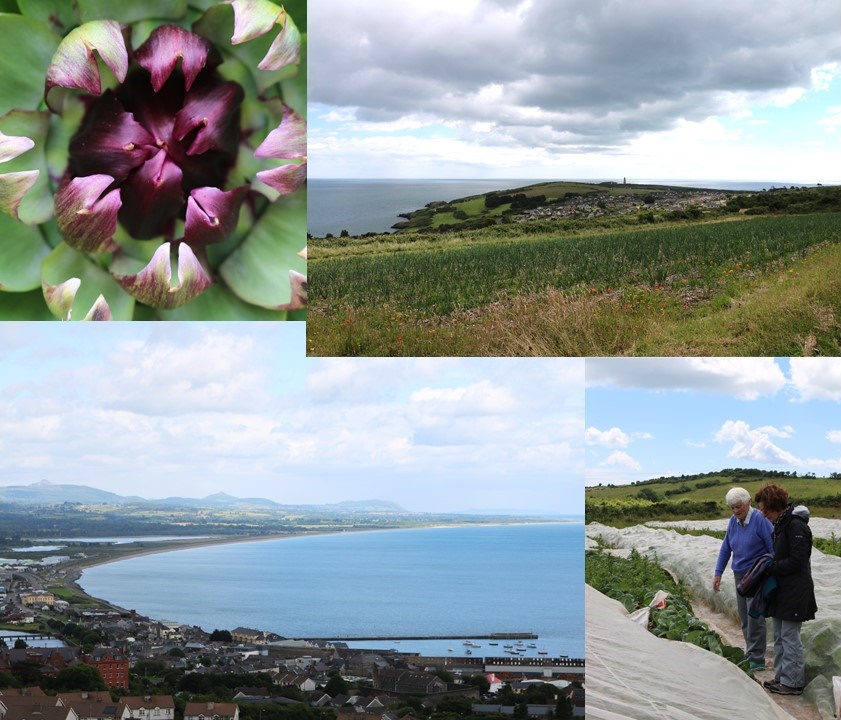 Clockwise from top left: Artichoke, View towards the Old Lighthouse, Sr. Julie explaining how the plants are protected, View of Wicklow Town towards Broadlough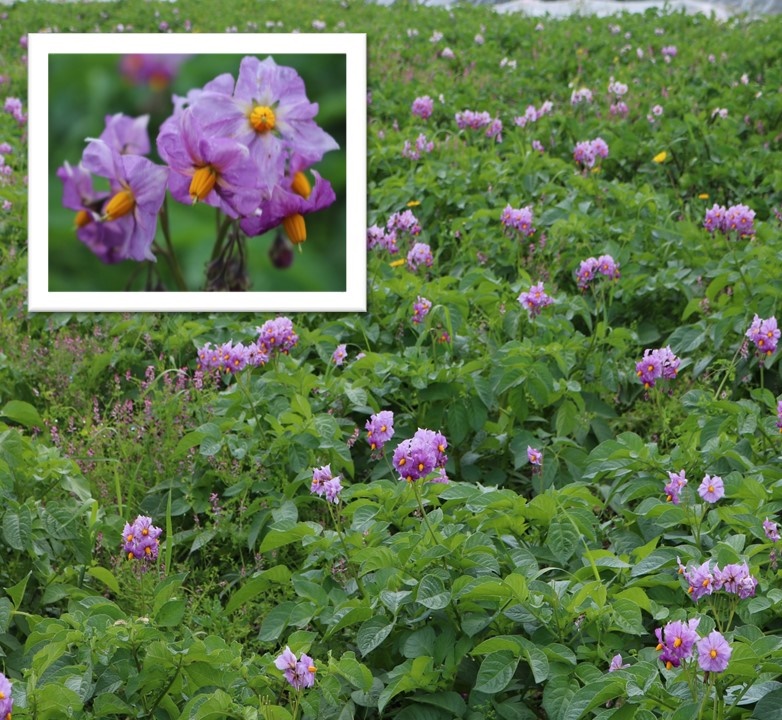 Potato plants in bloom at An Tairseach and a close up of a potato flower (inset)
Picnic Lunch at the Ecology Centre
---
News: 27 June 2016
Historical Walk with John Finlay
Many thanks to John Finlay who once again gave his time and wealth of expertise so generously. We were delighted to have members of ICA Ashford Guild join us, as well as some lovely ICA husbands and ICA pets as we journeyed through the upper half of Wicklow Town with our knowledgeable guide.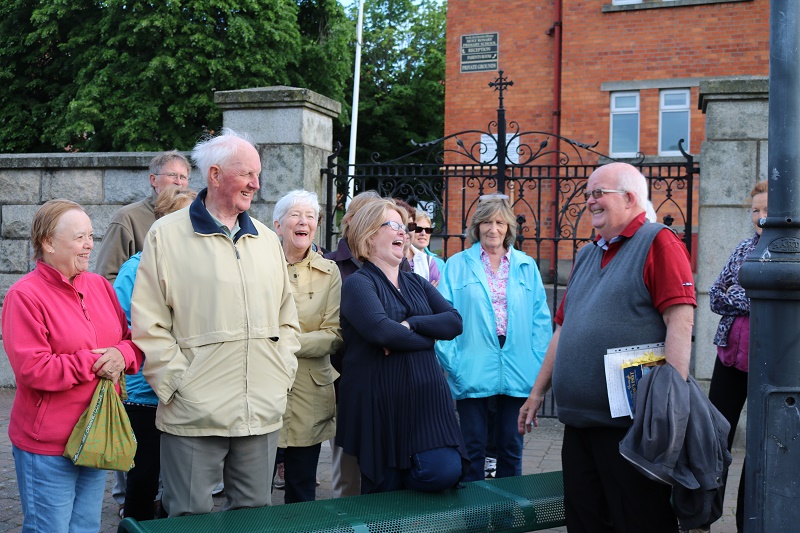 ICA members and guests enjoy a joke with John Finlay
Who knew that this is a head of Roland Hill, inventor of the postage stamp?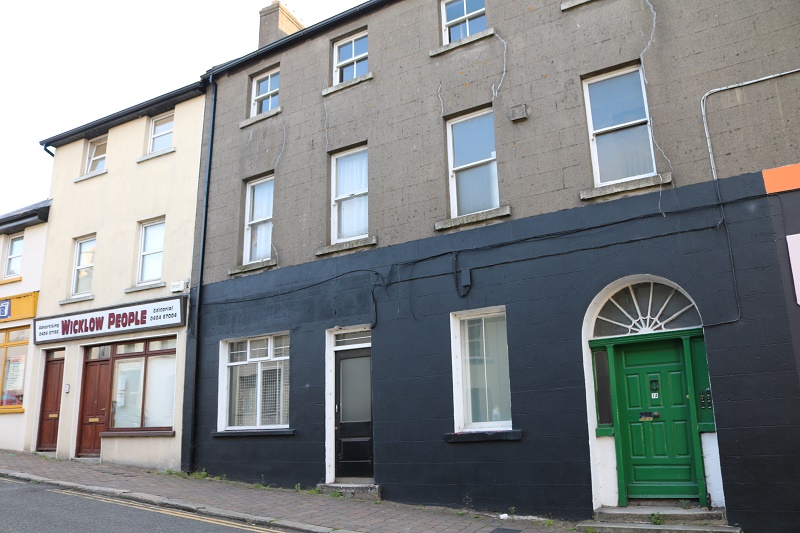 Or that this is the oldest building still in use in Wicklow Town?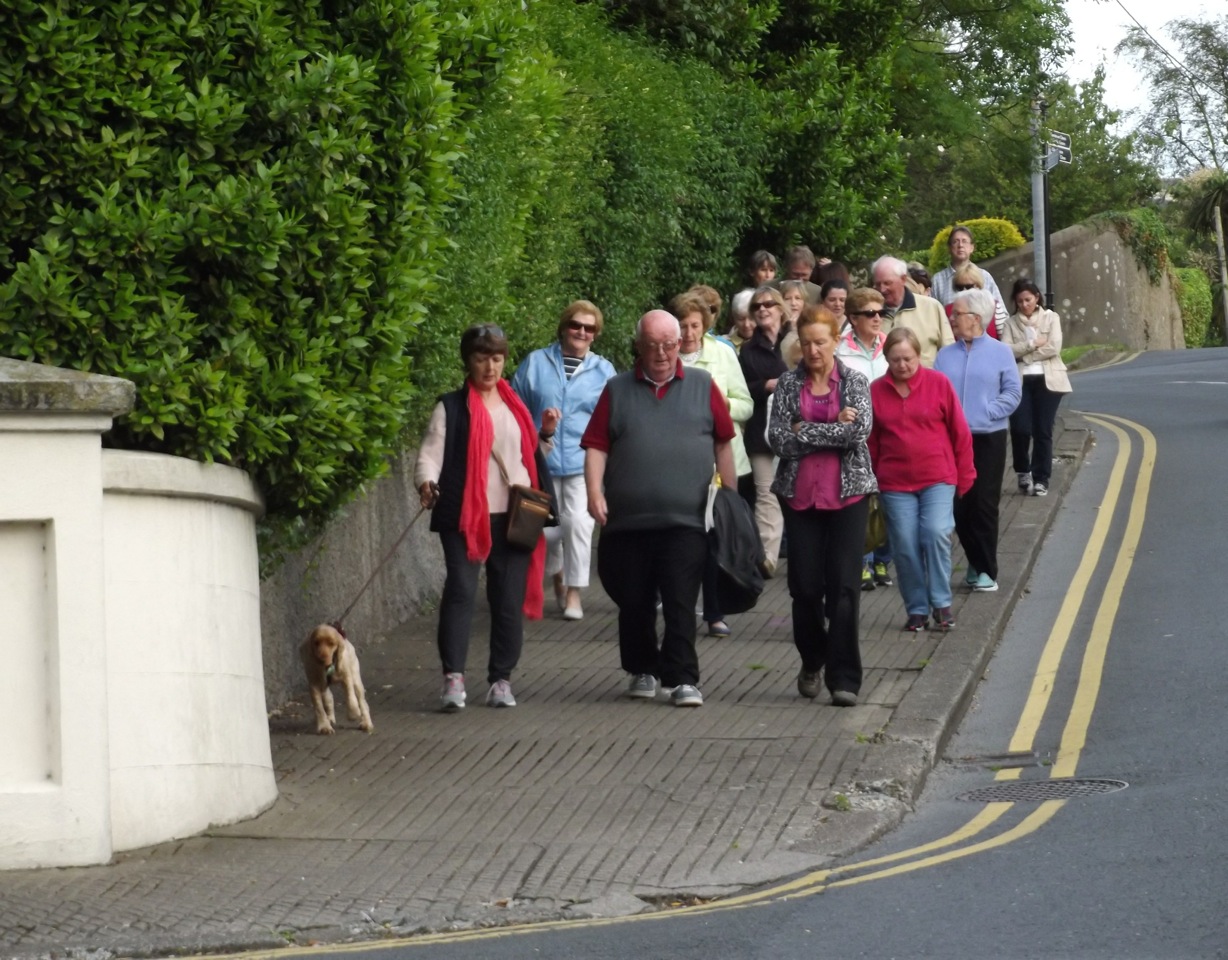 John Finlay leads ICA members on a fascinating walk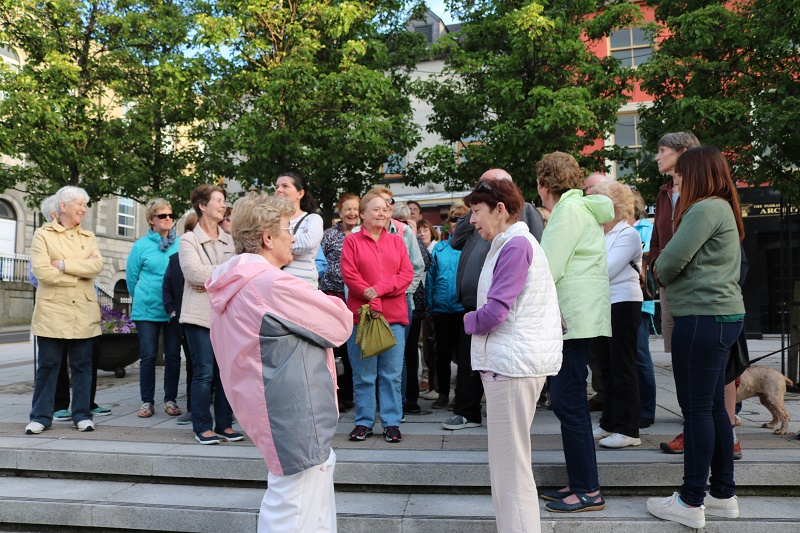 ICA members pause in Market Square
---
News: 20 June 2016
Congratulations to the Winners of the June Competition
Many thanks to all who entered beautiful wildflower arrangements. What a variety of creative approaches!
The Winners are:
1st -Dympna Harkin
2nd - Margaret O'Toole
3rd - Christina Murley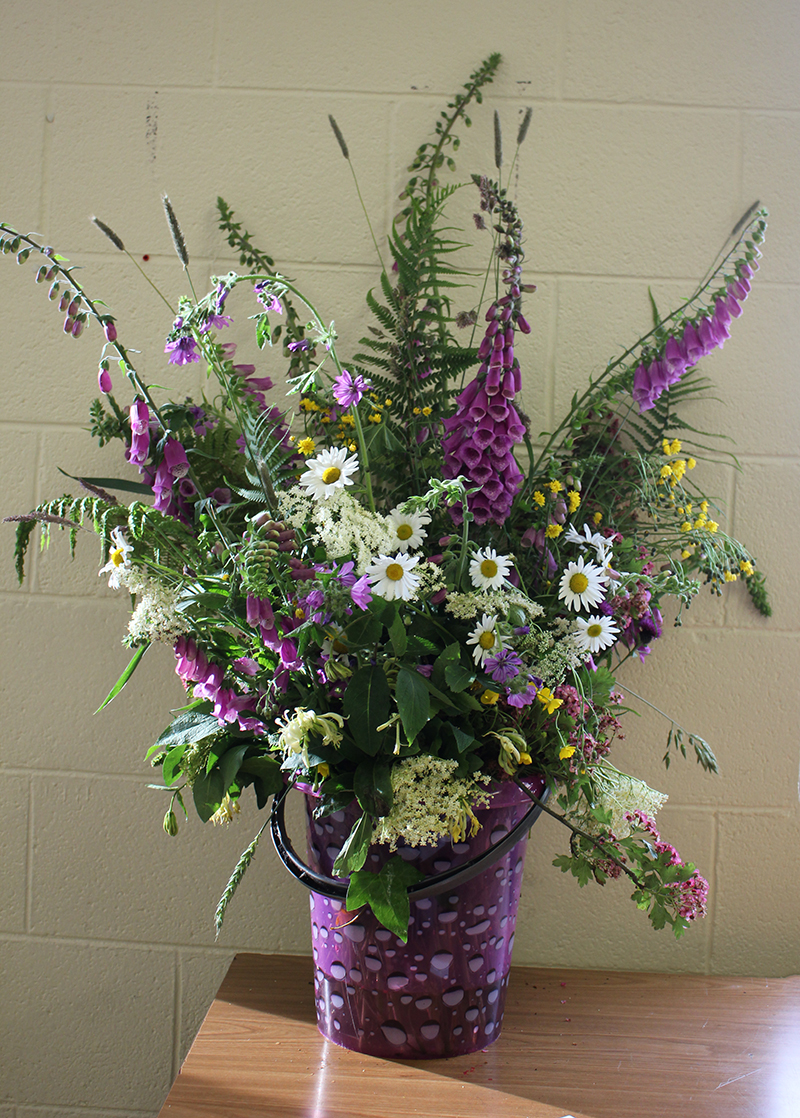 Dympna's Floral Feast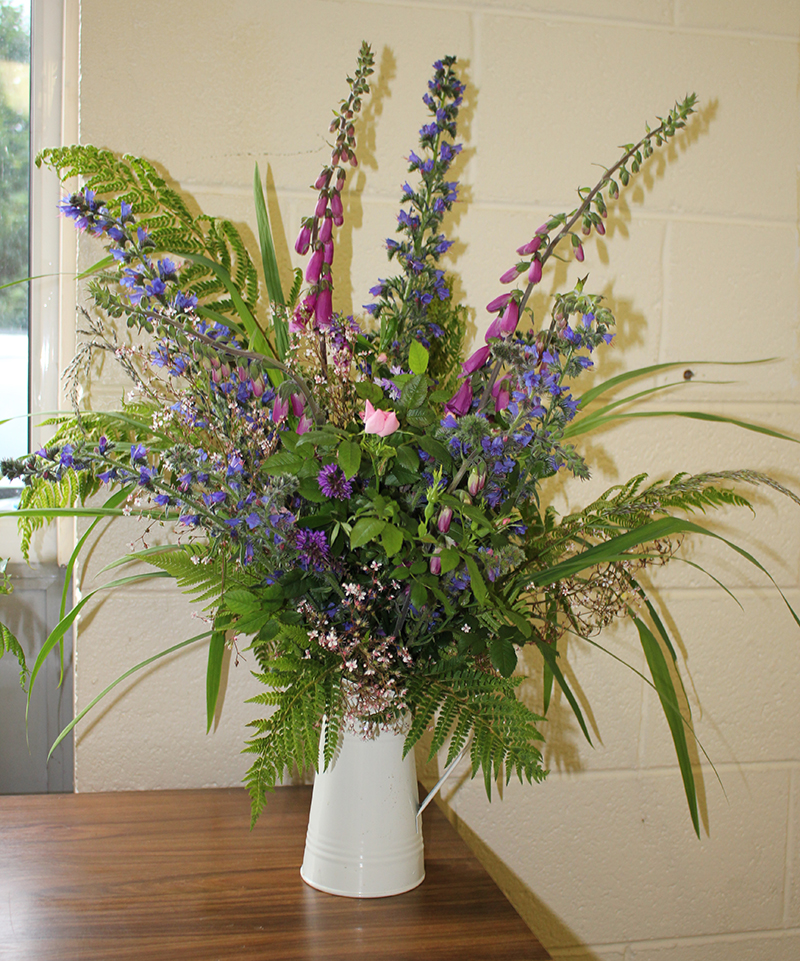 Margaret's Nostalgic Arrangment Recalling Times Past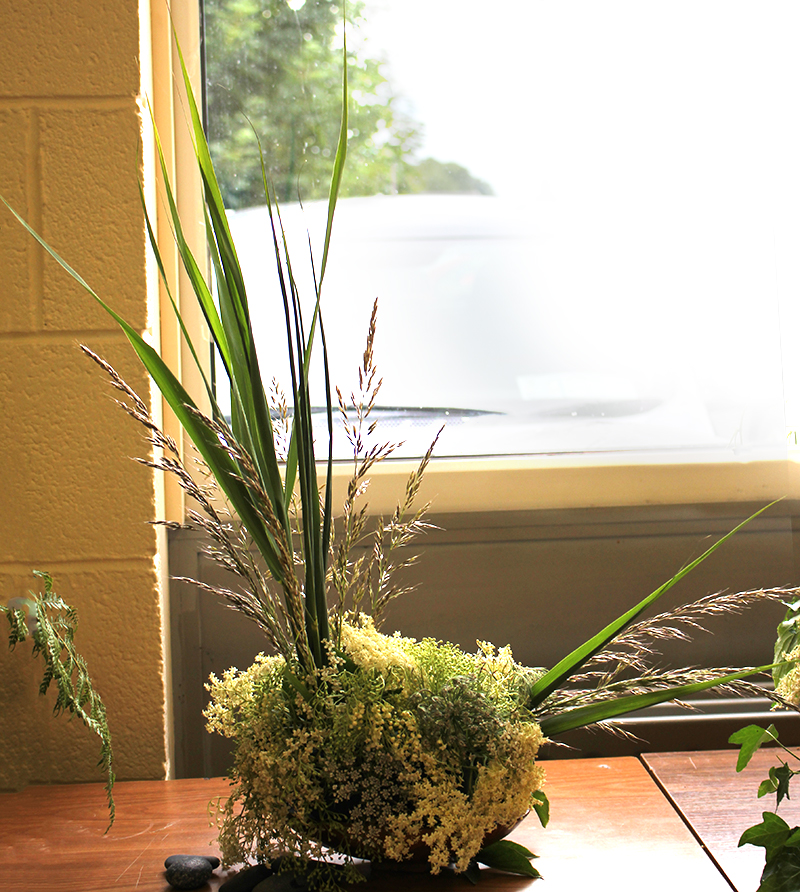 Christina's Elegant Asymmetrical Arrangment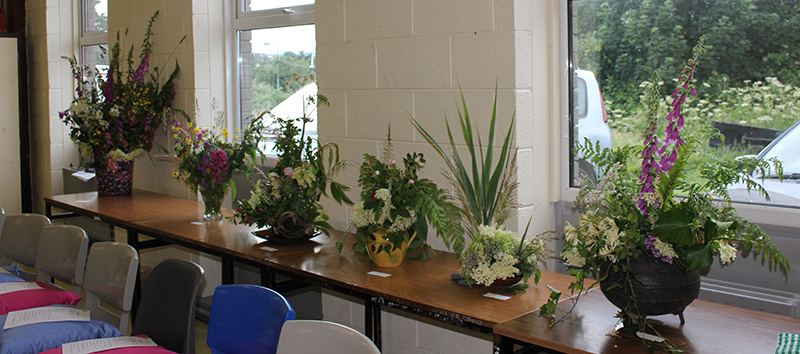 Some of the Fabulous Floristry on Display
---
Gales of Laughter at Laughter Yoga
What a night - not only did the room look like a page out of a lifestyle magazine with all the fabulous flower arrangements but we were treated to a Laughter Yoga Session lead by Mary DeCourcy. Mary introduced us to breathing and gentle stretching exercises punctuated by gales or maybe hurricanes of laughter. Thank you Mary! Mary complimented the Guild members for their enthusiasm and participation.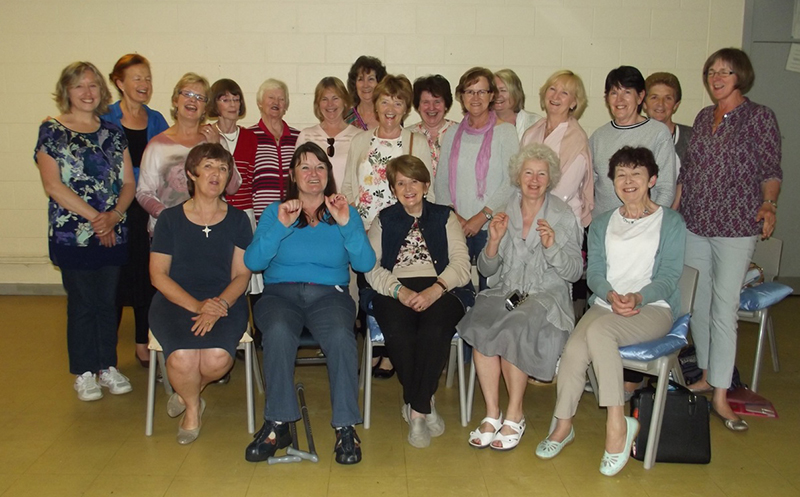 Guild Members laughing with Mary DeCourcy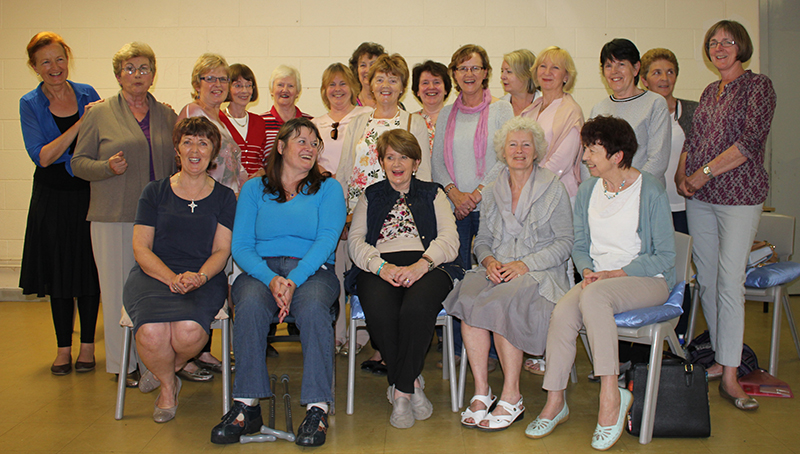 Hilarity! Guild Members laugh with Mary DeCourcy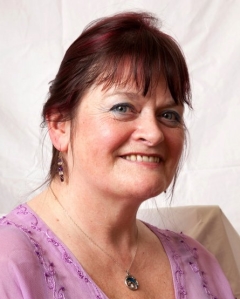 Mary DeCourcy
---
News: 13 June 2016
Wicklow Federation Social Night
Many thanks to all the members of ICA Wicklow Federation for a great evening in the Woodenbridge Hotel, Avoca.
Madge Kenny, Wicklow Federation President, welcomed Guild members from across the county to Woodenbridge. Federation Prizes were awarded.
Statia Ivers, Ballycoog Guild, was placed first for a perfect brown bread. Statia has been a Federation Champion for baking on many occasions and has previously been a brown bread baking National Finalist. Statia will go forward to represent Wicklow Federation at the next round of the Aldi-sponsored competition. Good Luck Statia!
Wicklow Town's Susanna Braswell was awarded the Sadie Ryan trophy for short story writing and read her comic story "It Happened That Way".
Guild members were then treated to a packed evening of entertainment. Ballycoog Guild brought the house down with two hilarious short plays. Ashford Guild's prizewinning choir performed some happy jazz music. Wicklow Town Guild's prizewinning set dancers performed two sets and the Wicklow Town Line Dancers donned their checked shirts and brought a touch of Texas to Avoca.
After refreshments the evening took a surprise turn when it was discovered that a choir from Iceland were staying in the hotel and were performing in the lounge. In an impromptu cultural exchange Wicklow Town's Line Dancers and Set Dancers again took to the floor to entertain the Icelandic visitors.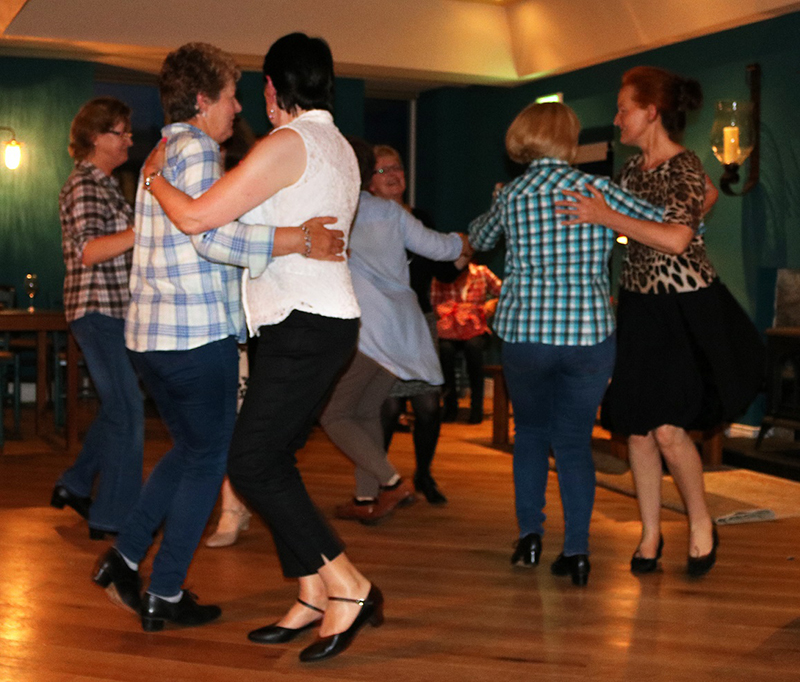 Set Dancers from Wicklow Town Guild at the Wicklow Federation Social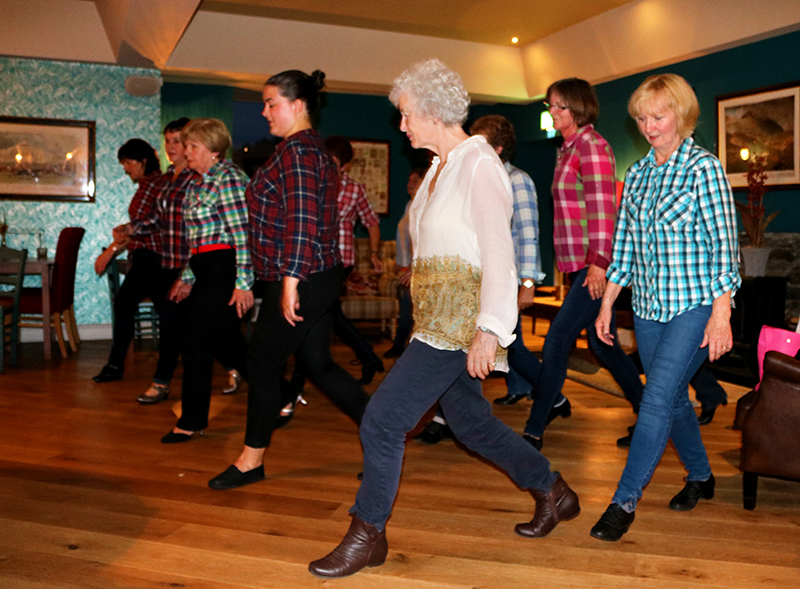 Line Dancers from Wicklow Town Guild in action at the Woodenbridge Hotel
Statia Ivers (Ballycoog Guild) who will represent Wicklow Federation at the National Brown Bread Contest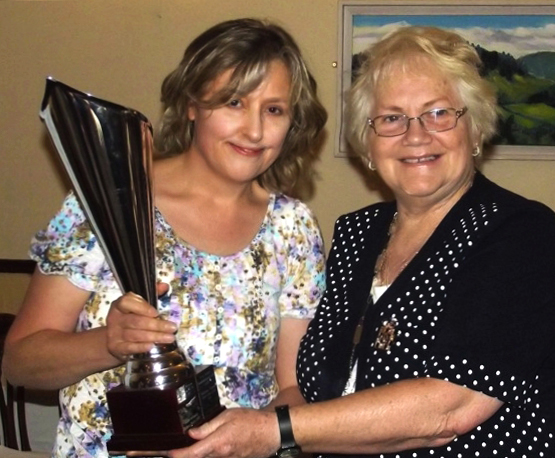 Susanna Braswell receives the Sadie Ryan Trophy for Creative Writing from Madge Kenny, Wicklow Federation President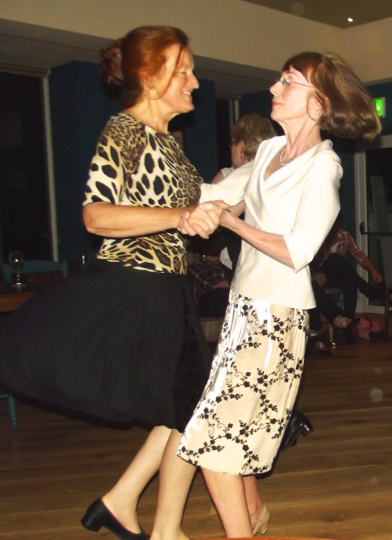 Set Dancers in Action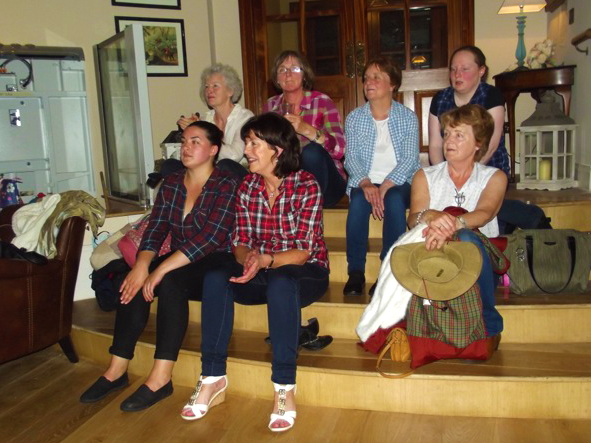 Line Dancers from Wicklow Town take a break to watch the Set Dancers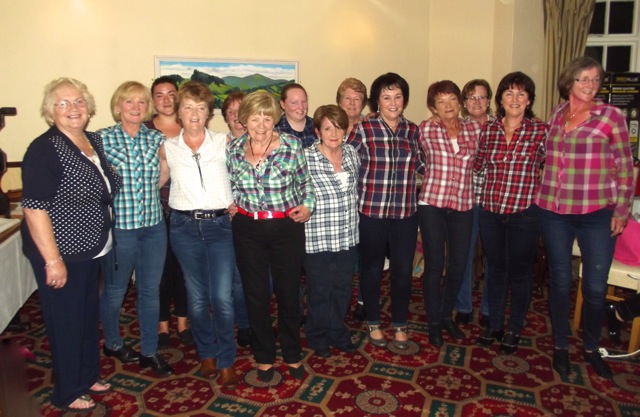 Madge Kenny Wicklow Federation President(left) with Line Dancers from Wicklow Town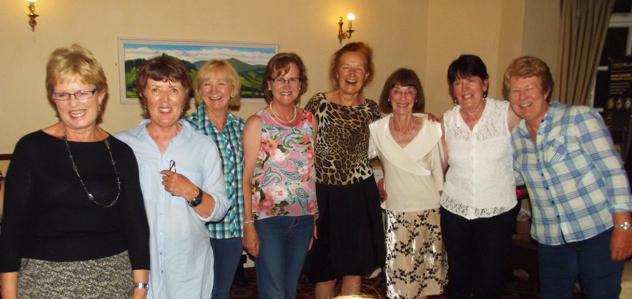 Set Dancers from Wicklow Town
---
News: 14 May 2016
ICA AGM in Athlone
The ICA AGM was held at the Sheraton Hotel in Athlone. Our own Anna Sinnott manned the ICA stand and Susanna Braswell represented the Wicklow Guild as Voting Delegate.
The National Contests Committee made a special presentation to Anna Sinnott. Breda Banville National Contests Secretary thanked her for unfailing kindness and helpfulness with all their queries big and small. Anna's valuable work in ICA Central Office was also mentioned by Mary MacNamara, ICA National Treasurer and Marie O'Toole, ICA National President
Susanna Braswell won second place in the Inter Federation Cup for Art - Photography (Colour). The photography brief was Family Pet.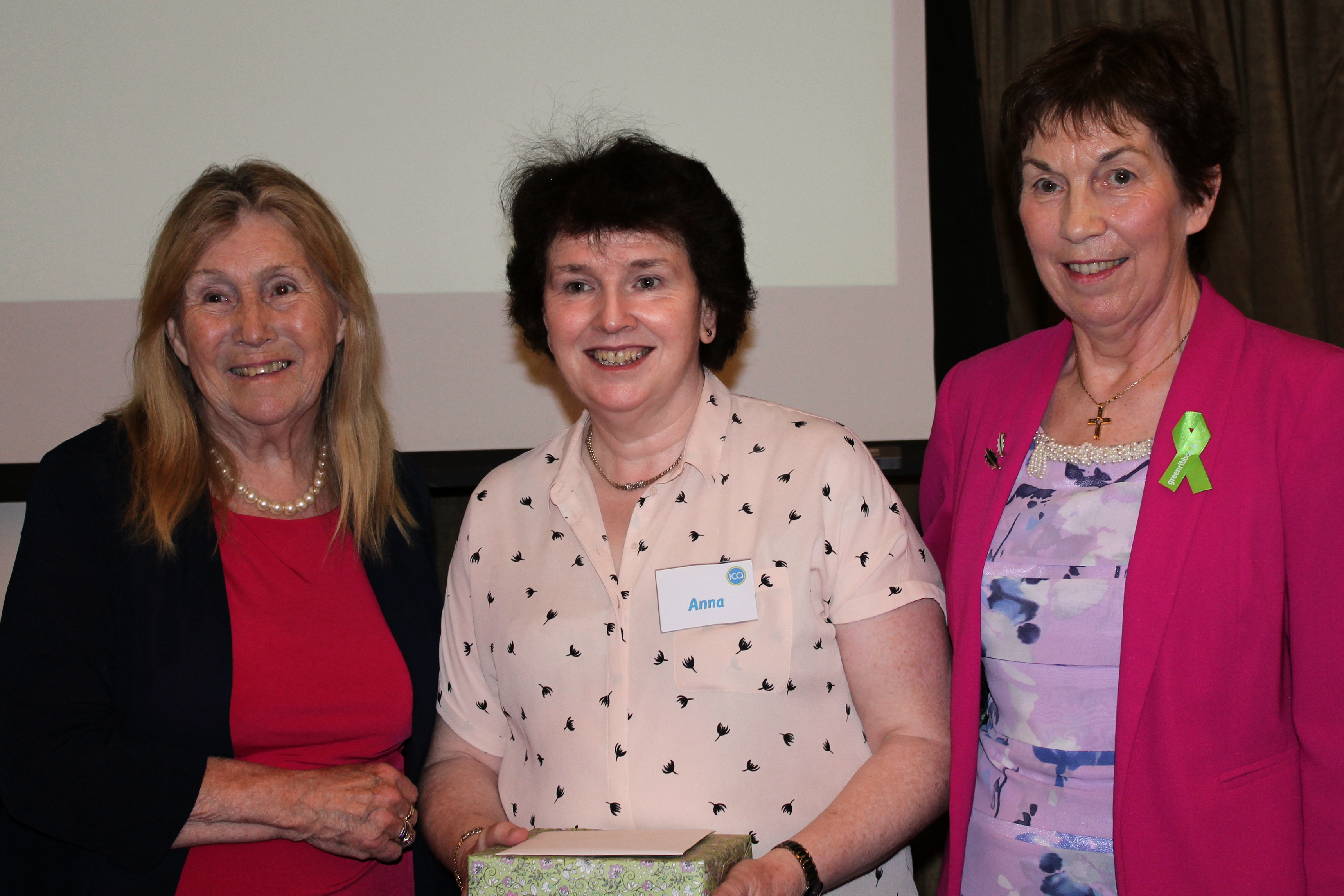 Anna Sinnott receives a presentation from National Contest Committee members, Dee Devereux (left), who is also Regional President of the South and East Region and Breda Banville (right), National Contest Secretary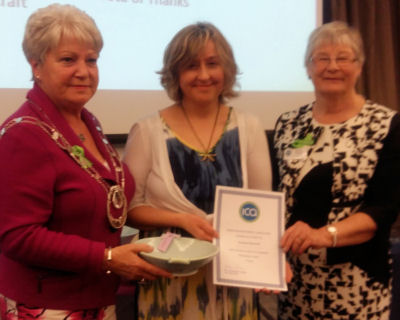 Susanna receives a Paul Maloney Pottery Bowl from Marie O'Toole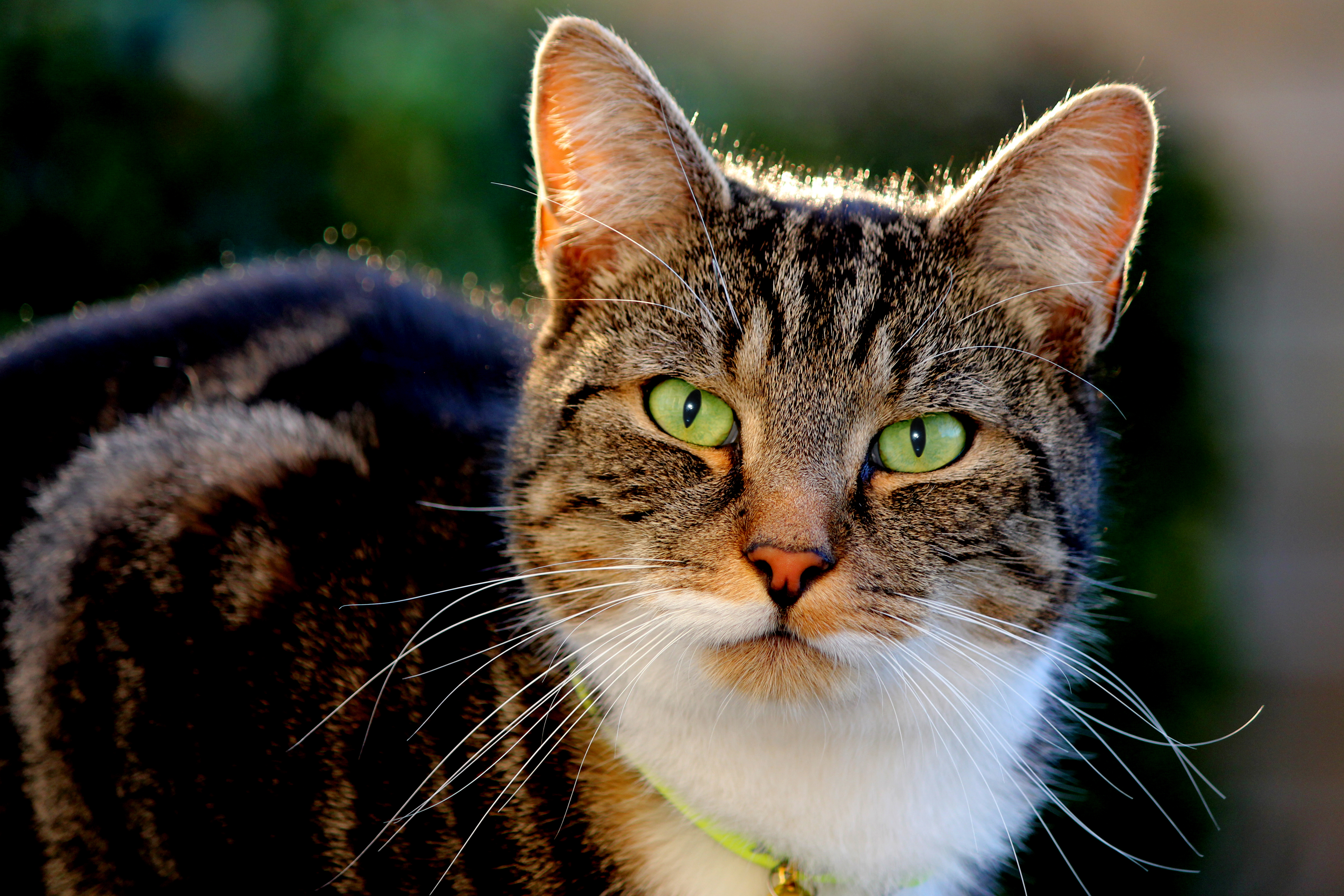 Susanna's photo - "Arthur"
---
News: 9 May 2016
Lecture by Anne O'Connor
Many thanks to Anne O'Connor, an expert on women in Irish history, who travelled to Wicklow to give ICA Wicklow Town Guild a fascinating talk on Forgotten Women in Irish History. Concentrating on the area of education, Anne outlined how the work of four women, Anne Jellicoe, Margaret Byers, Isabella Tod and Alice Oldham changed the educational opportunities of women in nineteenth and twentieth century Ireland.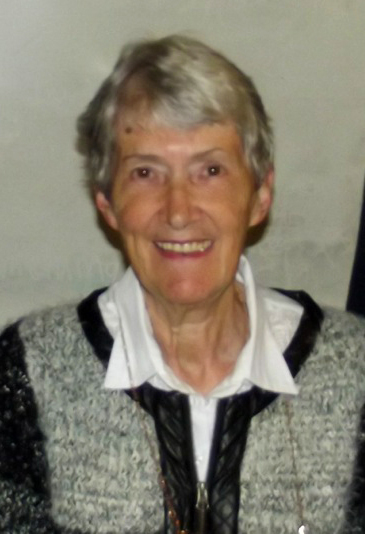 Anne O'Connor after her talk at ICA Wicklow Town 9th May 2016
---
News: 11 April 2016
Success at Wicklow Federation Arts and Crafts Night
Wicklow Federation Arts and Crafts 2016 was held at the Woodenbridge Hotel on 11 April 2016. Despite a foggy and rainy night the Wicklow Guild members in attendance had an enjoyable evening and were delighted to win two trophies.
Guild President Mary Finlay was awarded the Annie Holt Trophy for Public Speaking. In a close contest, adjudicated by a judge from Wexford Toastmasters, Mary spoke on a topic drawn at random directly before speaking. She drew the theme "Sad". As there was a tie for 1st place the two winners were required to speak for a further 2 minutes about ICA. Mary was awarded top place, winning the trophy.
Susanna Braswell won the Lilian Dempsey Cup for photography. The photography brief was The Garden of Ireland.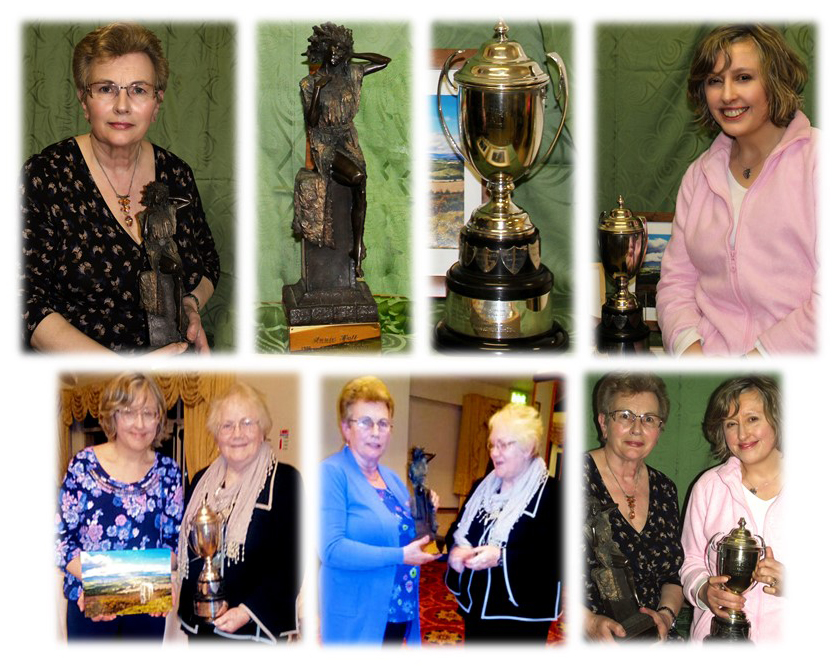 Federation Arts and Crafts Trophies 2016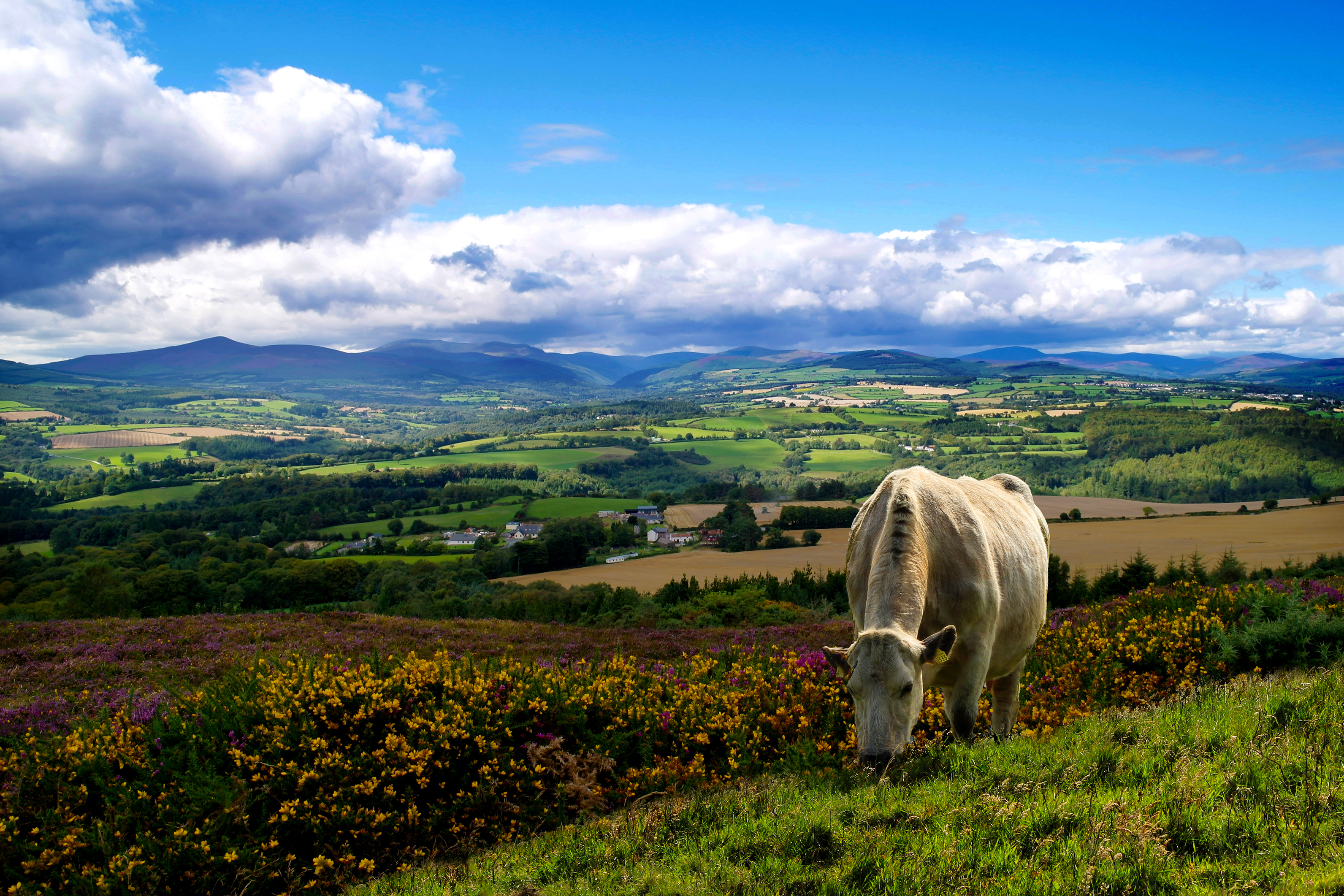 Susanna's photo - A view of Avoca
---